The week at a glance
In a week which saw a dusting of east-coast migrants and a noticeable arrival of American waders — including a Western Sandpiper on the Outer Hebrides — it's perhaps surprising that for the star turn this review period we look to East Sussex, where a brown-morph Red-footed Booby was taken into care at St Leonards-on-Sea on Sunday afternoon. Thankfully the bird, since moved to RSPCA Mallydams Wood, survived until at least Tuesday. Probably the second 'first' for Britain in a matter of weeks, listing ethics aside it's likely to prove popular should it successfully recover and be released somewhere along the British coastline, although the chances of that are perhaps quite slim.

Red-footed Booby, St Leonards-on-Sea, East Sussex (Photo: East Sussex WRAS)
On North Uist, photos circulated on the evening of 31st of a small peep among the Dunlin flock at Aird an Runair showed a fiery fresh juvenile Western Sandpiper, which performed delightfully and often at close range to 4th.

Western Sandpiper, Aird an Runair, North Uist, Outer Hebrides (Photo: Steve Duffield)
Down in the South-West, the arrival of a Cliff Swallow at Porth Hellick on St Mary's, Isles of Scilly, on 6th is likely to prove a popular draw should it repeat the antics of the last bird on St Mary's in 2001 by lingering for an extended period. A local supporting cast of Lesser Yellowlegs, two Buff-breasted Sandpipers and Temminck's Stint, all present on 6th, will hopefully provide some consolation should the swallow do a bunk.
Content continues after advertisements

Cliff Swallow, St Mary's, Isles of Scilly (Photo: Martin Goodey)

Lesser Yellowlegs, St Mary's, Isles of Scilly (Photo: Joe Pender)

Temminck's Stint, St Mary's, Isles of Scilly (Photo: Joe Pender)
Nearby, the now almost permanent south-western pair persisted, with the adult Dalmatian Pelican still loafing around the environs of Helston Loe Pool and the Hudsonian Whimbrel continuing at Perranuthnoe. Elsewhere, the eclipse drake King Eider remained at Hilton of Delnies, Moray/Nairn, until 4th, with the eclipse drake American Black Duck still at Strontian on 2nd, while news surfaced on 4th of a Surf Scoter at an undisclosed site in Angus & Dundee, present for its third week.

Hudsonian Whimbrel, Perranuthnoe, Cornwall (Photo: Sam Northwood)
This review period's final mega attraction is the Western Swamphen. Present at Alkborough Flats, Lincolnshire, throughout, it spent most of its time out of view from the hides on the smaller pool to the rear, only viewable from further up towards the village, at a distance of over 800 m. It did, however, give itself up on occasion, allowing better views and photographs to be obtained. Fast becoming a celebrity in its own right, Mike Dilger and the One Show team filmed it on 4th for a feature this coming week. Also noteworthy is the sighting on 6th of a Zitting Cisticola at Noirmont Point, Jersey, the site of a well-publicised breeding record from 2005.

Western Swamphen, Alkborough Flats, Lincolnshire (Illustration: Steph' Thorpe)
A strong period of south-westerlies at the weekend proved fruitful, with strong big shearwater numbers and at least three Fea's-type Petrels including singles passing Porthgwarra, Cornwall, Cape Clear, Co Cork, and Galley Head, Co Cork on 3rd. A minimum of 2,000 Cory's and 2,000 Great Shearwaters off Cape Clear on 3rd is an undoubted highlight; other notable 'big shear' sightings include two Cory's Shearwaters tracked up the English north-east coast on 5th. Late Wilson's Storm-petrels were seen from Scilly pelagics on 1st and 5th, with another from the Cork pelagics on 6th. Large numbers of other alluring seabirds were seen, including a dusting of Sabine's Gulls and Grey Phalaropes, as well as Long-tailed and Pomarine Skuas.
The fields surrounding Loch a' Phuill, Tiree, saw host to no fewer than four Buff-breasted Sandpipers on 4th. This week saw a real arrival of this species, with 13 seen, including a juvenile at Marazion, Cornwall from 2nd and a duo on St Mary's airfield, Scilly, from 5th. Northumberland contained the only White-rumped Sandpipers reported, with the Amble bird present until the 3rd and it, or another, seen at Castle Island on 6th. All Semipalmated Sandpiper records this week came from Co Kerry, with new birds at Carrahane Strand on 2nd and Fahamore on 5th, and the Ferriter's Cove juvenile remained until 3rd. Both Spotted Sandpipers seen were also in Ireland, with juveniles on Cape Clear on 31st and Great Skellig, Co Kerry, on 31–1st. Vagrant Pluvialis included the first British autumn American Golden Plover record this year — an adult at Baltasound, Unst on the 3rd. The only Pacific Golden Plover seen remained on Tiree till 1st.

Buff-breasted Sandpiper, Tacumshin, Wexford (Photo: Paul Kelly)

Semipalmated Sandpiper, Ferriter's Cove, Kerry (Photo: Michael O'Clery/Kerry Birding)
Last seen on 31st, it was a surprise when the Hatfield Moors Baird's Sandpiper reappeared on 6th, this time with a juvenile Pectoral Sandpiper in tow. Lough Beg, Co Londonderry, hosted the only other Baird's this week, on 3–4th. A further 21 Pectoral Sandpipers were seen across Britain and Ireland, with a popular bird at Blue House Farm EWT remaining through till the end of the week. Three Lesser Yellowlegs were seen, with a new bird at Llanfachraeth, Anglesey, on the evening of 6th, and the Vange Marsh RSPB, Essex, bird last reported on the 5th, though it became much more elusive this week.

Pectoral Sandpiper, Siblyback Reservoir, Cornwall (Photo: Chris Buckland)
At the start of the week, the appearance of an Aquatic Warbler in Dorset at Lytchett Fields would have proved popular, but was only seen briefly before flying into a distant, inaccessible area. Fortunately, the bird resurfaced on the morning of 1st and showed through until the evening, allowing those able to make the trip their first decent chance to see one in the UK for a number of years.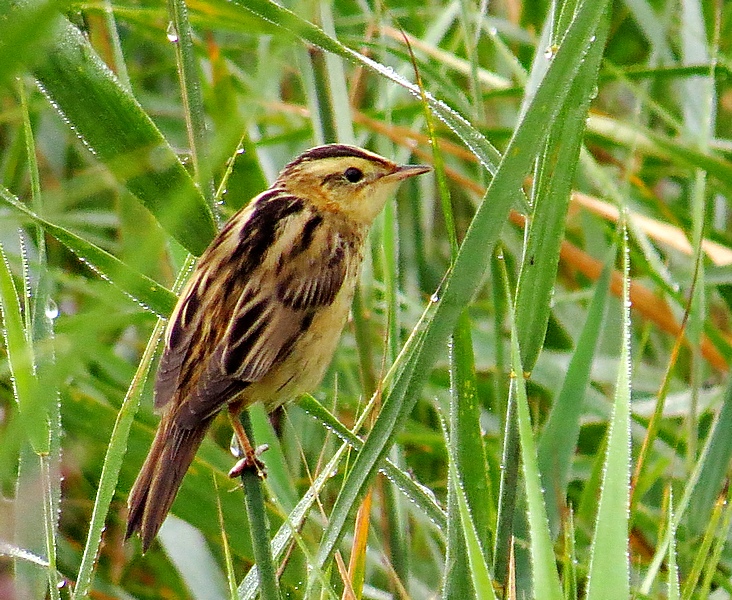 Aquatic Warbler, Lytchett Bay, Dorset (Photo: Ian Ballam)
Meanwhile, the arrival of drift migrants on the east coast continued this week as we head into September. Two Booted Warblers were seen during the review period, with one trapped and ringed at Sumburgh, Shetland, on 3rd and the Fair Isle bird continuing to 5th. Arctic Warbler reports declined this week with just two seen, with singles on Sanday, Orkney, and at Valyie, Unst, on 4th. A Red-breasted Flycatcher trapped and ringed on North Ronaldsay, Orkney, on 4th is the second of the autumn. There was a scattering of Common Rosefinches and Icterine Warblers reported, with the long-staying Bardsey Melodious Warbler still present throughout the week and a second bird on Skomer, Pembrokeshire, on 6th. Three Red-backed Shrikes were seen, with singles at Whitburn Coastal Park, Durham, Culver Down, Isle of Wight and on St Martin's, Scilly. The only Rose-coloured Starling was on Fair Isle.

Booted Warbler, Fair Isle, Shetland (Photo: Lee Gregory)

Arctic Warbler, Valyie, Unst, Shetland (Photo: Mike Pennington)

Rose-coloured Starling, Fair Isle, Shetland (Photo: Lee Gregory)
In Cumbria a showy Citrine Wagtail proved popular at Longtown, remaining in situ until 5th, with a probable seen flying over South Elmshall, West Yorkshire, that day. No fewer than 28 new Wrynecks were found this week, too, the majority along the southern and eastern extremities of the country. Dorset Ortolan Bunting records continued with further sound-recorded birds at Stoborough on 31st and Poole on 6th. A further nine birds were seen, including one lingering at Kithurst Hill, West Sussex, on 2–3rd. Barred Warbler records included one still at Spurn YWT to 1st, at Blackhall Rocks, Durham, on 2nd, Holland Haven, Essex, on 4th and a number of records from the Shetland archipelago, including three on Fair Isle on 4th.

Citrine Wagtail, Longtown, Cumbria (Photo: Roger Ridley)

Wryneck, Point of Ayre, Isle of Man (Photo: Sean Gray)
Showing well throughout the week, the North Cave Wetlands Spotted Crake remained a reliable character, still present on 6th and often showing well. At Otmoor the juvenile Purple Heron stayed hidden for long periods in the reserve's dense reedbeds, with no reports on either 3rd or 4th. However, the bird resurfaced and was reported multiple times on 6th. Elsewhere, Cattle Egrets were much more frequent this week, with the Tacumshin bird present until 4th and the Marshside individual there throughout. New birds concerned one at Sea Palling on 5th and another at Dungeness from 2nd.

Spotted Crake, North Cave Wetlands YWT, East Yorkshire (Photo: Paul Coombes)
A few juvenile White-winged Black Terns were seen this week, mostly among seafaring tern passage, with individuals past Old Nab, Staithes, North Yorkshire, on 4th, in the Thames Estuary off Cliffe, Kent, and Canvey Island, Essex, on 5–6th, and at Mudeford, Dorset, on 6th. Another specimen was at Rishton Reservoir, Lancashire, on 4th. The adult Forster's Tern soldiered on at Soldiers Point, Co Louth, to the 6th, taking a brief leave of absence with a visit down to Cruisetown Strand on 4th. The Oare Marshes Bonaparte's Gull stayed in its adopted Kentish home to 5th. In Northamptonshire, the apparent adult Azores Gull reappeared at Stanwick Pits on 2nd, with probably the same bird then cropping up at Grafham Water, Cambridgeshire, on 5–6th.
Western Palearctic News
A little further afield, Western Palearctic highlights must surely include the region's fourth (and Lanzarote's third) Black-bellied Storm-petrel, which stayed around the boat at Banco de la Concepcion for over an hour on 4th.

Black-bellied Storm Petrel, Canary Islands (Photo: Martin Schuck)
Elsewhere, single Swinhoe's Storm-petrels were once again logged on pelagic trips off Graciosa, Azores, on 31st and 1st. Another western European record of Sociable Lapwing surfaced, with one at Burgliebenau, Germany on 31st, this perhaps a bird later seen in Austria.

Swinhoe's Storm Petrel, Azores (Photo: Josh Jones)
Up to six Semipalmated Plovers were in the quarry at Cabo da Praia, Terceira, Azores, during the week while other odds and sods included an adult Elegant Tern still in Cádiz, Spain (up to four were seen in the province in August), and Belgium's first European Roller since 2003 — a ringed first-winter that appears to originate from Latvia.

Roller, Belgium (Photo: Kris De Rouck)
An Indian Pond Heron at Turku, Finland, on 31-1st is perhaps worthy of further scrutiny. Of particular interest to British birders is the apparent influx of Northern Hawk Owls into south-west Norway. This has been compared to the 1983 invasion which brought one to Lerwick, Shetland on 12 September. One to watch out for next week perhaps?