The week at a glance
Just when it seemed like autumn might finally be petering out, back it came for one last hurrah. That said, after an October like the one we just had, it's entirely possible that this trickle of surprising rarities might continue well into the winter months — and, given that there have been previous winter records of this week's big finds, it's reasonable to assume that they may hang around rather than be hurrying through as late migrants.
The week's highlight was unquestionably a first-winter (probably female) Dusky Thrush found in the picturesque village of Beeley, a stone's throw from Bakewell in Derbyshire (and indeed in the eastern 'foothills' of the Peak District). Found and identified on Sunday afternoon, fortunately the bird was relocated on Monday morning and proceeded to perform well on and off throughout the day.

Dusky Thrush, Beeley, Derbyshire (Photo: Yoav Perlman)
Content continues after advertisements
That's now four Dusky Thrushes in the space of four years — two in 2013, including the infamous Margate bird (which ended a 54-year wait for a twitchable eunomus), and two in 2016. With several records on the continent in recent years, what was once a near-mythical Turdus is seemingly now half expected. If only the recent Eyebrowed Thrush in Northumberland had been as confiding! And what about another Naumann's sometime soon ...?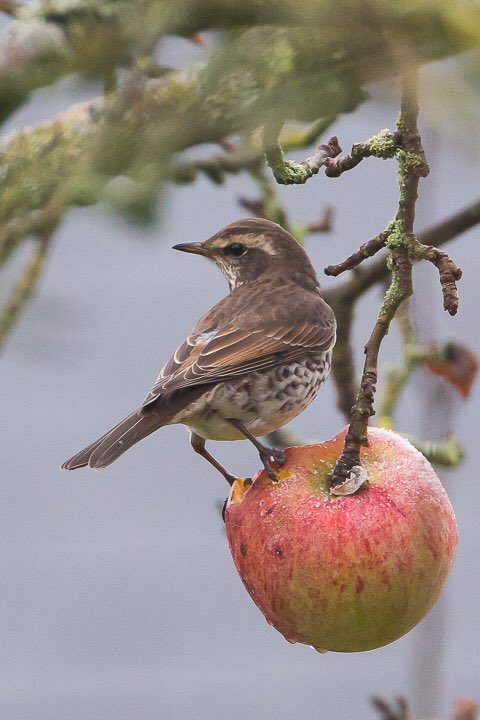 Dusky Thrush, Beeley, Derbyshire (Photo: Alan Curry)
News of a male Common Redstart along the shore at Torness Power Station, Lothian, on 1st immediately set alarm bells ringing, and it was no great surprise to hear that the bird was reidentified as an Eastern Black Redstart the following day. This, the sixth recorded in Britain this autumn, lingered until the end of the review period, although it was upstaged by the year's seventh — the first ever recorded away from the east coast, extraordinarily inland at Ripple Pits, Worcs, late on 6th. This occurrence was accompanied by up to two Dusky Warblers at the site this week, making it seem more like Spurn than Tewkesbury. While on the subject of phoenicuroides, it's well worth mentioning that the Skinningrove Eastern Black Red was still there to at least 4th.

Eastern Black Redstart, Torness Power Station, Lothian (Photo: Heiko Peters)

Eastern Black Redstart, Skinningrove, Cleveland (Photo: Jack Bucknall)
The jury is out on an interesting first-winter shrike seen briefly in a garden at Hallbankgate, Cumbria, on 4th — some suspect it to be a Brown Shrike, while others are leaning towards Red-backed.

Putative Brown Shrike, Hallbankgate, Cumbria (Photo: Adam Moan)
Pembrokeshire's Masked Wagtail seems very much settled in its routine around the streets and roofs of Camrose, and showed extremely well throughout the week to surprisingly small crowds — presumably emphasising the pre-eminence of the tick element to some, combined with the bird's peripheral choice of location. One suspects it might be around for some time to come.

Masked Wagtail, Camrose, Pembrokeshire (Photo: Josh Jones)
After its shock reappearance last week, Norfolk's long-staying Isabelline Wheatear was still showing well to at least 5th. Meanwhile another wheatear on Islay, Argyll, was identified as an Isabelline this week; present since 27th, it was reidentified on 30th and was still there on 3rd.

Isabelline Wheatear, Burnham Overy, Norfolk (Photo: Steve Stansfield)

Isabelline Wheatear, Machir Bay, Islay, Argyll (Photo: Jim Dickson)
Other lingering highlights included the Killdeer still at Sandwick, Shetland, the American Coot at Balranald, North Uist, and the Hudsonian Whimbrel at Perranuthnoe, Cornwall. There was, however, no sign of the Forster's Tern this week — in Kent or indeed elsewhere.
The drake Hooded Merganser continues to be reported from Kilbirnie Loch, Ayrshire, on a daily basis. A new American Black Duck was found at Templehouse Lake, Co Sligo, on 3rd, while the long-staying drake remained at Strontian, Highland. Six of the week's eight American Wigeon were in Scotland and included a confiding new individual at Caerlaverock, Dumfries & Galloway. Elsewhere drakes were still at Ynyslas, Ceredigion, and Exminster Marshes, Devon. Nine Green-winged Teal included new males in Dorset, Co Galway and Orkney.

Green-winged Teal, Venus Pool NR, Shropshire (Photo: Jim Almond)

American Wigeon, Clachnaharry, Highland (Photo: David main)
A dozen Ring-necked Ducks included new drakes at Abberton Reservoir, Essex, and Loch of Skaill, Orkney, and returning males were again in Counties Waterford and Donegal. The only Lesser Scaup was the young male still at Ripple Gravel Pits, Worcs, on 30th, while the female Ferruginous Duck at Theale Gravel Pits, Berks, was also the sole representative of its species seen this week. Six Surf Scoters were off Llanddulas, Conwy, on 1st, with two off Kirkwall, Orkney, on 6th and a new (young) drake off Man Sands, Devon, that day. Further birds were off the coasts of Lothian, Shetland and Co Donegal. An astonishing 13 White-billed Divers were seen off Papa Westray, Orkney, on 5th.

Ring-necked Duck, Abberton Reservoir, Essex (Photo: Richard Allen)
Norfolk's Todd's Canada Goose swapped Docking (last seen there on 30th) for Snettisham on 4th; another was still in Co Wexford, while two continued alongside a Richardson's Cackling Goose at Lissadell, Co Sligo. Three blue-morph Snow Geese were at Loch of Skene, Aberdeenshire, on 30th, while a white morph was near Alness, Highland, from 1st. The only Black Brant report came from Middlebere, Dorset, on 5th.

Richardson's Cackling Goose, Ballygilgan NR, Sligo (Photo: Michael Bell)
East Yorkshire's Pallid Harrier continued to be reported from Welwick Saltmarsh on a daily basis, while late news concerned the Northern Harrier still on North Ronaldsay during the middle of last week. Rough-legged Buzzards were reported in Norfolk, Clwyd and Shetland.
Cattle Egrets remain roughly on a par with recent weeks, with birds noted at 18 sites, several of them new (Kent, Surrey, Pembrokeshire and Co Waterford to name a few). Peak count was of four at Tacumshin, Co Wexford, with threes in Dorset and Norfolk. Last week's Night Heron on Sanday, Orkney, was last noted on 3rd and what may feasibly be the same bird was photographed at White Ness, Shetland, on 4th. Glossy Ibises were noted at two sites in Essex as well as in Cambridgeshire, Leicestershire and Co Dublin.

Cattle Egret, Iken, Suffolk (Photo: Nick Brown)

Glossy Ibis, Ely, Cambridgeshire (Photo: Brendan Doe)
Two adult Ring-billed Gulls were reported from Blashford Lakes, Hants, on a couple of dates this week although just one was there on 5th. Meanwhile the second-winter roosted again at Chelmarsh Reservoir, Shropshire, on 3rd and an adult was at Blennerville, Co Kerry, on 4th. The only Bonaparte's Gull noted this week was the usual Devon individual. White-winged gull numbers remain low, with Glaucous Gulls totaling fewer than 20; Iceland Gulls did pick up slightly, with birds reported from 25 sites.

Bonaparte's Gull, Exmouth, Devon (Photo: Dave Smallshire)
American Golden Plovers are never particularly commonplace in early December, so an adult near Llanbadarn Fynydd, Powys, on 4th was notable. The Long-billed Dowitcher extended its stay at Tacumshin, Co Wexford, by another week — as did the Lesser Yellowlegs at Lytchett Bay, Dorset. Something of a surprise was the Grey Phalarope inland at Broom Gravel Pits, Beds, from 2–4th. A Spotted Sandpiper was identified from photos taken at Pickerings Pasture, Cheshire, on 29th. A Stone Curlew at Little Murston, Kent, on 30th was followed by birds at West Wittering, W Sussex, and Ferrybridge, Dorset, on 4th.

American Golden Plover, Llanbadarn Fynydd, Powys (Photo: Paul Leafe)

Grey Phalarope, Broom GPs, Bedfordshire (Photo: David H Hatton)

Stone Curlew, Selsey Bill, West Sussex (Photo: Mike Galtry)
Devon's male Desert Wheatear was still at Thurlestone to 5th, while the East Sussex bird continued at Norman's Bay all week. Late news was received concerning a Black-bellied Dipper at Folkestone, Kent, on 29 November.

Desert Wheatear, Thurlestone, Devon (Photo: Adrian Davey)

Desert Wheatear, Norman's Bay, East Sussex (Photo: Gerald Millard)
Waxwing reports totalled just under 250, with peak counts including 400 in Inverness on 1st, 340 in Smithton, Highland, on 4th, 305 in Dunblane, Forth, and 300 in Carlisle, Cumbria, on 5th. Up to 30 Shore Larks remained at Holkham Gap, Norfolk, and 27+ were counted at John Muir Country Park, Lothian, on 5th. Great Grey Shrikes were logged at 17 sites.
A Rose-coloured Starling was in Stanton St John, Oxon, on 30th, while the Crawley bird remained on show all week. As well as the usual bird at Shell Ness, Kent, a Richard's Pipit was found at Nash Point, Glamorgan, on 1st and was still present on 5th. A Hornemann's Arctic Redpoll was at Burravoe, Yell, Shetland, on 4th, and a Common Rosefinch was at Norwick, Unst, on 4th.
Western Palearctic news
A drake Stejneger's Scoter off the coast just south of Alicante, Spain, on 6th will represent the second national record, while a Steppe Grey Shrike at the Andarax river mouth, near Almería, is a first for Spain. Hungary's first White-billed Diver arrived at the mighty Lake Balaton on 3rd, while two new Siberian Accentors were found in Finland, at Asikkala and Helsinki, in addition to the three still in Turku on 30th.

White-billed Diver, Hungary (Photo: Csaba Lendvai)
A candidate Slaty-backed Gull was at Gdansk, Poland, on 2nd, while long-stayers included the Dalmatian Pelican in Friesland, Netherlands, the Red-necked Stint in Skåne, Sweden, and the Bufflehead at Sandgerði, Iceland. A Red-flanked Bluetail at Katwijk, Netherlands, from 5th was a further hint that there must still be many 'Sibes' lying undetected in north and west Europe.

Probable Slaty-backed Gull (front right), Poland (Photo: Michal Zawadzki)