The week at a glance
After a quick glance above at this week's highlights, an uneducated guess would once again suggest it was October rather than the second week of June. Following the previous fortnight's Catharus hat-trick and other assorted Nearctic treats, this week produced further exciting vagrants.
In fact, both big discoveries came on Tuesday 9th. The first of these was a smart male Dark-eyed Junco in Derek Scott's garden on Dursey Island, Co Cork. Though a reasonably regular fixture in Britain, the species is a true mega in Ireland; birds in 2000 and 2004 ultimately proved untwitchable and, with only one other national record dating back to 1905, this was the first real opportunity for Irish birders to see the species. And although it has seemingly moved on with no sign so far today, one day was long enough for a number of Ireland's keenest listers to make it to the far south-west, cross to Dursey via the island's famous cable car, and connect. Thankfully, the junco performed well throughout the day and is another great bird for a garden that has also attracted Wilson's and Sardinian Warblers in recent times!

Dark-eyed Junco, Dursey Island, Cork (Photo: Victor Caschera)
The second major find of the week was a Hudsonian Whimbrel at Pagham Harbour, West Sussex. Discovered in the afternoon, the bird performed well throughout the rest of the day, save for a period over high tide when it roosted on a grassy island in the middle of the harbour. This represents the first for Sussex and ninth for Britain; crucially, it is the first accessible mainland bird since Hudsonian Whimbrel was split from its Eurasian counterpart, and it was therefore no surprise to see plenty of birders on site throughout Tuesday evening. It may well be that this bird hangs around a while: the last to turn up in June, on Walney Island in 2007, stayed for almost two months.

Hudsonian Whimbrel, Pagham Harbour LNR, West Sussex (Photo: Dorian Mason)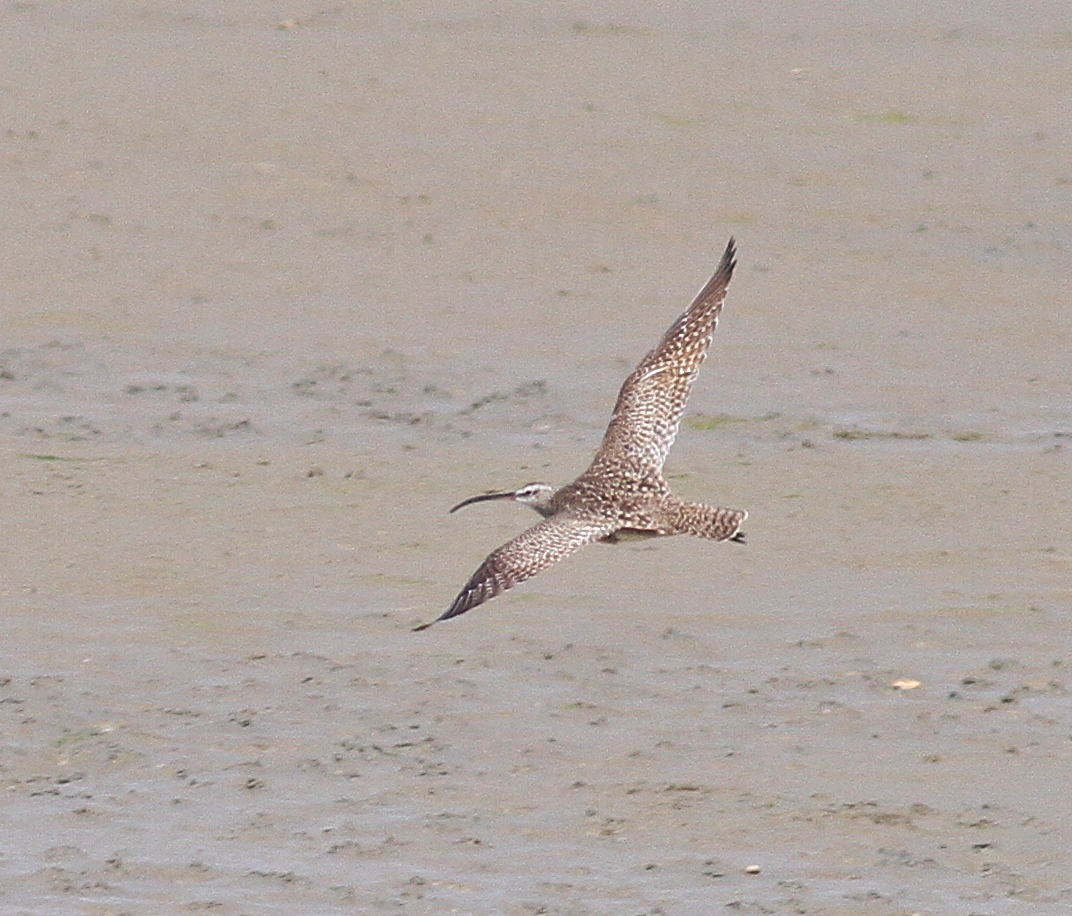 Hudsonian Whimbrel, Pagham Harbour LNR, West Sussex (Photo: Jake Gearty)
Last week's headline thrushes also hung around, with the Swainson's Thrush putting in a fine shift on Skokholm Island, Pembs, as it lingered all week and allowed the opportunity for a rare twitch to the island. In fact boat-loads of birders visited Skokholm on Thursday, Friday and Monday thanks to the excellent organisational skills and welcoming temperament of warden Richard Brown and his team. Still present on Tuesday, North Ronaldsay's Veery has now been on the island at least 11 days, although it has some way to go before it catches up with Britain's longest stayer — a bird which lingered over a month on Lundy, Devon, in autumn 1987.

Swainson's Thrush, Skokholm, Pembrokeshire (Photo: Richard Brown)
It sounds like there may well be a (the?) Short-toed Eagle touring the south at the moment. Following a report at Stoney Cross Plain, Hants, on 4th there were three reports in Dorset: Hurn on 5th, Morden Bog on 7th and Stoborough on 8th, the middle of these being where the 2014 bird famously proved twitchable early in its stay. It's worth mentioning, though, that none was 100 per cent confirmed, with the 'probable' caveat applied to each sighting. Similar uncertainty befell two reports of Pacific Swifts: one over the Corncrake twitch at Hale, Cheshire, on 3rd and another over Barmston, E Yorks, on 7th.
Early summer Red Kite movements have become the norm in recent years, with many parts of the South-West recording big counts. However, all previous records were eclipsed this week as an astonishing 186+ flew over Nanjizal on 8th, followed by 166 over Nanquidno the next morning. A total of 51 then passed over Ramsey Island, Pembs, on 9th.
Though not quite numbering into the hundreds, it was a great week for European Bee-eaters, with birds reported widely across the southern half of Britain. Among these were some substantial flocks, including an impressive dozen touring the Isles of Scilly on 8-9th, following an initial arrival of two on 4th. Six flew over Chamber's Farm Wood, Lincs, on 5th, with six at Woolley, Somerset, on 9th and five at Flamborough and Bridlington, E Yorks, on 6th. Several were in Cornwall, including a roaming flock of four at Porthgwarra on 4th and Mawgan on 5th. Ten were reported from Guernsey on 3rd, with 11 on Jersey that day.

Bee-eater, Kilnsea, East Yorkshire (Photo: Daniel Branch)
Following last week's bird in the Channel Islands a male Black-headed Bunting was on Skomer, Pembs, on 7th. A Great Reed Warbler spent the entire week lumbering around gardens at Baltasound, Unst, Shetland, following its discovery on 3rd, while the first Blyth's Reed Warbler of the spring was on Fair Isle on 8th — this spring a stark contrast to 2014's record-breaking arrival of the species. A male subalpine warbler photographed at Balranald, North Uist, on 4th looked a very good shout for Moltoni's based on the available images.

Possible Moltoni's Warbler, Balranald RSPB, N.Uist, Outer Hebrides (Photo: Steve Duffield)
With the westerly conditions briefly abating this week there was a modest arrival of typical drift migrants in the Northern Isles, with Shetland typically prospering. Of the nine Greenish Warblers recorded, seven were on Shetland and were made up of two on Fair Isle and singles on Whalsay, Out Skerries, Foula and two sites on Mainland. Others were on Sanday, Orkney, on 3rd and St Martin's, Scilly, on 4th. Fifteen Icterine Warblers were also recorded on Shetland with a single bird on North Ronaldsay, Orkney. Elsewhere one trapped at Kintbury, Berkshire, on 6th followed one at Melvich, Highland, on 4th; a male also sang at Crathie, Aberdeens, from 8th. A light scattering of Marsh Warblers across Shetland included two on Fair Isle and three on Unst.

Greenish Warbler, Skaw, Unst, Shetland (Photo: Mike Pennington)

Icterine Warbler, Crathie, Aberdeenshire (Photo: Gus Guthrie)
The vast majority of Red-backed Shrikes were again on Shetland and included three at Baltasound, Unst, on 3rd. One was near Westfield, E Sussex, on 6th. Common Rosefinches were a little more evenly spread with half-a-dozen on Shetland balanced out by records from Dorset (2), Gwynedd, East Yorkshire, Durham (2), Fife, Highland and Co Wexford. A Red-breasted Flycatcher was on Bardsey Island, Gwynedd, on 5th and a Serin was at Dungeness, Kent, on 4th.

Red-backed Shrike, Northdale, Unst, Shetland (Photo: Mike Pennington)
An Alpine Swift drifted over Spurn, E Yorks, on 7th, where there was also a Red-rumped Swallow on 8th. The week's only Short-toed Lark record came from Gugh, Scilly, on 9th while further Red-rumped Swallow records came from Suffolk and Orkney. Possible Spanish Wagtails were reported from Bryher, Scilly, on 4th and South Huish Marsh, Devon, on 7-8th while Grey-headed Wagtails were in Norfolk, Suffolk and on Unst. A rare spring Olive-backed Pipit popped up on North Ronaldsay, Orkney, on 5th where there was also at least one Red-spotted Bluethroat; others were on South Ronaldsay and on Fair Isle. A handful of Golden Oriole records included a male still singing near Forres, Moray/Nairn, to 4th.

Olive-backed Pipit, North Ronaldsay, Orkney (Photo: George Gay)

Red-spotted Bluethroat, Cara, S.Ronaldsay, Orkney (Photo: Gavin Thomas)
Despite it being June there were still a few new ducks to be found with a female King Eider off Baltasound, Unst, from 7th in addition to the lingering drake in Aberdeenshire. The female Surf Scoter was still off the Aberdeenshire coastline while a White-billed Diver was reported from a boat off Troon, Ayrshire, on 9th; another showed very well at Esha Ness, Shetland. Meanwhile back in Aberdeenshire a female American Wigeon was discovered at Rigifa Pool on 7th with the drake still at Loch of Strathbeg that day. A drake Ring-necked Duck was at Loch of Skaill, Orkney, from 4th while Derbyshire's Green-winged Teal was last seen at Carr Vale on 3rd.

King Eider, Baltasound, Unst, Shetland (Photo: Robbie Brookes)

American Wigeon, Rigifa Pool, Aberdeenshire (Photo: Barry Farquharson)

White-billed Diver, Esha Ness, Mainland, Shetland (Photo: Hugh Harrop)
A male Little Bittern found dead on St Mary's, Scilly, on 9th was unfortunately well past its sell-by date; happily though, the male continued to sing at Lakenheath Fen, Suffolk, throughout the week. A Squacco Heron was discovered at Marazion, Cornwall, on 6th and lingered to the week's end; the Scilly bird was last seen on 3rd so could they be one and the same? A Night Heron continued to mooch about Ham Wall, Somerset, to 7th with another in the county at Sutton Bingham Reservoir on 6th. One was still on St Mary's, Scilly, on 9th. A Purple Heron was on Jersey on 5th and a Cattle Egret flew past Felixstowe, Suffolk, on 8th.

Night Heron, Ham Wall RSPB, Somerset & Bristol (Photo: Simon Kidner)
Following a flyover at Newton Abbott, Devon, on 5th, a series of Black Stork records in the far south-west seemingly related to a single wandering individual. Seen over Marazion and later Polwheveral Creek, Cornwall, on 7th, the bird then flew over Penzance and Nanjizal the following day before arriving on the Isles of Scilly during the afternoon. It was then back off Penzance by the evening, but evidently liked Scilly so much that it went back to St Martin's on 9th, via Redruth! Another flew over Tuddenham St Mary, Suffolk, on 9th and may well be that seen over Deeping High Bank, Lincs, later in the day. Two White Storks drifted over Attenborough, Notts, on 4th while there was a report of five possibles at Capel le Ferne, Kent, on 6th.
Anticyclonic conditions prompted the arrival of further Red-footed Falcons early in the week. On Thursday birds were seen at on Jersey and at Dungeness, Kent, and Sheringham, Norfolk. Friday saw the arrival of a female at Hemsby, Norfolk, on 5th and a male at Kilmurrin, Co Waterford, and a young male was at the River Nene Mouth on 7th. Last week's female also stayed at Barcombe, E Sussex, to 5th. Black Kites drifted over Wykeham Forest, N Yorks, on 5th and Ford End, Essex, on 7th.
Aberdeenshire's first Black-winged Pratincole for 39 years lingered just about long enough to be twitched at Loch of Skene on 3rd, and is no doubt the recent Northumberland bird wandering further north. To compliment it, a Collared Pratincole was found at Lakenheath Fen, Suffolk, on 7th and lingered to the week's end.
It was in fact a fruitful week for shorebirds with a Broad-billed Sandpiper joining the long-staying White-rumped Sandpiper at Frampton Marsh, Lincs, on 9th and the Black-winged Stilt still in West Sussex for much of the week. The Greater Yellowlegs shows no sign of leaving Titchfield Haven while a Kentish Plover was at Ynyslas, Ceredigion, on 5th. Another great week for Red-necked Phalaropes saw a minimum of 17 migrants recorded in West Sussex, Surrey, Norfolk (2), Pembrokeshire (2), Gwent, Cheshire, Lancashire (3), East Yorkshire, North Yorkshire, Ayrshire, Angus/Dundee, the Outer Hebrides and Co Wicklow.

Red-necked Phalarope, Kilnsea, East Yorkshire (Photo: Daniel Branch)

Red-necked Phalarope, Elliot, Angus & Dundee (Photo: Mark Caunt)
Last week's White-winged Black Tern was at Swineham, Dorset, to 4th while a surprise came in the form of the adult Forster's Tern again in Galway Bay at Fiddaun Island on 5th. The Ring-billed Gull stuck around at Hayle Estuary, Cornwall, throughout.
Western Palearctic news
Though often difficult to catch up with, the first-summer Bateleur lingered on Israel's Judean Plains throughout the week and proved twitchable for Israeli birders. If it stays put, twitchers may well be tempted from further afield.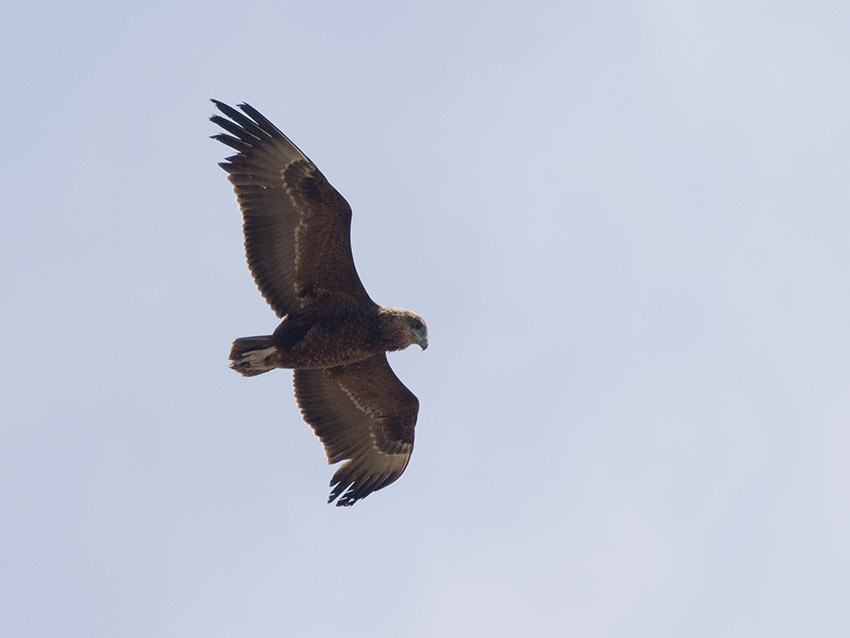 Bateleur, Israel (Photo: Rony Livne)

Bateleur, Israel (Photo: Shachar Alterman)
Multiple Eurasian Griffon Vultures in the Netherlands drew the crowds and even made it on to the national news (see video); peak count was of an impressive 25 birds near Wommels, Friesland, on the evening of 4th, which went on to roost overnight. Smaller numbers were seen subsequently, with two even seen over central Amsterdam on 6th.

Eurasian Griffon Vultures appearing on Dutch news channel RTL.
What could well be a returning Pacific Swift was at Hedemora, Dalarna, Sweden, on 7th, remarkably found by birders twitching a White-tailed Lapwing already found there! The swift had unfortunately moved on by the following morning, though the lapwing remained. Germany's Black-browed Albatross was last seen early morning on Heligoland on Thursday 4th but had returned to the island by Sunday evening, and was seen again on Monday morning. A Black-winged Kite was an all-too-brief visitor to Småland, Sweden, on 5th while Denmark's second Marmora's Warbler was at Grenen, Skagen, on 4th — in almost exactly the same spot as the nation's first!
Further records included a smart adult White-winged Black Tern Skoruvík, Northeast Iceland, on 5th — the 13th national record — and both Black-headed Bunting and Sociable Lapwing were found in Poland.
Photo of the Week, 3–9 June
Our Photo of the Week section has moved! From now onwards, POTW will appear in its own article. This week's can be found here.