The week at a glance
The continued presence of Minsmere's Western Swamphen took top spot in this week's rarity highlights but, quite frustratingly, it pulled a Friday-night bunk. With no sign from Saturday onwards, birders hoping for a weekend twitch should rightfully feel aggrieved given how settled it appeared all week. Still, a six-day stay probably stands it in better stead for acceptance as a wild bird. But where next for our vivid-blue wanderer — southern Norway?! And perhaps there might be further British records before the summer is out?

Western Swamphen, Minsmere RSPB, Suffolk (Photo: Kit Day)
Talking of potential multiple occurrences, any birder visiting a bookmaker last week would probably have got very long odds on a second Least Sandpiper joining the first at Black Hole Marsh, Devon. Yet that's exactly what happened when a second stint dropped in on 4th and was clearly a different adult Least to that already present! Unfortunately the second bird lingered for a matter of minutes before flying off, never to return, and perhaps its actions gave the original individual itchy feet — with no sign on 5th, Thursday proved to be the last of the three days it spent on site.

Least Sandpiper #1, Seaton Marshes, Devon (Photo: Simon Thurgood)

Least Sandpiper #2, Seaton Marshes, Devon (Photo: Tim White)
As well as the continuing Hudsonian Whimbrel at Perranuthnoe, Cornwall, shorebirds included a couple of adult Semipalmated Sandpipers: one on the Gann Estuary, Pembrokeshire, from 4th and another at Reenroe, Co Kerry, from 6th. No fewer than five White-rumped Sandpipers was a good weekly total for early August, with two in Norfolk (Blakeney/Cley on 3–4th; Snettisham on 6th), the Lincolnshire bird still at Frampton Marsh throughout, one still at Montrose Basin, Angus, to 5th and a Northern Irish record from Belfast Lough from 3rd. Five Pectoral Sandpipers were seen, in Essex, Cambridgeshire, Lincolnshire, Norfolk and London.

Semipalmated Sandpiper, Reenroe, Kerry (Photo: M O'Clery/Kerry Birding)

Semipalmated Sandpiper, Gann Estuary, Pembrokeshire (Photo: Toby Phelps)
Adult Spotted Sandpipers graced Sutton Bingham Reservoir, Somerset, from 4–8th and Aveton Gifford, Devon, from 8th. A Temminck's Stint was at Stone Creek, E Yorks, on 7th, while a Red-necked Phalarope dropped in at Snettisham, Norfolk, on 9th.

Spotted Sandpiper, Sutton Bingham Reservoir, Somerset & Bristol (Photo: Dave Stone)
The American White-winged Scoter was still off Murcar Links, Aberdeenshire, to 6th and at least two Surf Scoters were also knocking about there. The drake American Black Duck was again spied at Strontian, Highland, on 9th but wildfowl were otherwise scant (though Garganey were reported from just under 30 sites).
A couple of belated Black Stork records included one sitting on a hedge near Cowlinge, Suffolk, on 31 July and, on 7th, news of a bird flying over Soham, Cambs, on the afternoon of 6th. After flying over Selsdon on 3rd and North Cheam on 4th, Beddington's White Stork was last noted on site on 6th. One was then at Pulborough Brooks, W Sussex, overnight on 6–7th and possibly the same bird was at Coward's Marsh, Dorset, on the evening of 8th, this then accounting for a flyover at Weymouth on 9th. The Dalmatian Pelican continued to lumber around in Cornwall, leaving the Hayle Estuary behind on 4th and returning to Restronguet Creek from 6th.
An adult Squacco Heron was photographed at Far Ings, Lincs, late on 4th and went on to show there on the evenings of 5th and 6th before being refound nearby on 9th. The Purple Heron was seen again at Hickling Broad, Norfolk, on 3rd and was followed by a much more reliable juvenile on Otmoor, Oxon, from 7th. A male Little Bittern was still singing at Ham Wall, Somerset, on 3rd. It seems that Glossy Ibises might be on the move, with three over Buckhurst Hill, Essex, on 6th and further new individuals at Tollesbury Wick, Essex, on 5th, Rainham Marshes, London, that day and at Cley Marshes, Norfolk, on 8th. In total, birds were reported from 13 sites. Lingering Cattle Egrets were in Lancashire and Co Wexford with a bird new-in at Dungeness, Kent, on 6th.

Squacco Heron, Far Ings NR, Lincolnshire (Photo: Graham Catley)

Purple Heron, Otmoor RSPB, Oxfordshire (Photo: Max Silverman)
The first Fea's-type Petrel cruised past Ram Head, Co Waterford, on 3rd. An excellent Scilly pelagic on 4th, complete with stag do on board, recorded no fewer than five Wilson's Storm-petrels as well as 22 Cory's and three Great Shearwaters. Two Wilson's were seen on sailings on each of 5th and 7th, while elsewhere one flew past Brandon Point, Co Kerry, on 4th and one was reported off the Scillonian on 3rd. The 3rd was a good Cory's day in Co Cork, with 368 passing Galley Head and 650 (plus 25 Greats) past the Old Head of Kinsale. On 7th 208 Cory's (and 25 Greats) passed Brandon Point, Co Kerry, and 153 were also logged past Kerry Head. Much smaller numbers of both large shearwaters were noted in the south-west of England. An adult Grey Phalarope was on the beach near Fraisthorpe, E Yorks, on 9th and another passed Strumble Head, Pembrokeshire, on 3rd.

Wilson's Storm Petrel, Scilly pelagic, Isles of Scilly (Photo: Joe Pender)

Great Shearwater, Scilly pelagic, Isles of Scilly (Photo: Joe Pender)
Another week passed with both Bonaparte's Gulls still in Kent and Northumberland throughout. An adult Ring-billed Gull returned to Nimmo's Pier, Co Galway, on 6th, while Caspian Gulls were reported from 16 sites across England while peak Yellow-legged Gull count was 70+ at Stanwick Gravel Pits, Northants, on 9th. The adult Forster's Tern returned to Co Louth on 8th, when it was seen at Soldier's Point. An adult White-winged Black Tern at Meikle Loch, Aberdeenshire, on 5th and 7th was apparently a different bird to that seen there last week.

Bonaparte's Gull, Oare Marshes NR, Kent (Photo: Mark Chidwick)

Caspian Gull, Walberswick, Suffolk (Photo: Gary Nunn)
A Melodious Warbler showed well at Dungeness, Kent, on 6th and another was on Grassholm, Pembrokeshire, the previous day. There was a report of an Aquatic Warbler at Carrigaholt, Co Cork, on 3rd. An adult Rose-coloured Starling was reported from East Mey, Highland, having been present for three weeks during July.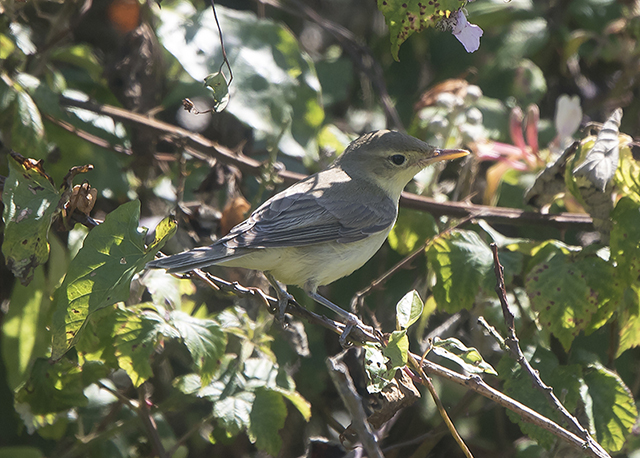 Melodious Warbler, Dungeness NNR, Kent (Photo: Martin Casemore)
Western Palearctic news
A fairly quiet week around the region was enlivened by news of at least nine Red-footed Boobies on Raso, Cape Verde, on 2 August and another photographed just off Puerto Colón, Tenerife — the latter representing just the fourth for Spain (photos here).
A male Arabian Golden Sparrow was in Eilat, Israel, from 9th. This species has been recorded before in Kuwait and was previously accepted on to Category A, though that record (from winter 2010/11) has subsequently been removed from the Kuwaiti bird list due to the species' apparent regularity in Saudi bird markets. That said, Arabian Golden Sparrow must be quite dispersive and the possibility of a genuine vagrant turning up in the likes of Kuwait or Israel must be realistic.
Arabian Golden Sparrow IBRCE Eilat Israel by Noam Weiss. Unknown origin @BirdGuides @TarsigerTeam @westpalbirds pic.twitter.com/VcQkMiYpPK

— Yoav Perlman (@yoavperlman) August 7, 2016

Male Arabian Golden Sparrow, Al Abraq, Kuwait, 3 January 2011 (Photo: www.vincentlegrand.com)
Elsewhere in Israel the Tawny Eagle continued at Tse'elim to at least 7th, while Greece's first-ever Sharp-tailed Sandpiper was photographed at Thráki. Denmark's Demoiselle Crane was at Roden Fed, Sjaelland, on 4th. In France a Least Sandpiper was a great find in the Camargue on 7th, and the Western Swamphen remained in Brittany to at least 8th.

Least Sandpiper, France (Photo: Pierre-André Crochet)
Content continues after advertisements