The week at a glance
Just when we thought we were about to get away with one of the mildest winters on record, Siberia threw us a sharp reminder that it sure was cold out east. Early-blooming snowdrops were entombed by widespread snowfall in the east, and waterbodies began to freeze solid — unfortunately for the birds, conditions were rapidly becoming all too similar to last winter.
Despite this, the Paddyfield Warbler at Pagham Harbour (W Sussex) bravely continued to show intermittently along the North Wall to 8th, although to say this bird was difficult to see would be an understatement. Disappearing for hours (days) at a time, it proved highly mobile — no doubt as a result of a chronic lack of food available for an insectivorous species, although perhaps it just wanted to keep warm...

Paddyfield Warbler, Pagham Harbour LNR, West Sussex (Photo: Ian Williamson)
Also in the county, the Parrot Crossbill continued at Black Down to 7th. As with the warbler, it wasn't easy to see: a morning vigil at the bird's favoured drinking pond was essential for success. Identification debates still rage but, although it doesn't look the largest-billed and most striking Parrot in the world, field observations reportedly suggest the bird dwarfs nearby Common Crossbills and the call is also apparently deeper.

Parrot Crossbill, Black Down NT, West Sussex (Photo: David Campbell)
After sightings at Lower Lough MacNean (Fermanagh) on 6th January, the reappearance of a dark juvenile gull on the dump at nearby Enniskillen to 6th has allowed for better views and photographs to be obtained. These seem to suggest the bird is in fact a stronger candidate for a Thayer's Gull than initially given credit for, with plumage and structure both seemingly OK for the species. As ever, the problem with positive identification of this taxon in a vagrant context stems from the possibility of extreme Kumlien's Gulls.

Thayer's Gull, Enniskillen, Fermanagh (Photo: Derek Charles)

Thayer's Gull, Enniskillen, Fermanagh (Video: brownfycatcher)
Best of the rest included the Northern Waterthrush again on St. Mary's (Scilly) on 2nd–3rd, while Hampshire's double team continued: the Spanish Sparrow was still at Calshot all week, and the Dark-eyed Junco at Hawkhill Inclosure to 6th. A Snowy Owl photographed at Altikeeragh (L'derry) on 6th will no doubt be a huge hit with Northern Irish birders if it is seen again.

Spanish Sparrow, Calshot, Hampshire (Photo: Kris Gibb)
Presumably encouraged to do so by the arrival of cold conditions from the continent, the adult Lesser White-fronted Goose stayed put at Cantley Marshes (Norfolk) to 7th at least in the company of up to 80 Taiga Bean Geese. The Ross's Goose was still touring the Cumbrian side of the Solway, being seen at Border Marsh on 2nd, Newton Marsh on 3rd and Anthorn on 4th–5th. Two were also still in north and east Norfolk respectively, while the only Snow Goose this week was the white morph still at Big Isle (Donegal) on 5th–6th.

Ross's Goose, Cardurnock, Cumbria (Photo: Sam Northwood)
Three Richardson's Canada Geese were still at Lissadell (Sligo) on 3rd, with two there the following day. In a poor week for vagrant white-cheeked geese, the only others were reported were two (one big, one small) with Greylags at Greyabbey (Down) on 6th. A couple of south-coast Black Brants, at Pagham (W Sussex) on 2nd–7th and Chickerell (Dorset) on 5th, were two of just three reported this week; a third was at Holkham (Norfolk) on 4th. The Red-breasted Goose was also still touring the Exe Estuary (Devon) throughout.
A drake Blue-winged Teal was reported at Threave (Dumf & Gall) on 4th, while the St. Mary's (Scilly) bird was still at Lower Moors throughout. Scotland claimed the lion's share of nine drake Green-winged Teal: five north of the border included new birds at Guardbridge (Fife) on 4th, Loch of Benston (Shetland) on 5th–6th and Milton (Highland) on 7th, with others still at Kinneil Lagoon (Forth) and again at Mersehead (Dumf & Gall). English birds involved a new drake at Swillington Ings (W Yorks) from 7th, while others remained on Holy Island (Northumberland) and at Eyebrook Reservoir (Leics). A single Irish record concerned a drake still at Tacumshin (Wexford). A drake American Wigeon was again at Loch of Strathbeg (Aberdeenshire) on 5th, with the first-winter drake still at North Warren (Suffolk) to 4th. The Devon bird was at Bowling Green Marsh early in the week before moving back to Dawlish Warren on 5th, while the West Yorkshire drake remained at Angler's Country Park all week.

Blue-winged Teal, St. Mary's, Isles of Scilly (Photo: Joe Pender)

American Wigeon and Wigeon, Wintersett Reservoir, West Yorkshire (Photo: John Wilcox)
The Bufflehead remained settled at Helston Loe Pool (Cornwall) all week, but the young drake Lesser Scaup moved from Dozmary Pool to Siblyback Reservoir on 5th. Other Lesser Scaup were represented by the female still at Slimbridge (Glos) to 7th and the drake at Cosmeston Lakes (Glamorgan) throughout. A dozen Ring-necked Ducks included two new Irish birds: a female at Durnesh Lake (Donegal) on 2nd and a drake at Ballyshunnock Reservoirs (Waterford) on 6th–7th, with the drake still at Lough Shivnagh (Donegal) on 7th. Two drakes were still at Chard Junction (Dorset) to 5th, while Ayrshire's mobile drake relocated to Martnaham Loch on 6th and the female was again at Hatfield Moors (S Yorks) from 4th. Others were still at Wroxham Broad (Norfolk), Kirkby-on-Bain Gravel Pits (Lincs) and Thornton ICI Reservoir (Lancs), while Cornish records from Par Beach Pool, Stithians Reservoir and Gwithian probably involve some overlap where individuals are concerned. A new drake Ferruginous Duck was found at Wimbleball Lake (Somerset) from 5th and the drake also remained at Woolhampton Gravel Pits (Berks) to 7th.

Lesser Scaup, Cosmeston Lakes CP, Glamorgan (Photo: Raymond King)
With cold weather creeping in, the beginning of what looks likely to be an impressive influx of Smew occurred, particularly in the second half of the week. Things really got going on 8th, with significant counts from unusual sites including 22 at Saddle Bow and five at Wells-next-the-Sea (Norfolk) in addition to 15 on Southwold boating lake (Suffolk). More traditional locations also scored heavily, with up to 24 at Wraysbury Gravel Pits (Berks), 16 at Rutland Water and 14 at Minsmere (Suffolk). Smaller counts of up to ten also came from many widespread sites.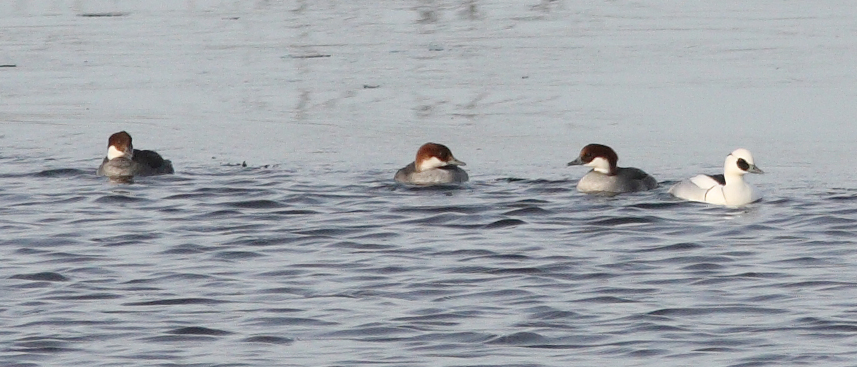 Smew, Blindwells, Lothian (Photo: John McInnes)
One Surf Scoter became two off Garretstown (Cork) on 5th, with up to two still off Llanddulas (Conwy) throughout. In addition, females were still off Morfa Nefyn (Gwynedd) to 7th and Dawlish Warren (Devon) all week. The White-billed Diver was again off Cara, South Ronaldsay (Orkney) on 5th, with another seen from the ferry somewhere between Unst and Fetlar (Shetland) on 8th.
A better showing of 27 Great White Egrets this week was boosted by an excellent eight at Shapwick Heath (Somerset) on 3rd. Also in the county were two at Sutton Bingham Reservoir on 5th–7th; presumably the same two had been seen at Radipole Lake (Dorset) on 2nd. Aside from one still at Llangorse Lake (Powys) and two Irish birds at Ardglass (Down) on 5th and Ballycarney (Wexford) on 3rd–6th, all birds were in England. A Cattle Egret was briefly at Tide Mills, Newhaven (E Sussex) on 7th, with others remaining at Hillsborough (Down) to 5th and Warblington (Hants) to 7th. The wandering White Stork was also relocated at Scrivelsby (Lincs) on 5th.

Cattle Egret, Warblington, Hampshire (Photo: Dennis Morrison)
Perhaps due to reduced coverage (or possibly a genuine exodus in the freezing weather), fewer Glossy Ibises were reported during the week. The flock of 23 at Carew (Pembrokeshire) had reduced to 14 by 7th, although there were new Welsh birds at Borth (Ceredigion) from 3rd and Dolydd Hafren (Powys) on 5th in addition to one again at Cosmeston Lakes (Glamorgan) briefly on 6th. Irish records were limited to Wexford: one was still at Cahore on 2nd, with another at Wexford Wildfowl Reserve on 6th. New English records involved two at Lodmoor (Dorset) on 3rd with brief (or flyover) singles at North Cave Wetlands (E Yorks) and Flookburgh (Cumbria) on 3rd, Dawlish Warren (Devon) on 4th and Cuckmere Haven (E Sussex) on 5th. Others were still in Lancashire, Cheshire, Kent, the Isle of Wight, Devon (2) and Cornwall.

Glossy Ibis, Leighton Moss RSPB, Lancashire (Photo: Paul Hargreaves)
In Galway, the Pallid Harrier again roosted at Lough Corrib on 4th. An improved showing of around 20 Rough-legged Buzzards included twos at Ouse Fen (Cambs) and Holkham (Norfolk). Irish birds were at Chapel Island (Down) on 5th and still in the Kilcoole (Wicklow) area throughout. Otherwise, birds were largely restricted to east-coast locations, although new birds over Chichester Gravel Pits (W Sussex) on 2nd and Whetstone Gate (W Yorks) on 3rd–7th bucked the trend.
Ayrshire's Pectoral Sandpiper remained loyal to Loans and its Lapwing cohort to 7th; it will be interesting to see whether the freezing conditions finally push this bird off. The Western Sandpiper was reported again briefly at Cley Marshes (Norfolk) on 3rd although not again. Has this bird gone, has it succumbed, or is it simply not being looked for? Answers on a postcard please...
Unperturbed by the conditions were continuing Long-billed Dowitchers at Kidwelly (Carmarthenshire) to 8th, and two at Ballyteige Bay and The Cull (Wexford) throughout the week. Another made a surprise reappearance at Lodmoor (Dorset) on 2nd before relocating to Langton Herring on 3rd–4th. The Lesser Yellowlegs was also still hanging on at Burnham-on-Sea (Somerset) on 4th, with the adult Spotted Sandpiper also still in the county at Chew Valley Lake to 6th. Other Spotted Sands remained on the Plym Estuary (Devon) to 5th and Stanpit Marsh (Dorset) all week; the latter is apparently not the recent Lyme Regis bird, as it has all its toes in one piece...! A Grey Phalarope was at Sandside Bay (Orkney) on 4th–5th.

Spotted Sandpiper, Christchurch Harbour, Dorset (Photo: anon)
In addition to the Thayer's-type gull, Northern Ireland still offered the adult Bonaparte's Gull commuting between Larne and Ballygalley (Antrim) throughout, and the Ross's Gull was again at Ardglass (Down) on 5th. Around 20 Ring-billed Gulls included three adults at Nimmo's Pier (Galway), with two still at Sandymount (Dublin). New Irish birds were a 2nd-winter at Whitehouse Lagoon (Antrim) and an adult at Vartry Reservoirs (Wicklow), while new British adults were at Pitsea landfill site (Essex) on 2nd–4th and Lower Farm Gravel Pits (Berks) on 3rd. A striking adult at Priorslee Lake (Shropshire) on 3rd–4th appears to be a hybrid Ring-billed × Lesser Black-backed Gull due to its large size and dark mantle colouration, and looks very similar indeed to one seen in Spain in recent winters — could it even be the same bird?

Bonaparte's Gull, Larne, Antrim (Photo: Tristan Reid)

Ring-billed Gull, undisclosed site, Essex (Photo: Steve Arlow)
White-winged gull numbers appeared to drop away slightly this week, presumably thanks to settled conditions allowing them out into the open sea once more. However, they also seemed to become more widespread, with more sites further south registering increased counts. Iceland Gulls were still pretty much everywhere up north: peak counts of 60 from Sand Geo (Orkney) and 54 at Symbister, Whalsay (Shetland) epitomised the situation, although the Stornoway Harbour (Outer Hebrides) flock fell away to 'just' 27 by the end of the week. Counts of 17 from Corbally Road Reservoir (Antrim) and 15+ at Ardglass (Down) were the maxima from the Emerald Isle — Killybegs was eerily quiet. Glaucous Gull numbers were much lower, although there was a double-figure count from Orkney.

Iceland Gull, Peel, Isle of Man (Photo: Brian Liggins)

Glaucous Gull, Ardglass, Down (Photo: Craig Nash)
In contrast, Caspian Gull numbers were on the rise thanks to the continental freeze — up to eight were recorded at Dogsthorpe Tip (Cambs) during the week, with fours at Pitsea (Essex) and Rainham Marshes (London), and ones and twos from plenty of other sites. A report of two first-winters at Dowlais Top (Glamorgan) on 7th is an excellent Welsh record.

Caspian Gull, Cross Ness, Greater London (Photo: Richard Bonser)
The Forster's Tern was again in Galway Bay at Kinvarra on 7th; it is looking ever more likely that this could be the first winter in which it hasn't been seen around Galway city.
In Down, the Richard's Pipit was still performing well at Killard Nature Reserve to 7th, with the Dorset bird again at Wyke Regis on 5th. Although the bird presumably wasn't overly impressed, the snow at Bempton Cliffs (E Yorks) allowed photographers to take some unusual shots of the male Desert Wheatear, which was still present throughout.

Desert Wheatear, Bempton Cliffs RSPB, East Yorkshire (Photo: Steve Race)
Belated news regarding a Black-throated Thrush seen briefly atop Mangerton Mountain, near Killarney (Kerry) on 1st also broke this week. The associated messages strongly advised against any attempt to reach the site and, despite this being a real mega for the Irish, it doesn't appear to have been looked for again. It seems unlikely the same could be said had a Dusky Thrush popped up on a British peak...
The Hume's Leaf Warbler was again at Wyke Regis (Dorset) on 5th, while a slight reduction in Yellow-browed Warbler numbers included three at Carnon Downs (Cornwall) throughout, with two also still in the county at Gwennap. New birds were noted at Slapton Ley (Devon) on 2nd–5th and Combe St. Nicholas (Somerset) from the latter date. A Dusky Warbler was once again noted on St. Mary's (Scilly) on 3rd.

Yellow-browed Warbler, Chard, Somerset & Bristol (Photo: R G Harris)
A fairly routine showing of twenty Great Grey Shrikes included new birds at Abberton Reservoir (Essex) and Cleish (Perth & Kinross) from 2nd. Other Scottish records came from Mitchellslacks (Dumf & Gall), Lindean Reservoir (Borders), and Loch Kinord and Loch of Leys (both Aberdeenshire). All other records were from various sites around England.

Great Grey Shrike, Longnewton, Cleveland (Photo: Tim Cossins)
The two Northern Long-tailed Tits remained at Luddenden Dean (W Yorks) throughout the week, as did the Coues's Arctic Redpoll at Titchwell (Norfolk). A possible Little Bunting was reported at Dunwich Heath (Suffolk) on 7th, while one was again noted at Grouville Marsh (Jersey) on 5th.

Northern Long-tailed Tit, Luddenden Dean, West Yorkshire (Photo: Michael Foley)
Photo of the Week: 2nd–8th February

Mandarin Duck, Llandrindod Wells, Powys (Photo: Kev Joynes)
Wintry conditions in the UK always provide opportunities to capture images that are different from the norm. This week, Kev Joynes has braved the elements to grab a series of images featuring ice and snow, our pick of which is his 'speedskating Mandarin' shot. We've all seen film of wildfowl struggling to stay upright on frozen lakes but, as well as the perfect timing to capture this hilarious pose, the effect is further enhanced by the fact that this species normally looks so elegant! Kev has provided a much-needed tonic to beat the mid-winter blues.
Other notable photos

Red Kite, Gigrin Farm, Powys (Photo: Mike Warburton)

Great Tit, undisclosed site, Lancashire (Photo: Austin Thomas)

Carrion Crow, Cresswell Pond NWT, Northumberland (Photo: Chris Barlow)

Common Snipe, Willington GPs, Derbyshire (Photo: Richard Pittam)

Nuthatch, undisclosed site, Norfolk (Photo: Claredscott@hotmail.Com)

Coal Tit, undisclosed site, Derbyshire (Photo: Robert Askew)

Pallid Harrier, Qatar (Photo: Dileep Kumar)

Crested Tit, undisclosed site, Highland (Photo: Marcus Conway - ebirder)

Short-eared Owl, undisclosed site, Essex (Photo: Rob Cross)

Spoonbill, Holes Bay, Dorset (Photo: Simon Johnson)

Waxwing, Woodbridge, Suffolk (Photo: Jon Evans)

Desert Wheatear, Bempton Cliffs RSPB, East Yorkshire (Photo: Steve Race)

Bullfinch, Cannock Chase, Staffordshire (Photo: Stuart Wright)

Lesser Spotted Woodpecker, Marbury CP, Cheshire (Photo: Steve Dolan)