| | |
| --- | --- |
| | |
| American Coot: Lerwick, Shetland. The 4th for Britain and Ireland; white undertail coverts and paler plumage compared to Coot. (Photo: Alan Clewes) | American Coot: Lerwick, Shetland. Note the dark band across the bill and dark reddish spot above the shield. (Photo: Alan Clewes) |
American Coots are not the most scintillating of rarities, but what they lack in charisma they certainly make up for in rarity appeal. The 4th for Britain and Ireland was found at Lerwick (Shetland) on 30th and was present throughout the week. One was present for one day in Cumbria in 1999, but the last to linger was a bird at Stodmarsh (Kent) in April 1996.
| | |
| --- | --- |
| | |
| Desert Wheatear: Reculver, Kent. The 2nd record for the county this autumn. (Photo: Mike Lawrence) | Desert Wheatear: Reculver, Kent. (Photo: Dylan Wrathall) |
| | |
| --- | --- |
| | |
| Desert Wheatear: Reculver, Kent. (Photo: Steve Blain) | Desert Wheatear: Reculver, Kent. (Photo: Nigel Blake) |
Remnants of the autumn are still being found. Another cracking Desert Wheatear appeared, this time at Reculver (Kent) on 28th, and was present through the week. Another Hume's Warbler was discovered, with a bird in Great Yarmouth (Norfolk) from 30th onwards. Other sprites included 3 Pallas's Warblers and 9 Yellow-browed Warblers and there were 4 Siberian Chiffchaffs reported. A Red-breasted Flycatcher at Mizen Head (Co. Cork) from 1st was late, a Richard's Pipit was at Spurn (E. Yorks) on the 30th, with the 2 birds last reported at Easington (Co. Durham) on 27th but at least one still present on 3rd. The male and female Sardinian Warbler remained in Skegness (Lincs), as did the Little Bunting at Walsey Hills (Norfolk) and Rose-coloured Starling in Lisburn (Co. Antrim). Dusky Warblers were still present at Paignton (Devon) and St. Mary's (Scilly) and the Red-throated Pipit remained at Tacumshin (Co. Wexford). There was a report of a Hoopoe from Tunbridge Wells (Kent) on 1st, and an Isabelline Shrike was reported from Llanbedrog (Gwynedd) on 27th. Waxwings were still present in good numbers at some locations, with 220 at Billingham (Cleveland) on 27th, and a notable count of 45 Lapland Buntings were at Rimac (Lincs) on 28th.
| | |
| --- | --- |
| | |
| Siberian Chiffchaff: National Wetlands Centre, Carmarthen. 4 were reported during the week; for a suspected bird, in addition to plumage features hear it call. (Photo: Mark Newton) | Waxwing: Shottisham, Suffolk. (Photo: Sean Nixon) |
| | |
| --- | --- |
| | |
| Lapland Bunting: Minsmere, Suffolk. An excellent flock of 45 was noted in Lincs. (Photo: Kit Day) | Snow Bunting: Wallasey, Cheshire. Always a delight on those short winter days (Photo: Steve Tomlinson) |
The Pied-billed Grebe remained at Tacumshin, as did the Forster's Tern at Nimmo's Pier (Co. Galway). The juvenile female Redhead was again reported from Loch Tangasdial on Barra (Outer Hebrides) and the drake remained at Kenfig Pool (Glamorgan). The American Golden Plover was again at Marshside RSPB (Lancs) and the 1st-winter Lesser Yellowlegs continued to delight observers on the Hayle Estuary, where there was a report of a Western Sandpiper on the 30th and 1st, which will be an excellent find if confirmed. An influx of around 90 Avocets was noted on inland waters in the southeast during stormy weather on the 29th, with 20 at Hanningfield Reservoir (Essex) the largest group. A 1st-winter drake King Eider was at Weisdale Voe (Shetland), and other rare ducks included 3 Surf Scoters, 3 Ferruginous Ducks, 7 Green-winged Teals and 2 American Wigeons. Scarce gulls were still that, with just 7 Iceland Gulls and 7 Glaucous Gulls reported, including 3 adults on Unst (Shetland). There were around a dozen reports of Caspian Gulls, including 3 at Groby Pool (Leics) and a dozen Ring-billed Gulls were nearly all 'regular' adults. A dozen Little Auks were reported, with a further 50 in Yell Sound (Shetland) on 2nd. The long-staying Grey Phalarope was still at Chasewater (Staffs), with another at Sennen (Cornwall), whilst an inland European Storm-petrel was a great find at Queen Mother Res (Berkshire) on 2nd, before it succumbed to a local Peregrine.
Content continues after advertisements
| | |
| --- | --- |
| | |
| Little Auk: Rosslare, Co. Wexford. The numbers wintering near our coasts are sizeable, but inshore encounters are always a treat. (Photo: Tom Shevlin) | Ferruginous Duck: Minsmere, Suffolk. (Photo: Sean Nixon) |
| | |
| --- | --- |
| | |
| Spoonbill: Brockholes Quarry, Lancs. One of 18 reported during the week, though there may be some movement between sites. (Photo: Bill Aspin) | Grey Phalarope: Chasewater, Staffs. (Photo: Nick Martin) |
Late migrants included a Willow Warbler in Devon and there were 4 Swallows reported, 3 of which were on the 30th. With the continued mild weather, will there be more surprises waiting for us in the early winter period?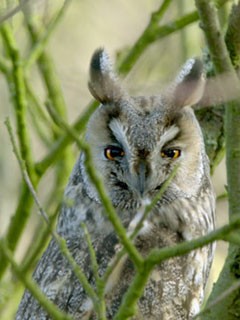 Long-eared Owl: Marton Mere, Lancs. Birds at roosts afford excellent views, but please ensure that disturbance is kept to a minimum. (Photo: Philip Tomkinson)