The week at a glance
Post-needletail week started slowly as birders spent the weekend recuperating after the incredible events of Wednesday last. Pleasant, settled conditions prevailed, and the pace of news on Bird News Extra dropped frighteningly close to an all-time low: it appeared that, at last, the summer doldrums had arrived. But then July came, and with it, mid-afternoon on 1st, another mega-alert to shatter the short-lasting peace of what has already been an exceptional early summer period.
The mega in question very much deserved its title, given that the last twitchable bird was as long ago as July 1988. The species in question? One of the world's two dark-and-white maritime tern species: a stunning adult Bridled Tern. Though it flew off minutes after being found, it was back again that evening and gave a fantastic display to the assembled crowd on the Inner Farne jetty as it alternated between roosting on the rocks and flying around giving its distinct gull-like call. The bird went on to give similar performances throughout 2nd and 3rd, often flying out to sea for a few hours at a time but always returning to roost; it was even seen displaying on the island on the latter date! "Another blocker bites the dust" seemed to be the message across various social media outlets, and indeed it does — what next from the late 80s and early 90s? A Pallas's Sandgrouse wouldn't half be popular!

Bridled Tern, Farne Islands, Northumberland (Photo: Tom Tams)

Bridled Tern, Farne Islands, Northumberland (Photo: Steven Fryer)

Bridled Tern, Farne Islands, Northumberland (Photo: Willie McBay)
It was otherwise a fairly quiet week. A male Sardinian Warbler trapped and ringed at Mire Loch (Borders) on 1st would have proved a popular fixture had it lingered. The last twitchable British record concerned a female at Berry Head (Devon) in November 2008; the glut of records just after the turn of the century now seems a long time ago. Two Western Subalpine Warblers remained on Fair Isle to at least 26th, with the island also hosting up to five Marsh Warblers (just what are they doing?!) while Nottinghamshire's Melodious Warbler was to be found at Tiln until 1st only. In Devon, the putative Desert Lesser Whitethroat continued to sing at Newton Abbot.

Melodious Warbler, Tiln GP, Nottinghamshire (Photo: Alan Shaw)
A male Ortolan Bunting at Blakeney (Norfolk) late on 1st set alarm bells ringing in many birders' heads that evening — the time of year being at the very least odd for Ortolan — although there was no sign of the bird in the area the following morning. After speaking to the finder, who conceded that he hadn't even considered the possibility of Grey-necked Bunting (a now-anticipated British first) at the time, it transpires that the bird in question may well have been one after all, given the description. It was apparently seen twice — both times briefly — and was last seen flying off towards Cley after feeding along the path towards the sluice at Blakeney Harbour. The bird was described as having a grey head and rufous upperparts, with typical features such as the pink bill and legs also noted.
Small numbers of Crossbills are beginning to arrive on the Northern Isles, so it was no great surprise to learn that a male Two-barred Crossbill had been photographed on Eday (Orkney) on 30th. Also on Orkney was a Rose-coloured Starling at Finstown, Mainland and a Common Rosefinch on North Ronaldsay. Further rosefinches remained at Tressait (Perth/Kinross) and Porth Eilian (Anglesey), male Red-backed Shrikes were at Leighton Moss (Lancs) on 27th and Mire Loch (Borders) on 1st and a Short-toed Lark graced Bryher (Scilly) on 30th.

Common Rosefinch, Tressait, Perth & Kinross (Photo: John Nadin)
The Snowy Owl on St. Kilda was seen again on 3rd, although there were no reports of the County Donegal individual.
Content continues after advertisements
A breeding-plumaged Pacific Golden Plover was on North Ronaldsay on 1st, with Orkney also laying claim to the week's other big shorebird: a Lesser Yellowlegs at The Loons on 29th. The only Pectoral Sandpiper was at Kilnsea (E Yorks) to 27th, while Temminck's Stints were at Letham Pools (Fife), Derwent Reservoir (Northumberland), Rigifa Pool (Aberdeenshire) and Scaling Dam Reservoir (Cleveland). Male Red-necked Phalaropes graced the Ouse Washes (Cambs) and Tiree (Argyll) on 28th.
A Gull-billed Tern at Tacumshin (Wexford) mid-morning on 3rd was remarkably joined by a second there an hour later; rare terns were otherwise absent, although the Bonaparte's Gull continued its lengthy vigil at Oare Marshes (Kent). Lurgan Green (Louth) racked up an impressive three Ring-billed Gulls (adult, 2nd-summer and 1st-summer), and a second calendar-year bird was again at Blennerville (Kerry).
One of the more remarkable records of the week related to an adult drake Surf Scoter well inland at Lake Vyrnwy (Powys) on 2nd, though it had moved on by the following morning. Two drakes and a female remained off the Aberdeenshire coastline — as did the King Eider on the Ythan Estuary — while the Filey Surfer also remained there until 1st. A Ferruginous Duck was at Strumpshaw Fen (Norfolk) on 28th, and drake Ring-necked Ducks all stayed put in North Yorkshire, Lothian and County Armagh.

Surf Scoter, Lake Vyrnwy RSPB, Powys (Photo: Gavin Chambers)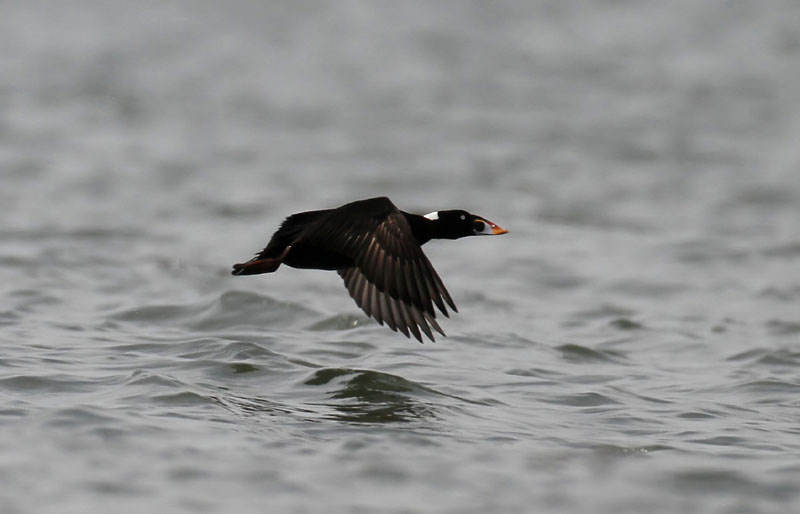 Surf Scoter, Filey, North Yorkshire (Photo: Dave Mansell)

King Eider, Ythan Estuary, Aberdeenshire (Photo: Adam Williams)

Ring-necked Duck, Oxford Island NNR, Armagh (Photo: Ed O'Hara)
In the settled conditions it was no great surprise that seawatching continued to take a back seat. A Great Shearwater off Inishbofin (Galway) on 30th was notable though, as was a Cory's Shearwater seen off Spurn (E Yorks) during the evening of 28th and again the following morning. A Sabine's Gull was seven miles west of Gairloch (Highland) on 3rd.
Somerset's pair of Little Bitterns began to show more frequently from 28th; this change in behaviour strongly suggests that the two are now feeding youngsters, so hopefully we can look forward to plenty more sightings in the coming month. The Purple Heron was still at Tophill Low (E Yorks) on 30th and another was at Dungeness (Kent) on 1st. Also in Kent, a Cattle Egret flew over Oare Marshes on 3rd, while Pembrokeshire's Glossy Ibis predictably stood firm at Marloes Mere. A Black Stork drifted over New Fancy View (Glos) on 1st, and one of Breydon Water's escaped White Storks again put in an appearance on 30th. Wandering Cranes were again on Unst (Shetland) on 2nd, with another in Northumberland at Wingates on 29th and then at Rayburn Lake on 2nd.

Purple Heron, Tophill Low NR, East Yorkshire (Photo: Dave Mansell)
Photo of the Week

Whinchat, Dartmoor, Devon (Photo: Steve Hatch)
Since he started posting his images to BirdGuides 18 months ago, bird photographer Steve Hatch has submitted a very popular series of images from around his Devon base. One of Steve's favourite targets is Whinchat and, this week, he managed a brief encounter with an attractive male of this species as it alighted on a flowering Foxglove. Most bird photographers aim to isolate their subjects from their settings but, for passerines, this tends to result in 'bird on a stick' shots with the perch still in focus. That's all very well if the perch is attractive, but an ugly perch can easily spoil an otherwise aesthetic image. In this case, the pristine blooms of the Foxglove add far more interest and appeal than a typical twig. Adding in the well-timed pose and careful composition, Steve has certainly earned his first Photo of the Week.
Other Notable Photos

Peregrine, undisclosed site, Derbyshire (Photo: Simon Richarsdon)

Little Owl, Willoughby Waterleys, Leicestershire and Rutland (Photo: Paul Riddle)

Golden Plover, North Uist, Outer Hebrides (Photo: Steve Round)

Great Spotted Woodpecker, Llandudno, Conwy (Photo: Dave Williams)

Bee-eater, Bulgaria (Photo: Artur Stankiewicz)

Redstart, Malvern Hills, Worcestershire (Photo: Mr Clive Daelman)

Spotted Flycatcher, undisclosed site, Suffolk (Photo: Ian Clarke)

Bridled Tern, Farne Islands, Northumberland (Photo: Rob Wilson)

Starling, Preston, Lancashire (Photo: Martin Jump)

Greater Roadrunner, United States (Photo: Dennis Gilman)

Sedge Warbler, undisclosed site, Northamptonshire (Photo: Douglas McFarlane)