We may now be into the first days of the meteorological summer but migration has still very much been in action, as this week's entertaining roll-call of major finds showed. In fact, it's quite often the way as May turns to June, with this period traditionally producing some of the year's biggest birds – this year proved no exception.
Before launching into this week's top sightings, we wanted to briefly pay homage to what will likely prove the rarity of the year – and arguably perhaps of the decade, too – which occurred on 25th, just a couple of days prior to this latest review period commencing. Robert Foubister's jaw-dropping sighting of the Western Palearctic's first White-chinned Petrel is right up there with the likes of Atlantic Yellow-nosed Albatross and Ascension Frigatebird in terms of its predictability to occur here. A truly special find – you can read more about it here.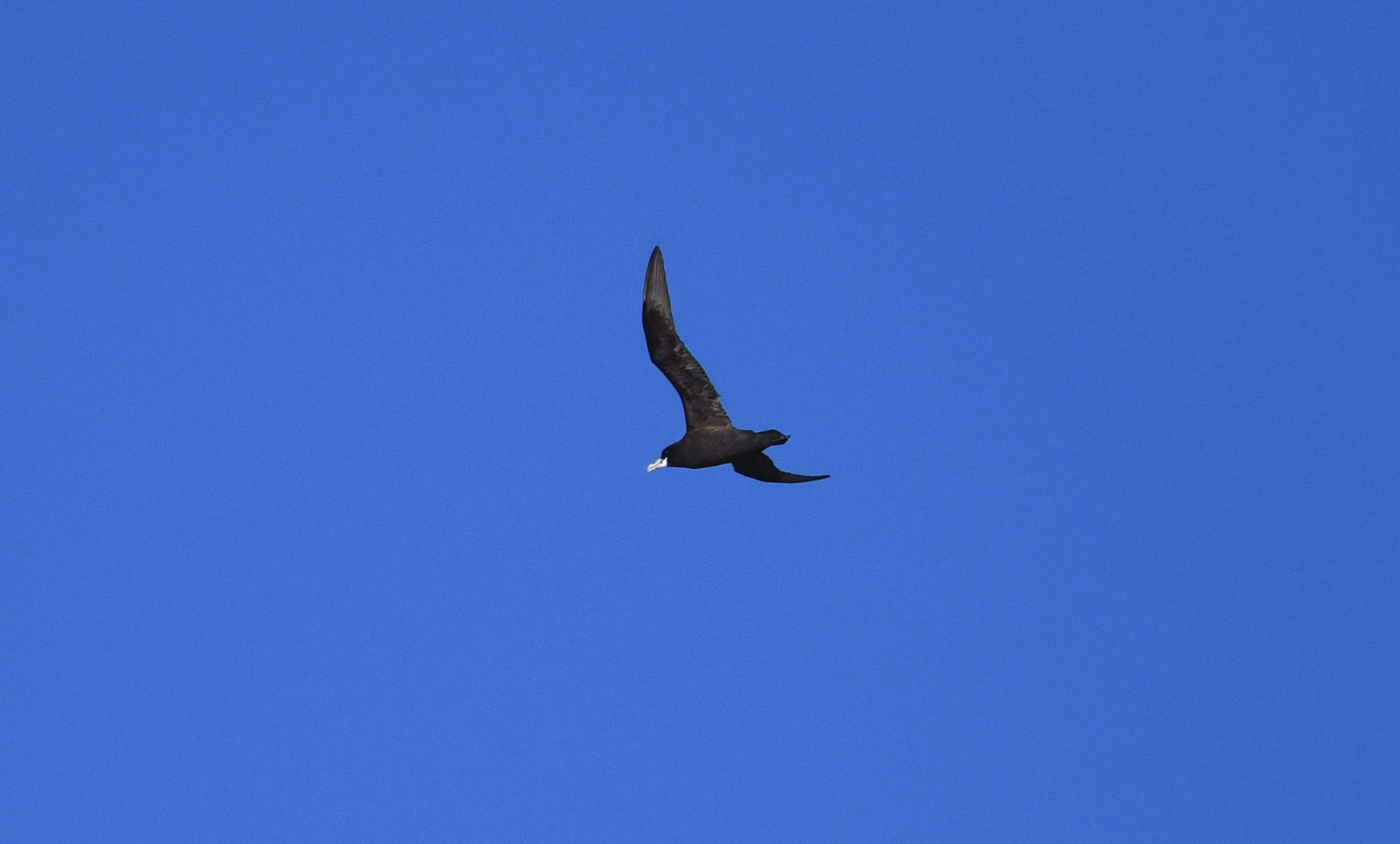 White-chinned Petrel, Scapa Bay, Orkney (Robert Foubister).
To this week, then, and there was a nice handful of discoveries that caused our mega alert to sound. Early on 28th, ringers at Nanjizal Valley, Cornwall, were handsomely rewarded for their constant efforts at this south-westerly hot-spot when they trapped a Eurasian Scops Owl. Thought to be a third-calendar-year or older bird, it's the seventh for the county and the first since one was famously seen in the car park at Porthgwarra on a few dates in late March 2002.

Eurasian Scops Owl, Nanjizal Valley, Cornwall (Kester Wilson).
On 29th, news of Britain's first-ever spring Black-and-white Warbler broke. Seen on 28th in a garden at Aithsetter, Shetland, it is said to have quickly moved on and needless to say wasn't seen again.
Then, on 31st, a fly-by Calandra Lark was seen by two fortunate observers at Greatham Creek, Cleveland. Many saw the Isle of May bird in May 2006, while some intrepid birders ventured to Fair Isle for a four-dayer in May 2016, but mainland sightings have been brief at best in living memory. It really feels like a species that is long overdue to put in a protracted stay somewhere at some point ...
North Ronaldsay Bird Observatory scored heavily the following day when a Green Warbler was trapped and ringed in the evening. Although tentatively identified as a Greenish, it is clear, having spoken with the Obs staff, that they suspected the rarer option at the time – something that photos appear to back up. In many respects this is a dead ringer for well-documented Green Warblers seen on Unst in 2016 and Fair Isle in 2017. And, while the North Ron team remains understandably cautious about labelling it as such, DNA will no doubt soon give us an answer – hopefully nitidus. If not, it's fair to say that field characters might as well be binned!

Green Warbler, North Ronaldsay, Orkney (Rael Butcher / North Ronaldsay Bird Observatory).
The big excitement of the week for many was the beginning of what is likely to prove a major Rosy Starling invasion. By the end of the review period, 25 had already reached as far west as Co Clare and north to Shetland and the Outer Hebrides. With huge numbers being recorded right across mainland Europe, no doubt more will follow over the coming weeks.

Rosy Starling, Horley, Surrey (Mark Leitch).
Associated with this was a nice selection of eastern rarities. Two male Lesser Grey Shrikes arrived on the Northern Isles on 31st, with one on Unst, Shetland, and the other on Westray, Orkney. A Booted Warbler also spent the day singing at Bakkasetter, Shetland, on 1st, and there was a significant influx of Blyth's Reed Warblers, with double figures recorded in song.

Lesser Grey Shrike, Westray, Orkney (Sandra Otter).

Booted Warbler, Bakkasetter, Mainland, Shetland (Mick Kemp).
A Great Reed Warbler broke into song at Carlton Marshes, Suffolk, on 2nd, while the long-staying Iberian Chiffchaff was happily belting out its refrain in Enfield, London, until at least 28th. A Subalpine Warbler was trapped and ringed at Kilnsea, East Yorks, on 31st, with others following on Foula on 1st and Fair Isle on 2nd.
It's tempting to suggest that the Caspian Tern which flew through Stanford Reservoir, Northants, early on 31st might well be the same seen at several sites around Southampton Water, Hants, later that day. Meanwhile, also in Hampshire, a Whiskered Tern visited Titchfield Haven on 27-28th, having previously been seen at Dungeness, Kent, from 23-25th. Meanwhile, in east Norfolk, a fine-looking Franklin's Gull visited Hickling Broad for less than an hour on 28th.

Caspian Tern, Eling, Hampshire (Lee Fuller).

Whiskered Tern, Titchfield Haven NNR, Hampshire (Ian Wells).

Franklin's Gull, Hickling Broad, Norfolk (Tim Allwood).
Not entirely surprising for the first week of June, rare shorebirds were limited in their appearances. The continuing Long-billed Dowitcher at Belfast Lough RSPB, Co Antrim, was still on show, while a Collared Pratincole at Tramore, Co Waterford, on 27th is just the sixth for Ireland – though, impressively, the third in less than a year.
This spring has evidently been a good one for rare and scarce herons (imagine how many might have been found if field coverage had been at normal levels since March). A Little Bittern flew over Blagdon Lake, Somerset, late on 27th, with another flushed from the stream at St Levan, Cornwall, on 30th. Having been found on 24th, a Squacco Heron was still at Hickling Broad, Norfolk, to 27th – but seemingly relocated north-west to Bayfield on 30-31st.
A Tawny Pipit at Nanjizal, Cornwall, on 30th was one of two this week, with another reported in the South Foreland area of Kent early on.

Squacco Heron, Bayfield, Norfolk (Sean Gray).
Scottish mainland
With lockdown still in place across Scotland, news understandably remained quite limited. A Common Crane flew over Inverness, Highland, on 30th and a European Honey Buzzard was photographed on the Borders coast at St Abb's Head on 29th. Rosy Starlings at Talmine, Highland, and Elgin, Moray & Nairn, as the week ended gave a big hint at what may be to come.
Other notable sightings included a Garganey at Loch of Lintrathen, Angus, two Avocets at Musselburgh Lagoons, Lothian, and a Montagu's Harrier flying through at Thornhill, Forth. Common Quail were prominent, with individuals in Highland at Skye of Curr, two sites in Moray & Nairn and three sites in the Borders (including four birds in the Reston area).
A female Red-backed Shrike was seen at Kilminning, Fife; more unusual for the end of May was a Shore Lark at St Abb's Head.
Northern Isles and the Hebrides
Two European Bee-eaters brightened up Grimness on South Ronaldsay, Orkney, on 31st. Blyth's Reed Warblers were on Burray and Papa Westray on 29th. A Woodchat Shrike on the latter island on 30th was a shock find for the birder who'd spied a female Red-footed Falcon overhead moments earlier! As well as its big prize, North Ronaldsay lured in two Red-backed Shrikes and a few Marsh Warblers.

European Bee-eater, Grimness, S Ronaldsay, Orkney (Leonard Copland).
A singing male European Serin at Scatness, Shetland, from 28th was popular, being only the eighth for Shetland. Several Blyth's Reeds, Red-backed Shrikes, Common Rosefinches and Icterine Warblers were spread across Shetland, while Bluethroats were on Whalsay on 27th and at Grutness on 2nd. Three Golden Orioles were on Mainland. A ranging Great Crested Grebe on Mainland is a good bird this far north. Fair Isle produced Red-rumped Swallow, while Foula was blessed with an adult male Citrine Wagtail from 1st. Common Nightingales on both islands were great records for Shetland. Out Skerries chipped in with a Woodchat Shrike; a Rosy Starling popped up in Lerwick on 2nd.
Highlights from the Outer Hebrides came in the form of a Woodchat Shrike at Askernish from 29th and a drake Lesser Scaup on North Uist from 27th. A Hoopoe was at Callernish on 31st, while a Blyth's Reed Warbler followed up on 2nd. A probable was close by at Bornish from 31st. Rosy Starlings reached South Uist on 30th and Port Nis, Lewis, on 2nd. Barra hosted a Red-backed Shrike on 28th and a Red-breasted Flycatcher at Brevig on 1st.

Marsh Warbler, North Ronaldsay, Orkney (George Gay).
North-East England
What was originally reported as a female Blue-winged Teal at Castle Island NR, Northumberland, on the last day of May was subsequently deemed by many to possess Northern Shoveler influence, with bill structure cited as a damning feature. A female Red-necked Phalarope was at the same site on 2 June, one of two in the county in the week with the returning female regularly seen at Grindon Lough.

Presumed Blue-winged Teal × Northern Shoveler hybrid, Castle Island, Northumberland (Tom Tams).
As is often the case in late spring, Holy Island attracted some interesting migrants – Grey-headed Wagtail, female Red-backed Shrike and Common Nightingale were all found. Further south, a European Bee-eater flew south at High Hauxley.
A Marsh Warbler south of Cleadon on 2nd was the standout bird for Durham. Other records of interest included Channel Wagtail at a site near Sedgefield for the second year running, two Roseate Terns off Whitburn and Common Quail sound recorded on two occasions over South Shields.
A Common Crane was in the Saltholme area on Wednesday, as was a female Red-backed Shrike – perhaps the same individual was at South Gare four days later. Saltholme RSPB also held Eurasian Spoonbill, Great Egret and Wood Sandpiper in the week.
North-West England
The region's star bird was a fleeting affair: a stunning singing male Woodchat Shrike was located in the dunes at Hightown, Lancs, before being flushed, flying strongly north and never being seen again. A very close second comes in the form of a singing Blyth's Reed Warbler (the Fylde's first record), which was found in pathside scrub near a Knott End-on-Sea roundabout. Again the bird had departed the following morning.
Elsewhere in the county, there was a scattering of Little Stints. Singles were at Otterspool and Freckleton, and up to three on Crossens Inner Marsh. A European Honey Buzzard was picked up heading north over Fleetwood on 29th, and a handful of Pomarine Skuas were logged past here during the week. Two Rosy Starlings were seen on 31st, with one in a private garden in Carnforth and another further south, noted flying east at Fluke Hall. A probable immature White-tailed Eagle flew north over Leighton Moss RSPB on 2nd, and is probably the wild bird noted at multiple localities in the area over the past month or so.

Woodchat Shrike, Hightown, Lancashire (Pete Kinsella).
Down in Cheshire, an interesting Acrocephalus was found on 30th. Initially advertised as a Marsh Warbler, there was plenty of debate over the bird's ID. It arguably sang too slow, and repeated its masterful mimicry, with plenty of tacks thrown in for good measure – all strong pointers for Blyth's Reed Warbler. That is until recordings taken that afternoon revealed a few African species being mimicked and, seeing as though Blyth's doesn't winter in Africa (or so we think!), surely that makes it a Marsh? Well, that's up for debate, with the door for the hybrid/mixed singer options still being left truly wide open. The bird had fallen silent by late evening and there was no sign the next morning.
Easier sightings included a continuing male Channel Wagtail at Rixton, with others in the usual spot at Hale. A slightly unseasonal flock of 30+ Arctic Terns was noted past the latter site on 30th.
In what is turning into a good year for Common Quail countrywide, a number have been reported across the region. Two localities in Cumbria, two in Lancashire and five in Cheshire all scored singers.
Lincolnshire and Yorkshire
In Lincolnshire, up to four Common Quail sang in fields near Crowland, while Black Terns were at two sites. A brief Hoopoe at Donna Nook on 29th was probably this week's county highlight, although a late Ring Ouzel at Huttoft Bank Pit on 27th was a surprise. The Western Cattle Egret at Fiskerton Fen – first seen on 16 May – remained until 29th at least. A sprightly Temminck's Stint was at Frampton Marsh RSPB on 28th, with Garganey and Curlew Sandpipers also there during the week.
In North Yorkshire, Nosterfield's purple patch continued with a dapper Red-necked Phalarope on 30th and a Little Stint from 1st, with the long-staying Lesser Yellowlegs still there, too. Wykeham's European Honey Buzzards look set to delight for another year, while two European Bee-eaters momentarily adorned a Filey hedgerow on 31st. A pristine Spotted Redshank was at Ripon City Wetlands, along with an inland Curlew Sandpiper near Catterick.

Red-breasted Flycatcher, Flamborough Head, East Yorkshire (Craig Thomas).
Purple Heron remains a rare bird this far north, so one at St Aidan's RSPB, West Yorkshire, on 2nd was especially notable. A European Bee-eater flew over Thurnscoe, South Yorkshire, while Little Stint and Wood Sandpiper were at Adwick Washlands RSPB.
In East Yorkshire, a Blyth's Reed Warbler sang at Flamborough Head on 28th. Quite a run followed: an Icterine Warbler on 30th, female Red-breasted Flycatcher on 31st and a Rosy Starling on 2nd. Another Red-backed Shrike was at Thornwick Bay on 29th, with a Marsh Warbler briefly singing down the coast at Grimston on 30th.
A Greenish Warbler was at Spurn on 29th, while a female Red-backed Shrike was just reward for the hardy souls venturing down the Point from 28th. Elsewhere in the recording area, Kilnsea had an Icterine Warbler on the 30th. A female Subalpine Warbler – likely a Western – was trapped and ringed the following day, with a female Red-footed Falcon on 1st. The village saw a further trio of dazzling spring visitors on 2nd, with European Bee-eater, Common Rosefinch and Rosy Starling. Quite the few days!

Red-backed Shrike, Kilnsea, East Yorkshire (Bethan Clyne).
Content continues after advertisements
West Midlands
An adult Glossy Ibis pitched up at Lower Moor, Worcs, last week and continued to put on a show throughout. Meanwhile, a Hoopoe was noted briefly at Evesham Golf Club, Fladbury, on 28th.
When scrolling through Twitter, sometimes you can't help letting your jaw drop. This was the case on the morning of 30th when a scan of the latest updates revealed footage of a Manx Shearwater doing laps of Draycote Water, Warks, on a warm and still day. The bird remained off Farborough Bank until at least late morning.
Black Terns turned up at a few localities, with one at Earlswood Lakes, Warks, on the 31st, and singles at Belvide and Blithfield Reservoirs and Branston GPs (all Staffs) on 30th. One good tern deserves another, and the following day it was the 'tern' of Little Terns: a pair was noted at Blithfield, while one at Tittesworth Reservoir spent the day milling around. A Wood Sandpiper was at Belvide on 2nd.
Over in West Midlands metropolitan county, a drake Long-tailed Duck paid a brief at Buckpool and Fens Pool NR on 31st, before settling at Amblecote on 1st. An adult Little Gull flew south-east over Sedley Beacon on 30th. Common Quail were reported at various sites in Worcestershire, Warwickshire, Staffordshire and Shropshire.

Long-tailed Duck, Hoarwithy, Herefordshire (Kev Wardlaw).
East Midlands
Up to four Western Cattle Egrets were reported sporadically at Stanwick GPs, Northants, through the week. A pair of Greater Scaup rocked up at Daventry Reservoir CP on 1st and two Black Terns visited Summer Leys LNR.
In Leicestershire and Rutland, a slightly untimely drake Green-winged Teal was found at Eyebrook Reservoir on 30th and he stayed put all week. Also here, four Black Terns were noted on 30th. A pair of Common Cranes flew south-east over Hinckley on 2nd.

European Honey Buzzard, Welbeck watchpoint, Nottinghamshire (Robert Mellor).
Crane action filtered over into Nottinghamshire, where an adult spent the evening of 29th at Idle Valley NR, and was still present the following morning. The county's latest-ever Smew involved the drake at Mission on 2nd. Other late wildfowl comprised of an adult Whooper Swan at Clumber Park on 30th. There was a Little Tern at Holme Pierrepoint on 30th and a Western Cattle Egret at Mission on 29th.
A White Stork was noted flying north-west over Long Eaton, Derbyshire, on 31st.
East of England
A classic late May week in Norfolk produced no fewer than three Red-footed Falcons (including two at Hickling Broad), a singing Blyth's Reed Warbler at Walsey Hills NOA for the day on 27th and two European Bee-eaters over Brancaster on 2nd. There've not been many Black-crowned Night Herons this spring, so one flying over Great Ryburgh on 28th was notable.
Singles of Common Rosefinch and Marsh Warbler were at Landguard, Suffolk, on 28th, with the county also hosting two Red-backed Shrikes, a Glossy Ibis near Snape on 1st, a flyover Purple Heron at Carlton Marshes on 27th and a Golden Oriole at Minsmere.
Another Golden Oriole was an excellent find inland at Epping Forest, Essex, on 27th; just as good in the county these days was a male Montagu's Harrier in flight at East Tilbury on 28th. A European Bee-eater flew over Walton-on-the-Naze on 27th, with a Rosy Starling at Mayland Creek on 28th.
A quiet week in Bedfordshire saw several Common Quail logged, while a Common Crane flew over Biggleswade on 30th and a Curlew Sandpiper touched down at Grovebury Sand Pit the same day. Cambridgeshire's highlights concerned a brief Red-necked Phalarope at Eldernell on 28th and a singing Marsh Warbler at Wicken Fen NT on the evening of 30th.
South-East England
Conditions have been ripe for overshoot species in the south-east during past week, so it was no surprise that Kent enjoyed a productive few days. First-summer Red-footed Falcons were present in the Stour Valley (two) and at Worth Marsh (a male) throughout the week, while Dungeness hosted a Pectoral Sandpiper on Friday evening. A marked northerly movement of Red Kites – some 139 – was witnessed over Sandwich Bay on 2nd.
A Purple Heron was at Worth Marsh on 1st. There were no fewer than three European Bee-eaters – two over Dungeness (28th and 2nd) and another over South Foreland on 27th. There was late news of a female Red-backed Shrike at Longfield last Wednesday, while a male was twitchable at West Hythe on 20th only. Singles of European Serin (South Foreland), Glossy Ibis (Grove Ferry), Montagu's Harrier (Dungeness) and Black-winged Stilt (Stodmarsh) completed the continental flavour.

Red-footed Falcon, Stodmarsh NNR, Kent (Mark Chidwick).
Things weren't quite so exciting in Sussex, with East Sussex heading up the highlights though, to be fair, a male Common Rosefinch at Pett Level on the morning of 2nd was a noteworthy record. Elsewhere, three European Serins in the Beachy Head environs on 30th and a smart double-act at Pannel Valley, consisting of Black-winged Stilt on 30th and European Bee-eater on 29th. In West Sussex, a Rosy Starling was reported in a Portslade-on-Sea garden.
Surrey enjoyed two county megas – a Rosy Starling in a private Horley garden on 31st and a European Bee-eater over Howell Hill, Ewell, on 1st. There was another London report of Black Kite, this time over Bexleyheath on 27th. Elsewhere in the capital, up to two Eurasian Spoonbills continued at Walthamstow Wetlands and Rainham Marshes. Berks, Bucks and Oxon had a very quiet time indeed, with a scattering of Black Terns and one Wood Sandpiper of note, and a possible Red-backed Shrike in the latter county, at Chipping Norton on 2nd.
In Hampshire, although the aforementioned tern duo caught the headlines, a Purple Heron at Farlington Marshes on 31st also represented a notable county bird. Across the Solent, the Isle of Wight enjoyed some good bits, not least a Blyth's Reed Warbler at Ventnor. A Marsh Warbler was in voice at Bembridge on 31-1st, while European Bee-eaters flew over Sandown and Ventnor on 28th and 27th respectively.
South-West England
Rosy Starlings are starting to make their presence known, with six adults reported across Cornwall between 29 May and 1 June. A first-summer male Red-footed Falcon sliced up the airspace between Higher and Lower Bosistow Farms on the evening of 2nd. A female Red-backed Shrike was keeping the local donkeys company at Land's End on 30th, and a European Serin flew east over Lizard village on the morning of 1st. A sub-adult Black-crowned Night Heron was seen in flight by Drift Reservoir on 1st. Golden Orioles were at Nanjizal Valley on 28th and 1st, with another at Polgigga on 30th.
On Scilly, some five sites hosted Golden Oriole, with at least two birds involved. There were twos of Rosy Starling and Red-backed Shrike on St Mary's, while Tresco held a Woodchat Shrike.

Rosy Starling, St Mary's, Isles of Scilly (Kris Webb).
Devon birders were kept busy with classic eastern migrants: two Red-backed Shrikes (a male at Plymouth on 27th and a female at Little Haldon on 28th) and a Common Rosefinch (on Lundy on 1st) were seen. Most exciting of all, though, was a singing Blyth's Reed Warbler at Beer Head on 31st. A Rosy Starling was seen in a garden in the east of the county on 28th.
Moving east, two Golden Orioles were in Dorset, one of which was in a garden on the evening of 28th. A few Balearic Shearwaters were seen milling off Portland Bill on and off, with a Rosy Starling briefly at Culverwell on 31st and a Red-breasted Flycatcher at the Observatory on 29th. A Purple Heron flew north over Christchurch Harbour on the morning of 28th and, sticking with the Mediterranean theme, two European Bee-eaters flew east over Durlston CP on 1st. A cracking male Marsh Warbler sang his socks off at Bestwall RSPB from 29th, even occasionally showing to his admirers.
There was a nice mixed bag of southern goodies in Somerset. A European Bee-eater flew east over West Buckland on 30th and a male Woodchat Shrike was seen briefly at Longstone Hill on 1st, although couldn't be relocated. The first-summer Purple Heron put in a few brief appearances at Ham Wall RSPB through the week.
Wales
Bardsey Island scored heavily, with highlights including a singing Greenish Warbler and female Woodchat Shrike on 29th. Other niceties comprised a singing Marsh Warbler the following day, plus a European Turtle Dove and an untimely Shore Lark on 30th.

Woodchat Shrike, Bardsey Island, Gwynedd (George Dunbar).
With the start of the influx underway, it was no surprise that a bunch of Rosy Starlings turned up in the country. An adult was noted on Skomer Island on 28th, followed by singles in a Nefyn garden and in a turnip field at Marloes Mere on 31st. A first-summer came for a drink from a garden pond at Pwll Trap, Carmarthen, on 2nd.
On the topic of influx, albeit of more of a drab (if better sounding!) form, a Blyth's Reed Warbler sang contentedly on Ramsey Island, Pembs, on 29-30th. A nice, showy male Grey Phalarope was at Sker Pool, Glamorgan, on 29th – talk about a surprising late May find! A Pectoral Sandpiper pitched up briefly on the pond on Skokholm before continuing its journey to who-knows-where further north.

Grey Phalarope, Sker Point, Glamorgan (Paul Roberts).
South-easterlies delivered Red-backed Shrikes, with a female on Skomer on 28th and a male at Cemaes Bay on the following day. Other continental goodies included male Golden Orioles at Cors Ddyga RSPB, Anglesey, and Llangwyryfon, Ceredigion, on the 28th. A probable Eurasian Stone-curlew flew over Swansea Airport on the morning of 30th. Another one that got away was a possible female Red-footed Falcon that flew over Welsh Hook, Pembs, on 31st.
Republic of Ireland
Tacumshin is so often the place to be in Ireland. This week, birds seen there included Red-footed Falcon, European Bee-eater and American Golden Plover (the latter also seen at Lady's Island Lake). It didn't, however, attract a Rosy Starling (yet at least!) – two were seen, with birds in Cork City on 29th and Cliffs of Moher, Co Clare, on 1st.
A male Golden Oriole was just east of Galway City on the evening of 30th, while a Western Osprey was a regular fixture on the Co Louth coastline and the Purple Heron hung on at Knock Lake, Co Dublin.
Northern Ireland
An unseasonal Grey Phalarope visited Lough Foyle, Co Derry, on 26th, while a Glossy Ibis was at Kinnegar Shore, Co Down, on 31st. Black Tern and Garganey are both decent birds for Northern Ireland, with singles of each at Portmore Lough RSPB on 29th. A Black-necked Grebe remained at Oxford Island NNR.
Western Palearctic
An Oriental Plover was the regional highlight of the week, causing a twitch of 200 socially distanced birders near Gothenburg, Sweden, on 1-2nd. It was the first Swedish record and third for the WP.

Oriental Plover, Gothenburg, Västra Götalands län (Richard Ek).
Elsewhere, the returning Tufted Puffin was again at Bear Island, Norway, on 28th and the adult Yellow-crowned Night Heron on the outskirts of Faro, Portugal. Each is a regional big hitter, while also being accompanied by some of the most gripping rarity photos ever taken in the WP.

Tufted Puffin, Bear Island, Svalbard (Venke Ivarrud).

Yellow-crowned Night Heron, Faro, Algarve (Lars Gonçalves).
A putative male Amur Wagtail at Strype, The Netherlands, from 27th would be just the fourth for the Western Palearctic. Meanwhile, the influx of exciting raptors into the Low Countries included 16 Griffon Vultures wandering around The Netherlands from 29th.
Skagen, Denmark, had a particularly special week, with Green Warbler on 27th, Little Swift and Steppe Eagle on 29th, and a Paddyfield Warbler on 1st. In Germany, a Bridled Tern flew north past Sylt on 1st, with a male Pied Wheatear at Brilon on the same date. A sub-adult Audouin's Gull was a Hel of a find at the famous Polish site, while the continuing Pallas's Gull and a Black-winged Kite comprised the nation's other highlights.

Audouin's Gull, Hel, Pomerania (Zbigniew Kajzer).
A Broad-billed Sandpiper at Tórshavn on 27th was a first for the Faroe Islands. A male Two-barred Crossbill was at Akureyri, Iceland, on 2nd. A drake Black Scoter was in Norway on 30th, while a White-rumped Sandpiper in Finland on 28th was just the eighth national record.
The returning French Elegant Tern reappeared in the Sandwich Tern colony at Polder de Sébastopol on 30th. In the south of the country, the major influx of Rosy Starlings included at least 98 at Hyères, on the morning of 28th; two had even reached Iceland by 1st. A Spanish Pied-billed Grebe was at Grijalba from 28th. In the Canary Islands, two Pied Crows of unknown origin were photographed on Lanzarote on 30th.
A Demoiselle Crane was on the Austro-Hungarian border from 24-28th, the first for Hungary and just the fourth for Austria. Not a country to grace these pages very often, Ukraine hosted a Spur-winged Lapwing at Tatarbunary on 27th.