The week at a glance
This time last year, we were revelling in the Harris White-throated Needletail while simultaneously mourning its premature demise (see here). This followed hot on the heels of a co-operative Pacific Swift in Suffolk and was in turn followed by the Bridled Tern on the Farne Islands, which was found a year ago yesterday. This coming weekend will mark the anniversary of the Islay Ascension Frigatebird, which is fondly remembered despite not sticking around for the masses.

Pacific Swift, Trimley Marshes SWT, Suffolk (Photo: Peter Moore)

White-throated Needletail, Tarbert, Harris, Outer Hebrides (Photo: Josh Jones)

Ascension Frigatebird, Bowmore, Islay, Argyll (Photo: Jim Sim)
Fast forward to 2014, and it's an altogether steadier affair. We've witnessed the exciting return of the Farnes Bridled Tern, which until Sunday assumed a fairly reliable pattern of appearing by the Inner Farne jetty from about lunchtime onwards, remaining for a number of hours throughout the afternoon. Monday was a blank day for sightings, but it was back there on 1st to commemorate the first anniversary of its initial discovery.

Bridled Tern, Farne Islands, Northumberland (Photo: John Anderson)

Bridled Tern, Farne Islands, Northumberland (Photo: Nathaniel Dargue)
Otherwise, 2014 doesn't really have that 'ultra-rare' feel to it that this period last year did. It feels entirely more typical — a time to look for insects, flowers, or to simply laze around in the occasional spells of pleasant midsummer sunshine. Still, it's not been a poor June by any stretch of the imagination, and the long-staying Short-toed Eagle was also on hand to ensure that the characteristic red exclamation marks were present on our news page this week. Remaining in Ashdown Forest (E Sussex) until the morning of 29th, it disappeared that day only to reappear at Pig Bush (Hants) mid-afternoon on 30th where, for the first time in its month-long stay and on its third visit to Hampshire, it was finally accessible to county listers, lingering through 1st. Intriguingly, there was also a report of an immature Short-toed Eagle over Stodmarsh (Kent) on 30th, though that hasn't yet developed into anything more substantial.

Short-toed Eagle, Ashdown Forest, East Sussex (Photo: Mike Buckland)

Short-toed Eagle, Ashdown Forest, East Sussex (Photo: Mick Davis)
Excitement was otherwise fairly limited. Scotland continues to dominate for scarce wildfowl, with the King Eider still on the Ythan Estuary (Aberdeenshire) to 27th and the drake Blue-winged Teal nearby at Loch of Strathbeg until 28th at least; a female Surf Scoter was off Blackdog on 1st. The American Wigeon remained at Loch na Reivil, North Uist (Outer Hebrides), and the Ring-necked Duck continued at Murton Gravel Pits (Angus & Dundee). Another Ring-necked was still on Lough Beg (Antrim) on 29th, with late news concerning the continued presence of the Green-winged Teal there on 22nd. The drake Lesser Scaup at Blagdon Lake (Somerset) from 29th is presumably a returning bird, while Garganey have begun to build up on the Ouse Washes — a count of 26 was made on 28th.
Northumberland's Little Bittern was frightfully elusive and was last seen at Gosforth Park on 27th. Meanwhile, the Cattle Egret was again seen at Hillsborough Lake (Down) on 28th — it's been here since late November 2011 — and another flew north-east over Whitley Bay (Northumberland) on 1st. Several Great White Egrets and Glossy Ibis remained widely scattered and a Purple Heron was seen coming in off the sea at Clodgy Point (Cornwall) on 22nd. Meanwhile, a count of 299 Little Egrets was made on the Nene Washes at March Farmers (Cambs) early in the week. This, apparently likely an underestimate, is a prime example of just how far this species has come in a decade — they were still something of a rarity in the Peterborough area 10 years ago. Last week's White Stork was again at Hedge End (Hants) until mid-morning on 25th, having roosted overnight.

Little Bittern, Gosforth Park NR (permit only), Northumberland (Photo: Carl Hewitt)

Little Bittern, Gosforth Park NR (permit only), Northumberland (Photo: David Boorman)

Glossy Ibis, Milnthorpe, Cumbria (Photo: Adam Peet)
Last week's Black Kite was still around Wrentham (Suffolk), but possesses both metal and red rings. Whether this condemns it as an escape or a bird from a ringing scheme is not entirely clear, but the former seems the favoured option. Less contentious was the female Red-footed Falcon at Porthgwarra (Cornwall), mobile around the moor there on 27–1st, while a young male was briefly over Coward's Marsh (Dorset) on 29th.

Red-footed Falcon, Porthgwarra, Cornwall (Photo: Brian Mellow)
A Temminck's Stint at Derwent Reservoir (Northumberland) on 26–27th was outnumbered by Pectoral Sandpipers, with two seen: at Haroldswick, Unst, from 28–1st and Ring (Cork) on 29th. A Red-necked Phalarope was briefly in the unusual location of Winterton North Dunes (Norfolk) on 26th, while the Grey Phalarope — in partial summer dress — continued on North Ronaldsay to at least 29th. An American Golden Plover was atop Tarmon Hill on the Mullet peninsula (Mayo) on 1 July. Three Black-winged Stilts, including a single juvenile, remained at Medmerry (W Sussex), while a female Dotterel on Pendle Hill (Lancs) from 29th made for a peculiar midsummer record.

Grey Phalarope, North Ronaldsay, Orkney (Video: Rael Butcher)
The Ross's Gull saw out June at Bowling Green Marsh (Devon), though there have been no further sightings of either Bonaparte's Gull; might the first-summer Laughing Gull at Ballycotton (Cork) on 27–1st be last winter's bird moving back south? In Staffordshire, two Roseate Terns at Belvide Reservoir on 1st represented the first site record for 31 years. A paucity of any quality seabirds ensured it really felt quiet; Balearic Shearwaters, for example, failed to exceed four past Portland Bill (Dorset).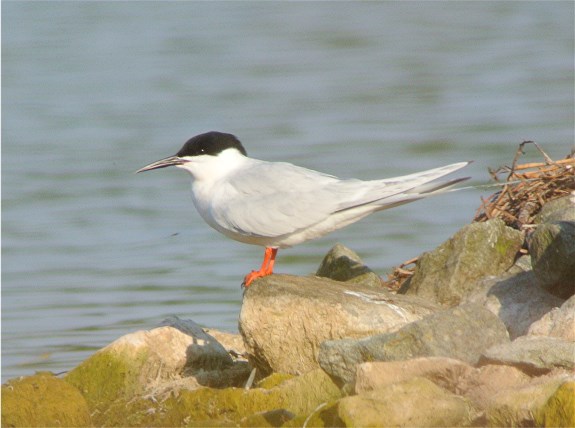 Roseate Tern, Belvide Reservoir (PERMIT ONLY), Staffordshire (Photo: Steve Nuttall)
A Blyth's Reed Warbler on Fair Isle from 25–28th surprisingly turned out to be the bird seen at Virkie on mainland Shetland the previous week. Fair Isle also held three Marsh Warblers on 25th, with one still on 30th. A probable Iberian Chiffchaf was singing on Rousay (Orkney) on 1st. A female Red-backed Shrike at Winterton (Norfolk) on 28–29th preceded a male there on 30th; unfortunately both quickly moved on. The Woodchat remained on Guernsey until 29th and the male Lesser Grey Shrike was on Unst to 30th. Male Common Rosefinches were at Ulbster (Highland) on 28th and on Bardsey Island (Gwynedd) on 29th. There was a report of a brief Alpine Swift at Bulmer (Essex) on 27th.

Red-backed Shrike, Winterton Dunes NNR, Norfolk (Photo: Jake Gearty)

Woodchat Shrike, Pleinmont, Guernsey (Photo: Adrian Gidney)
The mini-influx of Rose-coloured Starlings continues, with one in Burnley (Lancs) all week and another in Hopeman (Moray/Nairn) on 28–29th. Elsewhere, birds remained at Achiltibuie (Highland) to 25th, Port Ellen, Islay (Argyll) to 26th and Lowestoft (Suffolk) throughout.

Rose-coloured Starling, Carlton Colville, Suffolk (Photo: Ian Clarke)

Rose-coloured Starling, Burnley, Lancashire (Video: Pete Hines)
Excitement in the wider Western Palearctic was limited to a Crab Plover briefly at Ma'agan Michael (Israel) on 26th. Unfortunately this, Israel's fourth and the first since 1997, failed to linger more than a matter of minutes and ultimately proved untwitchable.
Photo of the Week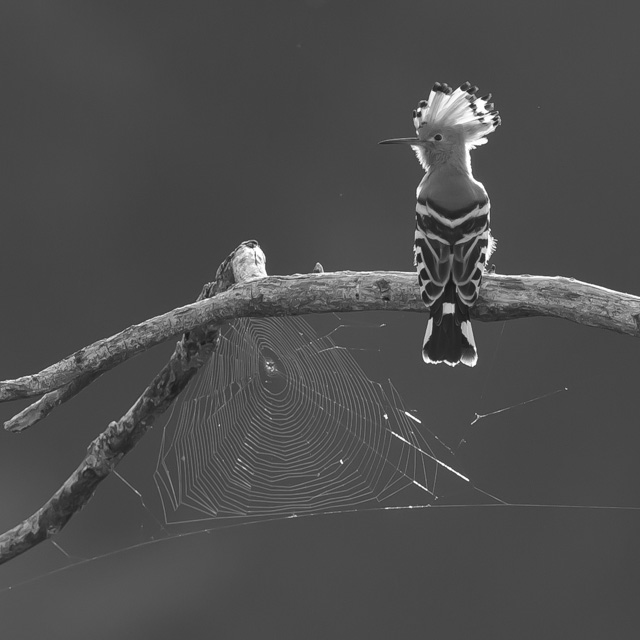 Hoopoe, Spain (Photo: Ashley Grove)
"This selection was the toughest one I've had to make up until now," writes Steve Young. "There were so many superb recently uploaded images to browse through in the Iris galleries that I really agonised over my decision. Some, maybe many, will disagree with my choice, citing more difficult shots or trickier species to photograph, but I've gone for a photo of excellent quality and composition: Hoopoe by Ashley Grove is this week's winner.

I love the framing of this image with the bare branch, spider's web and Hoopoe all beautifully placed in a truly well-composed photograph. The backlighting is superbly executed and the image looks good in monochrome, although I would have liked to have seen it in colour. Whether or not the original was taken in black-and-white or converted later at the processing stage is unclear, but either way it is a stunning image.
Other notable images

Tree Sparrow, Bempton Cliffs RSPB, East Yorkshire (Photo: Steve Whiteley)

Jay, Heswall, Cheshire (Photo: Charles Farnell)

Grey Heron, Minsmere RSPB, Suffolk (Photo: Ian Clarke)

Siskin, Inverinate, Highland (Photo: Gordon Speirs)

Red-legged Partridge, Studley, Warwickshire (Photo: Mike Lane)

Short-eared Owl, North Uist, Outer Hebrides (Photo: John Fielding)

Little Egret, Swillington Ings, West Yorkshire (Photo: John Derick Elvidge)

Gannet, Bempton Cliffs RSPB, East Yorkshire (Photo: Robert Askew)

Green Woodpecker, Lakenheath, Suffolk (Photo: Neil Rolph)

Jay, Calne, Wiltshire (Photo: Pete Blanchard)

Spoon-billed Sandpiper, Russia (Asian) (Photo: Jacques Cloutier)

Little Bustard, Spain (Photo: Peter Beesley)