The week at a glance
In yet another quiet week nationwide, the headlines were dominated not only by a weasel riding a Green Woodpecker, but also by the reappearance of the Wakefield Thayer's Gull after an absence of over two months. Found at one of North Yorkshire's gulling Meccas — Rufforth Airfield — on 2nd, the bird was seen for minutes before disappearing. It was seen again for just 10 minutes in mid-afternoon on 3rd and, with such high numbers of gulls in the area and viewing conditions generally difficult, all the evidence suggests that this is going to be a difficult bird to catch up with. Incidentally, it can be identified as the Wakefield bird by its distinctive tail pattern which, among other features, shows very distinct pale notches on the outer web of the right-hand outer tail feather.
In Aberdeenshire the Harlequin Duck was still on the River Don in Aberdeen until 1st at least, although the regularity with which it is reported is gradually tailing off after almost two months in residence. In Highland, the female was reported again from Brora on 25th and 27th, although this individual seems an altogether more elusive and wary beast.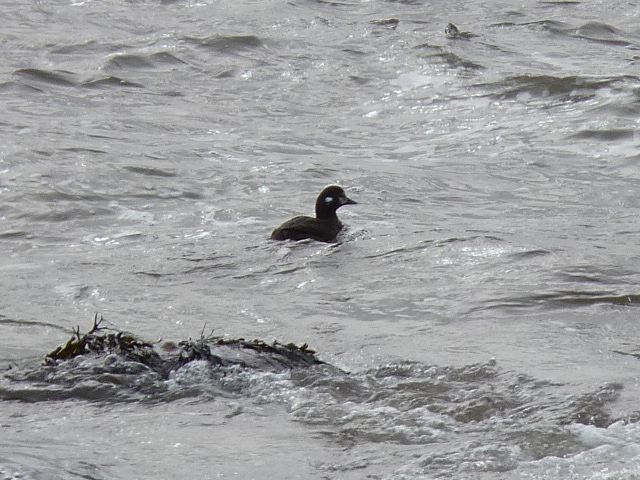 Harlequin Duck, Brora, Highland (Photo: Dean Macaskill)
It was back to normality in Cornwall this week, with just one Pacific Diver reported — the usual adult in Mount's Bay, which was still there on 2nd. Of last week's Black Scoters, only the Northumberland bird was reported — it was still off Cheswick Sands on 2nd following a brief sojourn to nearby Holy Island on 28th. A claim off Castlegregory, Co Kerry, later transpired to be a Common Scoter with extensive yellow on the upper mandible. Nearby, the American Coot at Lough Gill was still present on 2nd and the Outer Hebrides bird was still at Balranald, N Uist, on 1st.
White-billed Divers remained off Kirkabister, Shetland, on 25th and South Ronaldsay, Orkney, on 1st. The young male King Eider continued to float nonchalantly off the Cornish coast at Maenporth throughout the week, and the female was also still at Ruddon's Point alongside one of the week's dozen Surf Scoters. A drake at Stokes Bay, Hants, from 25th was undeniably the most popular of the bunch, while a drake returned to Rerwick Head, Orkney, on 3rd. Four were again off Old Colwyn, Conwy, while others remained off Scarborough, N Yorks, to 26th and in Lothian, Suffolk and Co Wexford.

Surf Scoter, Stokes Bay, Hampshire (Photo: Jon Mercer)
Rare Aythya numbers were lower than of late, perhaps coinciding with widespread news that flocks of their commoner cousins were beginning to move. The week's three Lesser Scaup consisted of drakes at Parisee Lough, Co Cavan, Cardiff Bay, Glamorgan, and Martnaham Loch, Ayrshire. Two female Ring-necked Ducks continued at Carlingwark Loch, Dumfries & Galloway, to at least 1st and others were still at Loch of Skaill, Orkney; Clartworthy Reservoir, Somerset; and Knockaderry Lake, Co Waterford. The Ferruginous Duck also remained at Slimbridge, Glos.

Ring-necked Duck, Clatworthy Reservoir, Somerset & Bristol (Photo: Chris Teague)
The drake Blue-winged Teal remained at The Shunan, Orkney, all week, as did the Black Duck on Tresco, Scilly. The two female American Wigeon were last seen on the Gannel Estuary, Cornwall, on 26th, while drakes remained in Nottinghamshire, West Yorkshire, Ayrshire, Orkney and Co Cork. New drake Green-winged Teal were at Long Preston, N Yorks, on 26th and at Leighton Moss, Lancs, on 28–1st; others remained in Gloucestershire, Gwynedd, Cleveland, Orkney (2) and on North Uist.

Green-winged Teal, Laytown, Meath (Photo: Paul Kelly)

Green-winged Teal, Caerlaverock WWT, Dumfries & Galloway (Photo: Bob Little)
Northumberland's Ross's Goose was noted again at Stobswood on 3rd and the Snow Goose remained at Deerness, Orkney, on 27th. The Richardson's Cackling Goose was still at Loch Gruinart, Islay, Argyll, on 25th and the Lesser Canada Goose was at Wexford Wildfowl Reserve on 1st. Birders have evidently been paying more attention to Brent Goose flocks this week, with at least 13 Black Brants noted in Lincolnshire (2), Suffolk, Essex (3+), West Sussex, Hampshire (2+), Jersey (2), Devon and Co Dublin and Kerry.
Two Cattle Egrets notched up another week in residence at Dungeness, Kent, and a single bird was still at Fauvic, Jersey. Two Glossy Ibis were at Tramore Backstrand, Co Waterford, on 26th, with one still there on 3rd. Others remained at Fen Drayton, Cambs, and Gonalston, Notts. The only shorebird of note was the continuing Lesser Yellowlegs on the Rogerstown Estuary, Co Dublin.

Glossy Ibis, Gonalston, Nottinghamshire (Photo: Dave Kelsall)
The Forster's Tern was at Doorus, Co Clare, on 28th. Cheshire's Laughing Gull stayed loyal to New Brighton marine lake throughout the week, and the second-winter was again at Ballycotton, Co Cork, on 26th. An adult Bonaparte's Gull in Thurso, Highland, on 3rd is undoubtedly a returning bird, while regular adults were also still at Dawlish Warren, Devon, and Cardiff, Glamorgan, on 1st. Another good showing of British Ring-billed Gulls included a first-winter showing well in gardens on Mull, Argyll, from 2nd and at least three birds in Cornwall; others remained in Hampshire, Fife, Highland and on North Uist. The peak Irish count concerned three adults at Cuskinny Marsh, Co Cork, on 1st, and a further 10 were seen around the Emerald Isle. The first respectable influx of white-winged gulls of the winter occurred during the week, with Iceland Gulls particularly noticeable: counts of 16 were noted from Stornoway Harbour and the Butt of Lewis and at least 15 were on South Uist on 25th.

Laughing Gull, New Brighton, Cheshire (Photo: Lee Johnson)

Ring-billed Gull, Loch Beg, Mull, Argyll (Photo: Bryan Rains)

Ring-billed Gull, Townhill CP, Fife (Photo: John Nadin)
Richard's Pipits were still at Breydon Water, Norfolk, on 28th and Shell Ness, Kent, on 1st but it is the news of the spring's first Northern Wheatear — on Portland, Dorset —  that will most have caught birders' attention that day. A handful of White Wagtail records were also received in the south, but summer migrants are unsurprisingly otherwise still thin on the ground.
The Black-bellied Dipper continued to charm visitors to Kelk Beck near Harpham, E Yorks, all week, while the Shetland bird was still at Skaw, Unst on 25th. A second Shetland record latterly came from Voe, Mainland, on 2nd.

Black-bellied Dipper, Harpham, East Yorkshire (Photo: Jim Welford)
There were no Yellow-browed Warbler reports this week, although a possible Hume's Leaf Warbler was rumoured at Ponsanooth, Cornwall, on 1st. All three Penduline Tits hung around at Darts Farm, Devon, all week, although two was a more typical total. The male European Serins at Gunners Park, Essex, were also still present and both could be heard singing in the more pleasant conditions of this week. The vast majority of wintering Great Grey Shrikes remained settled, although they will be on the move very soon. All three Little Buntings also remained: at Old Lodge, E Sussex, to 27th, at Forest Farm, Glamorgan, to 2nd and at Marazion, Cornwall, to 3rd.

Penduline Tit, Darts Farm RSPB, Devon (Photo: Rich Devon Togs)

Serin, Gunners Park, Essex (Photo: Jake Gearty)

Great Grey Shrike, Crabtree Hill, Gloucestershire (Photo: Mick Colquhoun)

Little Bunting, Marazion, Cornwall (Photo: Simon Colenutt)
Western Palearctic news
Rather akin to the stale situation across Britain and Ireland, Western Palearctic news was also largely dominated by wintering vagrants. In Spain the Brown Shrike, Pygmy Cormorant, Pallas's and Thayer's Gulls all remained. In the Netherlands both the Dark-eyed Junco and Oriental Turtle Dove also hung around, although the Wallcreeper at Dinant, Belgium, hasn't been seen since 26th. In Finland the Calandra Lark, Azure Tit and Black-throated Accentor all hung on at their respective locations, as did the American Black Duck and Spotted Sandpiper in Skåne, Sweden. The Glaucous-winged Gull was still in Reykjavík harbour, Iceland, on 25th.
Belated news from Cape Verde concerned the continued presence of at least one each of Black Heron and Intermediate Egret in late February, while at least one Magnificent Frigatebird was seen on Boa Vista. In Italy the Grey-headed Gull was seen at Bisceglie, Puglia, on 28th and a Black-winged Kite was in Friuli-Venezia on 1st.
Photo of the Week, 25 February—3 March

Wren, Knutsford, Cheshire (Photo: Hazel Rothwell)
This week it's the turn of one our smallest but noisiest birds to star in Photo of the Week, writes Steve Young, and of a number of high-quality Wren images submitted to our Iris galleries, this fine shot by Hazel Rothwell of Troglodytes troglodytes sunning itself is my favourite.

This a common behavioural sight but one that is not so easy to photograph. Wrens tend to choose a quiet, secluded spot for sunning so they feel safe, and any close approach or sudden movement typically sends them flying away into cover. Hazel has therefore done very well to capture this shot of one with its wings and tail fully spread, rump feathers lifted and head nicely turned, enjoying the winter sunshine. Looking almost straight down on a bird rarely results in a good image, but with this type of shot that angle is perfect!
This image was taken with a Panasonic DMC-FZ200 'bridge' camera, showing the kind of quality that is possible with this type of equipment. Congratulations to Hazel on winning Photo of the Week.
Other notable images

White-throated Swallow, South Africa (Photo: Charlie Fleming)

Grey Heron, Forest Farm, Glamorgan (Photo: Kev Joynes)

Pochard, National Wetlands Centre, Carmarthen (Photo: Wayne Davies)

Little Owl, undisclosed site, Durham (Photo: Mark Bowen)

Wren, Wayoh Reservoir, Lancashire (Photo: John Barlow)

Glaucous Gull, Peel, Isle of Man (Photo: Pete Hadfield)

Bearded Tit, Radipole Lake RSPB, Dorset (Photo: Jeff Lack)

Black-bellied Dipper, Harpham, East Yorkshire (Photo: Martin Standley)

Barn Owl, Wells-next-the-Sea, Norfolk (Photo: Norman West)

Great Crested Grebe, undisclosed site, Lancashire (Photo: David Moreton)

Starling, Nosterfield Quarry, North Yorkshire (Photo: Karen Hargreave)

Crested Tit, Aviemore, Highland (Photo: Rob Cross)

Great Hornbill, India (Photo: Roger Ridley)
Content continues after advertisements