The fortnight at a glance
There was a true White Christmas for many, as laying snow or fresh falls meant a winter wonderland feel to the yuletide season. But the well-below-zero temperatures, countrywide deep snowfall and bitter east-nor'east winds that followed meant that 2010 was seen in under hats, gloves, scarves (and mounting heating bills). But what of the birds? Any seasonal winter warmers on offer?
Well, yes, there was the odd surprise or two to warm the birding cockles, not least the Irish Republic's first Baikal Teal, found at Tacumshin (Co. Wexford) on 5th. The usual caveats apply: apparently there has been a known escape in County Tipperary, but with the big chill extending across much of mainland Europe there's every chance that this may well be regarded as a genuine hard-weather vagrant. The north of Ireland hosted a drake, at Belfast Lough in County Antrim during a cold snap at the end of January 2006 and, as predicted here last year, the BOURC have finally elevated the species to Category A of the British List courtesy of a shot bird in Essex in 1906 and, to the relief of many, the young drake at Minsmere in November and December 2001.
Still in Ireland, up on the stunning coastline in the northwest of the country, Eider watchers struck gold on 2nd with the discovery of what may be the very first American Eider (form dresseri) for the Western Palearctic. Perhaps unsurprisingly, the bird (a drake) was discovered off Fanad Head in County Donegal, a site that offers some of the best chances to encounter another vagrant Eider form (borealis, the Northern Eider). Matters are complicated by intergrades of the two sometimes-similar forms, but a combination of features (broad frontal lobes, green along the lower edge of the black cap, a parallel or bulging black loral line, a "kinked" bill profile and white sails) can all add up to a 100% American Eider. And this bird seemed to tick all the boxes. There's one for the IRBC to play with.

American Eider, Fanad Head, Donegal (Photo: Wilton Farrelly)
One of the most intriguing records of the fortnight came from the well known raptor feeding station at Gigrin Farm in Powys on 3rd. A juvenile Black Kite was seen and photographed with the regular Red Kites at the site, and there is growing support for the bird actually being a Black-eared Kite. One can only imagine how this unseasonable vagrant made its way to the Welsh countryside to hook up with its russet cousins, but as the debate as to the (sub)-specific identity grows, it seems that many folk may head to the Principality to take in this teasing individual.

Black (-eared?) Kite, Gigrin Farm, Powys (Photo: Stevehinton)
One old favourite managed to surprise everyone on New Year's Day, as the first-winter Brown Shrike put in an appearance back on Staines Moor (Surrey). The recent cold snap had seemingly sent the bird scurrying to who knows where (or worse still, to meet its Shrike maker) but no! Rising, Lazarus-like from wherever it had decided to hide for a fortnight, this record-breaking Lanius was back in the groove and back on a whole new set of lists over the first couple of days of 2010.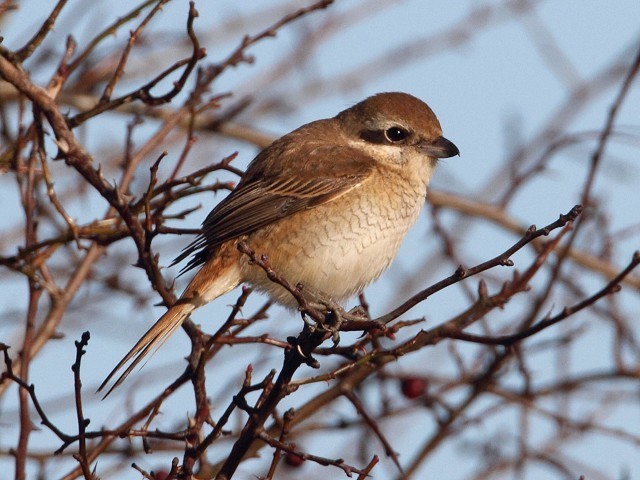 Brown Shrike, Staines Moor, Surrey (Photo: Phil Wallace)
In Norfolk, an interesting diver on the calm sea off Titchwell on 3rd was the cause of some debate, with several observers starting to head down the line of the North Sea's first Pacific Diver. With its wholly dark flanks (and secondary factor, a full vent strap), the bird certainly had something going for it, but its rather knobbly head shape (quite unlike most Pacific Divers) and slightly chunky feel was a cause for a little concern. The potentially overly extensive dusky face (even for a Pacific Diver) and smudged breast patches were curious too. The lack of a chin strap on this bird certainly doesn't rule out Pacific Diver: as many as 50% of young birds show very faint chin straps or lack them altogether and the Titchwell bird did appear to be a juvenile. It was seen again on 4th at Titchwell, then from Brancaster on 5th, but with an increasing onshore wind, the chances of a confirmed identification one way or another seems slim. No such problems on Guernsey, where a classic juvenile Pacific Diver was identified at Le Grande Havre on 3rd (the bird having been present for up to three weeks previously).

Pacific Diver, Grande Havre Bay, Guernsey (Photo: Paul Hillion)
Wicklow's first Killdeer was found on the beach at Greystones on 25th and was seen again, briefly, in flight the following day. This particular Killdeer was Ireland's fourth of the decade (three of them in the south, one in the north). Another (even briefer) visitor was seen in Scotland on Christmas Eve: a Greater Yellowlegs reported at Kinneil Lagoons (Forth). If accepted, this will be the first record for the Scottish mainland since 1985 (although five have been seen on Scottish islands since then). Interestingly though, the Lesser Yellowlegs that had spent nearly six months at Aberlady Bay (Lothian) was last seen on 20th — coincidence?
In Shropshire, a Little Crake was reported at Hadley Castle near Telford on the evening of 26th and morning of 27th, but subsequent searches produced nothing. A similar tale too from Worcestershire, where a Nutcracker was reported in a garden at Hadley for four minutes on 28th — as with the Little Crake, subsequent searches proved fruitless. It's been over 11 years since the last accepted British Nutcracker (the two-day bird in Kent in September 1998) and you have to go back nearly 19 years since the last mass twitched bird, the super-showy bird in Staffordshire.
Three Balearic Shearwaters were seen from Pendeen (Cornwall) on 27th and another flew past Spurn (East Yorkshire) on 29th, with further singles following in west Cornwall and Cork over the New Year holiday. A Little Auk was on the Teifi Estuary (Ceredigion) on 27th and another was seen off the Butt of Lewis (Outer Hebrides) on 4th but, with the odd Leach's Storm-petrel and Pomarine Skua aside, these were the only seabirds of note during the holiday fortnight.
However, (very) late-breaking news of a Bermuda Petrel off Ireland certainly raised an eyebrow. Geolocational data loggers used in studies of the species between 2004 and 2006 show that a bird that had a failed nesting attempt left the nesting burrow early. By April–May it was in the northwest Atlantic, at one point only 125–150 miles off the southwestern tip of Ireland.
Somerset's three Glossy Ibises were back at Catcott Lows from 27th and the single bird in Worcestershire, at Holt Fleet, was still present to 4th at least. In Wexford, the first-winter Glossy Ibis remained at Tacumshin on 5th. At least 14 Great White Egrets were noted between 24th and 1st, with two remaining at Pitsford Reservoir (Northamptonshire), a roving bird in Warwickshire seen at six different sites and one (another?) in Leicestershire. New birds were seen at Worth Marsh (Kent) from 26th, Ballyloughane Beach (Co. Galway) on 30th, Holmes Chapel (Cheshire) and Fishbourne (West Sussex) on 2nd, with others in Moray, Cumbria, Lancashire, Suffolk, Hampshire (two birds in the county from New Year) and Somerset.

Glossy Ibis, Holt Fleet, Worcestershire (Photo: Peter Walkden)

Great White Egret, Sinah, Hampshire (Photo: Andy Johnson)
Five Cattle Egrets were at Yelland Marsh (Devon) on 27th and one was at Powderham on 1st. Somerset hosted two birds at Shapwick Heath and singles at Sharpham Park, Burtle and Chew Valley Lake, with Cornwall and Dorset scoring singles at Bedruthan Steps and Winkton respectively. Three Cattle Egrets were still around the Great Island (Co. Cork) on 26th with one at Muckross on 28th. Two or three birds remained on Jersey too. In Dorset, 11 Spoonbills were at Arne on 28th and three were at Lodmoor the following day. By New Year's Day, at least 17 were being seen in the Arne area. Six birds remained at Isley Marsh (Devon) and two groups of four lingered in Cornwall, on the River Lynher and on Dinham Flats. Two were seen at Pembroke in west Wales on 28th and at least three juveniles remained in Cork. Singles on New Year's Day were on Samson (Scilly), at Abberton Reservoir and Colne Point (Essex), Pagham Harbour (West Sussex) and also Heswall (Cheshire).

Cattle Egret, Chew Valley Lake, Somerset & Bristol (Photo: Gary Thoburn)
Away from the Norfolk regulars, the only Common Cranes of the holidays were one reported landing in a garden at Loughton (Essex) on 30th and the juvenile still in Somerset. A White Stork that headed over Scalby Mills (North Yorkshire) on 25th was presumably the same bird that then appeared at Flamborough Head (East Yorkshire) the following day, and it seems likely that this may well be the bird (of presumed suspect origin) from Durham and Northumberland. Also of dubious origin was the Night Heron seen at Water of Leith (Lothian) on 31st.

Common Crane, Horsey, Norfolk (Photo: Andrew Bales)
In Moray, a white and a blue Snow Goose were seen with Pink-footed Geese at Lhanbryde on 28th. The lone white Snow Goose in northwest Norfolk continued to play hard to get as it moved from site to site throughout the first week of the fortnight, although it then settled down around Holkham Freshmarsh (coinciding with a full moon). In Lancashire, the four white birds remained at Aldcliffe Marshes, and across in Donegal the blue Snow Goose was still around the Big Isle to 4th at least. The Red-breasted Goose in Devon remained around the Exe and Clyst estuaries until 4th at least, while Black Brants included two singles in north Norfolk (on 27th) and three singles in Ireland on the same date (in Wexford, Waterford and Cork). At least two Brants were seen along the Fleet (Dorset) on 1st and others were seen in Lincolnshire and Hampshire.
Two Richardson's Canada Geese and a medium-sized vagrant Canada Goose sp. were still finding the fields around Lissadell (Co. Sligo) to their liking on New Year's Day, and on 2nd one was seen again at Loch Gruinart, Islay (Argyll).
On Scilly, the drake Black Duck remained on Tresco from 24th–1st, while the wintering female Blue-winged Teal was still on North Bull Island (Co. Dublin) on 28th–5th. As the old year drew to a close, there were up to a dozen drake Green-winged Teal on offer: singles remained at Wigan Flashes (Greater Manchester), Loch Gruinart, Ballycarry and Larne Lough (Co. Antrim), Inch Island Lake (Co. Donegal) and Bell Harbour (Co. Clare) and Eyebrook Reservoir (Leicestershire) and new birds were at Blithfield Reservoir (Staffordshire) from 30th, Vane Farm (Perth & Kinross) on 31st, Minsmere (Suffolk) on 2nd and Newbiggin (Cumbria) and Tacumshin (Co. Wexford) on 3rd. In Cork, the drake American Wigeon was still on The Gearagh to 3rd at least and another drake was found in Essex, on the Crouch Estuary, on 4th.

Green-winged Teal, Minsmere RSPB, Suffolk (Photo: Mike Parker)
Content continues after advertisements
In Wales, the drake Lesser Scaup was back on the Cardiff Bay Wetlands (Glamorgan) on 26th and 2nd, (heading to Cosmeston Lakes on 1st), and the two birds on Guernsey, at La Grande Mere, remained to 27th. Ten Ring-necked Ducks included three females: one reappearing at Wroxham Broad (Norfolk) from 26th onwards (having last been seen there towards the end of November), another at Cwm Rheidol Reservoir (Ceredigion) on 30th–1st and the third at Dunfanaghy on 2nd (a female was seen here in January 2009). The seven males included two in Ireland (in counties Kerry and Cork), the regular drakes still at Foxcote Reservoir (Buckinghamshire) and Cheddar Reservoir (Somerset), and new boys at Porth Reservoir (Cornwall), Thornton Reservoir, Preesall, Fleetwood and Marton Mere (Lancashire) and Pugney's CP (West Yorkshire). The latter site also continued to host a drake Ferruginous Duck until 25th, before it moved to nearby Angler's CP on 29th. Further drakes were at Barton Broad and Wroxham Broad (Norfolk), Westhay Moor and then Godney Pools (Somerset), Brookley's Lake (Staffordshire) and again on Craigavon Balancing Lakes (Co. Armagh), while a female was at Weir Wood Reservoir (East Sussex) on Christmas Day.

Lesser Scaup, La Grande Mare, Guernsey (Photo: Mark Guppy)

Ring-necked Duck, Fleetwood, Lancashire (Photo: Cliff)

Ferruginous Duck, Pugney's CP, West Yorkshire (Photo: Jason Kenny)
The female Surf Scoter was still on the sea off Dawlish Warren (Devon) on 26th–5th (appearing off Exmouth on 1st); another female remained in Hough Bay, Tiree (Argyll) until 3rd and the drake was still in Inganess Bay (Orkney) on 2nd. The drake King Eider remained off Burghead (Moray) from 26th–3rd and the dubious (but still popular) drake Hooded Merganser entered another year at Radipole Lake (Dorset) on 1st — nearly 18 months in residence now.
On the Outer Hebrides, a Snowy Owl was at Cradhlastadh, Lewis on 24th–25th and again on 5th. Also in Scotland, a possible Gyrfalcon was seen on Islay on 25th, and in Ireland a probable was at Lissadell (Co. Sligo) on 26th (it's less than three weeks since one was at nearby Raghly). A possible white Gyr was reported near the Bluewater shopping complex in Kent on 1st, and on Orkney the grey Gyr was reported again at Stromness on 6th.
In Cambridgeshire, the male Rough-legged Buzzard lingered around Coveney from 24th–5th at least; one was seen on the Thorpe and Haddiscoe Marshes (Norfolk) from 31st with another in Suffolk, at Wangford, on 4th. Two birds were seen together at Bilsdale (North Yorkshire) on 27th. At Vane Farm, three released White-tailed Eagles were seen on 30th–6th, with two more in Fife on 31st and one in Aberdeenshire on 1st.
In Cumbria, the first-winter Long-billed Dowitcher remained at Port Carlisle until 4th, with new birds (both in Scotland) found on the shores of Loch Gruinart on 28th and at Rattray Head (Aberdeenshire) on 3rd. The Baird's Sandpiper at Barns Ness (Lothian) was still present to 5th but the Aberlady Bay Lesser Yellowlegs appears to have been frozen out — it was last seen there on 20th. At Abberton Reservoir, the wintering Spotted Sandpiper remained into the New Year and the bird at Topsham (Devon) was found again on 1st (having last been seen on 19th December) — the other two winter birds now seem to be gone.

Long-billed Dowitcher, Port Carlisle, Cumbria (Photo: Tristan Reid)

Baird's Sandpiper, Barns Ness, Lothian (Photo: James Wood)

Spotted Sandpiper, Abberton Reservoir, Essex (Photo: Stephen)
A juvenile American Herring Gull was a neat find for birders at Corbally Road Reservoir (Co. Antrim) on 25th and an adult Bonaparte's Gull on the Gannel Estuary (Cornwall) on 28th would have been equally exciting for the finders. Also from the other side of the Atlantic was the second-winter Kumlien's Gull found at Arlington Reservoir (East Sussex) on 25th, with another (un-aged) Kumlien's Gull reported at Gibraltar Point (Lincolnshire) on 1st. At least 35 Iceland Gulls included 14 in Scotland, while 17 of the 28 Glaucous Gulls reported were seen in England.

Iceland Gull, Stranraer, Dumfries & Galloway (Photo: Brian Henderson)
Caspian Gulls were seen in 16 different counties, with at least 45 birds noted, including a magnificent eight birds at Rainham Marshes (London) on 5th. At least eight were in Staffordshire (four each at Chasewater and Kingswood), up to four where seen in Derbyshire and three were reported in Northamptonshire. Also of note were the adult that (re)appeared at Blashford Lakes (Hampshire) between 24th and 3rd — this may well be the bird seen the same site on a few dates around the same time last winter — and the first-winter at Pilling (Lancashire) on 5th–6th.

Caspian Gull, Priorslee Lake, Shropshire (Photo: Jim Almond)
It's been a good couple of weeks for Ring-billed Gulls, particularly in Ireland, where at least 20 birds were seen, including eight in County Cork alone, three of which were seen at Clonakilty on 26th. Three more were at Sandymount (Co. Dublin) on 4th. Two adults were also seen at Nimmo's Pier (Co. Galway) on 2nd. Four birds were seen in Scotland: a first-winter at Kinneil Lagoons (Forth) on 4th, a second-winter at Strathclyde Loch (Clyde) on 28th–3rd and adults at Findhorn (Moray) and Ormsary (Argyll), both on 29th. Seven English birds included a first-winter reported in Gloucestershire on 25th and adults in Worcestershire from 28th, Shropshire from 29th, Lancashire on 4th and Cornwall on 6th. Back in Ireland, the adult Forster's Tern was parading along the shores of Galway City on 31st–3rd at least.

Ring-billed Gull, Donegal, Donegal (Photo: Derek Charles)
The super male Siberian Stonechat at Bevercotes Pit Wood (Nottinghamshire) was seen on 24th and was reported again on 29th (after a blank day on 27th). The Richard's Pipit was still at Southerndown (Glamorgan) on 24th (and again on 27th), while one was at Crows-an-Wra (Cornwall) from 24th–5th and at nearby Sennen on 6th. On 4th, the third bird of the fortnight was found along the Dyfi Estuary (Ceredigion). The 30+ Waxwings reported during the past two weeks included a flock of 10 at St. Helen's (Lancashire) on 24th, five at Melton (Suffolk) on 27th, one in Clifden (Co. Galway) on 2nd and half a dozen on Anglesey on 5th.

Richard's Pipit, Crows-an-Wra, Cornwall (Photo: Alex Mckechnie)
A Great Grey Shrike lingered at the Holmsley Inclosure (Hampshire) to 27th and another was seen at Burley on 1st. One was still on the Ash Ranges (Surrey) to 1st with the fourth and fifth Great Grey Shrikes of the fortnight appearing in East Sussex, at Pett Levels on 28th and Pannell Valley on 1st. Birds six and seven followed in Wales, at Fenn's Moss (Clwyd) and Cross Inn Forest (Ceredigion) on 3rd.

Great Grey Shrike, Holmsley Inclosure, Hampshire (Photo: Simon Johnson)
A Yellow-browed Warbler was found at Westhay Moor (Somerset) on Christmas Day, and was seen for the following three days at least. In Cornwall, the wintering bird was again at Par on 27th–31st and a second Duchy bird was still at Gunwalloe on 30th.

Yellow-browed Warbler, Westhay, Somerset & Bristol (Photo: Gary Thoburn)
A singing male Serin was at Grouville Marsh (Jersey) on 25th and two female-types were still at Rainham Marshes (London) to 4th. In Highland, the Little Bunting at Dunnet Bay also remained in to the New Year, present to 6th.

Serin, Rainham Marshes RSPB, Greater London (Photo: Roy Woodward)
Photo of the Week: 31st December 2009-6th January 2010

Woodcock, undisclosed site, Ceredigion (Photo: Paul_Leafe)
Woodcocks are relatively abundant in the UK but, due to their skulking behaviour, their effective camouflage and their habit of flying only after dusk, they are not often seen. These factors also make it difficult to photograph these birds and, as a result, we have only received a small number of images of this species. Over the last year or so, though, we've had a number of excellent Woodcock portraits sent to us by Paul Leafe. These have included some stunning close-up shots but, this week, Paul has surpassed himself by submitting our first ever detailed shot of one of these birds in flight. Taken in the early hours of the morning, Paul obviously used flash to freeze the action, but getting the bird in frame and in focus was quite an achievement.
Other notable photos

Green Woodpecker, Summer Leys LNR, Northamptonshire (Photo: Ben the plumber)

Red Grouse, Longformacus, Borders (Photo: Ron McCombe)

Black-necked Grebe, Crosby Marine Park, Lancashire (Photo: Tom Charles)

Great Northern Diver, Whitlingham CP, Norfolk (Photo: Jon Evans)

Ring-necked Duck, Fleetwood, Lancashire (Photo: David Moreton)

Barn Owl, East Dereham, Norfolk (Photo: David Whistlecraft)

Crested Caracara, Falkland Islands (Photo: Tim Mason)

Bullfinch, Llandrindod Wells, Powys (Photo: Kev Joynes)

Brambling, Rufford, Lancashire (Photo: Adam Jarvis)

Black Kite, Gigrin Farm, Powys (Photo: Kev Joynes)

Little Owl, undisclosed site, Leicestershire and Rutland (Photo: Paul Riddle)

Herring Gull, Silent Valley, Gwent (Photo: Mike Warburton)

Black Redstart, Exton, Leicestershire and Rutland (Photo: Will Bowell)

Willow Tit, undisclosed site, Staffordshire (Photo: Richard Steel)

Mistle Thrush, undisclosed site, Clwyd (Photo: Steve Round)

Pintail, Martin Mere WWT, Lancashire (Photo: Sue Tranter)

Golden Plover, Fife Ness, Fife (Photo: John Anderson)

Ruff, Humberston Fitties, Lincolnshire (Photo: Nick Clayton)

Short-eared Owl, East Chevington NWT, Northumberland (Photo: Alan Gilbertson)
Photo of the Week: 24th-30th December 2009

Green Woodpecker, Summer Leys LNR, Northamptonshire (Photo: John Betts)
Heavy snowfall across large parts of the UK this week has seen a flurry of excellent 'bird in snow' portrait shots. Bird photographer John Betts has gone one step further by capturing a couple of excellent 'bird in flight in snow' images. One of these, a detailed flight shot of a Green Woodpecker, would have been our best flight shot of this species to date with any background. However, freezing the bird as it flew amongst the white-coated vegetation makes for a doubly-stunning image. A challenging opportunity well and truly nailed!
Other notable photos

Goldfinch, Summer Leys LNR, Northamptonshire (Photo: John Betts)

Velvet Scoter, Barrow Lodge, Lancashire (Photo: Richard Steel)

Blackcap, Hartlebury, Worcestershire (Photo: Mark Hancox)

Woodcock, undisclosed site, Norfolk (Photo: Major Wildlife)

Grey Heron, Campbeltown, Argyll (Photo: Jimmy MacDonald.)

Shag, Fife Ness, Fife (Photo: John Anderson)

Grey Partridge, undisclosed site, Norfolk (Photo: Major Wildlife)

Fieldfare, Fressingfield, Suffolk (Photo: Jon Evans)

Brambling, undisclosed site, Norfolk (Photo: Kevin Du Rose)

Yellowhammer, Cannock Chase, Staffordshire (Photo: Derek Lees)

Nuthatch, private site, Norfolk (Photo: David Whistlecraft)

Common Kingfisher, undisclosed site, Lancashire (Photo: Pauline Greenhalgh)

Siberian Stonechat, Bevercotes Pit Wood, Nottinghamshire (Photo: Graham Catley)