The week at a glance
As spring draws ever closer, another mild week suggested that the cogs of migration were cranking into gear: ducks, gulls, raptors and just about everything else were starting to move. However, it did prove a reasonably quiet week for new rare and scarce species across Britain and Ireland, with the headlines once again taken by lingering Nearctic passerines and white-winged gulls.
In Gwent, the first-winter male Common Yellowthroat continued its stay on the slopes above Rhiwderin throughout the week, occasionally proving mobile and elusive but generally showing reasonably well. Unfortunately, it transpired that some over-keen visitors had been attempting (and failing) to hurdle hedgerows at the site, causing damage that irritated the local landowner. It's been an exemplary twitch so far, so let's not spoil things now.

Common Yellowthroat, Rhiwderin, Gwent (Photo: Richard Stonier)
On Scilly, the Wilson's Snipe reappeared at Lower Moors, St. Mary's on 25th — the first report since Christmas Eve — and the Northern Waterthrush was again seen on 26th. Adding to the Nearctic zest was the Blue-winged Teal, still there on 23rd. It will be interesting to see how long all three stay.
Completing the Nearctic roll call was Hampshire's Dark-eyed Junco, still performing well at times around the felled conifers near the car park at Hawkhill Inclosure. Also still in the county was the male Spanish Sparrow, starting to look a tad brighter as its breeding colours begin to develop.

Dark-eyed Junco, Hawkhill Inclosure, Hampshire (Photo: David H Hatton)
Tantalising reports also surfaced of an immature Black-browed Albatross seen and photographed from a survey vessel some 160 nautical miles southwest of Mizen Head on 29th. Despite organised trips to see the Sula Sgeir bird a few years ago, many would still appreciate a more accessible individual that stays longer than a few hours.
The Ross's Goose was still being noted around Caerlaverock (Dumf & Gall) to 25th, while another with Pink-footed Geese at East Chevington (Northumberland) on 25th–26th is likely one of the Norfolk birds heading back towards the Arctic Circle; the other was still touring the Breydon Water area throughout the week. The only Snow Geese reported in the week were the three white morphs of unknown origin at Leighton Moss (Lancs).
Two separate claims of the rather mysterious Grey-bellied Brant were received during the week: the first toured a couple of Dublin sites with Pale-bellied Brents on 23rd–25th, and another possible first-winter was touted at Killough (Down) on 28th–29th. Whether these birds are truly Grey-bellies or hybrids is another matter — photos are yet to appear. More familiar was a decent series of Black Brant records along southern and eastern coastlines, with birds reported from Dorset, Hampshire, Kent, Essex, Norfolk and Lincolnshire.
Devon's Red-breasted Goose began to make the long trek back eastwards, pitching up in the Keyhaven/Pennington Marshes (Hants) area on 25th–26th. Also getting itchy feet was the Essex bird, which flew north past Frinton-on-Sea on 24th. Others remained at Southerness Point (Dumf & Gall) to 26th and in the Felixstowe Ferry (Suffolk) area to 29th. The Todd's Canada Goose relocated to Caerlaverock on 24th, while two Richardson's Canada Geese were still on Islay: at Loch Gruinart on 23rd and Cattadale on 25th. The adult was also still at Torr Reservoir (Somerset) to 29th.

Red-breasted Goose, Keyhaven Marshes, Hampshire (Photo: Andy Johnson)
The drake American Wigeon remained at Bay of Suckquoy (Orkney) to 27th, while the other Scottish representative was again at Kirk Loch (Dumf & Gall) all week — the first report of it since January. Reliable favourites were still at Exminster Marshes (Devon) and Angler's Country Park (W Yorks) throughout. A couple of new drake Green-winged Teal at Farlington Marshes (Hants) on 23rd–25th and Maldon (Essex) on 29th suggested that Teal were beginning to move, although more familiar birds at Tacumshin (Wexford), Fairburn Ings (W Yorks), Kinneil Lagoon (Forth) and Loch of Kinnordy (Angus & Dundee) all stayed put.

American Wigeon, Bay of Suckquoy, Mainland, Orkney (Photo: anon)
The female/first-winter Bufflehead was still lazing around Helston Loe Pool (Cornwall) throughout, although the first-winter drake Lesser Scaup previously at Siblyback Reservoir and Newquay made a 200km dash northeast to Chew Valley Lake (Somerset), where it showed up on 23rd. Other drakes remained on St. John's Loch (Highland) on 25th and Cosmeston Lakes (Glamorgan) to 27th, with the female still at Slimbridge (Glos) all week.

Lesser Scaup, Chew Valley Lake, Somerset & Bristol (Photo: Chris Stone)
The two drake Ring-necked Ducks that have been in Dorset since December were last seen at Chard Junction on 26th, before making a 75km northward hop to Portbury Wharf (Somerset) on 27th. Drakes were also still at Cowpen Bewley (Cleveland) to 25th, Par Beach (Cornwall) to 27th, and Fleetwood Marsh (Lancs) to 28th, Trabboch (Ayrshire) and College Reservoir (Cornwall) all to 29th. In Ireland, the drake was still at Ballyshunnock Reservoirs (Waterford) on 23rd before joining the female at nearby Knockaderry Lake from 26th–28th, and the drake was also still at Lough Money (Down) on 26th. The drake Ferruginous Duck was again at Blashford Lakes (Hants) on 27th, with the Berkshire individual still at Bray Gravel Pits on 23rd.

Ring-necked Duck, Fleetwood, Lancashire (Photo: Mark Fanshawe)
The Hooded Merganser reappeared at Whetsted Gravel Pits (Kent) on 26th, lingering until the week's end.

Hooded Merganser, Whetsted GPs, Kent (Photo: anon)
A good week for Surf Scoters included two off Quilty (Clare) on 25th, with the other Irish record concerned the continuing first-winter at Garretstown (Cork) to 26th. Two drakes were again off Llanddulas (Conwy) on 25th, and the female was also still off Morfa Nefyn (Gwynedd) to 28th. In England, long-stayers stayed longer at Dawlish Warren (Devon) and Mount's Bay (Cornwall).
For the first time in a while, a week passed without any Cattle Egret records received. However, there were still around twenty Great White Egrets across England and Wales. It is tempting to suggest that the two White Storks seen over Northward Hill (Kent) on 26th were those seen over Wark (Northumberland) last week, although that doesn't give us any clues as to exactly where they originate. The Lincolnshire bird was also still alternating between Kirkby-on-Bain landfill and nearby fields and pits to 28th, with the escapee still at Market Warsop (Notts) on 26th.
Content continues after advertisements

White Stork, Kirkby on Bain GPs, Lincolnshire (Photo: Russell Hayes)
Presumably due to the milder conditions and thus increased availability of feeding habitat, Glossy Ibises continue to reduce in number as they dispersed. Five were found at Berney Marshes (Norfolk) on 23rd, with up to four still in the general area by the end of the week. One was also found at Minsmere (Suffolk) on 23rd, where it spent the rest of the week commuting between there and nearby Eastbridge. A further new bird was located at Montgomery (Powys) on 24th–25th, while other Welsh birds remained at Borth (Ceredigion), Llancadle (Glamorgan) and Marloes Mere (Pembrokeshire, three). Dorset records involved one again at Radipole Lake on 23rd–25th with two there on 29th. Another was noted at Swineham on 26th and Bestwall on 27th. Finally, the long-stayer remained at Leighton Moss (Lancs) throughout.

Glossy Ibis, Borth, Ceredigion (Photo: Chris Cook)
Yet another teasing Gyr Falcon record emanated from Malacleit, North Uist (Outer Hebrides) on 27th, and the juvenile Pallid Harrier roosted once more at Lough Corrib (Galway) on 25th. The first Osprey of the spring was noted at Bledington Heath (Glos) on 28th.
Presumably triggered by the calm, mild and sunny conditions, a pulse of northbound Rough-legged Buzzards was noted across England on 26th. North Yorkshire claimed the majority, with three over Northallerton, two over Ainderby Steeple and one over Gormire Lake, although others drifted over Holmfirth (W Yorks) and Upminster (London).
As well as a couple of Common Cranes at Kilmuckridge on 24th, Wexford held on to the two Long-billed Dowitchers this week. Both were together at Ballyteige Bay on 23rd, before splitting on 26th when singles were at The Cull and Bannow Bay respectively. However, the only Spotted Sandpiper reported was that still at Stanpit Marsh (Dorset) all week. A Lesser Yellowlegs reported at Kingsmill Lake (Cornwall) from 27th has apparently been present for three months — the reasons for the delay in news (innocent or otherwise) remain unclear.
Late winter is traditionally when peak numbers of white-winged gulls are found across Britain and Ireland, and it looks as if 2012 could turn out to be a bumper year. The British site record was smashed twice this week at Stornoway Harbour, Lewis (Outer Hebrides). The 24th registered 77 present, only to be eclipsed on 27th by an astonishing 79 birds. Orkney was not far behind, with at least 64 at Sand Geo on 26th. Forty-two were at Killybegs (Donegal) the same day (with 6 Kumlien's Gulls there), although Shetland could manage 'only' 36 in Lerwick on 27th. Glaucous Gull numbers were much closer to normal, although 12 at Killybegs and 10 at Howmore, South Uist (Outer Hebrides) were notable.

Iceland Gulls, Nimmo's Pier, Galway (Photo: Dermot Breen)

Kumlien's Gull, Dover Harbour, Kent (Photo: Mike Hook)
Fewer Ring-billed Gulls were noted this week, the majority again in Ireland. Twos were again at Sandymount (Dublin), Blennerville (Kerry) and Cuskinny Marsh (Cork), although no new birds were reported. In Britain, adults remained at Seaforth (Lancs), Chew Valley Lake (Somerset) and Gosport (Hants), and another was seen at Weymouth then Studland Bay (Dorset) on 23rd.
In contrast, a better week for Bonaparte's Gulls included new adults at Tacumshin (Wexford) on 25th and Castletown (Highland) on 25th–26th. Both the adult and first-winter were seen sporadically in the Cardiff Bay (Glamorgan) area throughout the week, although they proved highly frustrating to many. Much more straightforward was the showy Irish adult still at Ballygalley (Antrim) to 27th at least. The Forster's Tern was also proving unusually reliable off either Doorus Pier or Traught (Galway) throughout.
A Sand Martin zipping past the lighthouse at Leasowe (Cheshire) was the first report received this year, and is a hint that a more widespread arrival is imminent so long as conditions remain favourable.
In West Sussex, the Paddyfield Warbler remained at Pagham Harbour (W Sussex) throughout the week and, after moving from the 'tyre bush', is now showing far more admirably along the North Wall. Also in the county was a Yellow-browed Warbler, showing well in a Worthing car park from 26th. Another new Yellow-browed was near Meon (Hants) on 26th, with a further possible in Stockton-on-Tees (Cleveland) the following day. Others remained at Carnon Downs (Cornwall) to 23rd, Exmouth (Devon) to 25th and Combe St. Nicholas (Somerset) to 29th.

Paddyfield Warbler, Pagham Harbour LNR, West Sussex (Photo: anon)

Yellow-browed Warbler, Worthing, West Sussex (Photo: Dorian Mason)
All of a sudden, Rose-coloured Starlings got trendy. A juvenile was briefly reported with Starlings in fields at Braiseworth (Suffolk) on 24th, although not seen again. One in Holyhead (Anglesey) from 25th is no doubt that present on the same road in November 2011, while the rather grotty individual was again mobile around gardens in Muirhead (Ayrshire) from 26th.

Rose-coloured Starling, Muirhead, Ayrshire (Video: Pollensaphiliac)
At least 27 Great Grey Shrikes were well scattered, with 18 in England, six in Scotland and three in Wales. The ringed male Penduline Tit was again at Dungeness (Kent) on 29th; where it disappears to for weeks on end is a mystery, but it can't be too far away. Concluding this week were the usual Coues's Arctic Redpolls at Kelling and Titchwell (both Norfolk), last noted on 26th and 29th respectively.

Great Grey Shrike, Upper Longdon, Staffordshire (Photo: Dave Hutton)
Photo of the Week: 23rd–29th February

Hen Harrier, Lackford Lakes SWT, Suffolk (Photo: Carl Wright)
With a dwindling population of Hen Harriers breeding in the UK, it is becoming increasingly tricky to catch up with these stunning raptors. This week, though, Ipswich-based bird photographer Carl Wright was fortunate enough to encounter a superb specimen in great light at the nearby Lackford Lakes reserve. Our pick of the resulting series of close-up flight shots captures one of those moments when everything comes together. The setting for the shot is a backdrop of complementary colours diffuse enough to allow the subject to stand out, but distinct enough to place the bird in a typical winter habitat. All that was needed for a great image was a well-posed, well-lit bird and Carl certainly nailed that with a banking pose full of dynamic diagonal lines and the entire underside of the harrier illuminated by warm-toned sunlight. We can live in hope that photos like this one make us cherish such species more and assist efforts to protect them.
Other notable photos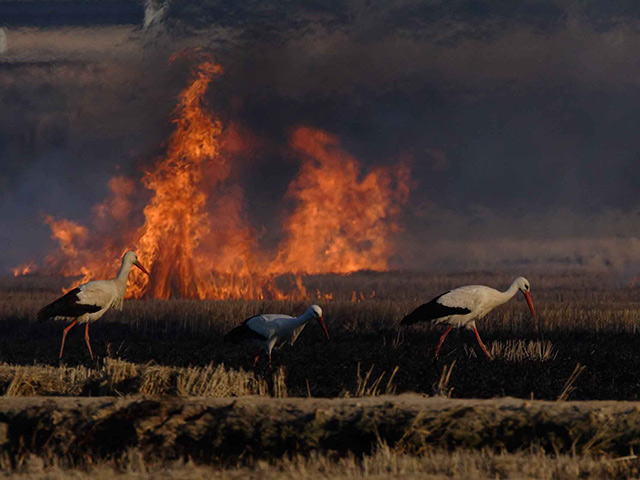 White Stork, Spain (Photo: Steve Fletcher)

Peregrine Falcon, Dover, Kent (Photo: Steve Ashton)

Steller's Sea-Eagle, Japan (Photo: Andrew Moon)

Barn Owl, undisclosed site, Norfolk (Photo: Ian Clarke)

Bittern, Minsmere RSPB, Suffolk (Photo: Jon Evans)

Robin, undisclosed site, Lancashire (Photo: Austin Thomas)

Grey Heron, London Wetland Centre WWT, Greater London (Photo: Tom Hines)

Paddyfield Warbler, Pagham Harbour LNR, West Sussex (Photo: Dave Barnes)

Short-eared Owl, undisclosed site, Northamptonshire (Photo: John Betts)

Common Kestrel, undisclosed site, North Yorkshire (Photo: Mark)

Dipper, undisclosed site, Devon (Photo: Charlie Fleming)

Teal, Cley Marshes NWT, Norfolk (Photo: Kevin Du Rose)

Hoopoe, Malta (Photo: Natalino Fenech)

Rock Pipit, Calshot Marshes, Hampshire (Photo: Dave Hutton)

Red Grouse, undisclosed site, North Yorkshire (Photo: Claire Marshall)

Common Crossbill, Scarborough, North Yorkshire (Photo: Steve Race)