The week at a glance
The biggest news of the week was a Thick-billed Warbler at Quendale on Thursday 24th (see finder's account), potentially the sixth for both Britain and Shetland. This represented the first truly big score for Shetland this autumn and was a great result for any visiting birders able to make an evening dash, but it did not shake the earth in the way of the 2013 bird at Geosetter, which closed a massive 10-year wait for a record. With an ever-swelling number of ardent vagrant-seekers adopting Shetland as their autumn destination, we probably won't be kept waiting another 10 years for the next record, but just when a Thick-billed will finally give itself up somewhere more convenient is less certain. Those who braved a trip to Dungeness, Kent, on Wednesday 23rd for the apparent Acadian Flycatcher drove home dejected as the bird, which appeared somewhat enfeebled, had predictably departed in one or other sense of the word. There was no suggestion of its continued presence, other than a brief and unsubstantiated report.
Another high-ticket American waif paid Sanday, Orkney, a similarly brief visit: a Swainson's Thrush was at the east end of Cleat on Monday 28th but was gone by the next morning. However, Scilly, or at least St Agnes, came into its own this week, with Blackpoll Warbler and Grey-cheeked Thrush found on 23rd; the thrush remained to the next day and a Red-eyed Vireo was also discovered on the very same island on 25th, lingering to 29th. Perhaps over the rest of the autumn, as in 2011, this fabled southern archipelago will continue to show that its supply of Nearctic passerines is far from dry. The Grey-cheeked on Scilly was followed by one at Ollaberry, Shetland, on 28th, which proved popular with visitors before making an overnight exit. From the opposite direction, two Lanceolated Warblers arrived on Shetland this week: singles at Dale of Walls on 26th and more typically on Fair Isle on 27th. Both Shetland and the Isles of Scilly scored a Pechora Pipit, with one on Mainland Shetland at Loch of Norby on 29th and Scilly's being a surprise extraction from a mistnet at Porth Hellick, St Mary's. The latter represented the second occurrence on the islands, after one on Tresco in 1994.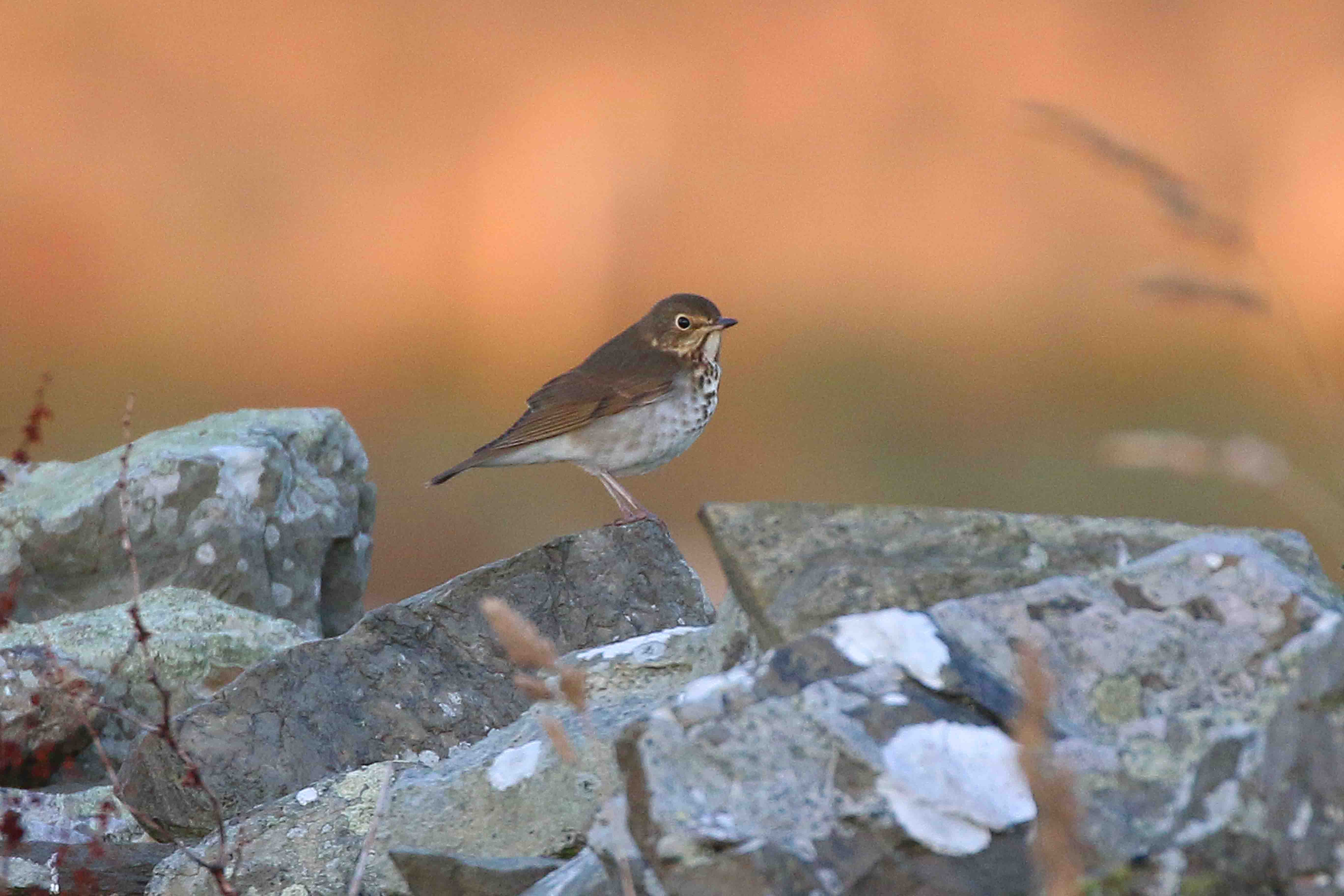 Swainson's Thrush, Sanday, Orkney (Photo: Tim Sykes)
Content continues after advertisements

Lanceolated Warbler, Fair Isle, Shetland (Photo: Steve Arlow)

Pechora Pipit, St Mary's, Isles of Scilly (Photo: Robin Mawer)
No matter how unprecedented the run of Northern Harrier records over the last few years has been, views of an adult male cruising a remote island like North Ronaldsay, Orkney, will never be anything less than mega and just such a bird has been touring the island from the 25th to the end of the review period, even seen drifting by in the company of an adult male Hen Harrier. What is surely the same Greater Yellowlegs that became a star attraction over its long residence earlier this year at Titchfield Haven, Hampshire, was caught checking out the other side of the Solent as it picked its way along the River Medina at Whippingham on the Isle of Wight on 23rd–28th.

Northern Harrier, North Ronaldsay, Orkney (Photo: George Gay)
The Wilson's Phalarope at Vange Marsh, Essex, remained to 28th but was not a bird for the photographers, maintaining its distance. The same day saw new Semipalmated Sandpipers arrive at Slimbridge, Glos, and Inny Strand, Kerry, both staying put to see the following day. It has been a productive period for Long-billed Dowitchers, too, with a juvenile found at Keyhaven Marshes, Hants, on 23rd (remaining to 29th), the Pembrokeshire juvenile lingering on Skokholm to 24th, and sightings at Rosslare and Tacumshin, Wexford, on 25th and 26th respectively probably involving the same bird, which visited the latter site last week. Yet another was discovered at The Gearagh, Cork, on 29th. Seven American Golden Plovers, including some pristine juveniles, were shared this week between Co Clare, Co Cork, Co Donegal, Co Kerry, Co Mayo, Orkney and Shetland. Buff-breasted Sandpipers were at Loch of Strathbeg, Aberdeenshire, on 23rd, on South Uist, Outer Hebrides, from 23rd to 29th, and at Predannack Airfield, Cornwall, on 23rd, while the only Irish bird was at Inny Strand, Kerry, on 28th and 29th. The island of Tiree, Argyll, had a juvenile Baird's Sandpiper on 29th, and a White-rumped Sandpiper was reported flying west past Weybourne, Norfolk, on 23rd. A Kentish Plover at Ferrybridge, Dorset, on 24th made for a more significant record, and also of interest was a Temminck's Stint at Titchwell, Norfolk, on 29th. Fifteen Pectoral Sandpipers were scattered widely, including three on St Mary's, Isles of Scilly.

Long-billed Dowitcher, Keyhaven Marshes, Hampshire (Photo: Steve Carey)

American Golden Plover, Ballycotton, Cork (Photo: Ronan McLaughlin)

Pectoral Sandpiper, Adwick Washlands RSPB (Dearne Valley), South Yorkshire (Photo: Ron Marshall)
The adult Forster's Tern was seen again on the Rogerstown Estuary, Dublin, on 27th, and an adult White-winged Black Tern frequented the power station outfalls at Heysham, Lancs, from 26-29th. The same county continued to hold the second-winter Ring-billed Gull at Preston Dock to 26th at least. The putative adult Azorean Gull continued to 27th at Blackrock Castle, where a Ring-billed Gull was noted on 29th. Long-staying Ring-bills were on the Hayle Estuary, Cornwall, and at Portrush, Antrim. Two Sabine's Gulls were seen off Bridges of Ross, Clare, on 24th, when singles were also in the Sound of Harris, Outer Hebrides, and between Mull and Coll, Argyll; two juveniles were also off Tiree on 27th. Shouts of potential, but unringed, Baltic Gulls came from Apex GP, Lincs, on 23rd–27th and Norwich, Norfolk, on 24th.

White-winged Black Tern, Heysham, Lancashire (Photo: Wayne Dixon)
The autumn's first Black Brant, an adult, was clocked at Tralee, Kerry, on 24th and 25th, and the drake Surf Scoter continued to ride the waves off Ferny Ness, Lothian, to 28th. Blashford Lakes, Hampshire, has proved itself as something of a Ferruginous Duck hot-spot over recent years and so it was little surprise when one was picked up there on 27th, staying to the week's end, but a female/immature at Frensham Great Pond, Surrey, was certainly noteworthy for the county. Still at Tacumshin, Wexford, on 28th was the drake American Wigeon, and another pitched up on Swartmill Loch, Westray, Orkney, on 28th (also there the following day). News of a Ridgway's Cackling Goose on the Exe Estuary, Devon, from 27th–29th was greeted with mixed enthusiasm, but nonetheless at least tempted some optimistic locals to go and check it out — after all, a Lesser Canada Goose roosted on Skokholm on 25th, and the past few days have seen significant goose arrivals from the north-west. The eclipse drake King Eider remained off Nairn golf course on 24th, and Somerset's Lesser Scaup was recorded at its current Chew Valley Lake residence to 28th.

Ridgway's Cackling Goose, Exmouth, Devon (Photo: Dave Stone)
A juvenile Pallid Harrier, found on 22nd, frequented Unst, Shetland, to 29th; elsewhere on Shetland, another juvenile was on Yell on 27th and mainland birds involved juveniles at Worth Marsh, Kent, on 23rd, Spurn, East Yorks, on 29th and The Burgh, West Sussex, also on 29th. Sustaining an astounding autumn for juvenile Red-footed Falcons, a newly discovered individual was identified at Worth Marsh, Kent, on 23rd, the photogenic bird hawked above Gibraltar Point, Lincs, to 29th and images revealed the identity of another at Ormesby Little Broad, Norfolk, on 24th. Migrant Honey Buzzards drifted over Cley, Norfolk, on 25th and The Naze, Essex, on 26th while early Rough-legged Buzzards were at Washington, Durham, on 25th, Saxmundham, Suffolk, on 27th and Titchwell, Norfolk, on 28th.

Red-footed Falcon, Gibraltar Point NNR, Lincolnshire (Photo: Russell Hayes)
A Purple Heron flew over over Grafham Water, Cambs, on 28th. The Glossy Ibis on the Isles of Scilly stayed on Tresco to 25th and Waterford's bird at Clohernagh showed to 27th. The bird on the Somerset Levels reappeared at Shapwick Heath on 26th and called in at Ham Wall on 28th and 29th; another flew over Lavernock, Glamorgan, on 29th. A Cattle Egret visited the National Wetland Centre, Carmarthenshire, on 29th, when a bird initially discovered at Newport Wetlands, Gwent, on 27th reappeared, following a visit to Peterstone Gout on 28th; another two were in the Keyhaven Marshes area of Hampshire on 27th and 28th. A migrant Corncrake was uncharacteristically obliging on St Mary's, Isles of Scilly, from 24-26th and another was on Fair Isle from 25-28th.
In a modest week for seabirds, Leach's Storm-petrels and Grey Phalaropes provided the bulk of the interest, with 13 past Bridges of Ross, Clare, on 24th being the best Leach's total and two past Thorpeness, Suffolk, on 27th also being worth a mention. Apart from two seen from the Inishmore ferry, Galway, on 26th, all Grey Phalarope reports referred to singles and the only inland bird was at Durleigh Reservoir, Somerset, on 26th. Five lone Long-tailed Skuas were reported from typical locations in Pembrokeshire, Cornwall, East Yorkshire and Suffolk. Late large shearwater sightings involved a Cory's off Ram Head, Waterford, on 25th and single Great Shearwaters past Ramore Head, Antrim, on 24th and Kilcummin Head, Mayo, that same day.
It really made it feel like late autumn when the first Olive-backed Pipit of the season turned up on Fair Isle on 28th; there will no doubt be many more in its wake. The male Eastern Subalpine Warbler at Flamborough Head, E. Yorks, was last seen on 23rd, but Mossbank, Shetland, held onto its albistriata to 29th. Another subalpine warbler was not specifically identified as it skulked on St Mary's, Isles of Scilly, on 26th, nor was it seen again; the same island boasted a non-calling Bonelli's warbler on 24th. Nine of the review period's 10 Blyth's Reed Warblers were dug out on Shetland, where this once rare species is now apparently standard fare, the other being at Sammy's Point, East Yorkshire, on 28th. Arctic Warblers were at Uyeasound, Shetland, from 23–27th and at Kilnsea, East Yorkshire, from 27–28th.

Blyth's Reed Warbler, Fair Isle, Shetland (Photo: Steve Arlow)
A Melodious Warbler graced Porthgwarra, Cornwall, from 24–27th and, not far away, another was at Land's End on 24–25th; Mizen Head, Cork, had a new bird on 24th. A late Icterine Warbler was at Evie, Orkney, on 25–26th. Also unseasonable was a Red-rumped Swallow at Porthcurno on 27th. Short-toed Larks were at Tacumshin, Wexford, on 25th and on St Mary's, Scilly, on 27th. A Golden Oriole was also on St Mary's on 28th, and another was reported at Barnham, West Sussex, on the morning of 26th. The Pass of Drumochter, Highland, produced an interesting report of a Hoopoe heard repeatedly on 25th. Garinish Point, Cork, was treated to an unexpected juvenile Woodchat Shrike on 29th.
Of the week's 18 Red-breasted Flycatchers, the most interesting was at Llandudno, Conwy, on 28th–29th. Twelve Bluethroats and 10 Common Rosefinches were almost exclusive to Shetland and Orkney, but one rosefinch reached the Nanjizal Valley, Cornwall, on 23rd and a Bluethroat showed well at Kilnsea on 29th. There were 13 Richard's Pipits, mainly in the north and east, but including birds reaching Devon, County Mayo and the Isles of Scilly. A Rose-coloured Starling was still near Porthcurno, Cornwall, on 26th and another was at Land's End on 28th; the bird on Guernsey remained until 28th at least. A new juvenile was mixed in with Starlings at Dawlish Warren, Devon, on 26th.

Red-breasted Flycatcher, Llandudno, Conwy (Photo: Dave Williams)

Bluethroat, Fair Isle, Shetland (Photo: Steve Arlow)
On Shetland, Foula's Rustic Bunting was still in situ on 23rd, and another was at Gorie, Bressay, on 24th. A third found its way into a mistnet on Lundy, Devon, on 27th. Seven Ortolan Buntings were scattered between County Cork, Dorset, Devon, Pembrokeshire, the Isles of Scilly and Guernsey. A Little Bunting rested on Out Skerries, Shetland, from 26–28th; Fair Isle had one from 27–29th, when another was in the Nanjizal Valley, Cornwall. Red-backed Shrikes were on Sanday, Orkney, Unst, Shetland, at Pleinmont, Guernsey and Mizen Head, Cork. Meanwhile, good numbers of Barred Warblers and Lapland Buntings were another of the week's themes, while there was still a light smattering of Wrynecks.
Literally overwhelming numbers of Yellow-browed Warblers made landfall over the last few days, with 76 on Fair Isle and 22 in the Spurn area on 28th giving some idea of the volume of birds on the Northern Isles and along the east coast. These sprites are one of autumn's utter joys and hearing so many 'peeswo-eeee' calls must be a magical experience for birders currently in well-placed locations. However, to keep some control, as Yellow-broweds are currently the commonest migrant on Shetland, we are adapting our news output of the species there until further notice — see announcements on Bird News Extra for more details.

Yellow-browed Warbler, Fair Isle, Shetland (Photo: Steve Arlow)
Western Palearctic news
After last week's American Redstart on Faial, the Azores continued its seasonal run of form on 24th with an early Chimney Swift near Ponta Delgada, Flores, on 24th and the drake Wood Duck returning to the same island for its seventh winter.
A Red-flanked Bluetail trapped and ringed next day at Birzgale, Latvia, was perhaps surprisingly the country's first. In Israel, a Chestnut-shouldered Petronia at Kfar Ruppin also on 25th sparked a major twitch — there have been just two or three previous records. An unringed adult Demoiselle Crane accompanied Common Cranes in Brandenburg, Germany, on 27–28th, while in the Faroe Islands a Pallas's Grasshopper Warbler at Árnafjørður, Borðoy, on 29th will be only the second record if accepted.

This Yellow-browed Warbler was photographed in the North Sea on a Birdwatch reader cruise operated by Birding Breaks (Photo: Laurens Steijn/Birding Breaks).