The week at a glance
Pacific Diver in Co Dublin
Small numbers of drift migrants beginning to appear
Strong showing of Pectoral Sandpipers
Queen of Spain Fritillaries on offer in East Sussex
With variable winds as we moved a week closer to September, the maturing autumn carried both eastern and western flavours, while the seawatching season stayed very much alive. The most significant arrival, and indeed a brilliant discovery, was a Pacific Diver off Balbriggan, Co Dublin, on 27-28th, making a brief foray to Gormanstown in Co Meath on its second day. However, it was the tantalising news of a forward march of drift migrants and Nearctic waders that really had birders scouring their patches and on standby for something serious breaking.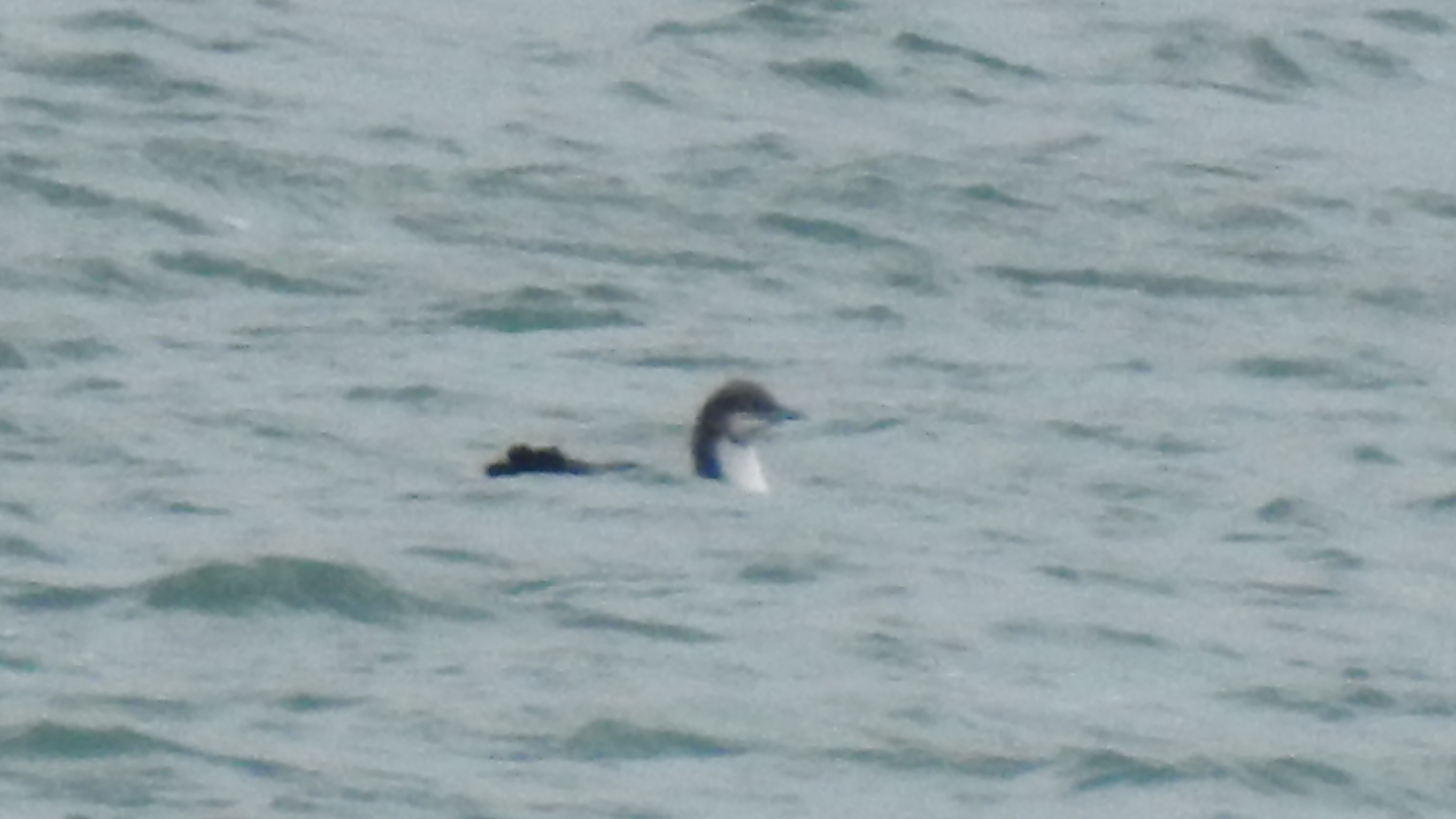 Pacific Diver, Balbriggan, Co Dublin (Luke Geraty).
Shetland swept up a good deal of the quality drift migrants, which were eased over when the wind turned easterly. The first Arctic Warbler of the autumn was on Fair Isle on 26-27th. Although the next best thing on Shetland was probably 'just' a Short-toed Lark on Fetlar on 26th, the isles were lighty dusted with promising goodies including Common Rosefinch, Wryneck, Red-backed Shrike, and Icterine, Marsh and Barred Warblers. It is early days, after all. Orkney didn't do badly either, with a Greenish Warbler trapped and ringed on North Ronaldsay on 24-27th and a Blyth's Reed Warbler found there on 25th. Across Orkney, three Barred Warblers, a Red-backed Shrike and a Melodious Warbler provided back-up, although the Melodious (on Papa Westray on 25th) was probably more significant than Greenish or Blyth's Reed from a Northern Isles viewpoint.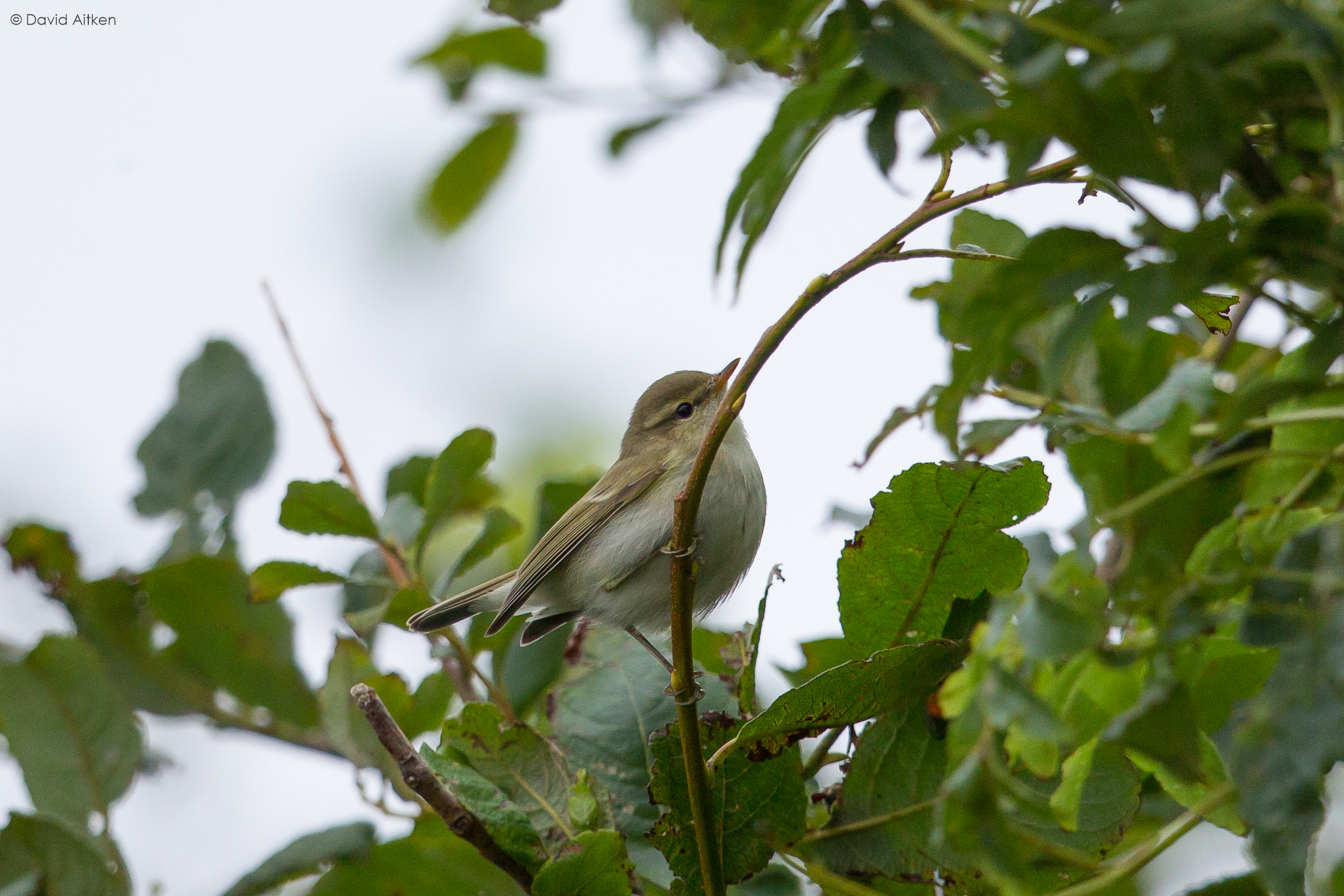 Greenish Warbler, Bempton Cliffs, East Yorkshire (David Aitken).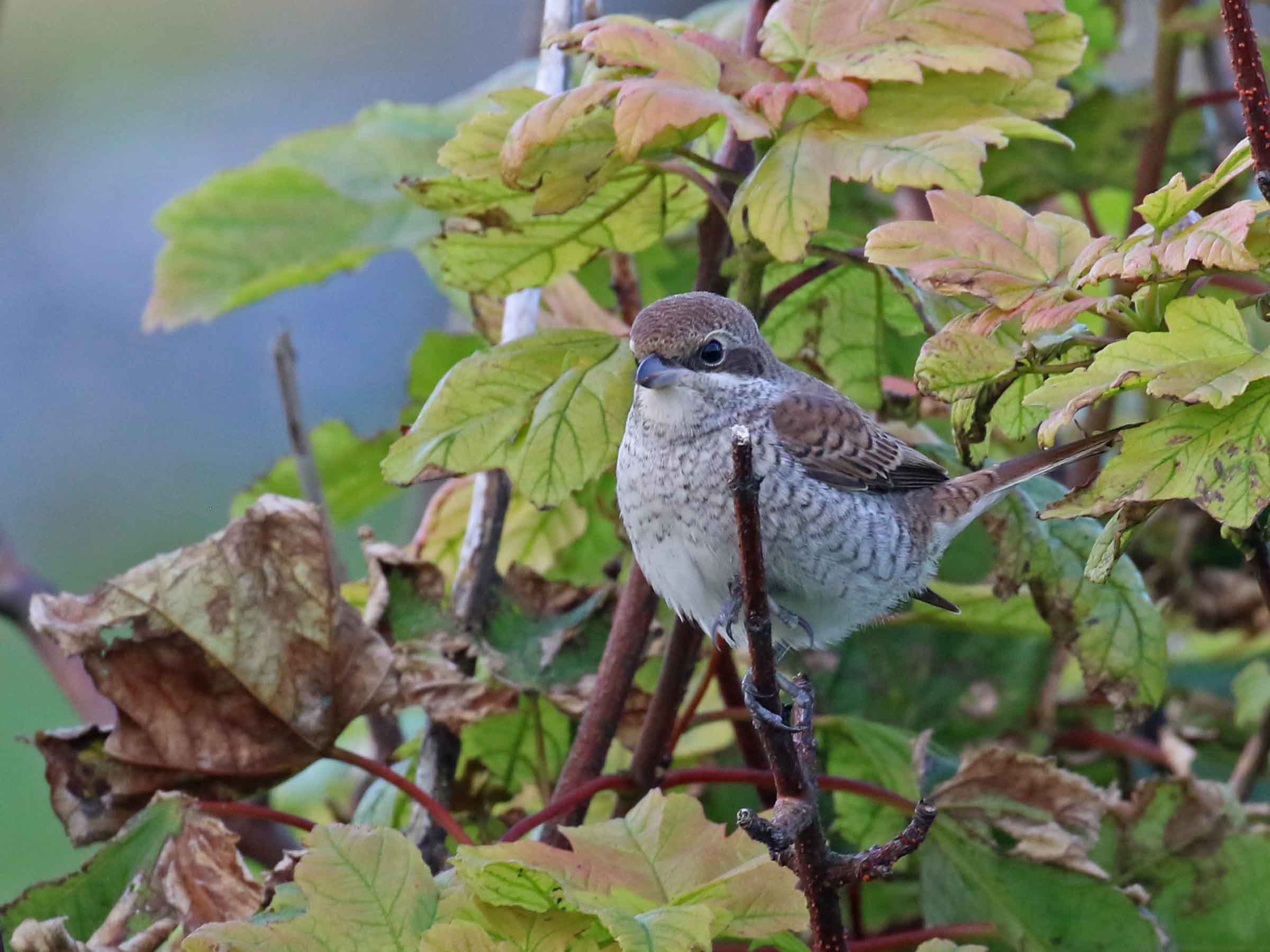 Red-backed Shrike, Grutness, Shetland (G W Petrie).
An archipelago of many talents, Orkney provided perhaps the best wader of the week: an adult Pacific Golden Plover still in smart nick on Papa Westray on 26th, three days after an American Golden Plover had been viewed by torchlight on North Ronaldsay. Another American Golden was at Cahore Marsh, Co Wexford, on 24th and what might have been the same bird graced Tacumshin on 29th, where last week's Buff-breasted Sandpiper lingered to 26th. A trio of Buff-breasts were on South Uist on 28th, with at least two staying overnight.
The first two Spotted Sandpipers of the autumn made landfall. Both were in Ireland: a juvenile was on Rogerstown Estuary, Co Dublin, from 23-24th and another stopped at Kilshannig, Co Kerry, on 29th. Cape Clear, Co Cork, flexed its muscles by providing Lesser Yellowlegs and White-rumped Sandpiper on 26th. The latter species was also recorded on Muckross Estuary, Co Cork, on 28th. Kent's long-staying Long-billed Dowitcher loitered at Oare Marshes all week; new individuals were unearthed at Carrahane Strand, Co Kerry, on 26th and Bannow Bay, Co Wexford, on 28th.
Pectoral Sandpipers were in good supply, with 34 birds scattered widely. Notably, a group of four were stumbled across as they fed on a pool at Deerness, Orkney, on 26th, and a party of the same size turned up at Carrahane Strand, Co Kerry, on 29th. In Northamptonshire, the adult Temminck's Stint was still content with the pits at Stanwick Lakes to 24th; others were at South Woodham Ferrers, Essex, and Cliffe Pools, Kent, on 25th.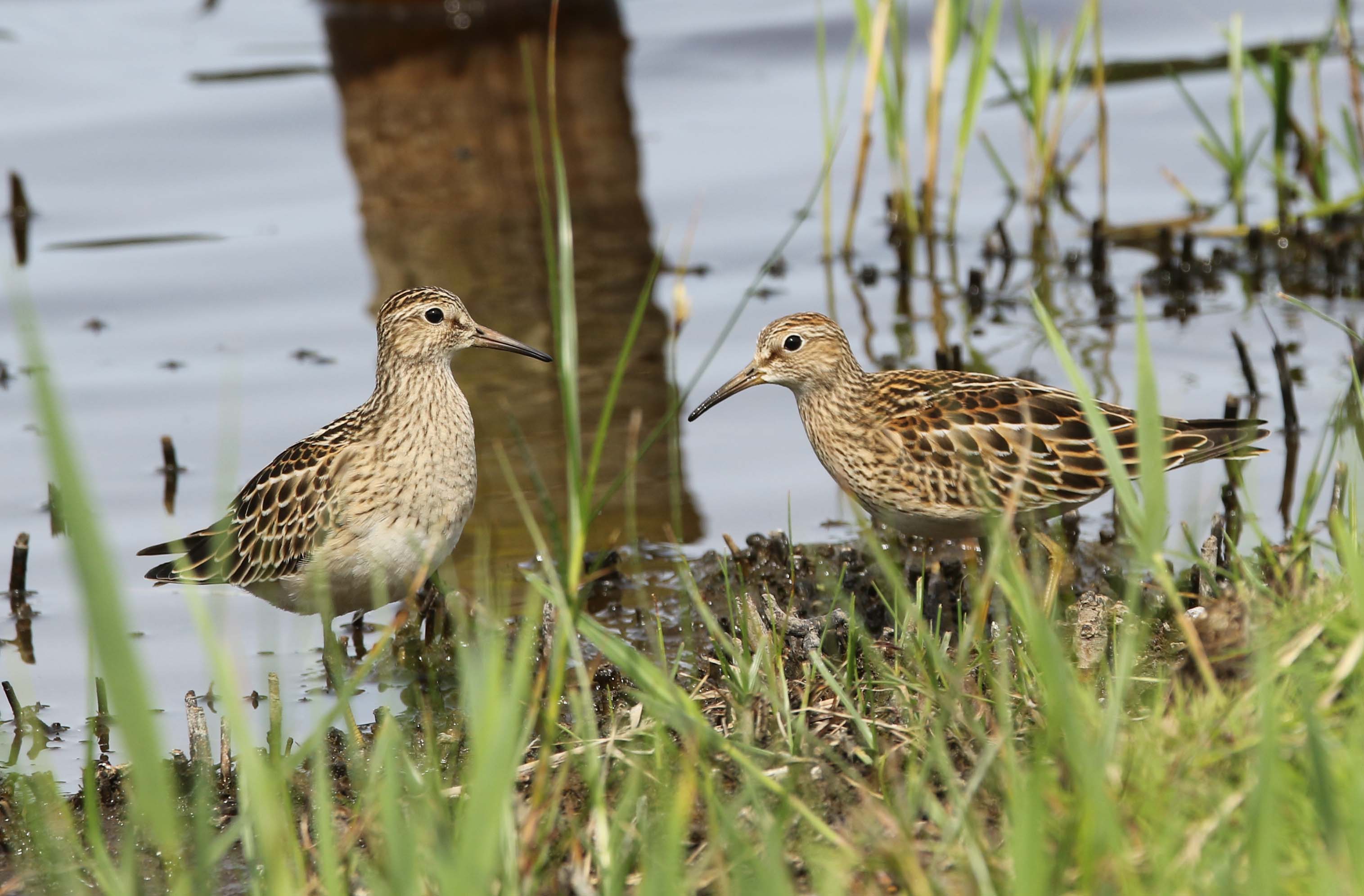 Pectoral Sandpipers, St Mary's, Scilly (Mark Leitch).
Dotterel resting while on their travels south always lend great photographic opportunities, as juveniles tend to be rather confiding – of the haul of nine individuals picked up this week, it was the juvenile at Covehithe, Suffolk, that produced the most gripping images. Migrant Red-necked Phalaropes included a popular brace of juveniles at Abberton Reservoir, Essex, from 26th – after a singleton had arrived the previous day – to the week's end; others were at Leighton Moss, Lancs, and Frampton Marsh, Lincs, on 23rd and Poole Harbour, Dorset, on 25th. Three Black-winged Stilts hung on at Cliffe Pools, Kent, to 23rd, falling to two by 25th; what was presumably one of the Cliffe progeny visited nearby Riverside CP on 23rd.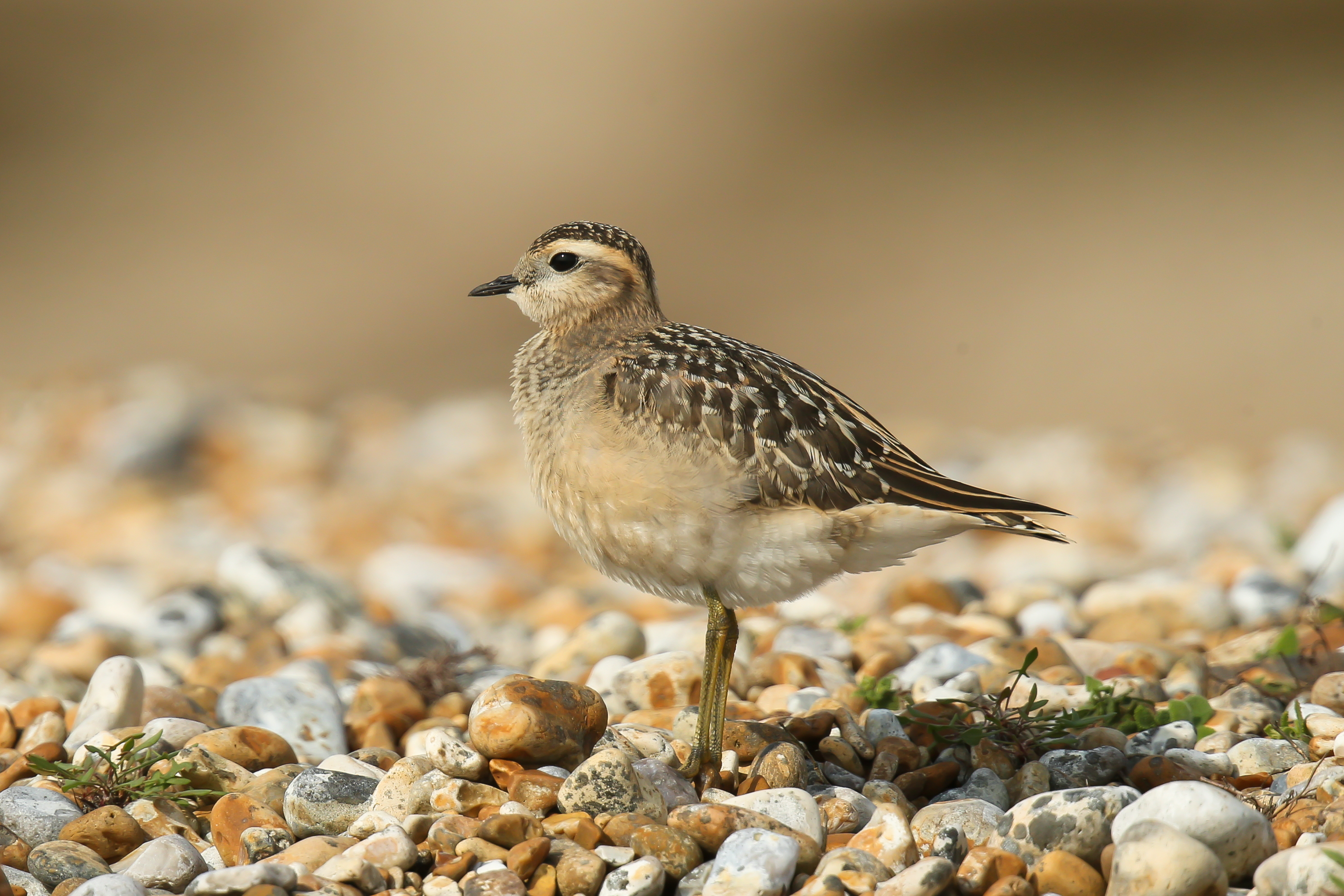 Dotterel, Dungeness, Kent (Lee Gregory).
Fea's Petrels past Bridges of Ross, Co Clare, on 23rd and Annagh Head, Co Mayo, on 24th naturally made the seawatching headlines. That said, an orange-billed tern photographed at distance from a pelagic out of Mount's Bay, Cornwall, on 24th would have topped the billing had it been nailed; it is thought that is was most likely an Elegant Tern.
While Wilson's Storm Petrel numbers have simmered down with the gently mellowing season, they were clearly still in British and Irish waters at a reasonable level this week. Pelagics out of Scilly scored the species on both 24th and 25th, the latter date seeing another from a trip out of Falmouth, Cornwall, and four in Co Kerry waters. Scilly kicked back with two seen on pelagics operated on 27th and 29th, with another seen during the Scillonian III crossing from Penzance on 28th. In Co Clare, a singleton was seen from a boat off Loop Head on 27th; another was logged near Puffin Island, Co Kerry, the next day. Land-based records were limited to lone birds off Bridges of Ross on 27th and Melmore Head, Co Donegal, on 29th. A continuing supporting cast of Long-tailed Skuas, Sabine's Gulls, Grey Phalaropes and moving shearwaters, now augmented by increasing numbers of Leach's Storm Petrels, ensured that scanning the waves was still worthwhile.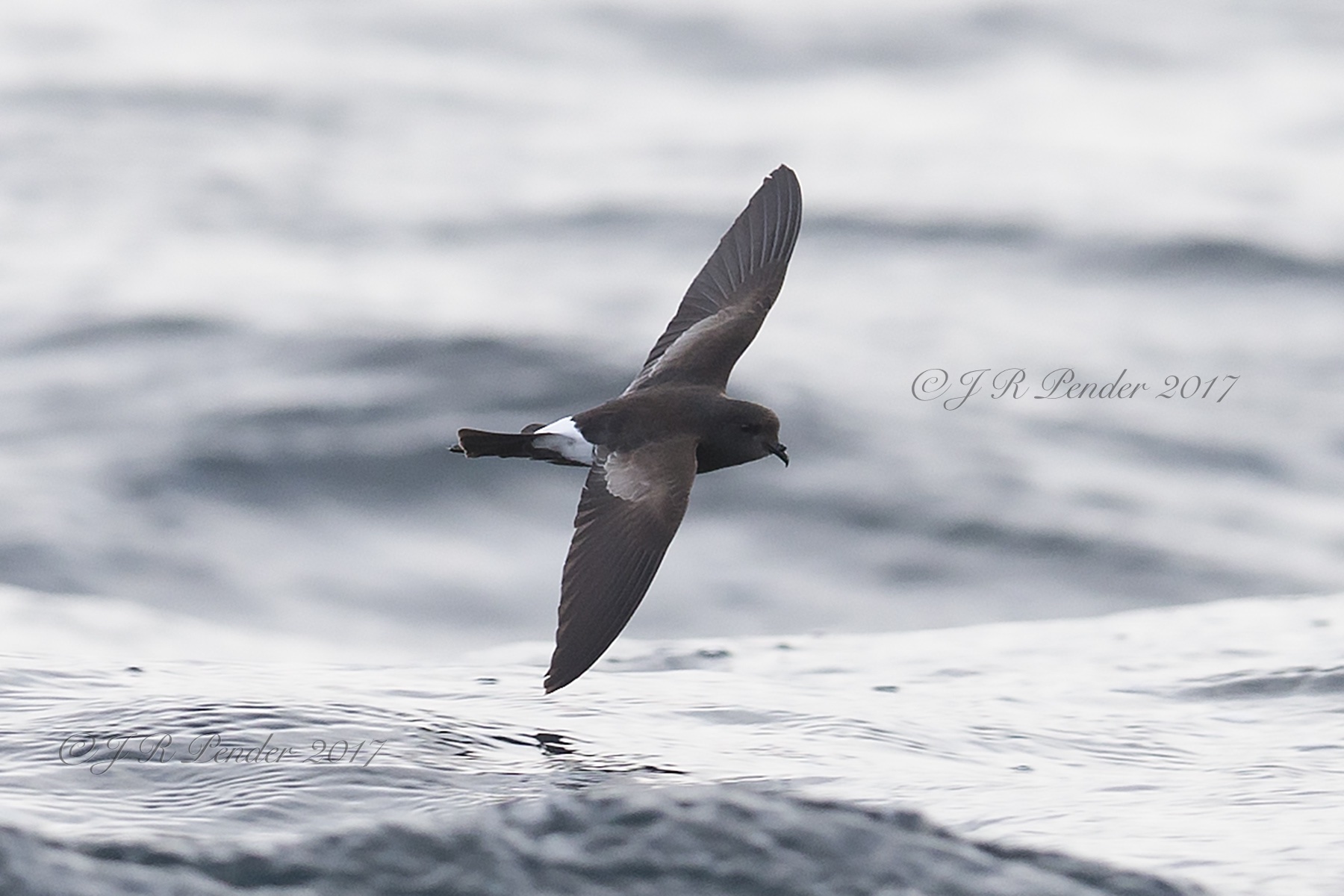 Wilson's Storm Petrel, Scilly pelagic (Joe Pender).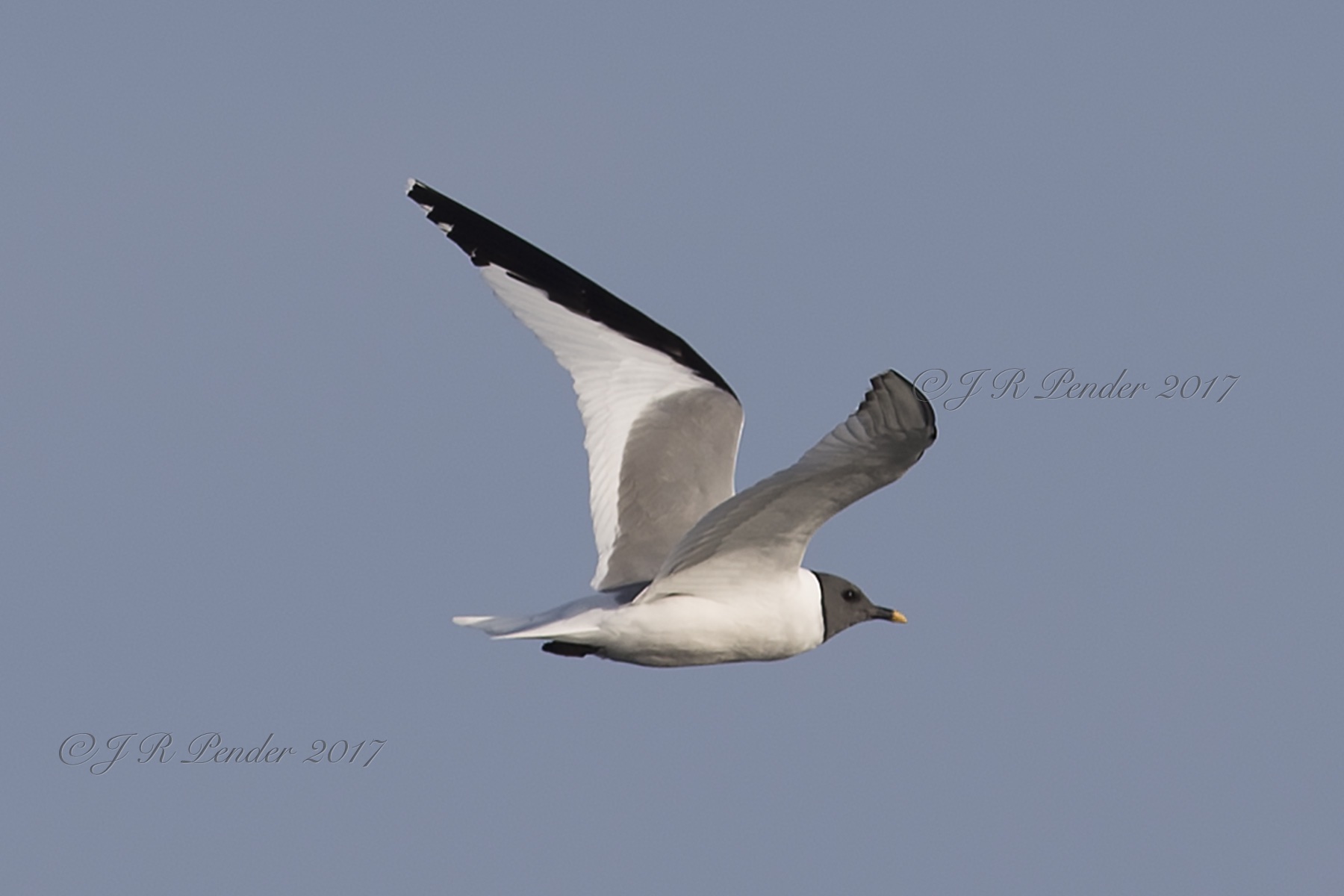 Sabine's Gull, Scilly pelagic (Joe Pender).
Back to the passerines, it wasn't just the remote Scottish islands that were having all the fun. Further Greenish Warblers were identified at Millbrook, Cornwall, on 23-25th and Bempton Cliffs, East Yorks, on 29th; the latter was a singing male, making us check the calendar to ensure it isn't still late May! Cornwall only recorded its first Blyth's Reed Warbler in 2015, but the fourth individual for the county involved a bird trapped and ringed at Nanjizal Valley on 26th, the second bird caught there this year. The same ringing session scored a Melodious Warbler; further Cornish birds were at Pistil Meadow from 23-25th and Land's End on 27th, along with a Barred Warbler. In the South-East, a Melodious was popular at Beachy Head from 24-25th when it was snatched by a passing Eurasian Sparrowhawk; another was reported at Dungeness RSPB on 28th. The only Icterine Warbler on the mainland was another mistnet catch, at Kilnsea, East Yorks, on 29th.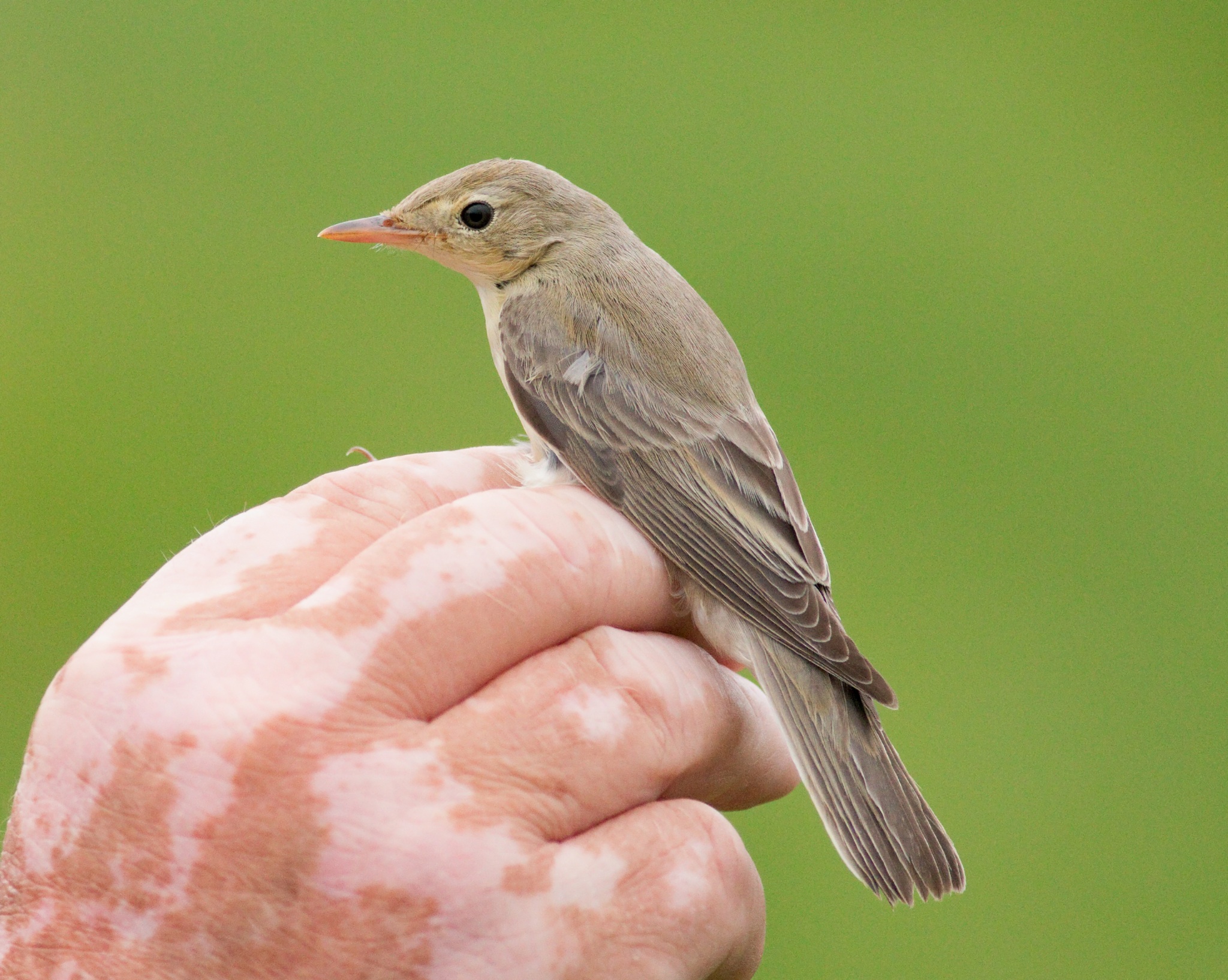 Icterine Warbler, Spurn, East Yorkshire (Daniel Branch).
Nocturnal sound recording is a branch of birding that is still very much in its infancy, but has continued this week to demonstrate its potential to tap into birds' movements during the hours of darkness. A listening station in Stoborough, Dorset, registered two Ortolan Buntings overnight on 27-28th, and results came through of analysis of a recording made at Portland last week, on 22nd, catching the calls of three Ortolans. These results inspire speculation as to just how much passes over us as we sleep, but further work will no doubt reveal more as these stations become ever more popular. More traditional diurnal Ortolan records involved three or four birds in Cornwall, with sightings around Lizard village on 23rd and 24th followed by others at Porthgwarra on 25th and Nanjizal on 26th. A Bluethroat was another score for Nanjizal's ringing site on 25th.
An adult male Woodchat Shrike provided a welcome diversion in Glamorgan all week from 26th as it performed by the road on the Gower between Reynoldston and Fairyhill. Mainland Red-backed Shrikes were reported at Hartland Moor, Dorset, on 24th; Stubbington, Hants, on 25th; Whitburn Coastal Park, Co Durham, on 26th; and Otmoor RSPB, Oxon, on 28th. The Outer Hebrides had a first-winter on Lewis on 25th. On top of those found on Shetland and Orkney, a few extra Wrynecks were scattered across the mainland, mainly in the south and west but alao including inland birds in Hertfordshire and Cambridgeshire. Irish birds turned up on the Skellig Islands, Co Kerry, and Cape Clear, Co Cork. On 29th, Scilly had a Common Rosefinch on Bryher.
Content continues after advertisements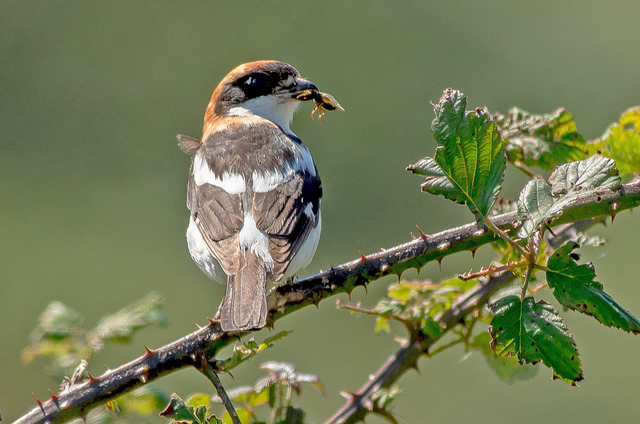 Woodchat Shrike, Fairyhill, Glamorgan (Jeff Lack).
Autumn Grey-headed Wagtails are always good value and fine specimens were encountered at Titchwell, Norfolk, from 23-25th and on the South Beach at Troon, Ayrs, on 26th. In East Yorkshire, the well-watched juvenile Rosy Starling continued to frequent Kilnsea to 28th and the adult in Embo, Highland, re-emerged from the ether on 28-29th. Meanwhile, late news of a new juvenile on Lundy on 26th eventually filtered through. A Hoopoe discovered in Loughborough, Leics, on 25th ended up sticking around for three days, as did an equally popular bird at Cuckmere Haven, East Sussex, from 24th. Scilly turned up another on St Mary's on 26th, when a further bird was spotted by the road at Lopness Bay, Orkney.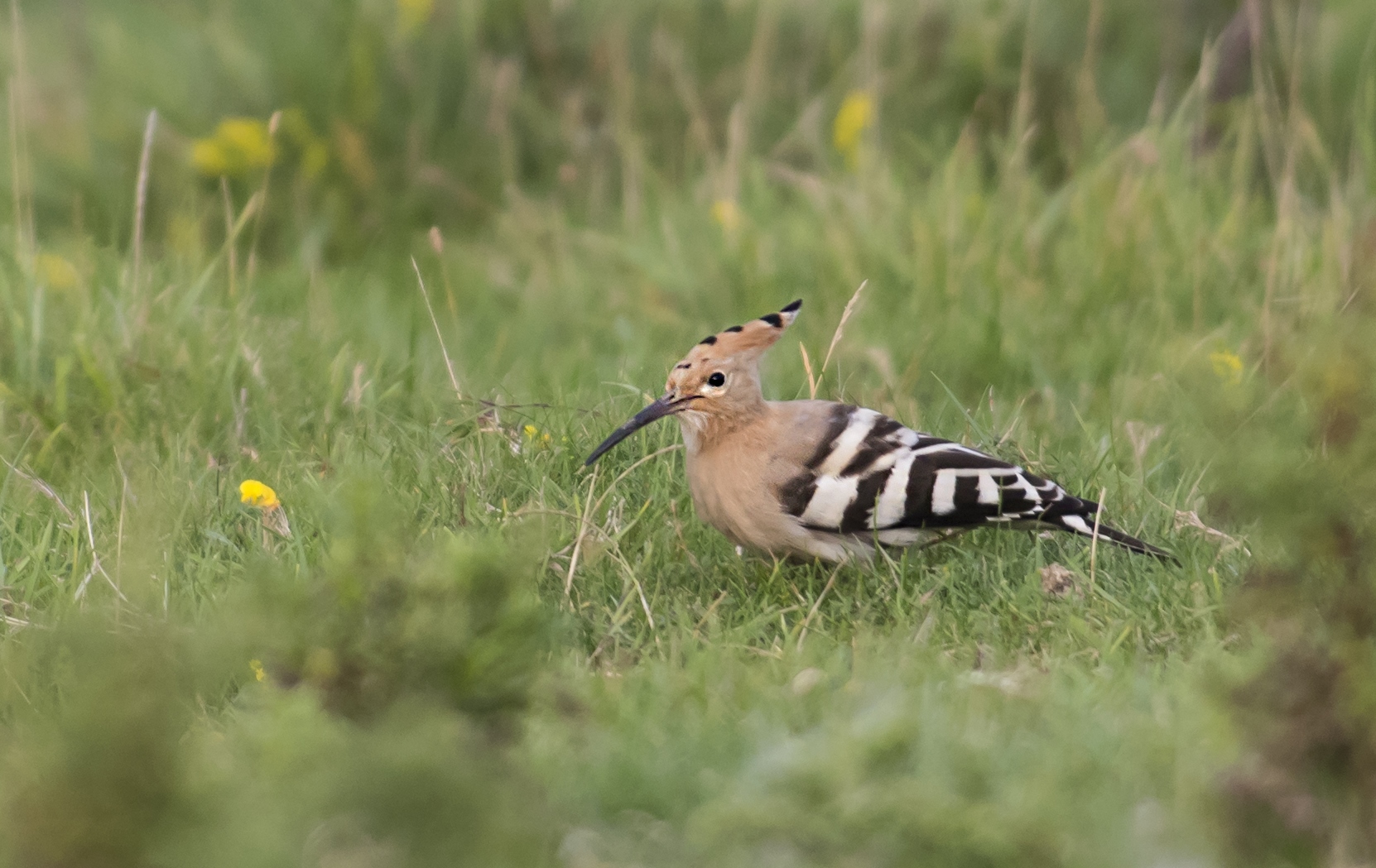 Hoopoe, Cuckmere Haven, East Sussex (Bob Eade).
There were two new adult White-winged Terns: one lingering at Grafham Water, Cambs, on the evening of 25th and another milling around off Strumble Head, Pembs, two days later. The ever-peripatetic Caspian Tern commuted between Breydon Water and Hickling Broad, Norfolk, to 25th, while a check of Soldier's Point, Co Louth, on 26th revealed the continued presence of the adult Forster's Tern.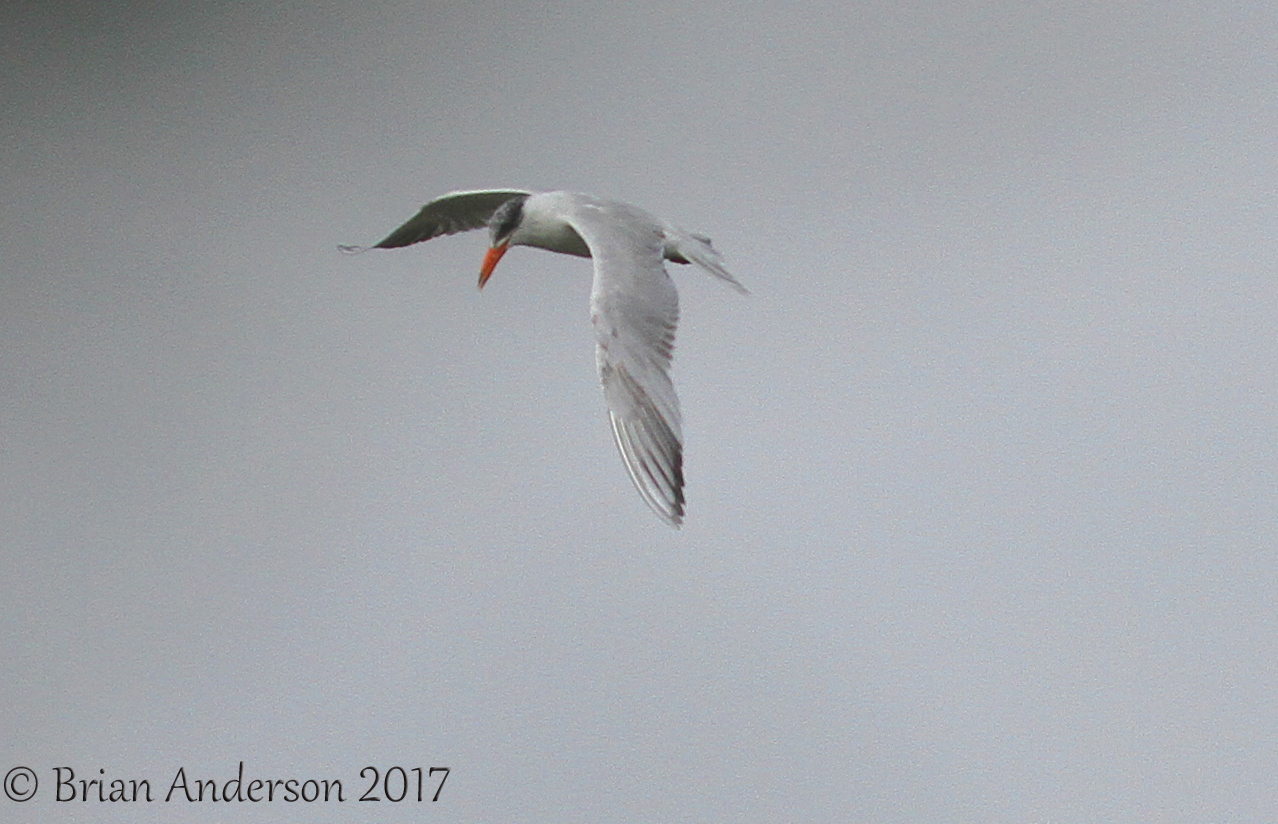 Caspian Tern, Hickling Broad, Norfolk (Brian Anderson).
In Kent, the adult Bonaparte's Gull rather predictably loafed around Oare Marshes to the week's end, while the slightly more erratic near-adult on Brownsea Island, Dorset, was noted again on 28th. In Ireland, a Ring-billed Gull was recorded at Lurgangreen, Co Louth, on 27th. White-wingers this week included Glaucous Gulls on North Uist, Outer Hebrides, on 27th and at Ullapool, Highland, on 29th, as well as the summering Iceland Gull in Stinky Bay on Benbecula, Outer Hebrides, on 23rd.
In Leicestershire, the Spotted Crake at Wanlip Meadows just made it into the week, last showing on 23rd; however, new individuals were discovered on St Mary's, Scilly, on 25th and at Stodmarsh, Kent, on 27th. The Buckinghamshire Black-crowned Night Heron made evening entrances at Claydon Lakes to 29th. On 26th, an adult appeared on Porth Hellick Pool, St Mary's, Scilly. Very exciting for London birders was news of a juvenile on the lake at Wandsworth Common of all places, where it showed into the evening of 27th. The juvenile Purple Heron performed well close to the Griesdale Hide at Leighton Moss, Lancs, all week. Glossy Ibises included singletons in Norfolk, Essex, Devon and Somerset, as well as the contingent of up to eight birds at Walmsley Sanctuary, Cornwall.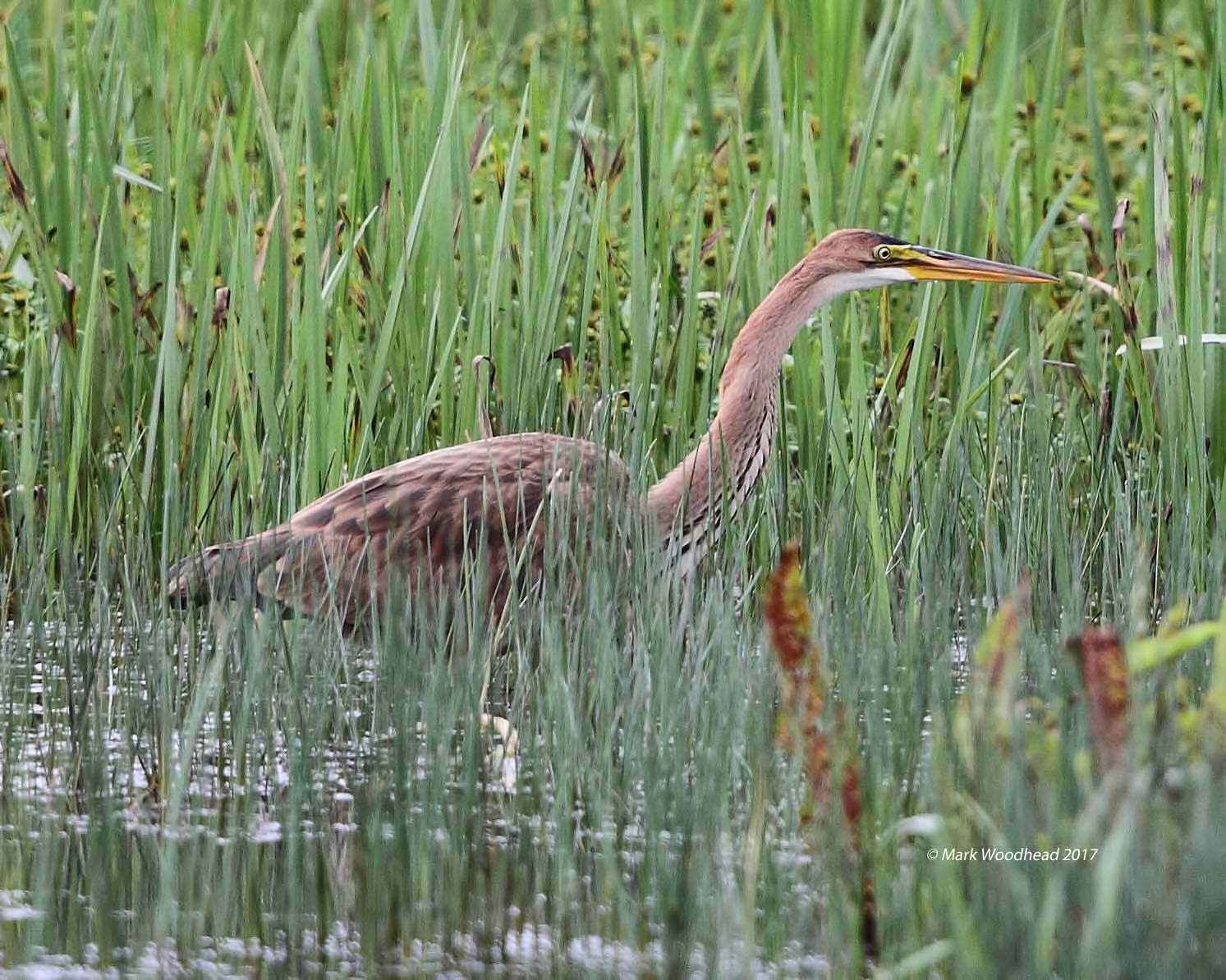 Purple Heron, Leighton Moss, Lancashire (Mark Woodhead).
Old faithfuls present and correct included the Pied-billed Grebe at Loch Feorlin, Argyll, to at least 25th and the famous American Black Duck at Strontian, Highland, to 27th. In Gwynedd, a female King Eider off Aber Dysynni on 27th was presumably the well-watched bird that frequented the Dovey Estuary, Ceredigion, to 16 August. One of the drake Surf Scoters off Murcar, Aberdeens, was noted again on 25th. More of a surprise was an unseasonal American Wigeon, an eclipse drake, identified at Rutland Water on 29th.
Co Mayo's adult female Snowy Owl was reported again on 26th. A Red-footed Falcon was seen as it headed west over Bedfords Park, London, on the afternoon of 27th. The adult female Montagu's Harrier was showing at Blacktoft Sands, East Yorks, to 25th and a few migrant European Honey Buzzards provided motivation to scan the skies; three over Dungeness on 29th were the stand-out record.
Away from birds, the clear highlight of the week was the discovery of a small number of Queen of Spain Fritillaries at Telscombe, East Sussex, on 26th. News came out on 27th and up to three males were still on view on 28th.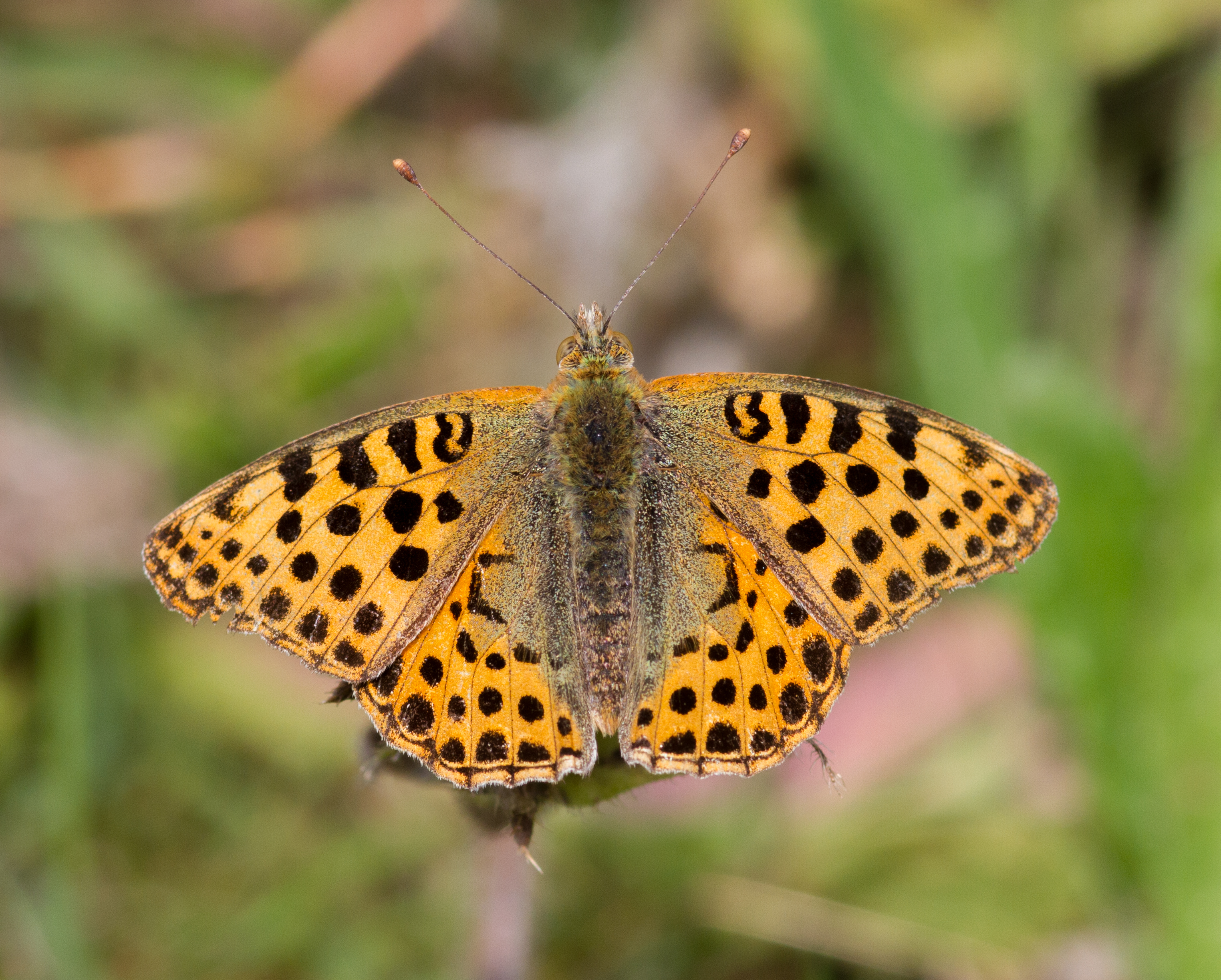 Queen of Spain Fritillary, Telscombe, East Sussex (Jake Gearty).
Western Palearctic news
In the Azores, the Grey-tailed Tattler regularly visited the quarry at Cabo da Praia on Terceria throughout. On the same island, the Snowy Egret lingered at Ponta das Contendas, while a Swinhoe's Storm Petrel was photographed in waters off Graciosa on 29th. The immature Bateleur was sighted again in the Hula Valley in Israel's Northern District on 24th. The Black-winged Kite was still near Groningen, The Netherlands, on 23rd.
An Egyptian Nightjar was a smashing find near the Chorokhi river mouth at Batumi, Georgia, on 26th; it was still on view the following day. In Lithuania, a Pygmy Cormorant was on the Curonian Lagoon at Ventė Capeon 28th.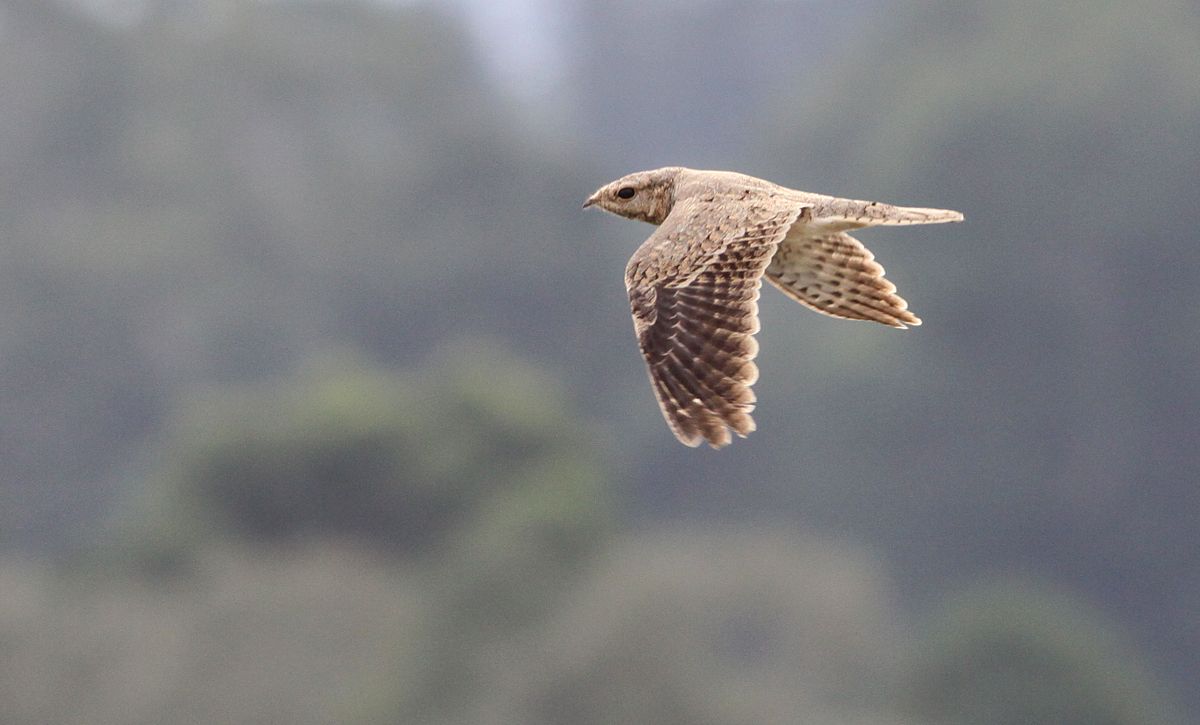 Egyptian Nightjar, Batumi, Georgia (Simon Cavailles - batumiraptorcount.org)
In belated but hugely significant news, photographs have confirmed the identity of a bird photographed at the hot-spot of Mutla'a Ranch in Kuwait on 5 January this year as the Western Palearctic's first Pale Martin.