The week at a glance
"Some people are on the pitch, they think it's all over! It is now!" The most iconic words in sports broadcasting, intoned, so beautifully, by the BBC's Ken Wolstenholme as he called home England's World Cup win in the summer of 1966 and Geoff Hurst leathered the ball past West Germany's Hans Tilkowski. What's this got to do with birding? Well, right now, that World-Cup-winning sensation is exactly what the discovery of Britain's first Eastern Crowned Warbler has been likened to by one of its finders. And with the euphoria and triumph of a genuine once-in-a-lifetime find, who can blame anyone for comparing such epic moments from two markedly different sports (or pastimes or hobbies if you'd prefer).

Eastern Crowned Warbler, The Leas, S.Shields, Durham (Photo: Graham Catley)
The small coastal site of Trow Quarry, alongside The Leas in South Shields (Durham), became ornithology's Wembley Stadium, thrust swiftly into the centre of the birding event of the year (trumping Tufted Puffin — this stuck, that didn't). Thousands of birders, interested parties and the national media all made a beeline for the leafy little spot on the edge of the North Sea after a remarkable sequence of events unfolded on the evening of 22nd.
Two stalwart local birders had been at the quarry and, after rain and a pleasing blast of easterly wind, located a couple of Yellow-browed Warblers. One of the birds was photographed and duly posted, along with other highlights from the day, to a local Internet forum. As late evening edged closer, the ultra-sharp eyes of the Durham recorder, Mark Newsome, were drawn to the small thumbnail of a robust Phyllosc. At full size, there was no doubt: patchworkers Dougie Holden and Derek Bilton had had their very own Jules Rimet moment — this was, unequivocally, Britain's first Eastern Crowned Warbler.
What happened next? Well, phone calls and emails ensured that a wider and wider audience began to share Mark's incredulity at what was staring back at him from his computer screen. A relatively clear night filled many twitching hearts with a sense of dread though — was this going to be one of those occasions when an absolute cracker was identified retrospectively, only to be gone the next morning? Well, from the hushed scenes early on the morning of 23rd it seemed to be that, yes, that was exactly the case. Barely 100 people were on-site at first light to take their chances that the eastern waif had decided to hang on a day or two. But for all those present, huge waves of relief and then elation came along in quick succession, as the star of the show took a bow somewhere around 7.35am. The rest, as they say, is history. The bird performed well, off and on throughout the day, to an ever-increasing gallery of admirers. By the middle of the day, hundreds of birders were enraptured by the gladiatorial visitor performing in its very own little northeastern amphitheatre. And the show continued throughout the 24th as well. There were nervous moments early doors, with no sign of the bird until well after 8am but, again, from then on this glorious bird showed well to all comers, before taking its final curtain call at dusk. Heavy hearts abounded for those on-site on 25th: both the Eastern Crowned Warbler and its temporary travelling companion, the Yellow-browed Warbler, had departed. But history had finally been made, with this long-predicted vagrant making a bid to be one of the most popular birds of the (modern) twitching era.
The Durham Eastern Crowned Warbler, once accepted, will become the fifth record for the Western Palearctic, following on from the historic record on Helgoland, Germany in October 1843 and three records from the 2000s: Norway in September 2002, Finland in October 2004 (the exact date of arrival just one day after that of the Durham bird) and, most recently, the Netherlands in October 2007. It has also made a little more history in being the first Eastern Crowned Warbler to linger for more than one day, though that's small comfort for those unable to travel before Sunday. Still, four records in Europe in the past seven years plainly offers a ray of hope.
Anything else this week, bar, oh I don't know, a Cerulean Warbler on Scilly or Cape Clear, was going to be relegated to "also-ran" status, but that's no way to view the outstanding birds discovered in Ireland over the weekend. Just sneaking it in this particular two-horse race (certainly in terms of Western Palearctic appearances) was the country's second Mourning Dove, found at Garinish Point (Cork) on 25th. The first Irish bird was found out on Inishbofin off the coast of Galway in November 2007 but, unlike that bird, this year's offering was an AM-only bird. That may have come as something of a disappointment to any travelling souls on the road after taking a peek at the first-winter Common Nighthawk, picked up and taken into care at Reenard Point in County Kerry on 24th. This was a massive bird for Irish listers and news that the bird was to be released the following morning must have been a relief. More relief came when it was known that the US vagrant had managed to survive the night and, after release at nearby Cahersiveen, the bird lingered on tracks in the local park for around half an hour before flying off. Quite how any individual views the "ticking" of a picked-up-and-cared-for bird is a discussion for somewhere other than the Weekly Review; some will tick regardless, others will see the bird as "tainted". Whatever, it's a fantastic bird and only the second for Ireland — the first appeared at Ballydonegan, exactly 10 years ago to the day on October 24th 1999 (you've got to love these birding coincidences).

Common Nighthawk, Cahersiveen, Kerry (Photo: Eric Dempsey)

Common Nighthawk, Cahersiveen, Kerry (Photo: Mike O'Keeffe)
Elsewhere, the first-winter Brown Shrike was still enjoying life on Staines Moor (Surrey), being present to 28th. Having clocked up over a fortnight already it becomes, comfortably, the longest-staying Brown Shrike in Britain (it needs to rattle in an extra day or two before it beats the Irish record, the adult female at Ballyferriter in 1999 spending 19 days in Kerry). Talking of records, the Zitting Cisticola at Pegwell Bay (Kent) was seen again on 28th, ten days after its last appearance, and nearly reaching a century of days since it was first seen.

Brown Shrike, Staines Moor, Surrey (Photo: Gary Thoburn)
The north of Ireland recorded its second Fea's Petrel in just over a week on 25th, one flying past Ramore Head (Antrim) — maybe there's one living off the coast right now? Two Great Shearwaters flew past Arranmore (Donegal) on 25th, while 26 Balearic Shearwaters were seen passing Porthgwarra (Cornwall) on the same date. Just over a dozen Pomarine Skuas were reported, seven of them heading past Kilcummin Head (Mayo) on 25th. Just a handful of Grey Phalaropes were noted, including one or two birds off Portland (Dorset) on 23rd and two off Porthgwarra on 25th.
In County Cork, the adult Sabine's Gull was still at Cobh throughout the week, popping up at nearby Cuskinny Marsh during the week as well. Another Irish bird was seen from Bridges of Ross (Clare) on 25th. A Sabine's Gull was seen off Flamborough Head (East Yorkshire) on 22nd, and in Fife an adult passed Fife Ness on 23rd. The following day saw two juveniles logged in the county, both seen off Kinghorn. Another juvenile was noted, on the same day, heading by Galley Head (Cork), and on 25th a juvenile was seen off North Shields (Northumberland) with two more off Mullaghmore Head (Sligo). In Norfolk, a juvenile was seen around Eccles-on-Sea on 26th. There were no real numbers of Little Auks to report either: singles or twos only this week.

Sabine's Gull, North Shields, Northumberland (Photo: Nigel Tinlin)
New Glossy Ibis records this week included one at Graveney Marshes (Kent) on 22nd–23rd, one at North Duffield Carrs (North Yorkshire) on 23rd and three that flew over Hengistbury Head (Dorset) on the morning of 25th. Three Glossy Ibises remained around Somerset's wetlands to 26th and two lingering birds were still at Dungeness (Kent), with singles still in Cambridgeshire, Warwickshire, Staffordshire, Northumberland, Aberdeenshire and Wexford.
A Cattle Egret was found at Mizen Head (Cork) on 22nd, and was still present to 24th at least. Other new arrivals this week were at Bridgend, on Islay (Argyll) on 24th (with two birds at Redhouses the following day), at Carr Vale NR (Derbyshire) on 25th (and Ogston Reservoir on 28th) and on the Hayle Estuary (Cornwall) on 26th. Two Cattle Egrets were still together in Hampshire during the week, at least three birds remained around the Somerset Levels, and one was still at Dungeness to 28th.

Cattle Egret, Dungeness RSPB, Kent (Photo: Phil Wallace)
The latter two sites also continued to host single Great White Egrets this week, with others noted in Suffolk (up to four birds there, two on the coast at Minsmere on 27th, and two on the Norfolk border at Lakenheath on 28th), Cumbria and Lancashire (three birds at Leighton Moss on 27th–28th). Fresh individuals were seen over St. Mary's (Scilly) on 22nd, at Hanningfield Reservoir (Essex) on 22nd (and again on 25th and 27th), The Spinnies (Gwynedd) on 25th, and Testwood Lakes (Hampshire) and Pagham Harbour (West Sussex) on 26th.

Great White Egret, Dungeness RSPB, Kent (Photo: Phil Wallace)
Fourteen Spoonbills were seen around Brownsea Island (Dorset) during the week, while seven were at Isley Marsh (Devon) on 24th. Five birds remained at Dinham Flats (Cornwall) and two groups of four were seen during the week, at Timoleague (Cork) and around Bryher and Tresco (Scilly). Three Spoonbills remained at Abberton Reservoir (Essex) to 27th with two at Inner Marsh Farm (Cheshire), while singles were noted in Cornwall, West Sussex and Pembrokeshire. Five Common Cranes were at the Welney WWT reserve in Norfolk on 22nd–28th and three birds were seen over Rutland Water (Leicestershire) on 23rd. A juvenile Common Crane was seen near Sandford (Isle of Wight) from 22nd–27th.

Spoonbill, Newport, Pembrokeshire (Photo: Paul Mahiques)
A White Stork (thought to be an escape) was at St. John's Fen End (Norfolk) on 22nd, with another seen near Corbridge (Northumberland) on 25th. A Spotted Crake was again on the Abbey Pool, Tresco (Scilly) and another was seen at Rainham Marshes (London) on 27th–28th.
The obliging white Snow Goose remained in the stubble fields between Docking and Brancaster (Norfolk) to 27th (with a little jaunt to the nearby marshes at Burnham Overy on 25th), and the blue bird remained around Loch Fleet (Highland) to 28th. At least one Richardson's Canada Goose was still around Islay (Argyll) on 24th–28th and another Richardson's was seen at Lissadell (Sligo) from 25th. A larger Canada Goose sp. was also at Lissadell from 25th onwards and, on 26th, a Lesser Canada Goose sp. (a parvipes or interior) was at Martin Mere (Lancashire) — two birds have been reported there recently. Also on 26th, a confirmed Lesser Canada Goose (parvipes) was at Bridgend, Islay (along with two young Canada Goose × Barnacle Goose hybrids). Single Black Brants were noted in Dorset, Hampshire, Essex, Lincolnshire, Norfolk and County Down, while the origins of two sets of two Red-breasted Geese, in Essex and Jersey, is unknown, but both twosomes have been seen with Dark-bellied Brent Geese.
Back in Norfolk, the Green-winged Teal remained on the Cley Marshes reserve until 27th at least, and single drakes at Siddick Ponds (Cumbria) and Kinneil Lagoon (Forth) also made it to another week. A new bird on the Loch of Hillwell (Shetland) was present from 24th–27th and further new arrivals were on Islay and North Ronaldsay, both on 28th. A drake or hybrid Green-winged Teal appeared at Marshside RSPB (Lancashire) on 22nd. The drake Blue-winged Teal was again at Port Clarence (Cleveland) on 24th–26th and the regular female was still at Bull Island (Dublin) on 23rd. Faring less well was the first-winter drake that was shot by wildfowlers on the North Slob NNR (Wexford) on 24th. The only American Wigeon of the week was the drake that lingered on The Gearagh (Cork) until 25th at least.
Both of October's drake Lesser Scaup remained in place at the start of the week, at Draycote Water (Warwickshire) and Cardiff Bay (Glamorgan), and all bar one of the week's six Ring-necked Ducks were also familiar fixtures — at Blagdon (Somerset), Foxcote Reservoir (Buckinghamshire), Westport Lake (Staffordshire), near Macroom on The Gearagh, and on Oxford Island NNR (Armagh). The odd one out was a drake at Kirkby on Bain (Lincolnshire) on 26th–28th. The wintering drake Ferruginous Duck at Chew Valley Lake (Somerset) was still present to 27th at least.

Ring-necked Duck, Kirkby on Bain GPs, Lincolnshire (Photo: Russell Hayes)
A single drake Surf Scoter was found in the waters off Burrafirth, Unst (Shetland) on 22nd and remained there until 24th. This was the sole record of the species this week.
In Kent, a possible pale-morph Eleonora's Falcon was reported flying in off the sea at Hope Point just after noon on 23rd. This continues the spate of potential Eleonora's Falcon records this autumn, though this is the first pale bird to be claimed. A Black Kite flew north over Bardsey Island (Gwynedd) on 26th (although the island's sixth Nuthatch the same day may have caused almost as much excitement!). Just three Rough-legged Buzzards to report this week were at Cotehill Loch (Aberdeenshire) on 22nd, over Old Woman's Lane, Cley on 27th and at Northleach (Gloucestershire) on 28th. A young female Snowy Owl remained on Tory Island (Donegal) to 28th.
After several weeks of plenty of different individuals and lingering birds, the tally of American Golden Plover dropped to five or six birds this week: a juvenile was again at Carrahane Strand (Kerry) on 23rd and two birds (an adult and a juvenile) were at Kirkistown (Derry) on 25th (along with a Dotterel). The week ended with birds at Old Moor (South Yorkshire) on 27th and on the Casheen Estuary (Kerry) and at Portavogie (Down) on 28th. Another Dotterel was on Ouse Fen (Cambridgeshire) on 28th. In Norfolk, a White-rumped Sandpiper was found at Cley on 25th, and was still present the following day.

American Golden Plover, Portavogie, Down (Photo: Derek Charles)
Long-billed Dowitcher records this week consisted of the two juveniles appearing again at Banks Marsh (Lancashire) on 22nd and 27th, another again at Connah's Quay (Clwyd) on 25th, and a new bird popping up on the same day at Browhouses (Dumfries & Galloway). On 26th, the fifth bird of the week was seen at Baleshare, North Uist (Outer Hebrides), and on 28th a juvenile was again at Inner Marsh Farm (Cheshire). The Lesser Yellowlegs at Aberlady Bay (Lothian) was still present to 28th, while a generally poor week for shorebirds was bolstered a little with a handful of new Pectoral Sandpipers, new birds appearing at Cley (Norfolk), at Port Clarence (Cleveland), on North Uist (Outer Hebrides) and at Tramore (Donegal), while birds at Eyebrook Reservoir and Lound GPs remained into another week.

Lesser Yellowlegs, Aberlady Bay, Lothian (Photo: Mike Thrower)

Pectoral Sandpiper, Cley Marshes NWT, Norfolk (Photo: Jim Almond)
The adult Azorean Yellow-legged Gull was back at Appleford Tip near Didcot (Oxfordshire) on 28th; perhaps a winter's stay is on the cards for the handsome brute. An adult Laughing Gull was reported from the Royal Military Academy at Sandhurst (Berkshire) on 28th. Four of the five Ring-billed Gulls this week included the recently returned adult at Walpole Park, Gosport (Hampshire) and further adults at Westcliff-on-Sea (Essex), Nimmo's Pier (Galway) and Portrush (Antrim). A second-winter Ring-billed Gull was at Rossall Point (Lancashire) on 28th. At least 18 Caspian Gulls included two each for Beddington, Dungeness, Blackborough End Tip, Appleford Tip, Chasewater and Stubber's Green, with a couple of additional singles in Kent, elsewhere in London, Cornwall (a second bird at Sennen), Oxfordshire, Worcestershire, Leicestershire and Derbyshire. It was a low-scoring match between Iceland Gulls and Glaucous Gulls this week, ending in a 3-2 win for the big boys of hyperboreus.

Caspian Gull, Stubber's Green, West Midlands (Photo: Richard Powell)
Content continues after advertisements

Glaucous Gull, Nimmo's Pier, Galway (Photo: Tom Cuffe)
The sizeable pulse of warm southerly air on 27th was responsible for the arrival of four Red-rumped Swallows, the first of which was seen at Witcham (Cambridgeshire) and was followed by one at Porth Meudwy (Gwynedd) and two together at Kilnsea (East Yorkshire). Another appeared at Kilminning the following day. The next question is, will the Pallid Swifts follow?

Composite image of Red-rumped Swallow, Witcham, Cambridgeshire (Photo: David H Hatton)
Devon's first Black-throated Thrush was a terrific find at Scorriton on Dartmoor on the afternoon of 27th. County listers were delighted the following day when the bird was seen throughout the afternoon alongside the River Mardle. What may well have been another Black-throated Thrush was glimpsed twice along a north-Norfolk hedgerow, before departing high to the south with a passing flock of Fieldfares, also on 27th.

Black-throated Thrush, Scorriton, Devon (Photo: Dave Stone)
A first-winter male Pied Wheatear continued Fife's impressive little run of birds this week when it appeared at Fife Ness on the afternoon of 26th. There are only two previous records of the species in the county, including Britain's first in 1909 (known to have been of the rare white-throated form vittata) while the second for the county, also at Fife Ness, was seen in September 1992. The 2009 bird remained to 28th.

Pied Wheatear, Fife Ness, Fife (Photo: Mike Thrower)
The seventh Red-flanked Bluetail of the autumn was found at Bempton Cliffs (East Yorkshire) on 23rd and remained until 25th at least (doubtless drawing in a few southbound warbler-watchers to boot). At Spurn, the Red-flanked Bluetail trapped there on 18th was caught again on 26th, and remained to 27th at least. The Bempton bird sees East Yorkshire take the lead in the Bluetail stakes this autumn, outscoring Shetland by three birds to two.

Red-flanked Bluetail, Bempton Cliffs RSPB, East Yorkshire (Photo: Steve Race)
In Kent, a Siberian Stonechat was at St. Margaret's at Cliffe on 24th, while in Cornwall a Short-toed Lark was reported from Marazion on the same date. Another Short-toed Lark was on Tory Island on 26th, and on Scilly a Bluethroat was on St. Mary's on 28th. A Hoopoe was on South Ronaldsay (Orkney) on 22nd and one was photographed and suppressed in Devon on 25th. Another Hoopoe was reported belatedly near Portree on the Isle of Skye (Highland) on 18th, while a Waxwing was on Lewis (Outer Hebrides) on 26th.
A first-winter Citrine Wagtail was found on Tresco (Scilly) on 25th, the second of the autumn for the islands. Three Olive-backed Pipits were found in southern England during the week. The first was seen briefly on St. Agnes (Scilly) on 23rd and the same date saw one arrive on Lundy (Devon), this bird still present to 25th (representing just the fourth county record and the first since a wintering bird in south Devon in 1997). The 24th saw another Olive-backed Pipit make landfall at Sandy Point (Hampshire), also a fourth county record, and the first there since one in October 1999. Not wanting to be left out, Shetland rattled in another Olive-backed Pipit for their autumn haul, one found at Levenwick on 26th.
As well as an Olive-backed Pipit on 23rd, Devon also saw the appearance of a Red-throated Pipit, one in crop fields at Orcombe Point, and another was seen on Skomer (Pembrokeshire), again on 23rd. Heard-only Red-throated Pipits flew over Portland on 27th and Kenidjack (Cornwall) on 28th. Over 20 Richard's Pipits were seen during the week and they included the unusually long-staying twosome on the Farnes (Northumberland), while one at Langford Lowfields (Nottinghamshire) on 24th and two on Welsh islands (Skomer and Bardsey) on 26th were also of note.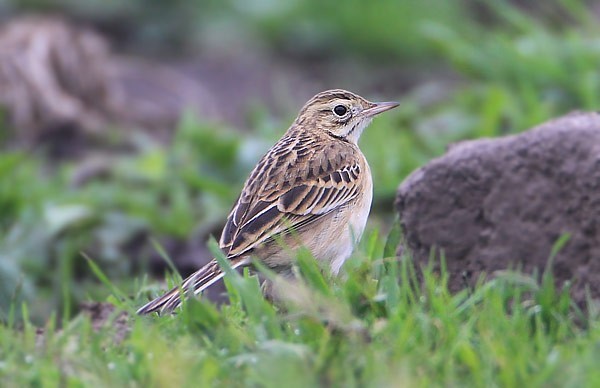 Richard's Pipit, St. Mary's, Isles of Scilly (Photo: Gary Thoburn)
Six Great Grey Shrikes this week included the lingering bird at Grove Ferry (Kent) and new arrivals on 23rd at Cross Inn Forest (Ceredigion), Ethie Mains (Angus) and Drums (Aberdeenshire). Another Great Grey Shrike was in the Ashdown Forest (East Sussex) on 25th and the same date saw one return to Dersingham Bog (Norfolk). A juvenile Red-backed Shrike was at Bempton Cliffs from 22nd and another was in the Manse garden on Fetlar (Shetland) on 24th.

Great Grey Shrike, Grove Ferry NNR, Kent (Photo: Steve Ashton)

Red-backed Shrike, Bempton Cliffs RSPB, East Yorkshire (Photo: John Harwood)
A Marsh Warbler showed well around the Big Pool on St. Agnes (Scilly) on 23rd–24th and Barred Warblers managed at least eight birds this week, including four birds in County Cork between 22nd and 24th (at Old Head of Kinsale and Power Head on 22nd, Three Castles Head on 23rd and Knockadoon Head on 24th). The others were seen in Aberdeenshire (two there), Northumberland and East Yorkshire.

Barred Warbler, Old Head of Kinsale, Cork (Photo: Ronan mclaughlin)
The Western Bonelli's Warbler on the Calf of Man was re-trapped on 23rd (it was originally caught there on 17th and hadn't been reported subsequently). Favourable conditions throughout much of the week produced a further 10 Radde's Warblers for the autumn's haul. Three birds were found on 22nd, at Thorpeness (Suffolk), Holy Island (Northumberland) and East Haven (Angus), and two more followed on 23rd, at Girdle Ness (Aberdeenshire) and Fife Ness (Fife). The 24th saw a Radde's Warbler appear on St. Mary's (Scilly), singles on 26th were found at St. Levan (Cornwall) and Wells Woods (Norfolk), and on 28th new birds were found on St. Agnes (Scilly) and Cape Clear Island (Co.Cork).

Radde's Warbler, Holy Island, Northumberland (Photo: Colin Pears)
Three Dusky Warblers were also discovered during the week. The first appeared at Power Head in Cork on 22nd and was followed by two birds on 23rd, at Dungeness (Kent) and Flamborough Head (East Yorkshire). An Arctic Warbler was reported from Capel le Ferne (Kent) on 22nd (the first in the county since 1996, and only the fourth ever — although one in 2003 doesn't seem to have made the record books).

Dusky Warbler, Power Head, Cork (Photo: Polina Kasapova)
At least 50 Yellow-browed Warblers were reported during the week, mainly scattered along the east coast, although the odd one made it to Scilly, Shetland and Ireland as well. The 22nd saw five of the week's fourteen Pallas's Warblers arrive: two were in Lincolnshire (at Donna Nook and Humberston Fitties) with singles at Flamborough Head, on Holy Island and at Collieston (Aberdeenshire). Aberdeenshire and Northumberland grabbed another one each on 23rd, at Balmedie and Beal respectively, while one was found at Finstown (Orkney) on the same day. On 24th, it was Hope Point in Kent that welcomed this ever-glorious little far-flung visitor, and on 25th one was found at Denburn Wood, Crail (Fife), with Norfolk's second of the autumn appearing at Hopton-on-Sea on 26th. The same date saw another Pallas's arrive in Fife, at Balcomie Castle, and on 27th one was in The Parsonage on St. Agnes and another was in Worthing (West Sussex). A probable Hume's Yellow-browed Warbler was at Fife Ness Muir on 23rd and a possible was reported on Tresco on 26th.

Yellow-browed Warbler, Kingsdown, Kent (Photo: Steve Ray)

Yellow-browed Warbler, Balcomie, Fife (Photo: Joe Graham)

Pallas's Warbler, Holy Island, Northumberland (Photo: Andy Mould)
The identity of a Greenish Warbler found at Church Cove on the Lizard (Cornwall) on 28th was the subject of some debate as the day progressed. Such a late date was always going to be a talking point, and by close of play Green Warbler was being suggested as a possibility; the only accepted record remains the bird seen on Scilly in the autumn of 1983.
Six or seven Red-breasted Flycatchers were found this week: the first was on Cape Clear Island (Cork) on 23rd (with one there on 26th as well) and was followed by two on 24th, at Cove Bay (Aberdeenshire) and Swining (Shetland), two on 25th, at Carne (Wexford) and Cruden Bay (also in Aberdeenshire) and then, back on Shetland, one at Levenwick on 27th.
A male Penduline Tit was seen at Strumpshaw Fen (Norfolk) on 22nd (two were seen here in February and March this year) and another was found at Dungeness (Kent) on 25th. Juvenile Rose-coloured Starlings remained on St. Agnes (Scilly) and at St. Ives (Cornwall) for much of the week and another juvenile was found at Peterhead (Aberdeenshire) on 28th. Single Serins were seen on Bryher on 25th–28th and singles followed the next day, over Land's End and at Hengistbury Head (Dorset). The final Serin of the week flew over Lizard Point on 28th.

Penduline Tit, Strumpshaw Fen RSPB, Norfolk (Photo: Peter Kitchener)
Three Little Buntings were seen on Shetland, two of them on Unst (at Skaw and Halligarth), with the other on Whalsay (at Sandwick). The fourth of the week was seen at Flamborough Head on 23rd and the fifth followed on Tresco, on 26th, while bird six remained on North Ronaldsay to 28th. Four Common Rosefinches were seen on 22nd, two of them together on Cape Clear, the others noted at Hartlepool Headland (Cleveland) and on St. Mary's (Scilly). The Northern Isles provided singles on Whalsay (Shetland) on 27th and Stromness (Orkney) on 28th. Back on Scilly, on Gugh, a probable Blackpoll Warbler was reported briefly in the plantation on 25th.

Little Bunting, Sandwick, Whalsay, Shetland (Photo: Jason Atkinson)

Common Rosefinch, Sandwick, Whalsay, Shetland (Photo: Jason Atkinson)
Photo of the Week

Short-eared Owl, Dunbar, Lothian (Photo: James Wood)
Sometimes, an image is exceptional not because of a single compelling element, but because all of its components combine to create a whole that is greater than the sum of the parts. James Wood's portrait of a Short-eared Owl perched on a fence post in Scotland is one such image. A beautiful specimen of a bird in classic pose; a typical setting with natural backdrop; warm, low-altitude sunlight giving even illumination; sharp, engaging eyes with catch-lights and, last but by no means least, perfectly complementary colours throughout. The overall combination has such harmony that you just don't want to look away.
Other notable photos

Green Bee-eater, India (Photo: Tejas Soni)

Jackdaw, Mold, Clwyd (Photo: Richard Steel)

Spotted Redshank, Leighton Moss RSPB, Lancashire (Photo: Steve Round)

Common Buzzard, Forest of Dean, Gloucestershire (Photo: Lewis Thomson)

Carrion Crow, Ipswich, Suffolk (Photo: Richard Bedford)

Great White Egret, South Africa (Photo: Nigel Forrow)

Mandarin Duck, Etherow CP, Greater Manchester (Photo: Anthony Dixon)

Whooper Swan, Martin Mere WWT, Lancashire (Photo: David Cookson)

Knot, Toft Newton Reservoir, Lincolnshire (Photo: Dean Eades)

Firecrest, Skateraw, Lothian (Photo: Mike Thrower)

Shoveler, Summer Leys LNR, Northamptonshire (Photo: Amanda Hayes)

Herring Gull, Felixstowe Ferry, Suffolk (Photo: Carl Wright)

Fieldfare, Elan Valley, Powys (Photo: Steve Wilce)

Bar-tailed Godwit, Flamborough Head, East Yorkshire (Photo: Marcus Conway - ebirder)