The week at a glance
Another week, another major rarity — this time a drake American White-winged Scoter off the Aberdeenshire coastline at Blackdog. Found on Sunday afternoon, this represents the second British record of deglandi after a young drake off the very same stretch of coastline back in June 2011. Altogether more obvious than the first, this summer's is a fine adult and is fairly easy to pick out on a calm day, for it appears to be associating mainly with a small band of summering Velvet Scoters. Though there is a gap of five years between sightings, it seems feasible that this may well be a returning bird. A third Scottish record, from 2013, was widely considered to be stejnegeri (though isn't listed as such in the Rarities Committee database) and this trio of records reflects a recent upturn in occurrences of both (sub)species across the Western Palearctic.

American White-winged Scoter, Murcar GC, Aberdeenshire (Photo: Kris Gibb)
Norfolk's Great Knot continued to perform throughout the week, ranging from Gore Point, Holme, east to Scolt Head Island. With the crowds abating slightly it seems that the Knot flock is being a little more showy, evidenced by several fine photographs of the main attraction added to the BirdGuides photo galleries this week. It'll be interesting to see how long it stays — with a full two weeks under its belt now, it's not too far off the Cleveland bird's British record stay of 24 days.
Content continues after advertisements

Great Knot, Gore Point, Norfolk (Photo: John Richardson)

Great Knot, Gore Point, Norfolk (Photo: Penny Clarke)
The Ythan estuary's King Eider gave scoter twitchers a welcome bonus bird, much like it did in 2011. The female was last noted at Musselburgh, Lothian, on 22nd. Other ducks included the Surf Scoter again off Musselburgh on 26th and the Ferruginous Duck still at Washington WWT, Durham, on 28th — though apparently the latter is a little lonely now that its captive congeners have been shipped off to Martin Mere!

American Wigeon, Ythan Estuary, Aberdeenshire (Photo: Dr Mark Eaton)
The first Wilson's Storm-petrel of the seawatching season is always eagerly awaited, and this year's came on 27th — it goes without saying from a Scilly pelagic. Seabird news was otherwise very sparse.
The Dalmatian Pelican continues to enjoy its Cornish summer holiday and, save for a brief visit back to the Hayle estuary on 23rd, spent much of its time at Restronguet Creek. The Little Bittern remains on territory at Old Moor, S Yorks, while five Cattle Egrets included a new bird at Radipole Lake, Dorset, on 27th. Five Glossy Ibises included new indivduals on Anglesey on 24th and in Cheshire on 25th — perhaps the same bird? Presumably the same White Stork flew over Carr Vale, Derbys, and Leicester on 24th, with perhaps the same in the Oxford area on 25th.

Little Bittern, Old Moor RSPB (Dearne Valley), South Yorkshire (Photo: Mary Wilde)
A Black Kite flew over Dungeness and Lade, Kent, on 24th, while there was belated news of one south over Spurn, E Yorks, on 20th.
Still at Breydon Water early morning on 21st, the ringed Caspian Tern was back at Gibraltar Point, Lincs, on 23rd before returning to Breydon from 24th. The Gull-billed Tern was again at Kinneil Lagoon, Forth, on 22nd and 25th and the Bonaparte's Gull prolonged its stay in Northumberland by another week, as did the Ring-billed Gull at Enniskillen, Co Fermanagh. A White-winged Black Tern was reported from Loch of Strathbeg, Aberdeenshire, on 22nd.

Caspian Tern, Breydon Water RSPB, Norfolk (Photo: Mick Davis)
Clwyd's Broad-billed Sandpiper surprised many by reappearing at Gronant on 22nd — it was apparently also still there on 25th. An American Golden Plover was a brief visitor to Beacon Ponds, E Yorks, early on 22nd and the female Red-necked Phalarope lingered at Grindon Lough, Northumberland, all week.
A Savi's Warbler sang from the surprise location of Burnham Overy Dunes, Norfolk, on 22–23rd, and the long-staying Iberian Chiffchaff was still on Scilly on 27th. Late news was received of a singing Blyth's Reed Warbler at North Foreland, Kent, on 28 May.
'Spontaneous' would be a good word to describe the appearance of a female Bluethroat in Lowestoft, Suffolk, for the day on 26th. The Woodchat Shrike was last seen at St Abbs Head, Borders, on 23rd, while a male Red-backed Shrike showed well at Allhallows, Kent, from 26th. An Alpine Swift photographed at Fethaland, Shetland, on 26th came on 'Needletail Day' and many were no doubt wishing it had been a repeat of the rarer species.

Bluethroat, Ness Point, Lowestoft, Suffolk (Photo: Jim Bailey)

Red-backed Shrike, Yantlett Creek, Kent (Photo: Adam Whitehouse)
A European Serin was again at Landguard, Suffolk, on 26th — the first report from here for a fortnight. The only Marsh Warbler was a bird singing at Norwick, Unst, throughout and a single Hoopoe was noted at Trusthorpe, Lincs, on 25th. Three European Bee-eaters were at Derriton, Devon, on 22nd, while at least one flew over Portland, Dorset, on 24th.
Western Palearctic news
After last week's single Eurasian Griffon Vulture in Denmark — the nation's seventh — an astonishing flock of 34 was observed south of Aalborg on 24th. This was followed by flocks of eight and four in Belgium on 26th.
Most outrageous record of the week, though, goes to the Oriental Honey Buzzard photographed flying over Falsterbo, Sweden, on 25th. Initial feedback from experts around the Western Palearctic suggests that this certainly looks like a bona fide ptilorhynchus, rather than a hybrid with European Honey Buzzard — if confirmed and accepted, it will represent an outstanding first record for northern Europe.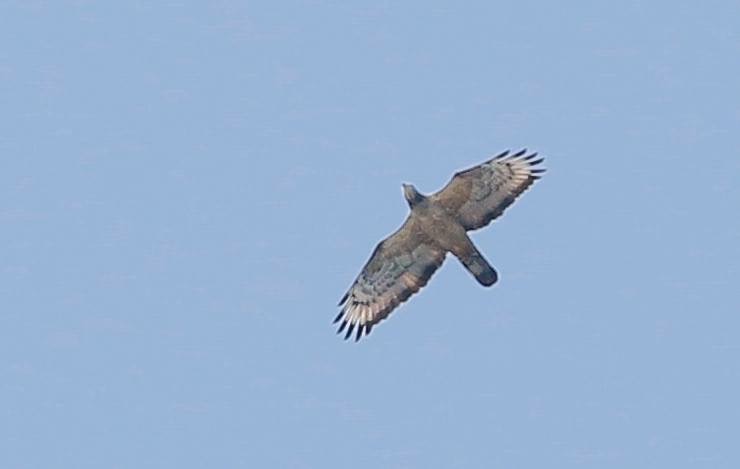 Oriental Honey Buzzard, Sweden (Photo: David Erterius)
Another interesting record concerned a breeding-plumaged Chinese Pond Heron at Mandal, Vest-Agder, Norway, on 23rd. This represents yet another northern European occurrence of a species not currently considered a genuine part of the Western Palearctic avifauna, but surely evidence is mounting for its inclusion both on national and regional lists? If multiple species of Nearctic heron can make it across the Atlantic to Europe, then there seems no reason why a widespread Asian species cannot do the same.
Other sightings included satellite-tagged Lammergeiers: one in the Netherlands on 22nd and another in Belarus and Ukraine later in the week. A Long-legged Buzzard was in Denmark on 24th, and the Long-tailed Shrike was still in Atyrau, Kazakhstan, on 26th. The Elegant Tern continued to feed its hybrid offspring near Barbâtre, Vendée, France.