The week at a glance
The surprise package of a largely lethargic mid-summer week was Ireland's first Hudsonian Godwit found near Ballyconneely, Co Galway, late afternoon on 22nd. Present for just an hour, this summer-plumaged stunner was lost to view all too soon and has yet to reappear — for now it remains a well-documented, single-observer record that renders Dermot Breen the envy of Ireland's birding scene. You can read Dermot's account of the discovery here.

Hudsonian Godwit, Ballyconneely, Galway (Photo: Dermot Breen)
The rich rusty-red underparts and relatively short bill suggested that this individual was a male and therefore not the altogether rangier and less brightly coloured female that had given itself up in Somerset at the end of April. You wait 32 years and then two come along in the space of a few months ...
Its namesake — West Sussex's Hudsonian Whimbrel — was still foraging the creeks of Pagham Harbour to at least 27th although the disappearance of the Greater Yellowlegs, which was last seen at Titchfield Haven on 24th, was something of a surprise. Still, it has temporarily evacuated its adopted home in the past and a reappearance in the area is surely still very much on the cards.

Greater Yellowlegs, Titchfield Haven NNR, Hampshire (Photo: Amy Robjohhns)
What looks to have probably been a summer-plumaged American Golden Plover was an extremely brief visitor to Paxton Pits, Cambs, late evening on 27th. Unfortunately it was present for no more than a couple of minutes before it flew south, the observers not afforded enough to time to rule out Pacific completely. Last week's Broad-billed Sandpiper was still showing well at Snettisham, Norfolk, to 26th but the Least Sandpiper on St Agnes, Scilly, was not seen beyond 24th.

Broad-billed Sandpiper, Snettisham RSPB, Norfolk (Photo: Sean D'Arcy)
A Temminck's Stint dropped in briefly opposite Walsey Hills, Norfolk, on 22nd with another at Newport Wetlands, Gwent, from 25th. Last week's Pectoral Sandpiper new Campbeltown, Argyll, was joined by a second adult on 27th while another two were reported at Bowling Green Marsh, Devon, briefly on 24th. Further records of single birds were as follows: Belfast Lough, Co Antrim, and Manby Flashes, Lincs, on 22nd; Blanket Nook, Co Donegal, and Startops End Reservoir, Herts, on 25th; Blacktoft Sands, E Yorks, on 27th; and Idle Valley, Notts, on 28th, as well as at least one at Tacumshin, Co Wexford, during the week.

Pectoral Sandpiper, Tacumshin, Wexford (Photo: Paul Kelly)
The long-staying White-rumped Sandpiper was still at Spurn, E Yorks, to 26th with the bird on North Ronaldsay, Orkney, seen again on 24th and a new adult at Belfast Lough, Co Antrim, from 27th. A Red-necked Phalarope visited North Ronaldsay on 23rd with another near Boddam, Shetland, that day. A female Grey Phalarope was at sea off the north side of Mull, Argyll, on 25th.
A Pterodroma seen among Manx Shearwaters off Pendeen, Cornwall, on 26th was considered by observers to best match Kermadec Petrel — described as 'just bigger than Manx' with a 'pale head', this is a species which is yet to be confirmed from the North Atlantic, let along Western Palearctic (and indeed Britain). Seawatching was actually fairly disappointing in the South-West, although that was largely due to the trajectory of the low-pressure system which arrived over the weekend. Two Sabine's Gulls flew past Lizard Point, Cornwall, on 26th with one past Cape Cornwall on 27th (and another past Brandon Point, Co Kerry, that day). Neither of the large shearwaters appeared in significant numbers with just ones and twos of both Cory's and Great Shearwaters reported from seawatching localities.
A first-summer Ring-billed Gull was at Loch Gilp, Argyll, on 22nd and 27th, with the latter date also revealing the Caspian Gull, which has been present there since the early part of the year, to still be around. Further Ring-bills remained in Cornwall and Co Kerry but there was no sign of the second-summer Laughing Gull seen at Portnahaven, Islay, Argyll, on 21st (and apparently present intermittently there for a month). The Kent Bonaparte's Gull remained at Oare Marshes to at least 26th but Caspian Tern reports from East Yorkshire and Dorset failed to substantiate beyond the initial reports.

Ring-billed Gull, Tralee, Kerry (Photo: Ed Carty)
The only waterfowl of note this week was the continuing drake Lesser Scaup still at Blagdon Lake, Somerset, throughout.
A Purple Heron dropped in at Cley Marshes, Norfolk, on 22nd but was not seen again. The elusive male Little Bittern was seen again at Old Moor, S Yorks, on 22nd and 27–28th while an adult Night Heron again gave flight views at Ham Wall, Somerset, on 23rd. An adult also continued at Ryton on Dunsmore, Warks, to 23rd and a further bird was at Ditchford Gravel Pits, Northants, from 22–25th. Great White Egrets were again widespread, with the most northerly record coming from Loch of Strathbeg, Aberdeenshire.

Night Heron, Ham Wall RSPB, Somerset & Bristol (Photo: Jeff Hazell)
The ultra-popular Red-footed Falcon continued to show well at Chatterley Whitfield, Staffs, all week despite a police presence discouraging continued feeding. Sometimes the bird could be seen in the same scope view as a Black Redstart, allowing for an unusual double act on British soil. A small flurry of Black Kite reports included a bird still near Witnesham, Suffolk, on 22nd and presumably the same over Pipps Ford on 26th. Two probables were then reported in the county over Holton St Mary on 27th. Meanwhile the Montagu's Harriers continue to show at Blacktoft Sands, E Yorks, with the young having now fledged.

Red-footed Falcon, Chatterley Whitfield, Staffordshire (Photo: Jake Gearty)
A European Bee-eater was at Sidestrand, Norfolk, on 22nd while the following day records came from Covehithe, Suffolk, Aylestone, Leics, and Seven Sisters Country Park, E Sussex. Last week's popular Golden Oriole near Carlton Miniott, N Yorks — an unusual lingering record — hung around until 23rd.

Golden Oriole, Carlton Miniott, North Yorkshire (Photo: Mark Coates)
Passerine highlight of the week was a Paddyfield Warbler found on the Isle of Noss, Shetland, on 22nd, the bird lingering there until the week's end. A Greenish Warbler was a brief visitor to Skomer, Pembrokeshire, on 23rd while a Melodious Warbler was on Jersey on 25th.
A male Red-backed Shrike arrived at Beaulieu Heath, Hants, on 25th and lingered to the week's end; a female followed the same routine near Churn, Oxon, while a further male arrived on the Isle of May, Fife, on 28th. The Rose-coloured Starling continued to visit garden feeders near South Dell, Lewis, to at least 27th but the lingering European Serin at Spurn, E Yorks, was unfortunately found to be wearing a black ring on 24th and is now considered to be a likely escape. Finally, a Common Rosefinch was reportedly heard a couple of times near Dunnington, N Yorks, on 27th.

Rose-coloured Starling, South Dell, Lewis, Outer Hebrides (Photo: Sam Hawkins)
Western Palearctic news
The most extraordinary record of the week concerned an exhausted Bulwer's Petrel picked up well inland in Baden-Württemberg, Germany, on 23rd. Found on a lake near Ellwangen, the very bedraggled petrel was taken in to care but soon expired. It just goes to show that anything is possible anywhere, and one wonders how many occurrences such as this go unnoticed.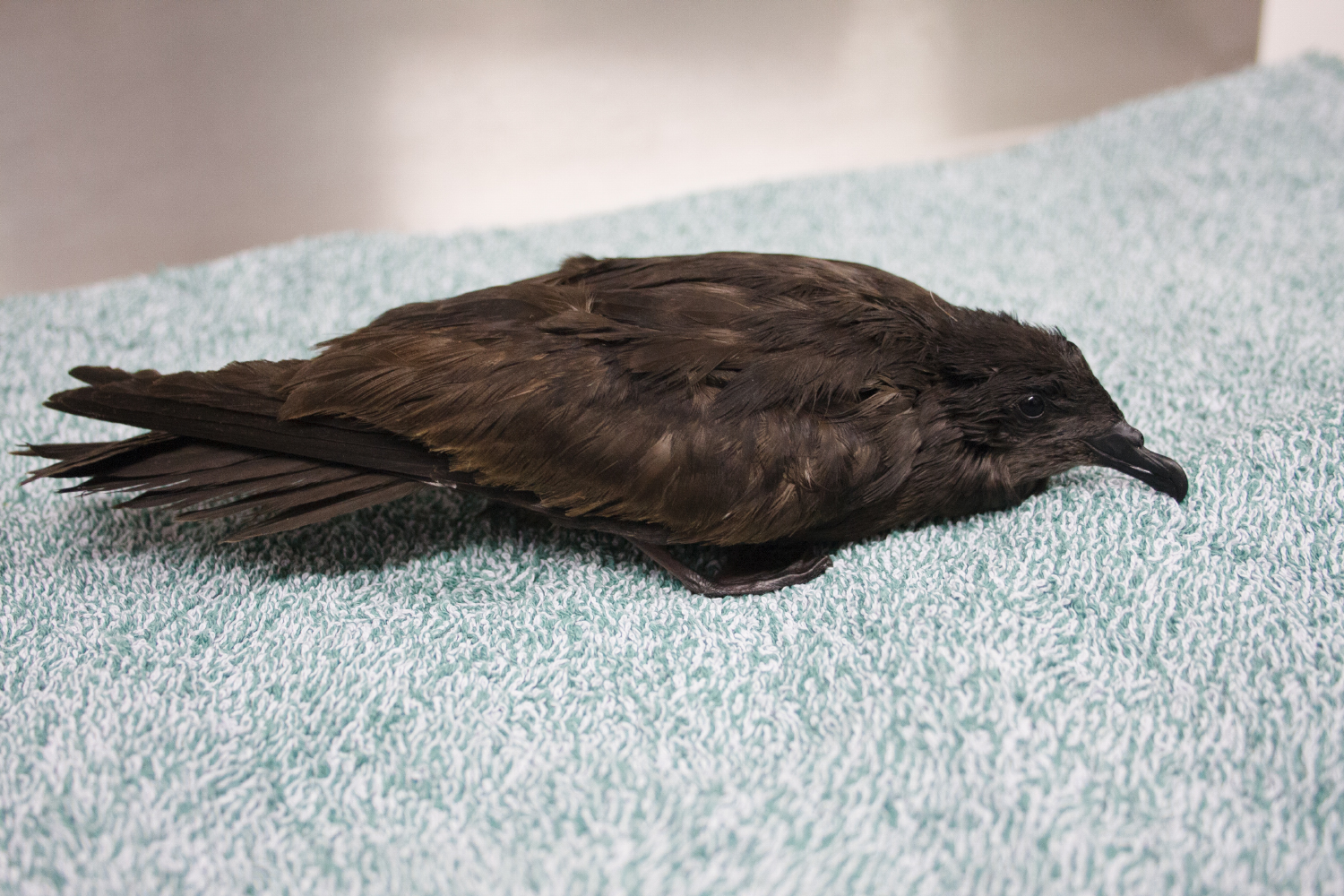 Bulwer's Petrel, Germany (Photo: Andreas Hachenberg)
Both Greater Sand Plovers were also still in Germany early in the week. The wandering Black-browed Albatross was seen flying south off Henne Strand, Denmark, on 23rd before reappearing briefly on Heligoland on 26th. A Pied-billed Grebe near Leknes, in the Norwegian county of Nordland, from 23rd was just the sixth national record. Israel's Pink-backed Pelican was still in the Jezreel Valley to 28th at least.

Pink-backed Pelican, Israel (Photo: Jonathan Meyrav)
Content continues after advertisements