The week at a glance
In another good week for spring arrivals, several new birds turned up, although not all were very accommodating. One of the real highlights was not one, but two Little Swifts over Wadebridge (Cornwall) for just three hours on 21st. All the previous 25 records are of single birds, so the arrival of two together is exceptional, these also being the earliest ever record. They also confirmed Cornwall's draw for this North African vagrant: three previous records have been in the county, all of one-day birds.
Also new was Lundy's returning Little Shearwater; it was first reported on 26th, though it had been present for around a week previously. It was singing from the same area in the south of the island as last year. This seems rather early, as June is the more expected time for the return of singing birds. There being no chance of seeing the bird, it might again stretch the limits of a 'tick' for some birders.
Elsewhere, the drake Black Scoter remained off Bamburgh (Northumbs) to at least 26th, the Oriental Turtle Dove remained at Chipping Norton (Oxon) all week, causing some to fret over why it hadn't started a return migration, and the House Crow was reported from Cobh (Co Cork) on 24th.

House Crow, Cobh, Cork (Photo: Ronan McLaughlin)
There were some pretty interesting "possibles" this week as well, notably a juvenile Thayer's Gull on Fair Isle on 22nd–25th and a dark-backed tern past Dunwich Cliffs (Suffolk) on 24th that was thought to be a Sooty Tern.
Once again there was just a single Snow Goose, this time at Outertown (Orkney) on 21st. The Ross's Goose at Golspie (Highland) on 21st may well have been the same as at nearby Eathie Mains and Udale Bay on 26th. Ross's Goose is currently only in category D of the Scottish list, but this bird is surely a good candidate for a genuine first.
Two drake Ferruginous Ducks were reported during the week, one at Strumpshaw Fen (Norfolk) on 22nd and the regular bird at Chew Valley Lake (Somerset) on 23rd. Perhaps coincidental with an arrival of Nearctic non-passerines in Iceland, there were a few new Ring-necked Ducks this week. One was again at Castleward (Co Down) on 23rd, and new birds were at Cross Lough (Co Mayo) on 22nd and Lough Derg (Co Tipperary) on 26th. In Wales, the female was again on Llyn Pencarreg (Carmarthenshire) on 25th and a new female was at the National Wetland Centre (Carmarthenshire) on 22nd. Elsewhere, drakes were at Woolston Eyes (Cheshire) to 23rd, Loch of Asta (Shetland) to 24th and Stithians Reservoir (Cornwall) all week.

Ring-necked Duck, Castleward, Down (Photo: Derek Charles)
A similar arrival pattern may have applied to Green-winged Teal, with new birds on North Ronaldsay (Orkney) on 23rd and Lough Beg (Co Antrim) on 25th. The drake remained at Guardbridge (Fife) to 23rd. All three of last week's Blue-winged Teal remained, the elusive drake again at Wheldrake Ings (North Yorks) on 21st and other drakes on the Ouse Washes (Cambs) to 23rd and at the National Wetland Centre (Carmarthenshire) all week. After a two-week absence, the drake Lesser Scaup reappeared at Marshside (Lancs) on 22nd, and the female remained at Slimbridge (Glos) to at least 25th. A record bound to generate interest (again) was of a Marbled Duck on Exminster Marshes (Devon) on 27th, although it did appear to show some hybrid features.
On the sea, the only Surf Scoter was the drake off Ruddon's Point (Fife) to 25th with up to 20 Velvet Scoters. In Aberdeenshire, the drake King Eiders remained at Rattray Head to 21st and on the Ythan estuary to at least 25th. The only report of Northern Eider was of a drake at West Voe of Sumburgh (Shetland) on 24th. Also of note were an incredible 1,030 Long-tailed Ducks on Lairo Water, Shapinsay (Orkney) on 25th. Smew were reported from five sites during the week: Quoile Pondage (Co Down), Carsebreck Loch (Perth & Kinross), Marbury Big Mere and Neumann's Flash (Cheshire) and Dublin (the last bird presumed to be an escape).
Various White-billed Divers remained, with one at Tacumshin (Co Wexford) on 23rd–24th the only one away from Scotland. Birds remained off Port Skigersta (Outer Hebrides) to 23rd and Burghead (Moray & Nairn) to at least 26th, and up to five were off Portsoy (Aberdeenshire) on 25th–26th, including three in fine summer plumage.
There were more reports of Glossy Ibis this week, including one at King's Dyke (Cambs) on 23rd and another at Yalding (Kent) on 25th. Of rather more suspect origin were the two reported Sacred Ibis, one at Carsington Water (Derbyshire) on 25th and another or the same over Woodford (Gtr Manchester) on 27th. Purple Herons were still reported in numbers, with birds at 12 sites during the week, including eight new arrivals. Hot on the heels of the bird in Fife and the dead bird on Shetland, another Scottish bird was at Loch Spynie (Moray & Nairn) on 22nd–23rd. Interestingly, there was a report of two heading along the River Nene at Stanwick Gravel Pits (Northants) on 24th. Also of note was one at Wilstone Reservoir (Herts) on 25th (the first in the county since 1989) and presumably the same was at Stewartby and Marston Vale Millennium Country Park (Beds) on 26th. This is just the sixth record for the county; the last was way back in 1977.

Purple Heron, Huttoft Bank, Lincolnshire (Photo: Graham Catley)
Both of the Night Herons remained, the immature at Two Tree Island (Essex) to 27th and the adult at Stour NR, Bournemouth (Dorset) to 24th. There was then an adult at Lesbury (Northumbs) on 25th–27th (the first in the county since 1999) and a further 'probable' at Blashford Lakes (Hants) on 23rd.

Night Heron, Bournemouth, Dorset (Photo: Andy Johnson)
The Great White Egret at Exminster Marshes (Dorset) was joined by a second bird on 23rd–24th. Other reports were all of fly-overs, at Cobh (Co Cork) on 23rd, Pipps Ford (Suffolk) on 25th and Bonby Carrs (Lincs) on 25th. There was then just one Cattle Egret, at West Bexington (Dorset) on 24th.
As usual, Spoonbills were at various coastal sites in the south and east, including three at Elmley Marshes (Kent) and at Titchwell and Cley Marshes (Norfolk). The only inland birds were singletons at Welney (Norfolk) on 21st and Upton Warren (Worcs) on 22nd.
The Hampshire Black Stork continued to wander around various sites, and was last seen on 22nd. There was then one over Yeovil (Somerset) on 23rd (the fourth for the county), and a long-overdue first for Derbyshire was over Beeley Moor on 24th and then briefly at Youlgreave the next day, though it was only seen by the two finders. White Storks of suspect origin continued to be reported from various sites in Lancashire and may also account for records from Ambleside (Cumbria) on 22nd and Loch Ken (Dumfries & Galloway) on 23rd–24th, although the latter wasn't ringed. In the northwest, one was at Kibblesworth (Durham) on 25th and possibly the same was later at Cresswell Pond and Druridge Pools (Northumbs). Perhaps at more likely southern locations were one at Colyford Common (Devon) on 27th and two 'possibles' at Maidstone (Kent) on 26th and Arundel (West Sussex) on 27th. There was also a 'probable' at Stonehaven (Aberdeenshire) on 27th.

White Stork, Loch Ken, Dumfries & Galloway (Photo: Chris Baines)
Reports of Rough-legged Buzzard were well spread in the southeast, including birds at Ashford Common (Surrey) on 24th and Milkham Inclosure (Hants) on 25th, and two over Hythe (Kent) on 25th and at Burnham Overy (Norfolk) on 27th. Elsewhere, one remained at Toft (Shetland) to at least 26th.

Rough-legged Buzzard, Dunwich Heath NT, Suffolk (Photo: Kevin Du Rose)
Having left Lincolnshire last week, the juvenile White-tailed Eagle was back this week. What was probably the bird seen in East Yorkshire last week was at Horseshoe Point on 22nd and later seen over Grainthorpe Haven. It was then at Tetney Lock on 23rd, moving to Oxcombe later that day, where it was seen being mobbed by a Black Kite! It then settled at Ruckland on 24th–27th. Other Black Kites were seen at several sites in Kent and one roamed the Lizard peninsula (Cornwall) from 23rd, last seen heading over St Blazey on 25th. There were also birds over Harbridge (Hants) on 25th and Stiffkey (Norfolk) on 27th.

Black Kite, Goonhilly Downs, Cornwall (Photo: Steve Bury)
One of the finds of the week was a juvenile male Pallid Harrier at Ballyvergan Marsh (Co Cork) on 22nd–23rd. This is the first record for Ireland and remarkably there was then a further record of another (or the same?) juvenile photographed at Slemish Mountain (Co Antrim) on 26th. Ireland also saw a male Montagu's Harrier at Tacumshin (Co Wexford) on 26th and there was also an interesting-looking small ringtail at Mizen Head (Co Cork). The Monty's was actually found by the brother of the finder of the Pallid Harrier and, to complete a good weekend for the Foley family, their father also found a Black Kite in Dublin on 25th.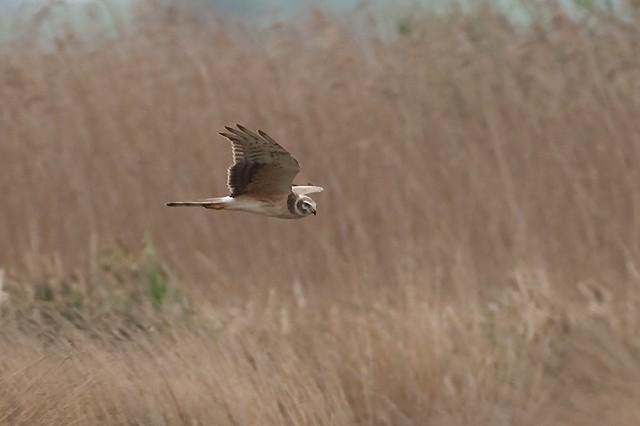 Pallid Harrier, Ballyvergan Marsh, Cork (Photo: Michael John O' Mahony)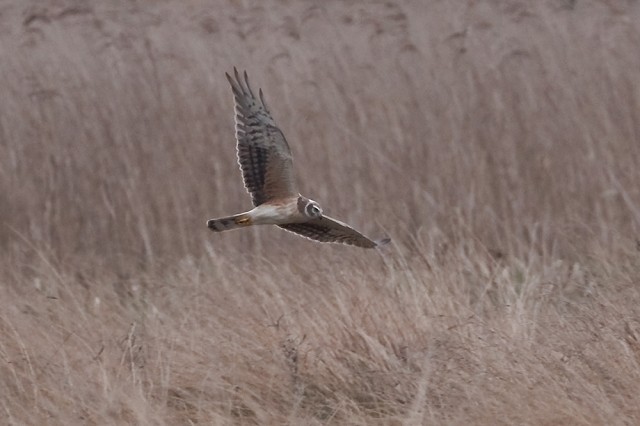 Pallid Harrier, Ballyvergan Marsh, Cork (Photo: Michael John O' Mahony)
A male Red-footed Falcon passed over Axminster (Devon) on 22nd and a 'probable' flew over Waltham Brooks (West Sussex) on 24th. The possible Tundra Peregrine also remained at Walmsley Sanctuary (Cornwall) all week and there was a further report of a 'probable' at Burnham Overy (Norfolk), present since the start of the month. Almost as notable were an impressive 30 Hobbies 'insecting' at Shapwick Heath (Somerset) on 27th.
The first returning Corncrakes appeared this week, a migrant at West Bexington (Dorset) on 22nd and one back on territory on Islay (Argyll) on 23rd. Also in Argyll, a singing Spotted Crake was on Tiree on 25th.
The very summery-looking Lesser Yellowlegs remained at Meare Heath (Somerset) to 25th, and also of note was a male Kentish Plover at Tacumshin (Co Wexford) on 25th–27th, with another possible at Pegwell Bay (Kent) on 21st.

Lesser Yellowlegs, Meare Heath, Somerset & Bristol (Photo: James Packer)
Predictably, the Long-billed Dowitcher remained at Lodmoor (Dorset) all week, and a new bird was at Borth Bog (Ceredigion) on 23rd–26th.

Long-billed Dowitcher, Borth Bog, Ceredigion (Photo: Marc Hughes)
The most notable wader of the week, though, was a Collared Pratincole at Spurn (East Yorks) briefly on 24th. It headed off north, but what was presumably the same bird was then at Rosper Road Pools (Lincs) on 27th. Also in Lincolnshire, the year's first Pectoral Sandpiper was at Frampton Marsh on 25th–27th. Dotterel were again well spread across most of the country, with up to 16 at Choseley Drying Barns (Norfolk) from 23rd.
Content continues after advertisements
There were Glaucous Gulls at seven sites in England and just three in Scotland, and a single first-summer bird in Dublin on 21st. One at Livermere Lake (Suffolk) was in the company of an Iceland Gull. Iceland Gulls were actually quite scarce, seen at just six sites in England, with other singletons at Garths Ness (Shetland) on 23rd and Cuskinny Marsh (Co Cork) on 24th. The latter site also saw an adult Ring-billed Gull on 21st–24th, with another at Belmullet (Co Mayo) on 22nd an improvement on last week's blank.

Ring-billed Gull, Cuskinny Marsh, Cork (Photo: Ronan McLaughlin)
Three of Scotland's Bonaparte's Gulls remained: first-winters were on the Ythan estuary (Aberdeenshire), at Siadar and Borve, Lewis (Outer Hebrides) and on Tiree (Argyll). Elsewhere, a first-winter was at Porthscatho (Cornwall) on 26th and another continued to commute between the Otter Estuary and Dawlish Warren (Devon) all week. Coincidentally, there was also an adult at nearby Bowling Green Marsh on 27th.
Perhaps the regular wintering bird, there was a Snowy Owl at Greinetobht, North Uist (Outer Hebrides) on 25th–27th. It was yet another good week for Bee-eaters, with 22 birds reported on 22nd, although few were very easy to catch up with. Apart from two at Cleish (Perth & Kinross) on 22nd and singletons at White Cross Bay (Cumbria) on 21st and Newton-le-Willows (North Yorks) on 23rd, others were brief coastal birds, the largest groups on 22nd being seven over Brighton (East Sussex), five at Castle Eden Dene (Durham) and five over Broadstairs (Kent). The week saw just five reports of Wrynecks, brief/elusive birds at Galley Head (Co Cork) on 21st, Cley next the Sea (Norfolk) on 22nd, West Hartford (Northumbs) and Minsmere (Suffolk) on 24th and one in a private garden at Bottesford (Leics) on 26th.

Wryneck, Minsmere RSPB, Suffolk (Photo: Ian Clarke)
Late Shore Larks were reported from seven sites between North Gare (Cleveland) and Landguard (Suffolk); new birds included four at Spurn (East Yorks) on 23rd, and possibly the same at Bempton Cliffs (East Yorks) the next day. In contrast was a Short-toed Lark at Fleetwood (Lancs) on 24th–25th, an overdue first for the county.

Shore Lark, Landguard NR, Suffolk (Photo: Mark Bicknell)

Short-toed Lark, Fleetwood, Lancashire (Photo: Gavin Thomas)
There were again plenty of records of Hoopoes, all bar one in southern counties, including two in Essex and two in Cornwall. The only northern bird was one still at Wester Quarff (Shetland) on 24th.

Hoopoe, Canvey Island, Essex (Photo: Steve Arlow)
The Isles of Scilly continued to attract plenty of Tawny Pipits, with two on St Martin's to 22nd and one between St Agnes and Gugh to 26th. The only other was one at Tetney Lock (Lincs) on 25th–27th. This is only the eighth in the county and turned up only a few hundred metres from the site of the fourth for the county in October 1975. The only Richard's Pipit was one at L'Eree (Guernsey) on 22nd–25th.

Tawny Pipit, Tetney Lock (village), Lincolnshire (Photo: Russell Hayes)

Richard's Pipit, L'Eree, Guernsey (Photo: Mark Guppy)
A spring highlight for Norfolk was the appearance of a very fine male Citrine Wagtail at East Runton on 24th, the sixth in the county in the last 10 years. Among flavissima Yellow Wagtails were good numbers of Blue-headed Wagtails, with Channel Wagtails reported from Bishop Middleham (Durham), Old Wolverton (Bucks), Boyton Marshes (Suffolk), Port Meadow (Oxon) and Hornsea Mere (East Yorks).

Citrine Wagtail, East Runton, Norfolk (Photo: Baz Scampion)

Citrine Wagtail, East Runton, Norfolk (Film: norfolkvidiscope).

Blue-headed Wagtail, Bishop Middleham, Durham (Photo: Ian Forrest)

Channel Wagtail, Bishop Middleham, Durham (Photo: Ian Forrest)
The male white-spotted Bluethroat continued to sing at Welney (Norfolk) all week, and another popular bird was at Upton Warren (Worcs) on 26th–27th, the first in the county since 1981.

Bluethroat, Welney WWT, Norfolk (Photo: Penny Clarke)
Once again Bird Observatories saw the only records of Red-rumped Swallow: one at Spurn (East Yorks) on 23rd, and one in off the sea at Portland (Dorset) on 26th. An unlikely record was of a Black-bellied Dipper on Fair Isle on 27th; there are over 50 records on Shetland, with most being spring birds on return passage to Scandinavia.
There were just 60 reports of Waxwings this week, most flocks now numbering fewer than 50. Most were still in England, with birds at just three Scottish sites and none in Ireland or Wales. The only flocks of note were 153 at Chafford Hundred (Essex), 100 at Heath and Reach (Beds) and 78 at Grays (Essex).
The spring run of singing male Savi's Warblers continued this week, with birds at Canvey Island (Essex) on 21st–22nd, Breydon Water (Norfolk) on 27th and one ringed at Slapton Ley (Devon) on 24th that stayed all week.

Savi's Warbler, Canvey Island, Essex (Photo: Steve Arlow)
Continuing a good spring for Subalpine Warblers, at least eight were reported this week. In the Northern Isles, one remained at Loch of Swannay (Orkney) to 24th and a female was ringed on North Ronaldsay on 25th, whilst on Shetland a male of the eastern 'albistriata' race was at Papa Stour on 24th and a female was on Fair Isle on 24th–27th. Apart from a male at Sammy's Point (East Yorks) on 27th, the other records were along southern coasts: a female was ringed at Portland Bird Observatory (Dorset) on 24th and a male was in nearby Weymouth on 26th–27th and another male was on Lundy (Devon) on 24th. In line with recent springs, various singing Iberian Chiffchaffs revealed themselves, including one at Horton (Staffs) on 24th–27th and further 'possibles' at Craigavon Balancing Lakes (Co Armagh) on 21st and in Kenidjack Valley (Cornwall) on 25th.
The southwest continued to see good numbers of Woodchat Shrikes; four were along the south coast of Ireland, three in southwest Wales, two on the Isles of Scilly and one at Windmill Farm (Cornwall). Elsewhere, there was one at Filey (North Yorks) on 26th–27th. There were just two reports of Great Grey Shrikes, both in the Northern Isles: at Grutness (Shetland) on 21st and Stromness (Orkney) on 26th.

Woodchat Shrike, Filey, North Yorkshire (Photo: Steve Carey)
The Isles of Scilly saw plenty of Golden Orioles this week, with one or more birds reported from St Martin's, St Mary's, St Agnes and Gugh. The only other migrant was one reported from Bempton Cliffs (East Yorkshire) on 23rd, and birds were back at the well-known breeding site at Lakenheath Fen (Suffolk) on 26th. More fly-over Serins continued to frustrate, such as birds over Frinton-on-Sea (Essex) on 24th and Durlston Country Park (Dorset) on 26th. Some did play ball, though, with birds on the ground at Minsmere (Suffolk) briefly on 22nd and a male at Northcoates Point (Lincs) on 22nd.
Once again, departing Lapland Buntings were primarily in western and northern Scotland, including up to 40 at Balranald, South Uist (Outer Hebrides) and 25 on North Ronaldsay (Orkney). Elsewhere, two remained on Bardsey (Gwynedd) to 24th, in Co Donegal a female was at Arranmore Island on 22nd, and one was at Bloody Foreland on 24th.

Lapland Bunting, Drimsdale, S.Uist, Outer Hebrides (Photo: Steve Duffield)
Last but not least were two all-too-brief Ortolan Buntings, at St Levan (Cornwall) on 21st and for 20 minutes at Birling Gap (East Sussex) on 23rd.
Photo of the Week: 21st–27th April 2011

Cuckoo, Reculver, Kent (Photo: Steve Ashton)
Every spring in the UK, the arrival of Cuckoos is so eagerly anticipated that the first sightings are reported in the national press, a tradition dating back decades. Bird photographers happily join in the frenzy and we're already receiving some great photos, including several high-quality flight shots. Our pick of these comes from Steve Ashton, who modestly responded to the influx of positive comments by saying he was just lucky that it flew by very close to where he was standing. Despite the ever-present element of luck, though, Steve managed to nail a superb flight shot, with the bird banking towards the camera and fanning its tail beautifully. Budding bird photographers would do well to note the way this shot avoids the common problem of poor illumination of birds featured in flight shots, especially the loss of detail in shadow areas. By shooting as the bird does a low-level fly-past whilst the sun is behind you (preferably low in the sky), you can get pleasing illumination and, if the bird banks towards you, sunlight on every feather. Steve's shot provides the textbook example!
Other notable photos

Wood Warbler, Llandrindod Wells, Powys (Photo: Kev Joynes)

Bluethroat, Welney WWT, Norfolk (Photo: John Turner)

Black Grouse, undisclosed site, North Yorkshire (Photo: Ivan Ellison)

Grasshopper Warbler, undisclosed site, Cheshire (Photo: Austin Thomas)

Yellow Wagtail, undisclosed site, Norfolk (Photo: David Whistlecraft)

Common Treecreeper, undisclosed site, Staffordshire (Photo: Mr Clive Daelman)

Reed Bunting, Hungary (Photo: Eduardo Balogh)

Black-tailed Godwit, Minsmere RSPB, Suffolk (Photo: Jon Evans)

Green Woodpecker, New Forest, Hampshire (Photo: Simon Johnson)

Ring Ouzel, Faseny Bridge, Lothian (Photo: James Wood)

Pied Flycatcher, undisclosed site, Powys (Photo: Chris Grady)

Night Heron, Bournemouth, Dorset (Photo: Darren Evans)

Slavonian Grebe, undisclosed site, Highland (Photo: Jamie MacArthur)

Purple Heron, Huttoft Bank, Lincolnshire (Photo: Graham Catley)

Black Guillemot, Stranraer, Dumfries & Galloway (Photo: Chris Baines)

Sedge Warbler, Dungeness, Kent (Photo: Mick Southcott)

Common Whitethroat, undisclosed site, Devon (Photo: Rob Cross)

Northern Wheatear, Darwen Moor, Lancashire (Photo: John Barlow)

Black-headed Gull, Hurst Beach/Castle, Hampshire (Photo: Ian Williamson)

Dotterel, Fair Snape Fell, Lancashire (Photo: Brian Rafferty)