The week at a glance
Another very reasonable — but far from exceptional — September week drifted by without anything massively ground-breaking turning up, though Fife birders might disagree as they celebrated the arrival of the county's first Brünnich's Guillemot in Anstruther harbour on 25th. A somewhat sorry-looking alcid (and indeed, with its extensively white face and worn, brownish-tinged upperparts, rather unusually attired one), it showed well there until the end of the review period and generated plenty of online discussion. September immediately seems an odd time for this species to appear, and a scan through the record books reveals that this is the first ever to be found in this month (though there are three October occurrences).

Brünnich's Guillemot, Anstruther, Fife (Photo: Angus Hogg)
A little more expected at this time of year are Nearctic passerines, and the week duly obliged with two Swainson's Thrushes in quick succession on the morning of 22nd — one on Tiree, Argyll, being rapidly followed by another at Bornish, South Uist. The former was last seen on 23rd but the Uist bird lingered until at least 25th and seemed much the more confiding of the two. The autumn's first Red-eyed Vireo rocked up at the classic location of The Parsonage on St Agnes, Scilly, on 25th, and was joined by a second the following day.

Swainson's Thrush, Bornish, South Uist, Outer Hebrides (Photo: Steve Duffield)

Red-eyed Vireo, St Agnes, Isles of Scilly (Photo: Mark Leitch)
Other mega-rarity news concerned the continuing Western Swamphen at Alkborough Flats, Lincs, and the Hudsonian Whimbrel at Perranuthnoe, Cornwall, both present and correct all week. The news that the recent Royal Tern seen in Western Ireland has apparently been confirmed, via DNA analysis, as an African (albidorsalis) individual will be a real shock to most — phenotypically you'd have thought it looked nailed on for American maxima.
Shetland's headline bird this week was a first-winter Brown Shrike on Bruray (one of the Out Skerries) on 27th. A typical late September occurrence of this increasingly regular Far Eastern vagrant, this will represent the sixth for Shetland.

Brown Shrike, Out Skerries, Shetland (Photo: Michael McNaghten)
It's difficult to argue with Fair Isle being the place to see Lanceolated Warbler in Britain, and the hallowed island boasted two this week: one on 21st and another trapped and ringed on 26th. With at least one Great Snipe and a good scattering of sub-rarities including Olive-backed Pipit, Short-toed Lark, Bluethroat and Little Bunting on show, it wasn't a bad week to be on the island despite the largely unremarkable conditions.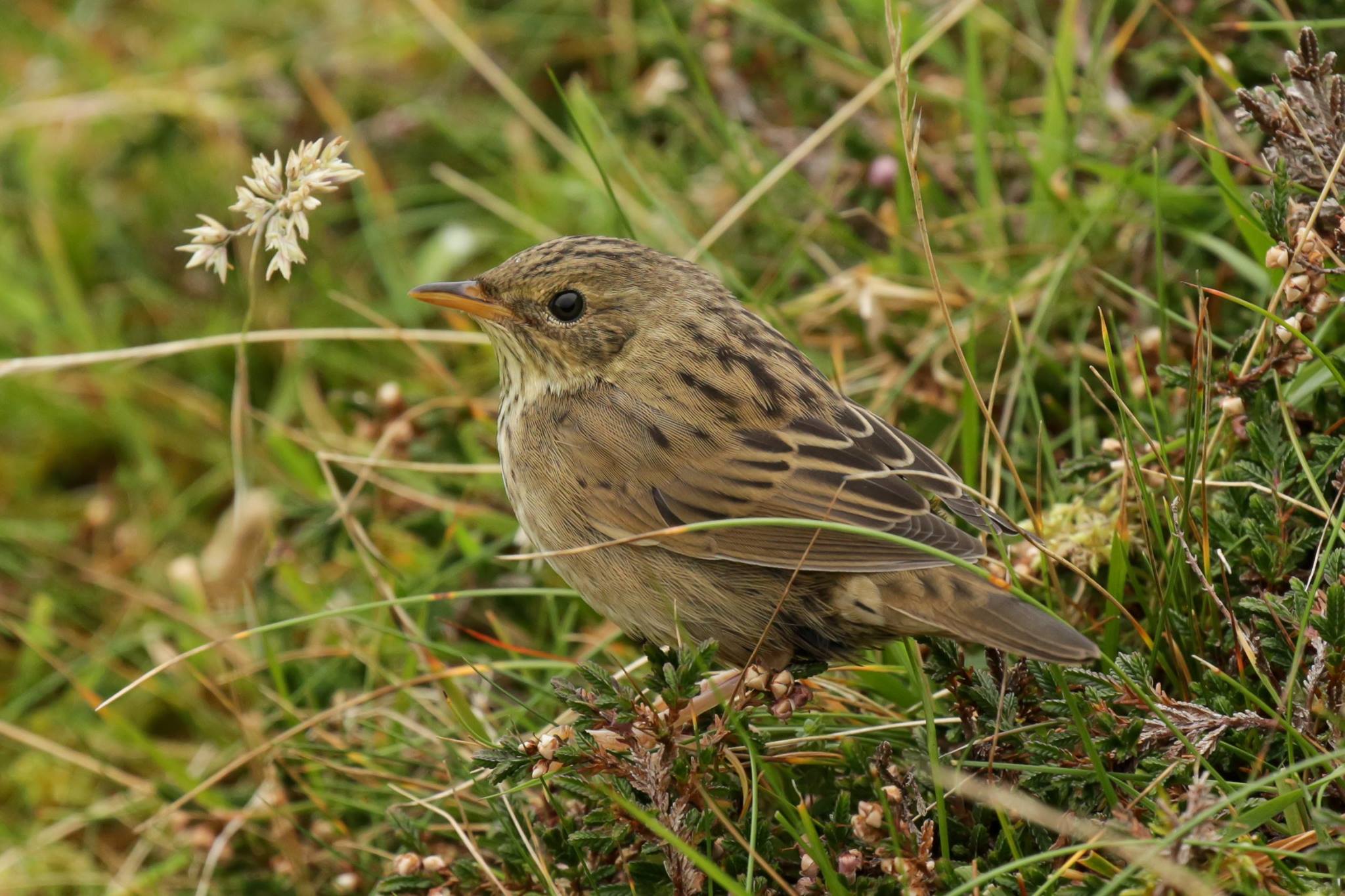 Lanceolated Warbler, Fair Isle, Shetland (Photo: Lee Gregory)

Lanceolated Warbler, Fair Isle, Shetland (Photo: Lee Gregory)

Bluethroat, Fair Isle, Shetland (Photo: Lee Gregory)

Short-toed Lark, Fair Isle, Shetland (Photo: Lee Gregory)
In fact, conditions were often downright challenging for the increased numbers of birders spread across Shetland this week. Despite this, a number of rarities were unearthed: Great Reed Warbler at Quendale on 22nd, Paddyfield Warbler at Skaw, Unst, on 27th and three different Arctic Warblers, in addition to last week's Isabelline Shrike still on Foula on 22nd and a juvenile Pallid Harrier still touring various sites on South Mainland. Further significant sightings included the first Radde's Warbler of the autumn on Unst on 27th, an Olive-backed Pipit at Hoswick on 24–25th and three Blyth's Reed Warblers, all on Unst. No fewer than eight Little Buntings included two at Skaw, Whalsay, on 23rd.

Arctic Warbler, Hoswick, Mainland, Shetland (Photo: Peter Garrity)

Little Bunting, Northdale, Unst, Shetland (Photo: Roger Ridley)
Away from Shetland, and new passerine rarities were at a premium, though a Red-throated Pipit was a good find on Lundy, Devon, on 21st and a Tawny Pipit was at Nanjizal, Cornwall, the same day. It quickly transpired that a Bonelli's warbler species on St Mary's, Scilly, on 25th was a Western. Devon's Lesser Grey Shrike continued to perform brilliantly at Mount Batten Point until 25th, while Suffolk's Arctic Warbler was last seen at Landguard Point in the late morning on 21st.

Lesser Grey Shrike, Mount Batten Point, Devon (Photo: Jaz)
The big story of the week, as far as the English east coast was concerned, was a concentrated mega-fall of Yellow-browed Warblers at Flamborough Head, E Yorks, on 21st. As if to confirm our sentiments in last week's edition of this column, a flood of at least 139 birds was recorded through the day — for an idea of how the excitement unfolded, it's well worth reading Craig Thomas' summary of the day. Interestingly, this fall was highly concentrated, with very few birds recorded between Cleveland and Orkney, although Fair Isle logged its third highest day-count of 54 on 20th. Elsewhere, birds were relatively well scattered, and although numbers on Shetland aren't quite at the stratospheric heights of late September 2015 one suspects any sustained spell of easterly winds might change that.

Yellow-browed Warbler, Scatness, Mainland, Shetland (Photo: Steve Minton)
Records of Greenish Warbler came from Dungeness, Kent, and Gorleston, Norfolk, on 20th and Walmer, Kent, on 23rd; a bird at Aith, Shetland, on 26th was well twitched. Icterine Warbler numbers typically drop off towards the end of September and just four were reported (Cornwall, Dorset, Orkney and Shetland). Melodious Warblers were on Scilly and in Cornwall and two lingered on Bardsey Island, Gwynedd.

Greenish Warbler, Aith nr Aith Voe, Mainland, Shetland (Photo: Peter Garrity)
The week's only Citrine Wagtail was a bird at Stinky Bay, Benbecula, on 26th. A good proportion of the week's Red-breasted Flycatchers were scattered around Shetland, though notable exceptions included a long-stayer still on Holy Island, Northumberland, to 25th and a couple that had reached the Isles of Scilly by the weekend. A Bluethroat showed well at Flamborough Head on 21st but other records were limited to four on Shetland. Last week's Short-toed Lark continued at Sands Cove, Co Cork, to 25th, and another was on Out Skerries, Shetland, from 24th.

Bluethroat, Flamborough Head, East Yorkshire (Photo: Kev Joynes)
Two juvenile Rose-coloured Starlings at Ynyslas, Ceredigion, on 25th were among the eight recorded; others were in Cornwall (2), Dorset and Northumberland (2). The Northern Isles typically dominated Common Rosefinch records, with up to four on North Ronaldsay, Orkney, on 22nd. Two were on Barra on 26th and there were also sightings at Cape Clear, Co Cork, and in the Isles of Scilly.

Rose-coloured Starling, Scalloway, Mainland, Shetland (Photo: Peter Garrity)
A dozen or so Red-backed Shrikes included what must be one of the most confiding examples recorded in modern times, at Tide Mills, E Sussex, from 21st. Present all week, it performed happily to within inches of the assembled crowd and we've been showered with wonderful images. Other scarce migrants included around 20 Barred Warblers, 30 Wrynecks and six Hoopoes; of this last species, a lingering bird at Brancaster, Norfolk, from 22nd was the most well watched.

Red-backed Shrike, Tide Mills, East Sussex (Photo: Lee Fuller)

Hoopoe, Brancaster, Norfolk (Photo: Baz Scampion)
Pallid Harrier records came from Dungeness, Kent, on 17th and 24th; presumably the same bird was also responsible for a report from Pett Level, E Sussex, on the latter date. Another which flew north towards Essex from Foreness Point, Kent, on 25th had earlier flown over Margate. There were seven reports of European Honey Buzzards this week.

Pallid Harrier, Loch of Spiggie, Mainland, Shetland (Photo: Peter Garrity)
Seawatching was largely unimpressive this week, although the 3,500 Sooty Shearwaters past Mizen Head, Co Cork, must have provided quite a sight on 21st. A good day at Bridges of Ross, Co Clare, on 25th produced, among other things, 14 Long-tailed Skuas, 30 Grey Phalaropes and 10 Sabine's Gulls.
Up to three juvenile Semipalmated Sandpipers were at Tacumshin, Co Wexford, with others still in Co Cork and Co Kerry. The Aberdeenshire bird was last seen on the Ythan Estuary on 25th. Half-a-dozen Baird's Sandpipers were logged, including new birds in Co Kerry, Co Antrim and Cornwall, this last involving a confiding juvenile on the Gannel Estuary from 25th. Lingering adult White-rumped Sandpipers were in Hampshire and Co Wexford. At least 20 Pectoral Sandpipers were seen across Britain and Ireland, but Buff-breasted Sandpipers failed to exceed half a dozen, which included a new bird at Skaw, Whalsay, on 26th and a brief bird at Balcomie, Fife, on 22nd.

Baird's Sandpiper, Gannel Estuary, Cornwall (Photo: John Rowe)

Baird's Sandpiper, The Cunnigar, Waterford (Photo: Ronan McLaughlin)
The confiding adult American Golden Plover was last seen at Davidstow Airfield, Cornwall, on 22nd. Further adults were on Berneray, Outer Hebrides, and Tiree, Argyll, while juveniles were found on Sanday, Orkney, and in Co Mayo and Co Cork. Long-billed Dowitchers were last seen at Rusheen Bay, Co Galway, on 21st and Ballyshunnock Reservoirs, Co Waterford, on 22nd. No fewer than five Lesser Yellowlegs were logged. The only Red-necked Phalarope of the week was at The Range on South Uist on 25th, while a single Temminck's Stint dropped in at Frampton Marsh, Lincs, on 23–24th and last week's bird remained at Hanningfield Reservoir, Essex, to 25th.

American Golden Plover, Davidstow Airfield, Cornwall (Photo: Mark priest)

American Golden Plover, Tiree, Argyll (Photo: Jim Dickson)

Lesser Yellowlegs, Fremington Quay, Devon (Photo: Martin Bond)
The only rare tern this week was the usual adult Forster's still at Soldier's Point, Co Louth. Last week's Bonaparte's Gull at Seafield, Co Clare, was still present on 22nd, but the Franklin's Gull couldn't be found in Northumberland. An adult Ring-billed Gull returned to Cork Lough on 24th and another remained at Nimmo's Pier, Co Galway.
The drake American Black Duck lingered on at Strontian, Highland, while a drake Ferruginous Duck showed well at times at Brent Reservoir, London, throughout the week. A drake American Wigeon continued at Cossington Meadows, Leics, to 25th. A female-type Surf Scoter was on Lough Gill, Co Kerry, on 25th, and another flew past Rubha Ardvule, South Uist, on 27th. A drake was again off Llanddulas, Conwy, on 23rd, and the drake King Eider continued off Murvagh, Co Donegal, on 22nd.

American Black Duck, Strontian, Highland (Photo: Jaz)
Familiar Cattle Egrets remained in situ in Lancashire, Cheshire and Kent, as did Purple Herons in Kent and Oxfordshire. A second Purple Heron in Kent was tragically found dead with a broken wing near Allhallows-on-Sea on 24th. No fewer than nine sites logged Glossy Ibises.
Western Palearctic news
An Empidonax species on the Norwegian island of Kvitsøy on 21st looked a good bet for an Alder Flycatcher — needless to say it's a national first. Norway actually had a great week, with an extremely confiding juvenile Red-necked Stint at Hå, Rogaland, on 23rd providing a timely reminder of the subtle identification of the species at this age (photos here; useful ID article here). Classic autumn 'Sibes' such as White's Thrush and Pechora Pipit were also recorded, hinting that their arrival on our shores may be imminent with the right conditions.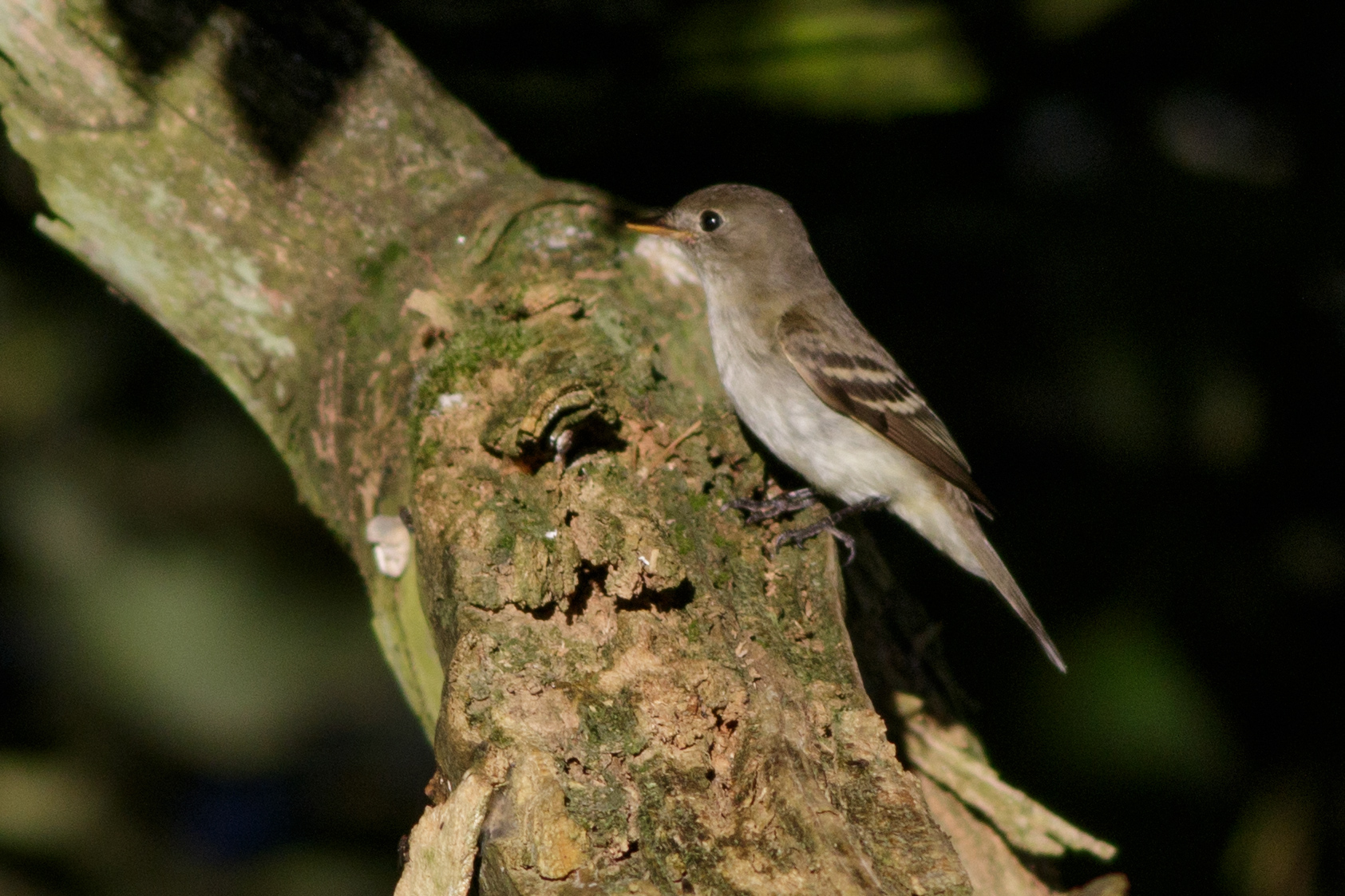 Empidonax sp., Norway (Photo: Tor Olsen)
First seen back in July, the adult Brown Booby was again present on rocks at Sesimbra, Setúbal, Portugal, on 25th. What looked a good shout for a juvenile Amur Falcon was photographed in Harghita County, Romania, on 21st — this is another potential national first. The Rufous Bush Robin lingered in the Netherlands early in the week, while just the third Pallas's Grasshopper Warbler for Sweden was trapped at Stora Fjäderägg, Västerbotten, on 22nd. The drake Black Scoter near Styrmisnes, Iceland, from 23rd is surprisingly a national first — in contrast the drake at Hirtshals, Denmark, on 26th is the 14th for that country.

Brown Booby, Portugal (Photo: Luís Gordinho)
Two Dalmatian Pelicans remained at different sites in north-east France early in the week, and the young Pygmy Cormorant lingered in Belgium. Belated news from Corvo, Azores, concerned the presence of both Short-billed Dowitcher and Greater Yellowlegs, while a Semipalmated Plover reached Ribeira Grande, São Miguel.

Pygmy Cormorant, Belgium (Photo: Joachim Bertrands)

Semipalmated Plover, Azores (Photo: Gerby Michielsen)