The week at a glance
Well, you go away for a week and it's all gone mega! Rarity after rarity decided to pop up throughout last week, and this week wasn't much different. The hot sunshine gave way to the occasional shower here and there and pleasant temperatures as the week drew to a close; it even got a little chilly on the east coast.
Leading the way, a wee joker in the pack: a female Brown Shrike on the moors above Sennen (Cornwall) on the evening of 20th. A few questions are still being asked (by some) as to the identity of the bird on The Lizard last autumn, but this one left no doubts: Britain's first spring record of this increasingly frequent mega. How far had it travelled? A short hop across a Cornish bay or two or a little further perhaps?

Brown Shrike, Land's End, Cornwall (Photo: Samuel Williams)
A Black-browed Albatross was seen off Flamborough Head (East Yorkshire) for five very early morning minutes on 26th. If accepted it will become the fifth for the county; the most recent record came in September 2002, when one was seen off Spurn. Flamborough's only accepted record to date was an adult (presumably Shetland's "Albert") in October 1974.
Talking of Shetland, the White-throated Sparrow found at the end of last week remained on Fair Isle to 20th. A second bird appeared on the Shetland mainland at Loch of Spiggie on 21st, where it apparently survived an attack from one of the local moggies, being released later in the day near Boddam. As the week concluded, the fourth bird of the month was found on St. Agnes (Scilly) on 26th. Following hot on the heels of the singing male in Cornwall, this is a first record for the islands. Four White-throated Sparrows, two Dark-eyed Juncos and a House Finch: not a bad Nearctic haul for the month, every one of them presumably hitchhikers in a ship-assisted way, every one of them, presumably, acceptable. That House Finch file will be fun for the committees.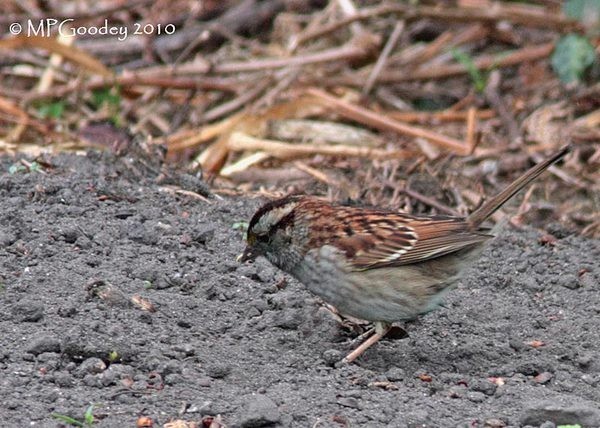 White-throated Sparrow, St. Agnes, Isles of Scilly (Photo: Martin Goodey)
All three singing male Iberian Chiffchaffs (in Kent, South Yorkshire and Gwent) lingered into another week. Over in County Clare, the Pacific Diver was still off Finvarra Point on 23rd.

Iberian Chiffchaff, Wentwood Forest, Gwent (Photo: James Packer)

Iberian Chiffchaff, Wentwood Forest, Gwent (Photo: Richard Smith)
A White-billed Diver was seen off Loch of Strathbeg (Aberdeenshire) on 25th, while a Balearic Shearwater was seen some 15 miles off the North Yorkshire coast on 24th and another was off Portland Bill (Dorset) on 26th. Some 30 Pomarine Skuas included six off Dawlish Warren (Devon) on 23rd, and six of the week's seven Long-tailed Skuas were seen from a boat five kilometres off Tarbet Ness (Highland) on 24th. The other was seen from another boat off Highland, near the Beatrice Oil Platform, on 25th.
A Glossy Ibis was seen near Castleisland (Co. Kerry) on 26th. In Kent, three Great White Egrets were reported from a train near Shorne Marshes on 22nd, while one lingered (albeit elusively) around Ipswich (Suffolk) from 22nd–25th and another was at two sites in Carmarthenshire between 24th and 26th. A Cattle Egret was reported in Lincolnshire on 26th. Around 30 Spoonbills were widely scattered from Cornwall to Aberdeenshire, and included threes at Hengistbury Head (Dorset) and Minsmere (Suffolk).

Spoonbill, Hardley Flood, Norfolk (Photo: anon)
Two Common Cranes seen over Moray on 20th may well have been the two birds that the appeared on mainland Orkney the following day, where they remained to 22nd. Singles were noted in East and South Yorkshire, as well as Northumberland, Durham and Gloucestershire, while six were seen over Salthouse Heath and Cley (Norfolk) on 25th.
A rather dashing Squacco Heron was at Par (Cornwall) on 22nd–24th, the third record for the county in the 2000s following birds at Porthmellon in May 2004 and Lamorna Cove in May 2001. In Kent, at least one Purple Heron was still at Dungeness (Kent) throughout the week, with two further singles noted in the county, at Worth Marsh and Stodmarsh as well. Other lone "Purps" were also seen in East Yorkshire, Cambridgeshire, Scilly, West Sussex and Suffolk (one was at Minsmere from 24th–26th, while two were seen at North Warren on 22nd).

Squacco Heron, Par, Cornwall (Photo: Andrew Carey)
On the Outer Hebrides, the Black Stork reappeared on Berneray on 22nd, where it stayed to 23rd before taking in both North and South Uist to 25th. A Black Stork was then reported at Muir of Ord (Highland) on 26th. Two White Storks were seen over the Wykeham Forest raptor watchpoint in North Yorkshire on 23rd and another presumed genuine bird was noted over the M4 in Glamorgan on 25th.
A drake Ring-necked Duck was seen at two sites in Fife on 20th–21st with another drake at Loch Leven (Perth & Kinross) on 24th. A female Blue-winged Teal was at Groby Pools (Leicestershire) on 26th, potentially the third record for the county following accepted birds in 1998 and 2003.

Ring-necked Duck, Birnie & Gaddon Lochs NR, Fife (Photo: Willie McBay)
In Scotland, a drake Surf Scoter remained off Musselburgh Lagoons (Lothian) to 20th and King Eiders were represented by a female off Westray (Orkney) on 21st and the drake still around the Ythan Estuary (Aberdeenshire) to 24th.

King Eider, Sands of Forvie NNR, Aberdeenshire (Photo: Alan Sinclair)
The latter site also hosted a Broad-billed Sandpiper this week, one appearing there on 23rd and remaining to 25th (a Pectoral Sandpiper and White-tailed Eagle were also seen in the area, along with the aforementioned King Eider — that's quite a purple patch). An inland Broad-billed Sandpiper at Old Moor (South Yorkshire) on 23rd was a terrific inland find and will be the second county record, following the bird seen in June 2000 at Rother Valley Country Park.

Broad-billed Sandpiper, Old Moor RSPB (Dearne Valley), South Yorkshire (Photo: Jim Almond)
As well as the bird on the Ythan, a further three Pectoral Sandpipers were found this week: at Caerlaverock (Dumfries & Galloway) and on Foula (Shetland) on 24th and at Bardney (Lincolnshire) on 26th. There was a tidy collection of Temminck's Stints this week: over 40 birds were spread from Buckinghamshire to Aberdeenshire, with flocks of four at Gibraltar Point (Lincolnshire) and Cley (Norfolk). Three were seen on Port Meadow (Oxfordshire) on 23rd and other threes were in East Yorkshire, Norfolk, West Sussex and Northumberland. A dozen Dotterel included two still in West Sussex with four on Great Whernside (North Yorkshire) on 22nd.

Temminck's Stint, Caerlaverock WWT, Dumfries & Galloway (Photo: Brian Henderson)
All those birds beside, the star shorebird of the week was arguably the female Wilson's Phalarope at Seaforth (Lancashire) on 22nd–25th. This is the third year in a row that this bird has appeared in Lancashire: first noted as a first-summer at Seaforth in June 2008, she came back the following year in late August to Martin Mere. Vying for the title of wader of the week was the Great Snipe reported from Loch Ardvule, South Uist (Outer Hebrides) on 23rd.

Wilson's Phalarope, Seaforth LWT (Permit only), Lancashire (Photo: Steve Round)
The French-tagged female Montagu's Harrier was on Ouse Fen (Cambridgeshire) on 20th, moving to Berry Fen on 21st. A wing-tagged bird was also on Hatfield Moors (South Yorkshire) on 24th–26th while a subadult male over Seaforth raised an eyebrow when the possibility of Pallid Harrier was mentioned.
A female Red-footed Falcon was at Cockmuir Bridge (Lothian) on 22nd and one (no age, no sex) was reported at Winterton Dunes (Norfolk) on 25th. A male arrived at Wilstone Reservoir (Hertfordshire) on 26th, showing for much of the day, and a first-summer female was found at Timahoe West (Co. Kildare) on the same day, only the third report in the Republic in the past ten years.

Red-footed Falcon, Wilstone Reservoir, Hertfordshire (Photo: Alan Stewart)
Two or three Black Kites were in Cornwall during the week: at Heligan Gardens on 23rd and 25th (then at nearby Sticker on 26th), at five sites in the far west of the county between 22nd and 25th, and another reported near Davidstow on 26th. Further Black Kites were seen in Clwyd on 21st, in Devon on 22nd, in Lincolnshire and Aberdeenshire on 23rd, in Hampshire and West Sussex on 25th and in Somerset on 26th.

Black Kite, Skewjack, Cornwall (Photo: Brian Mellow)
In Cork, the first-summer Ring-billed Gull was still on Cuskinny Marsh to 22nd, while five Iceland Gulls and three Glaucous Gulls kept a late hold on all that was wintry. Single first-summer Caspian Gulls were seen in Suffolk, Northamptonshire and Leicestershire during the week.
A pair of White-winged Black Terns at Rutland Water (Leicestershire) proved very popular from 23rd–25th and the adult summer Forster's Tern was still at Tacumshin (Co. Wexford) on 24th–25th.

White-winged Black Tern, Rutland Water, Leicestershire and Rutland (Photo: Garth Clarke)
A red-spotted male Bluethroat was a good find for birders on Skomer (Pembrokeshire) on 21st, and further birds followed at Spurn (East Yorkshire), North Ronaldsay (Orkney) and Sumburgh (Shetland) on 22nd, and at Spurn on 24th. A female was found at Leasowe (Cheshire) on 25th.

Bluethroat, Leasowe, Cheshire (Photo: Colin Jones)
A dozen or so Bee-eaters were seen this week, including three north at Rimac (Lincolnshire) at midday on 23rd, appearing at Flamborough Head just before 8pm later the same day. Two Bee-eaters were over Lizard (Cornwall) on the same day, with two (more?) at St. Breward, also on 23rd.
Back in East Yorkshire, a Red-rumped Swallow was at Spurn on 23rd, with another on 24th. One was at Durlston CP (Dorset) on 23rd and further birds arrived on South Ronaldsay (Orkney) on 25th and at Trimley Marshes (Suffolk) on 26th. An Alpine Swift was at Bovisand and Oreston (Devon) on 22nd and another was over Biddenden (Kent) on 26th.
Golden Orioles tallied around 20 or so passage birds this week, including three over Mayday Farm (Suffolk) on 23rd (where were they heading?), up to five different birds around Scilly, three birds in Wales and one on Inishbofin (Co. Galway). A Hoopoe was on St. Agnes (Scilly) on 23rd with further singles in West Sussex and London on 25th and at Launceston (Cornwall) on 26th. A Wryneck was reported from Benbecula (Outer Hebrides) on 20th and another was on St. Martin's (Scilly) on 23rd.
In Cornwall, a presumed Ashy-headed Wagtail was at the Walmsley Sanctuary on 23rd. A Red-throated Pipit was on Fair Isle on 24th, the first for 2010, and a Tawny Pipit was at Kessingland (Suffolk) on 20th. A Short-toed Lark was found on Cape Clear Island (Co. Cork) on 22nd with another found the same day, remarkably, on top of Cairngorm (Highland) — an amazing record.

Ashy-headed Wagtail, Walmsley Sanctuary (MEMBERS ONLY), Cornwall (Photo: Colin Selway)

Tawny Pipit, Kessingland, Suffolk (Photo: Brian Buffery)
Derbyshire's first Great Reed Warbler remained in song at Straw's Bridge NR all week. Single singing male Marsh Warblers were at Thorpeness and Minsmere (Suffolk) on 25th and 26th, and Kilcolman NR (Co. Cork) on 25th. A singing male Savi's Warbler was reported, late in the evening, at Stiffkey Fen (Norfolk) on 23rd.

Great Reed Warbler, Straw's Bridge NR, Derbyshire (Photo: Craig Shaw)
After last week's bird at Gibraltar Point, this week saw the year's second Icterine Warbler arrive, this one at Spurn on 25th, where it sang occasionally. Two Subalpine Warblers on Bardsey Island (Gwynedd) on 23rd included an Eastern male (albistriata), while another male was in the Cot Valley (Cornwall) on 24th and another was on Foula (Shetland) on 26th. A singing male Red-breasted Flycatcher was at Vidlin (Shetland) on 20th.

Subalpine Warbler, Bardsey Island, Gwynedd (Photo: Steve Stansfield)
A Woodchat Shrike at Longton (Lancashire) on 20th was a good record for the county, while around 16 Red-backed Shrikes included two males together on St. Mary's (Scilly) on 21st, two at Spurn on 24th, a male at Long Strand (Co. Cork) on 22nd and a female at Sennen on 21st — that must have caused a little panic for those searching for the departed Brown Shrike. A Great Grey Shrike was reported from Godolphin Cross (Cornwall) on 25th.

Red-backed Shrike, Minsmere RSPB, Suffolk (Photo: Jon Evans)

Red-backed Shrike, St. David's, Pembrokeshire (Photo: Richard Stonier)
At least six Common Rosefinches were found this week. On 22nd, singles were at Howick (Northumberland) and on the Calf of Man (Isle of Man) and also Fair Isle. Two birds appeared on 25th, at Landguard (Suffolk) and on Ramsey Island (Pembrokeshire), and on 26th one was discovered at Lytham St. Anne's (Lancashire).
Up to four Serins were seen on Portland (Dorset) during the week and elsewhere one was noted at Beachy Head (East Sussex) on 23rd, with another reported at Evington (Leicestershire) on 25th. A Rustic Bunting on Fair Isle on 20th–21st brings this week's round-up to a close.
Photo of the Week

Sand Martin, Minsmere RSPB, Suffolk (Photo: Carl Wright)
Sand Martins would appear to have a pretty safe breeding strategy, burrowing tunnels deep into the sides of steep, sandy river banks. As for almost every other bird species, though, there is at least one predator that can raid the nest and take the eggs or chicks. In this case, the Sand Martin colony at RSPB Minsmere had been seen to be raided over and over again by a Stoat, which preyed on both young and adult birds. We received a pair of photos of the grisly action from bird photographer Carl Wright. Our favourite is a close-up of the Stoat bounding away with a baby bird clenched in its jaws. The airborne Stoat and motion-blurred ground emphasise the action, whilst the sharpness and pose of the bird focus attention on the helplessness of its plight. Nature in the raw evocatively captured..
Other notable photos

White-tailed Eagle, Mull, Argyll (Photo: Marcus Conway - ebirder)

Peregrine Falcon, Rochdale, Greater Manchester (Photo: A.Dancy)

Long-eared Owl, undisclosed site, Lancashire (Photo: Paul Foster)

Bar-tailed Godwit, undisclosed site, Norfolk (Photo: David Whistlecraft)

Fulmar, Bempton Cliffs RSPB, East Yorkshire (Photo: Tom Charles)

House Martin, St. Mary's, Isles of Scilly (Photo: Steve Arlow)

Hoopoe, Israel (Photo: Rudi Debruyne)

House Sparrow, Bahrain (Photo: Adrian Drummond-Hill)

Purple-rumped Sunbird, India (Photo: Dave Williams)

Wilson's Phalarope, Seaforth LWT (Permit only), Lancashire (Photo: Stephen Tomlinson)

Great Reed Warbler, Straw's Bridge NR, Derbyshire (Photo: Dave Hutton)

King Eider, Sands of Forvie NNR, Aberdeenshire (Photo: Alan Sinclair)

Black-headed Gull, Minsmere RSPB, Suffolk (Photo: Jon Evans)

Barn Owl, undisclosed site, Leicestershire and Rutland (Photo: Paul Riddle)

Sandwich Tern, Cemlyn Bay, Anglesey (Photo: Pauline Greenhalgh)

Common Sandpiper, Horton in Ribblesdale, North Yorkshire (Photo: John Barlow)

Ring Ouzel, undisclosed site, Derbyshire (Photo: John Dickenson)

Pied Flycatcher, Gilfach Farm NR, Powys (Photo: Carl)

Great Spotted Woodpecker, Thornley Woodlands, Durham (Photo: Keith Cochrane)

Yellow Wagtail, Sammy's Point, East Yorkshire (Photo: Lee Amery)