The week at a glance
It turned out to be a decent late summer week, which delivered a productive mix of seawatching and early-season drift migrants to eastern areas, primarily between Yorkshire and Kent. And, with the volume of news seemingly increasing daily (we reached the dizzy heights of 270 reports in a day on 26th — something not achieved since the spring), it's really beginning to feel like autumn migration is cranking into gear. Of course, next week will see the arrival of September and the beginning of the most exciting 10 weeks in the birding calendar year.
Despite the building excitement on the east coast, the week's biggest bird was actually seen in the far west — a Swinhoe's Storm-petrel was observed by at least eight seawatchers, including a number of Ireland's top listers, for approximately four minutes at the Bridges of Ross (Clare) on the evening of Monday 25th. Remarkably, the bird passed in a rather innocuous south-easterly breeze (for those that don't know the Bridges, that's in an offshore direction), but this isn't the first time apparently unpromising conditions have produced big birds — both Little Shearwater and Fea's-type Petrels have passed in such weather.

Fea's Petrel, Scilly pelagic, Isles of Scilly (Photo: Joe Pender)
Given their ongoing decline in population size, Little Shearwaters have become an even rarer sight in Britain and Ireland these days — once upon a time records of birds zooming past sites such as the Bridges of Ross were to be expected almost annually, but they have really dried up. Therefore, news of a "probable" north past Flamborough Head (E Yorks) on 20th no doubt got the juices flowing, but it wasn't seen again. Two Fea's-type Petrels were seen from a pelagic off Baltimore (Cork) on 24th, while a possible Pterodroma petrel flew north past Spurn (E Yorks) at extreme distance on 21st. Altogether unconfirmed was a report of a possible Bulwer's Petrel past the Old Head of Kinsale (Cork) on 24th; a Wilson's Storm-petrel from a Scilly pelagic on 21st was rather more routine.
Cory's Shearwater numbers appear to be falling away from their peak a week or two back, though there were still small numbers in the South-West Approaches and the odd record from the English North-East throughout — Flamborough Head, for example, registered a singleton on 20th and three on 24th, and there were also records from Durham and Northumberland. As is typical for the second half of August onwards, Great Shearwaters were more prominent, with an impressive 300+ from a Scilly pelagic on 21st; figures failed to live up to that elsewhere, but small numbers were seen off Cornish headlands more or less daily.

Great Shearwater, Scilly pelagic, Isles of Scilly (Photo: Joe Pender)
For east coast seawatchers, focus was on a decent skua passage in murky conditions on 25th, with Long-tailed Skuas quite prominent (albeit never in impressive numbers) — peak counts came from Suffolk, where reports included six off Landguard, seven past Kessingland and eight off Thorpeness. Arctic Skuas were the most numerous species, with several sites registering more than 30 individuals, while Great Skuas were also moving, as was the odd Pomarine Skua. A reminder that a lot of autumn skuas routinely use the overland route came from Sutton Bridge (Lincs) on 25th, with 20 Arctics and and six Greats flying inland by mid-morning.
A single drake Surf Scoter remained off Murcar Golf Course (Aberdeenshire) on 21st, though a Ferruginous Duck at Minsmere (Suffolk) from 20th was the best wildfowl discovery of the week. The Lesser Scaup was still at Chew Valley Lake (Somerset) to at least 24th and an Anas sp. at Grimley (Worcs) eventually turned out to be a presumed Blue-winged Teal × Shoveler hybrid.

Ferruginous Duck, Minsmere RSPB, Suffolk (Photo: David H Hatton)
Other waterbirds included the usual selection of Great White Egrets and Glossy Ibis, with the West Sussex Cattle Egret still knocking about the Sidlesham area to 24th and a White Stork reported over Abbotsbury (Dorset) on 23rd.
A white-morph Gyr Falcon bearing jesses was on Bardsey Island (Gwynedd) on 20th and 21st; presumably this is the bird seen last week on Skomer (Pembrokeshire) and also recently in Cornwall — it never ceases to amaze how far these birds routinely travel! Spotted Crakes included long-stayers at Rainham Marshes (London) and Tophill Low (E Yorks) early in the week, with new arrivals including two at Bowling Green Marsh (Devon), one at Rutland Water from 23rd and another on a pond in Scarborough (N Yorks) on 26th, this last bizarrely reported as being flushed by a cat!

Spotted Crake, Rutland Water, Leicestershire and Rutland (Photo: Chris Barlow)
The Long-billed Dowitcher remained at Lough Boora Parklands (Offaly) until at least 25th, the same day that a Broad-billed Sandpiper was reported from Pulborough Brooks (W Sussex). A Black-winged Stilt was a surprise at Doonbeg (Clare) on 23rd, with Temminck's Stints still at Blacktoft Sands (E Yorks) to 22nd and at Bowling Green Marsh (Devon) from 22nd. Pectoral Sandpipers included new birds at Halsham (E Yorks) on 22nd and The Cunnigar (Waterford) on 20th–25th; records on both Freiston Shore and Frampton Marsh (Lincs) may have involved the same bird, for they were never reported at both sites on the same day. Another remained on Tresco (Scilly) to 20th. Grey Phalaropes were at Slapton Sands (Devon) on 20th and still at Holland Haven (Essex) to 22nd; Red-necked Phalaropes graced Baltasound, Unst (Shetland) on 21st and Cliffe Pools (Kent) on 26th.

Pectoral Sandpiper, Freiston Shore RSPB, Lincolnshire (Photo: Dave Roberts)
A first-summer Ring-billed Gull was sitting about on Gormanstown Strand (Meath) on 25th, but the most notable gull news was the return of Durham's Bonaparte's Gull, which was in fields at Cleadon on 21st. The Kent bird was also still at Oare Marshes on 25th, with the Ballycotton Laughing Gull still present on 23rd. A possible longipennis Common Tern was on Arnold's Marsh, Cley (Norfolk), all too briefly on 21st.

Laughing Gull, Ballycotton, Cork (Photo: Derek Charles)
Autumn migration appeared to be slowly hotting up, with an Arctic Warbler on Fair Isle on 22nd the first of the autumn. Also in the Northern Isles, Blyth's Reed Warblers touched down at Halligarth (Unst) on 21st and on Foula on 25th, but the week's Greenish Warblers were further south — at Whitburn (Durham) and Flamborough Head (E Yorks) on 26th.

Blyth's Reed Warbler, Halligarth, Unst, Shetland (Photo: Brydon Thomason)
Barred Warblers were characteristically one of the more numerous species, with an impressive five on Fair Isle on 22nd (and one still there on 26th). Another Shetland record came from Unst on 20th–21st, while at least two were seen around Flamborough Head (E Yorks) from 23rd; others were at Eccles (Norfolk) from 24th and Saltfleet (Lincs) on 26th, though the most striking record was of a first-summer female trapped and ringed at Wheldrake Ings (N Yorks) on 23rd.

Barred Warbler, Fair Isle, Shetland (Photo: Alex Penn)

Barred Warbler, Flamborough Head, East Yorkshire (Photo: David Aitken)
Four Icterine Warblers arrived on 26th: one apiece on Fair Isle and North Ronaldsay, with others at Kilnsea (E Yorks) and Landguard (Suffolk). Earlier in the week a Melodious Warbler was at Birling Gap (E Sussex) on 20th, with it or another nearby at Hodcombe on 21st. A great occurrence for the Outer Hebrides concerned a bird at Ormiclate, South Uist, on 23rd–25th. Meanwhile, belated news from Lundy (Devon) concerned a Subalpine Warbler seen there on 18th.

Icterine Warbler, Fair Isle, Shetland (Photo: Alex Penn)

Melodious Warbler, Ormiclate, S.Uist, Outer Hebrides (Photo: Andrew Stevenson)
A decent flush of Wryneck records started with a bird on the Isle of Noss (Shetland) on 20th; another was reported in Ringwood (Hants) on 22nd and a third was at St Ouen's Pond (Jersey) on 24th. Several birds on 26th included up to four on Blakeney Point (Norfolk), with others in Norfolk at Winterton Dunes and Walsey Hills, as well as records from Kilnsea (E Yorks), Gibraltar Point (Lincs) and Titchfield Haven (Hants). Quite impressively, the Bee-eater flock at the breeding site at Wydcombe Estate (IoW) increased from nine on 22nd to 12 on 24th — have two pairs bred after all? Rather unfortunately for itself, a Hoopoe ended up on North Ronaldsay (Orkney) from 25th, remaining there the following day.

Hoopoe, North Ronaldsay, Orkney (Photo: Mark Warren/North Ronaldsay Bird Obs)
Other bits and pieces included the first juvenile Rose-coloured Starling of the autumn, from Lundy on 21st–23rd. The male Red-backed Shrike resurfaced at Winterton Dunes (Norfolk) on 20th, remaining there all week and looking somewhat more impressive now that its moult is complete. A juvenile was seen near Wylye (Wilts) on 24th. The Rustic Bunting was still gallivanting around Baltasound (Unst) on 23rd, while a nice spread of Common Rosefinches saw both Fair Isle and North Ronaldsay host up to three birds. Other Common Rosefinch records from Shetland included singles at Northdale (Unst) on 21st and Skaw (Unst) on 21st–24th, two at Baltasound (Unst) on 23rd, one at Sumburgh on 23rd, one at Virkie on 25th and two on Foula on 25th. Another was at Kilnsea (E Yorks) on 26th.

Red-backed Shrike, Winterton Dunes NNR, Norfolk (Photo: Nick Appleton)

Red-backed Shrike, Winterton Dunes NNR, Norfolk (Photo: Dave Hutton)

Common Rosefinch, Quendale, Mainland, Shetland (Photo: Roger Riddington)
Further afield, the big excitement concerned a first-calendar-year Pallas's Gull in the middle of Oslo (Norway) for a couple of days from 20th — the first national record. The bird has been fitted with a ring 'JU250' and has since disappeared — could Britain be next? Read a finder's account of the story here. In the Azores, an impressive two Trindade Petrels were seen from a pelagic west of Faial on Saturday 23rd.

Pallas's Gull, Norway (Photo: Julian Bell)
Photo of the Week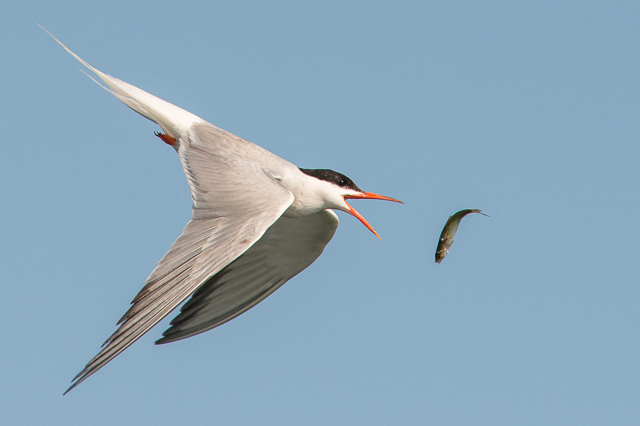 Common Tern, Farmoor Reservoir, Oxfordshire (Photo: Dave Collins)
Steve Young comments: "A lot of Common Tern images are posted in our Iris galleries; popular poses include diving for fish or in flight with a fish already caught in the bill. I haven't, however, seen a shot like Dave Collins's Photo of the Week before. As Dave explained, the tern caught and dropped the fish before stretching out to catch it again, this all happening in a few split-seconds, and this stunning shot, framed with a shutter speed of 1/3200th second, captured during one of those split-seconds. The highlight in the eye, blue background and perfect angle of the bird diving for the fish with bill wide open all make this a superb and worthy winner, in what was one of the most competitive weeks I've seen since joining the BirdGuides team! Very well done Dave."
Other notable images

Fea's Petrel, Scilly pelagic, Isles of Scilly (Photo: Joe Pender)

Great Shearwater, at sea, Isles of Scilly (Photo: Richard Stonier)

Goosander, Loch Gilp, Argyll (Photo: Jim Dickson)

Marsh Harrier, Strumpshaw Fen RSPB, Norfolk (Photo: Elizabeth Dack)

Little Egret, Ogston Reservoir, Derbyshire (Photo: Vernon Barker)

Red-backed Shrike, Winterton-on-Sea, Norfolk (Photo: Jon Evans)

Kingfisher, Aberford, West Yorkshire (Photo: Mark Hughes)

Kingfisher, private site, Devon (Photo: Rob Cross)

Red Grouse, undisclosed site, East Yorkshire (Photo: Harry Read)

Red-backed Shrike, Winterton Dunes NNR, Norfolk (Photo: Nick Appleton)