The week at a glance
Spring 2015's unusual pattern continued as the birders once again relied on arrivals from the west to fill the week's headline slots. The pair of Hooded Mergansers found last Tuesday on Tory Island, Co Donegal, just about hung on for the weekend. Attracting a small-scale contingent of the keener Irish listers between Thursday and Saturday — the final day of their stay — this smart pair may well prove to be the first accepted Irish Hooded Mergansers since 1957.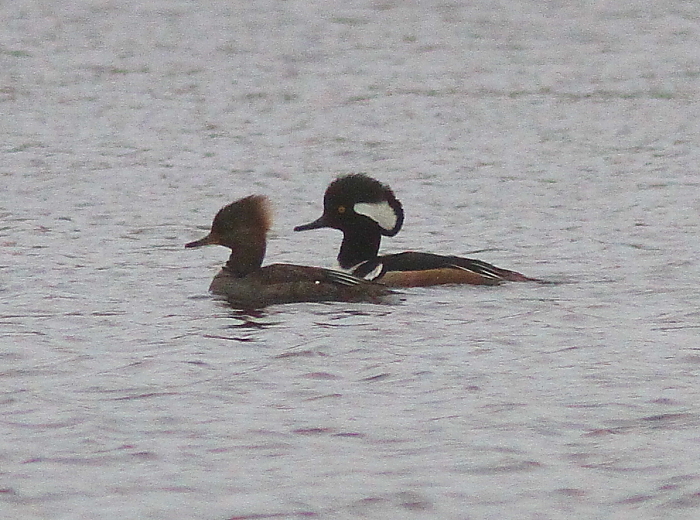 Hooded Merganser, Tory Island, Donegal (Photo: Aidan G. Kelly)
Grey-cheeked Thrush has previously been exclusively an autumn visitor, all 63 accepted British and Irish records coming between late September and late November. The discovery of a bird at Termoncarragh, on the north-west side of County Mayo's Mullet peninsula, on 25th was therefore sensational and just as likely a product of recent transatlantic weather as a bird that had wintered on this side of the Atlantic. The bird's warm upperparts and extensive yellowish lower mandible prompted some murmurings about the possibility of Bicknell's Thrush, but without trapping the bird, which had gone by the following morning, anything firmer was always unlikely.

Grey-cheeked Thrush, Termoncarragh, Co Mayo (Video: Dave Suddaby)
Though there has been no sign since 21st, it seems entirely possible that Aberdeen's Harlequin Duck will reappear at some point. The King Eider was altogether more confiding on the Ythan Estuary throughout the week, as was a drake Ring-necked Duck that turned up on a small lake at University College Dublin on 20th and lingered throughout the week. Another drake Ring-necked Duck was at London Wetland Centre on 25th and the brace remained at Loch of Hillwell, Shetland. A drake Green-winged Teal on North Ronaldsay on 23rd was with what could well have been a female of the species; a White-billed Diver was seen off Balnakeil, Highland, on 21st and another flew past Rubh' Arnal, North Uist, early on 22nd. Another product of the recent weather was a freshly arrived parvipes Canada Goose at Haroldswick, Unst, on 26th. Black Brants stubbornly lingered on in Suffolk and East Yorkshire.

Lesser Canada Goose, Haroldswick, Unst, Shetland (Photo: Robbie Brookes)

Ring-necked Duck, London Wetland Centre WWT, Greater London (Photo: Matt Palmer)
At least one Black Stork was seen this week: after a sighting over Scolt Head on 21st, a bird evidently roosted overnight near Old Hunstanton, Norfolk, on 21st as it was seen again there the following morning. It then flew over Snettisham before crossing The Wash and heading past Frampton Marsh, Boston and finally Kirkby-on-Bain (all Lincs) late morning. Presumably the same individual was then at Midhope Moor, S Yorks, on 23rd. Records from Marloes and Skomer, Pembrokeshire, on 25th and Nantyfyllon, Glamorgan, and Abergavenny, Gwent, on 26th no doubt refer to a single individual but whether it was that last seen in Yorkshire is another matter.
After the recent influx another Squacco Heron turned up at Ballycotton, Co Cork, on 22nd. The Scilly bird remained on St Mary's throughout the week, with three Night Herons seen on the island on 23rd (and one on 25th). Another Night Heron was at St Clement, Cornwall, from 20–22nd before moving to nearby Tresemple Pool from 25th. Purple Herons remained in Dorset and Cornwall while the barking Little Bittern continued to prove elusive at Lakenheath Fen, Suffolk, throughout the week. A Cattle Egret was at Trull, Somerset, on 25th.

Little Bittern, Lakenheath Fen RSPB, Suffolk (Photo: Neil Rolph)
A young female Red-footed Falcon brought joy to many observers throughout the week near Wareham, Dorset, while Black Kite records were as follows: South Foreland, Kent, on 20th; Sheepcote Valley, E Sussex, on 21st; Wells-next-the-sea, Norfolk, on 21st; Rye Harbour, E Sussex, on 25th; and Chelmsford, Essex, on 25–26th.

Red-footed Falcon, Wareham, Dorset (Photo: Peter Moore)
A classic May species is Broad-billed Sandpiper and a beauty at Tinker's Marshes, Suffolk, on 22–23rd was the first in the county for 17 years and thus deservedly popular. Spotted Sandpipers were on the Isle of Arran from 19–21st and at Wellington Gravel Pits, Herefordshire, on 24–25th. A first-summer American Golden Plover dropped in at Exminster Marshes, Devon, on 23rd, where there was also a Gull-billed Tern. Two Pectoral Sandpipers at Cley, Norfolk, on 20th had reduced to one by 22nd and were replaced by a White-rumped Sandpiper in the same spot on 25–26th.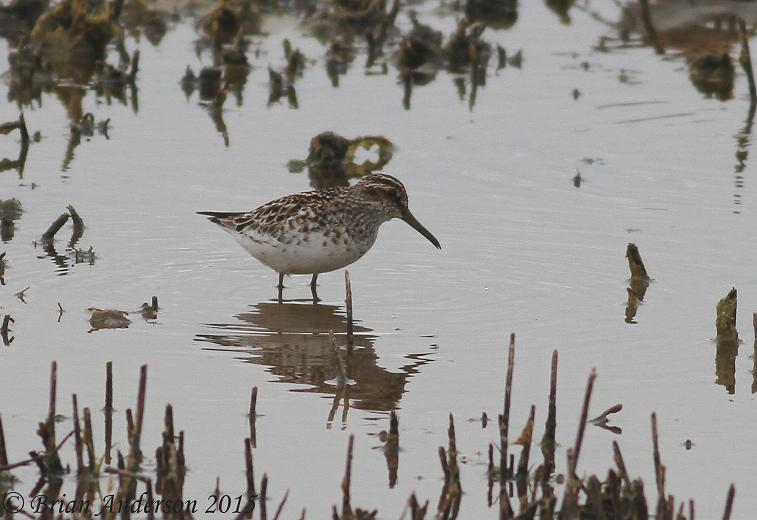 Broad-billed Sandpiper, Tinker's Marshes, Suffolk (Photo: Brian Anderson)
Hampshire's Greater Yellowlegs notched up another week at Titchfield Haven, while two Black-winged Stilts tantalised at Bowers Marsh, Essex, on 22nd and 26th. There was a report of a Kentish Plover in Northumberland for three days to 24th but it had disappeared by the time news broke; four Dotterel were in Cumbria on 23rd but 16 at Choseley, Norfolk, on 21st had dwindled to just two by 26th. A good week for Red-necked Phalarope passage saw birds in Norfolk (2), Oxfordshire, Bedfordshire and Suffolk, and two on floods near Campbeltown on 26th followed Argyll's first Egyptian Goose in the same area on 22nd.

Greater Yellowlegs, Titchfield Haven NNR, Hampshire (Photo: Ian Curran)

Red-necked Phalarope, Campbeltown, Argyll (Photo: Jim Dickson)
A first-summer Bonaparte's Gull was at Kingsmill Lake, Cornwall, on 26th following the apparent departure of the Southampton bird on 24th; another was reported from Breydon Water, Norfolk, on 21st. Immature Ring-billed Gulls soldiered on around the Hayle Estuary, Cornwall, and at Tralee, Co Kerry, while it appears that a single White-winged Black Tern was responsible for sightings at Martin Mere, Lancs, on 24th, Lunt Meadows, Lancs, on 25th and Paxton Pits, Cambs, on 26th.

White-winged Black Tern, Martin Mere WWT, Lancashire (Photo: Eddie Seal)
Though they didn't quite hit the heady heights of the previous week, skua numbers were again healthy in the far north and north-west, with peak counts of 429 Pomarine and 317 Long-tailed Skuas past Aird an Runair, North Uist, on 24th. Passage at Saltcoats, Ayrshire, peaked with 29 Long-taileds on 22nd.

Long-tailed Skua, Aird an Runair, N.Uist, Outer Hebrides (Photo: Dave Bywater)
The male Moltoni's Warbler hung around on Fair Isle throughout the week while, at the opposite end of the country, the Sardinian Warbler did the same at Land's End. Female subalpine warblers were at Portland, Dorset, on 23rd and Halligarth, Unst, on 25th. A Bonelli's warbler sp. singing at Hickling Broad, Norfolk, in mid-morning on 26th was later identified as Western from sonograms.
Scarce migrants remain just that, with three Icterine Warblers (Norfolk, Lincolnshire and East Yorkshire), a Melodious Warbler on the Isles of Scilly on 20th, five Golden Orioles, a few Grey-headed Wagtails, two Eurasian Hoopoes, two Eurasian Wrynecks and singles of Red-backed Shrike (London), Alpine Swift (Cheshire), Red-rumped Swallow (Spurn) and Short-toed Lark (Fair Isle) making up some of the meagre totals.

Red-backed Shrike, Fairlop Waters, Greater London (Photo: David McGough)
At least European Bee-eater numbers were marginally better, with records from North Ronaldsay, Orkney, on 23rd and 26th; Portland, Dorset, on 24th and 26th (with records from Radipole Lake on 24th and Lodmoor on 26th); Flamborough Head, E Yorks, on 24th; Ousedale, Highland, on 22nd; Roundstone, Co Galway, on 25th; and still at Blacksod, Co Mayo, on 20th.
A stunning Red-spotted Bluethroat showed very well along Blakeney Point, Norfolk, on 24th, with another on Gugh, Scilly, that day and Shetland records from Out Skerries on 23rd and Hermaness, Unst, on 25th.

Red-spotted Bluethroat, Blakeney Point, Norfolk (Photo: Rob Holmes)
Last week's Rose-coloured Starling was still at Ardivachar, South Uist, on 21st, and a Serin was at Portland that day. Common Rosefinches have been extremely scarce so far this year, so a young male at Nanjizal, Cornwall, on 23rd was notable. A yellow male House Finch was in Surrey on 23rd, though an altogether more desirable bird of the same colour was the male Black-headed Bunting at Jerbourg, Guernsey, from 22–24th.

Black-headed Bunting, Jerbourg, Guernsey (Photo: Mark Guppy)
A Rustic Bunting spent the week on North Ronaldsay and there were three Ortolans: on Skokholm, Pembrokeshire, on 20th, Portland, Dorset, on 24th and Rockabill, Co Dublin, on 26th.

Rustic Bunting, North Ronaldsay, Orkney (Photo: Stephen Rutt)
Western Palearctic news
A White-winged Lark was a great find on the beach at Herdla, Hordaland, Norway, on 20th and represents a tantalising reminder to British birders that the last to occur here was as long ago as 1981. A White-tailed Lapwing was near Ølund, Denmark, on 21-22nd while Lithuania's first Dalmatian Pelican was near Kelme on 21st and an Audouin's Gull was in Bavaria, Germany, on 23-24th. Norway's fourth Laughing Gull was a great find at Hå, Rogaland, on 24th and Finland's fifth White's Thrush appeared at Kauhajoki on 25th.
A Red-footed Booby photographed at sea to the south-west of the southernmost tip of El Hierro in the Canary Islands on 22nd was another major record for this under-watched part of the world. What else must be missed out here?

Red-footed Booby, Canary Islands (Photo: Marcel Gil Velasco)

Red-footed Booby, Canary Islands (Photo: Marcel Gil Velasco)
Photo of the Week, 20–26 May
Our Photo of the Week section has moved! From this week onwards, POTW will appear in its own article. This week's can be found here.
Content continues after advertisements