The week at a glance
The week saw a bit of a lull in new arrivals, with most migrants in and a good westerly stopping too much else moving. The only new megas were rather brief or unconfirmed, with little else to set the pulse racing. Following on from Minsmere's star bird from two weeks ago, there was another report of a probable Audouin's Gull, past Shoreham-by-Sea (West Sussex) on 22nd. Another possible of note was a Crested Lark seen in flight only at Deerness (Orkney) on 21st. Also in Scotland, a Black-browed Albatross headed south with Gannets past a very wet lone observer at Saltcoats (Ayrshire) on 21st, and may well be the bird that has spent recent summers on Sula Sgeir (Outer Hebrides). It may well still be in the North Sea or off the Northern Isles, so all those gannetries will be worth a closer look over the summer.
Other lingering goodies included the male Trumpeter Finch on Lundy (Devon) all week and the House Crow was, as ever, in Cobh (Cork) on 21st.
The only goose of note was the Ross's Goose remaining at Loch Leven (Perth & Kinross) to 24th, with the Ring-necked Duck also still there. There was also a report of a presumed escape Red-breasted Goose past Goring-by-Sea (West Sussex) on 21st. Of equally dodgy provenance was the Cinnamon Teal that remained at Titchfield Haven (Hants) to 22nd. The only other Ring-necked Duck was a drake at Ham Wall (Somerset) on 22nd, and other wildfowl interest came in the form of the drake Lesser Scaup still at Cuckney (Notts) to 20th.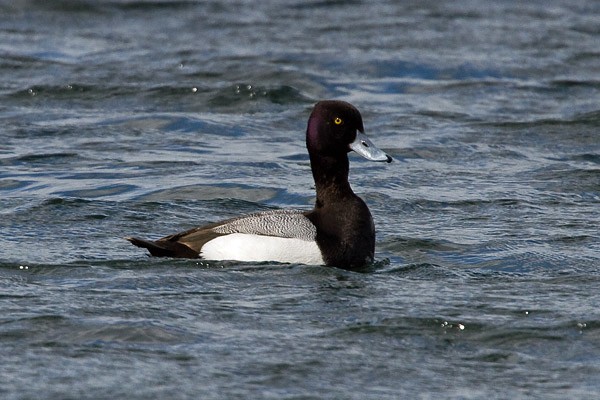 Lesser Scaup, Cuckney Dam, Nottinghamshire (Photo: Michael Powell)
Scotland saw two drake Surf Scoters over the week, one off Gruinard Bay (Highland) briefly on 21st and a more accessible bird at Portobello and Musselburgh (Lothian) on 20th–25th, with up to 140 Velvet Scoters. The only King Eider was the summering bird on the Ythan estuary (Aberdeenshire) to at least 21st, and also on the sea, the only White-billed Diver was again off Tacumshin (Wexford) to 24th.
The Purple Heron stayed put at Minsmere (Suffolk) to 25th, there was an all-too-brief bird at Tophill Low (East Yorks) on 22nd and one flew over Pegwell Bay (Kent) on 23rd. In Ireland, one remained at Boomer's Reservoir (Antrim) to 19th. It was another good week for Night Herons: one remained at Earlswood Lakes (Warks) all week and others were reported from Slimbridge (Glos) on 19th (NB: would any of the finders of this bird please contact the county recorder) and Tacumshin (Wexford), with belated news of one near Leek (Staffs) on the evening of 19th, the first in the county since 2000.
Apart from a late report of two at Walmsley Sanctuary (Cornwall) on 17th, there was a decidedly northern bias to reports of Great White Egrets this week. South of the border, birds were at Martin Mere (Lancs) on 19th and Hodbarrow RSPB (Cumbria) on 21st, and north of the border birds were at Iverary (Argyll) on 21st and Tain and Loch Eye (Highland) on 21st–25th.
Spoonbills were once again widespread in England, from East Chevington (Northumberland) to Oare Marshes (Kent) and from Minsmere (Suffolk) to Martin Mere (Lancs). Most were singles, though there were up to 11 at Cley Marshes (Norfolk) on 19th, and four at Coatham Marsh (Cleveland) on 20th may have been the same as at East Chevington and Druridge Pools (Northumberland) on 21st–24th.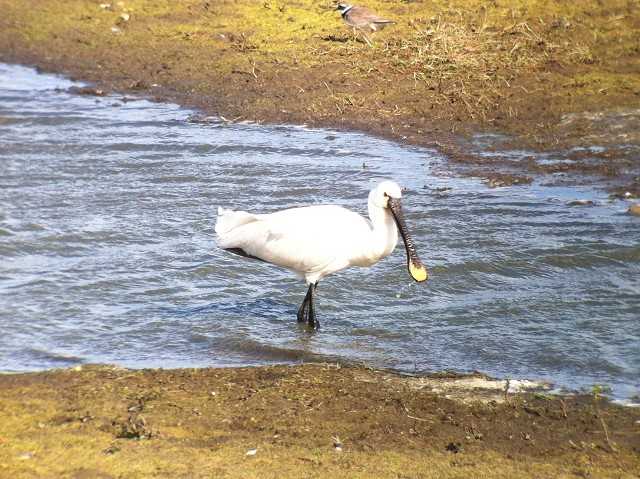 Spoonbill, Bishop Middleham, Durham (Photo: Andrew Kinghorn)
The Black Stork remained at, over more accurately over, Weedon Bec (Northants) to 21st; further records came from Worth Abbey (West Sussex) on 20th and Mynydd Ty-talwyn (Glamorgan) on 22nd, the latter the first for the county and only the seventh record for Wales. Ireland's White Stork was at Dundalk (Louth) this week, on 19th, and the Scottish escapee was reported from various sites around Edinburgh (Lothian) all week. Elsewhere, singletons flew over the London Wetland Centre and Slimbridge (Glos) on 25th.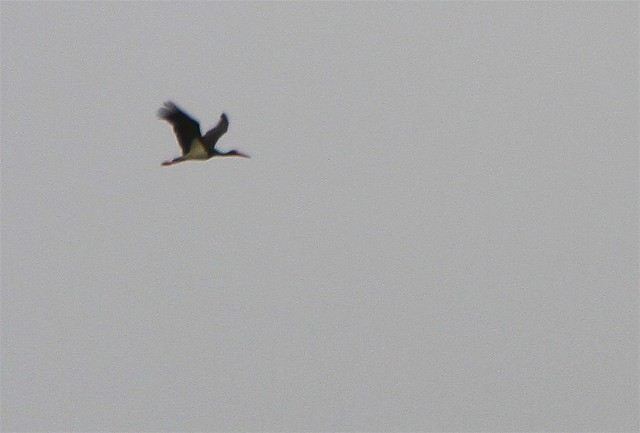 Black Stork, Mynydd Ty-talwyn, Glamorgan (Photo: Jeff Slocombe)
With all of the Rough-legged Buzzards now seemingly departed, other raptors of note included the juvenile White-tailed Eagle at Ruckland (Lincs) on 21st–24th, which may have been the bird seen heading north over Flamborough Head (East Yorks) on 19th. On Orkney, a possible at Wyre on 24th was confirmed the next day. There were then five reports of Black Kites: at Folkestone (Kent), Sibton (Suffolk), Egilsay (Orkney), Boscastle (Cornwall) and one in off the sea at Great Yarmouth (Norfolk) on 24th. The juvenile Northern Harrier was still in the Tacumshin (Wexford) area to 24th at least.
There were several new Red-footed Falcons, including a long-stayer at Meare Heath and Ham Wall (Somerset) all week. Others were rather briefer, reported from Margate (Kent) and Uckfield (East Sussex) on 19th, Plemont (Jersey) on 20th, Coverack (Cornwall) on 21st and Stodmarsh (Kent) on 24th.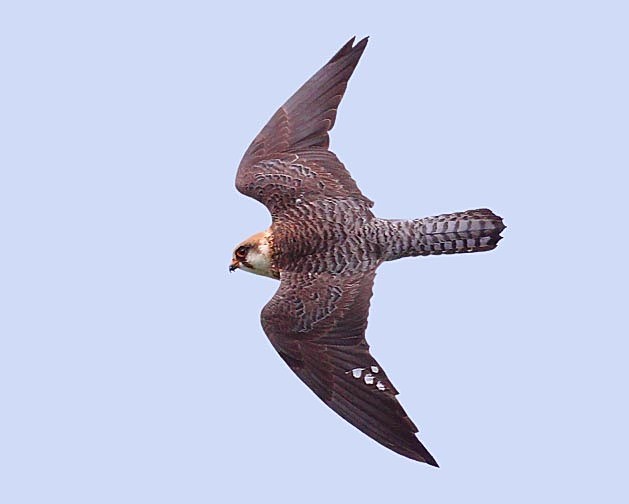 Red-footed Falcon, Ham Wall RSPB, Somerset & Bristol (Photo: Jeff Hazell)
Perhaps one of the recent wandering group of four, a lone Black-winged Stilt was at Radipole Lake (Dorset) briefly on the morning of 20th.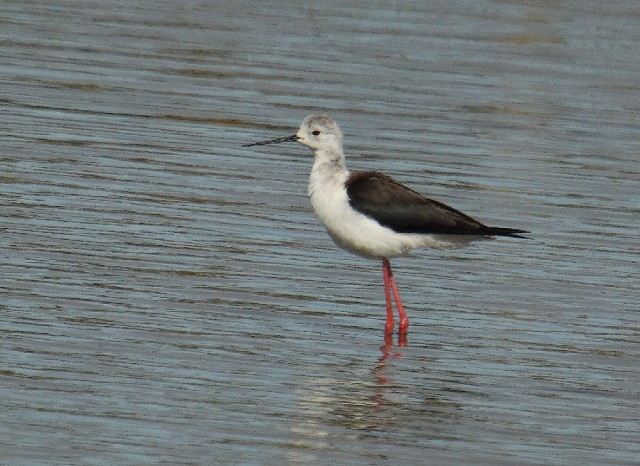 Black-winged Stilt, Radipole Lake RSPB, Dorset (Photo: Kath Everitt)
The Kentish Plover was again in Pegwell Bay (Kent), at Shell Ness on 21st, although its apparent disappearance for extended periods is surprising. In Ireland, the first-summer American Golden Plover remained at Tacumshin (Wexford) to at least 24th, with one Buff-breasted Sandpiper also remaining to 23rd.
A single Pectoral Sandpiper at Spurn (East Yorks) on 21st was the first ever spring record for the site. The only others were at Grimley (Worcs) on 23rd–24th and briefly at Walmsley Sanctuary (Cornwall) on the evening of 24th.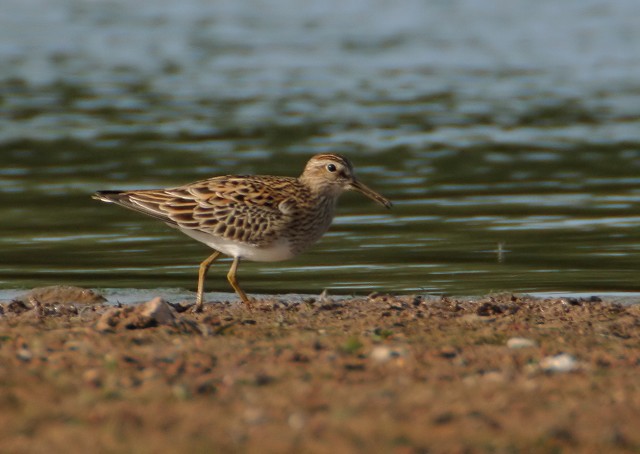 Pectoral Sandpiper, Grimley, Worcestershire (Photo: Chris Cook)
Other waders of note were Lesser Yellowlegs at Baile Gharbhaidh, South Uist (Outer Hebrides) on 20th and at Kilbaha (Clare) on 21st, whilst Cheshire's Broad-billed Sandpiper was at Hoylake (Cheshire) to 20th.
Passage Red-necked Phalaropes remained at Burnham Norton (Norfolk) to 21st Frampton Marsh (Lincs), where last week's male was replaced by a female on 24th–25th. Others were then at Easington (East Yorks) on 23rd and Blithfield Reservoir (Staffs) and Middleton Moor (Derbys) on 24th, the latter still a very rare bird in the county. One at Killiechronan, Mull (Argyll) on 23rd was a first for the island.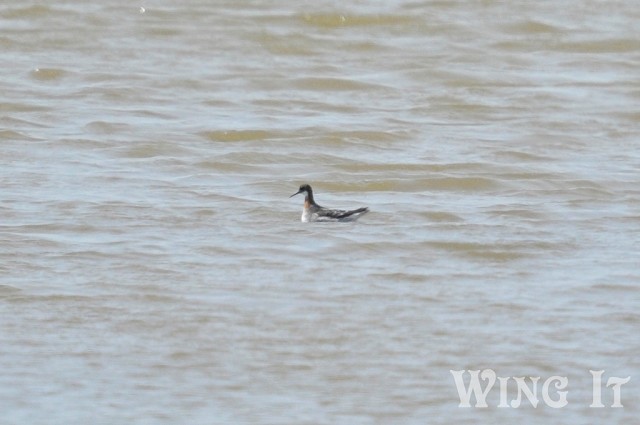 Red-necked Phalarope, Burnham Norton, Norfolk (Photo: Stephen Allen)
There are now very few remaining big white-winged gulls. Just four Glaucous Gulls were reported, from Rubha Ardvule, South Uist (Outer Hebrides), Brora (Highland), Youghal Bridge (Waterford) and Spurn (East Yorks). There were just three Iceland Gulls to be seen: juveniles at Kidwelly (Carmarthen) and Fair Isle on 20th and a third-winter at Stranraer (Dumfroes & Galloway) on 23rd. Rather bizarrely, there were twice as many Bonaparte's Gulls over the week. First-summers remained on the Hayle estuary (Cornwall) to 21st, on the Ythan estuary (Aberdeenshire) to 20th, at Borve, Lewis (Outer Hebrides) to 22nd and around Exmouth, Starcross and Bowling Green Marsh (Devon) to 24th. New first-summers were at Cley and Salthouse (Norfolk) on 22nd–24th and Porthmadog (Gwynedd) on 23rd–25th.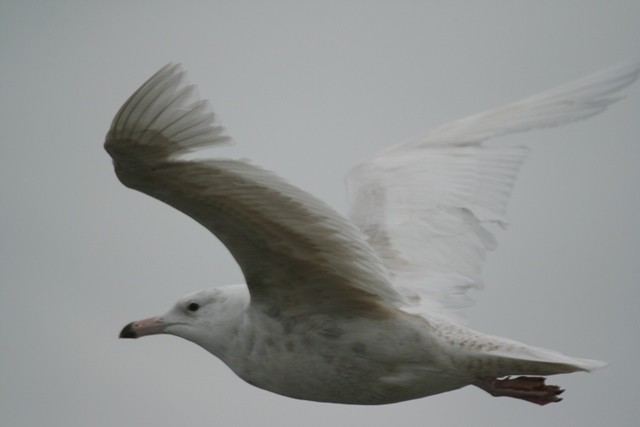 Glaucous Gull, South Uist, Outer Hebrides (Photo: Gordon Hodgson)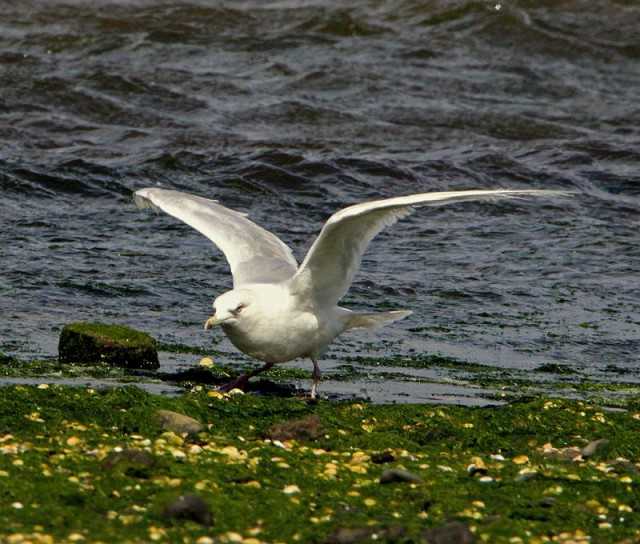 Iceland Gull, Loch Ryan, Dumfries & Galloway (Photo: Chris Baines)
There was a single record of Ring-billed Gull, a first-summer at Clivocast and Uyeasound, Unst (Shetland) on 20th–22nd, and three records of Caspian Gull, all first-summers, in Norfolk, Suffolk and Lincolnshire. A tantalisingly brief first-summer Ross's Gull was off Port Carlisle (Cumbria) in the late afternoon of 24th, but not since. There is just one previous record for the county, at Workington in June 1994. Also of note was a first-summer American Herring Gull at Tralee (Kerry) on 25th.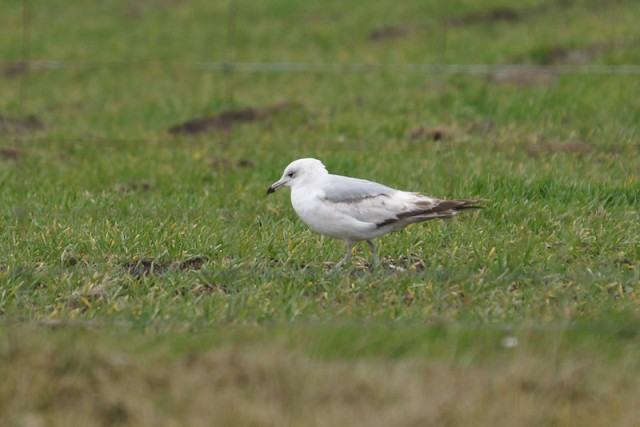 Ring-billed Gull, Uyeasound, Unst, Shetland (Photo: Mike Pennington)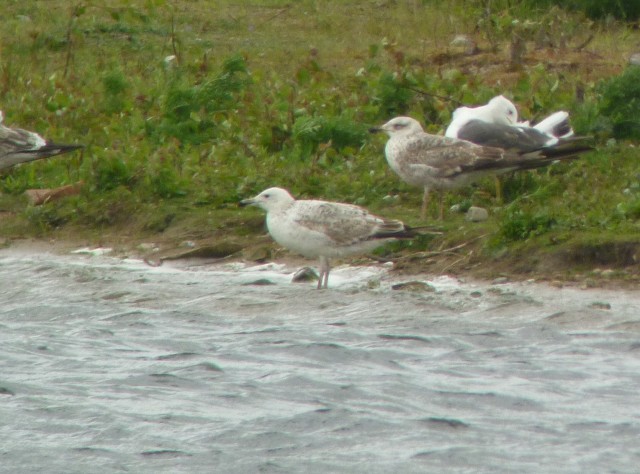 Caspian Gull, Whisby Nature Park, Lincolnshire (Photo: Dean Nicholson)
With no reports of either White-winged Black Tern or Gull-billed Tern, the only tern of note was the Forster's Tern again at Tacumshin (Wexford) on 21st. Skua passage continued to impress, most notably from 23rd, with the emphasis shifting from Pomarine to Long-tailed. A count of 63 Long-tailed Skuas past Bowness-on-Solway (Cumbria) was surpassed by a massive count of 398 past the harbour at Saltcoats (Ayrshire) in the afternoon on 23rd, with a further 212 in just two and a half hours the next day. The 24th also saw an equally notable 296 past Aird an Rùnair, North Uist (Outer Hebrides), along with 18 Pomarine Skuas, an adult Sabine's Gull and two Red-necked Phalaropes. The only inland record of note was an adult Pomarine Skua at Messingham Sand Quarry (Lincs) on 23rd. Other adult Sabine's Gulls were also reported past Mull, Tiree and Machrihanish (Argyll) on 23rd and 24th and one was seen from the Inishboffin ferry (Galway) on 24th. Other notable seabirds included a Cory's Shearwater reported past Exmouth (Devon) on 21st, and Balearic Shearwaters past sites in Scilly, Cornwall, Devon, Dorset, East Sussex, Wicklow and Jersey.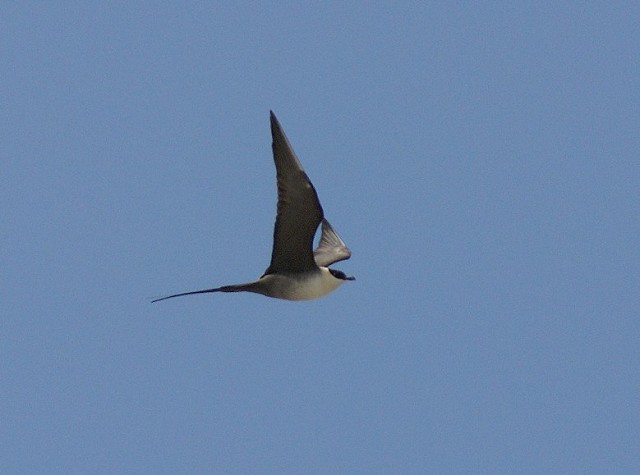 Long-tailed Skua, North Uist, Outer Hebrides (Photo: Steve Duffield)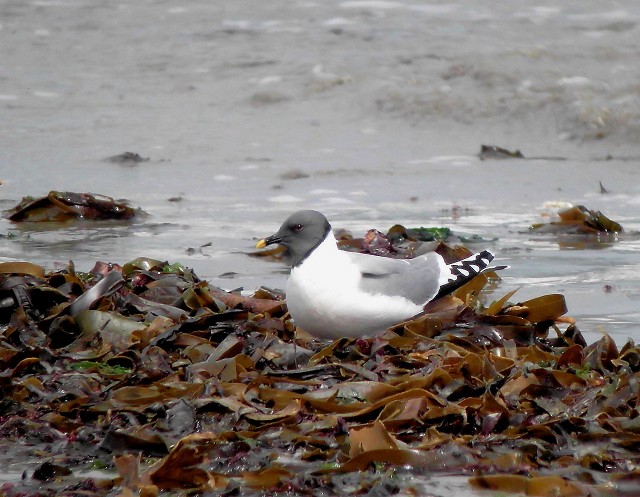 Sabine's Gull, Machrihanish (village), Argyll (Photo: Eddie Maguire)
The Outer Hebrides Snowy Owl moved north this week, seen at Uig, Lewis on 18th–21st.
With plenty of records of Pallid Swift in most coastal counties from Northumberland to Dorset, it was perhaps surprising that Sussex (East or West) had to wait so long for its first, so one reported at Bexhill (East Sussex) on 23rd will take some consideration. Quite coincidentally, another potential county first was at Grafham Water (Cambs) for just an hour on 22nd. There are very few inland records of Pallid Swift, the only previous record from a land-locked county being at Willington (Derbys) in August 1998. There was also a late Alpine Swift, over Great Bromley (Kent) on 19th.
There were just three reports of Bee-eaters over the week, singletons over Margate (Kent) on 19th, Portland (Dorset) on 25th and Broadford, Skye (Highland) on 24th. There were also just single records of Wryneck, in Dublin on 21st, Hoopoe, on Lundy (Devon) on 20th, and Short-toed Lark, on St Mary's (Scilly) to 20th. Also hanging on were two Shore Larks at Cley Marshes (Norfolk) to 20th, with one still to 24th; Cley was the only site hosting the species this week.
The Tawny Pipit remained at Easington (East Yorks) all week. Grey-headed Wagtails were present on Fair Isle on 19th–20th and Portland (Dorset) on 20th and a further possible was at Cley Marshes (Norfolk) on 21st. Whilst the male white-spotted Bluethroat continued to draw a steady stream of visitors at Welney (Norfolk) all week, others were briefly at Oare Marshes (Kent) on 21st and on Fair Isle on 22nd, the latter a fly-by seen from the end of a descent rope!
As if Spurn hadn't yet had its fill of Red-rumped Swallows, two different birds headed south along the peninsula on 19th, with other singletons around St Mary's (Scilly) on 20th–23rd and over Chamber's Wall (Kent) on 22nd.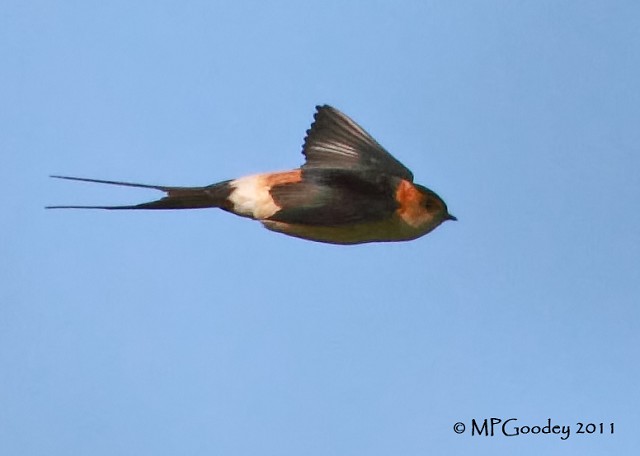 Red-rumped Swallow, St. Mary's, Isles of Scilly (Photo: anon)
Just as we thought we were Waxwing-free, one last bird lingered, present at Hughenden Valley (Bucks) on 20th.
On the warbler front, the male Eastern Subalpine Warbler remained on Fair Isle to 20th, with an Icterine Warbler there on 22nd, and the singing male Savi's Warbler continued to do just that at Lodmoor (Dorset) all week.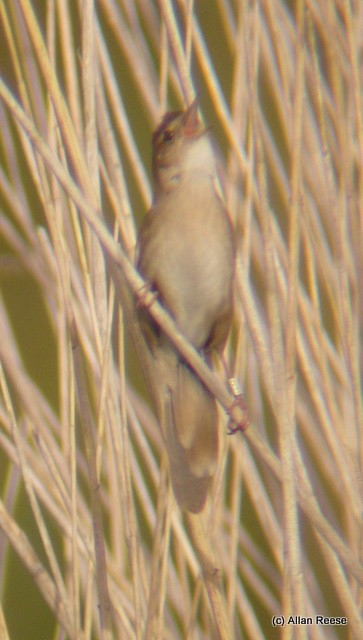 Savi's Warbler, Lodmoor RSPB, Dorset (Photo: Allan Reese)
Two Woodchat Shrikes remained into the week, by the Gann estuary (Pembrokeshire) and Sandwich Bay (Kent), both to 19th, and there was a new bird on Bardsey (Gwynedd) on 20th–24th. Scilly's first record of Balearic Woodchat Shrike, a first-summer male, also remained on St Martin's to 19th. There was also an unconfirmed report of a late Great Grey Shrike, at Coven (Staffs) on 20th.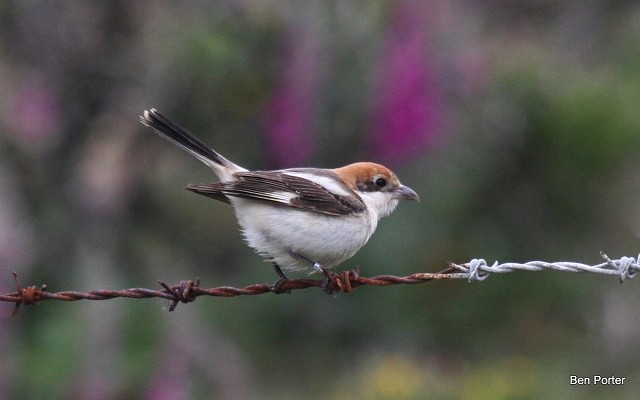 Woodchat Shrike, Bardsey Island, Gwynedd (Photo: Ben Porter)
There were two reports of Serins, both females, at The Needles (Isle of Wight) on 24th and over Corbiere (Jersey) on 25th. There were then three reports of Common Rosefinch: males on bird feeders at Dervaig, Mull (Argyll) on 22nd–23rd, the second island record, and at Walsey Hills (Norfolk) on 23rd–24th, and another briefly at Verne, Portland (Dorset) on 25th.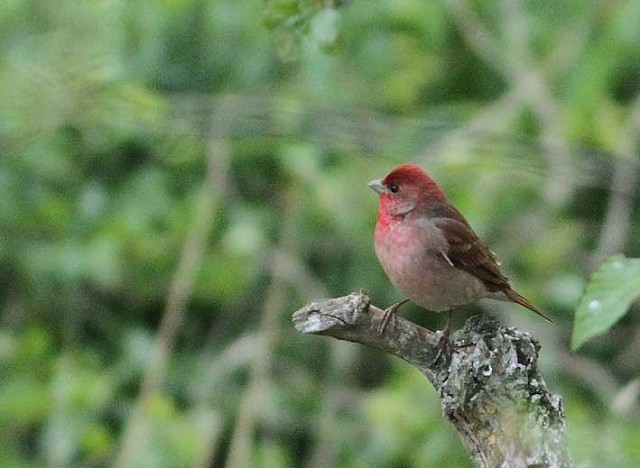 Common Rosefinch, Walsey Hills NOA, Norfolk (Photo: Penny Clarke)
A male Rustic Bunting at Filey (North Yorks) on 21st–22nd was the first in the county since one at the same site in March 2001. There were also three on Shetland: at Skaw, Unst on 20th–21st, on Fair Isle on 21st–23rd and at Esha Ness on 21st. Last but not least, there was a report of an Ortolan Bunting at Cley Marshes (Norfolk) on 25th.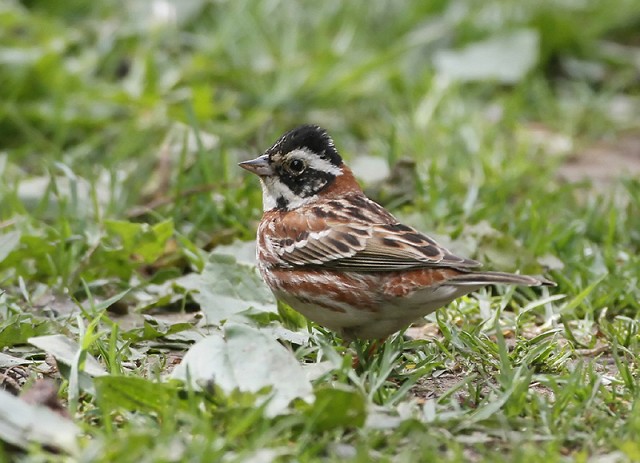 Rustic Bunting, Filey, North Yorkshire (Photo: Dave Mansell)
Photo of the Week: 19th-25th May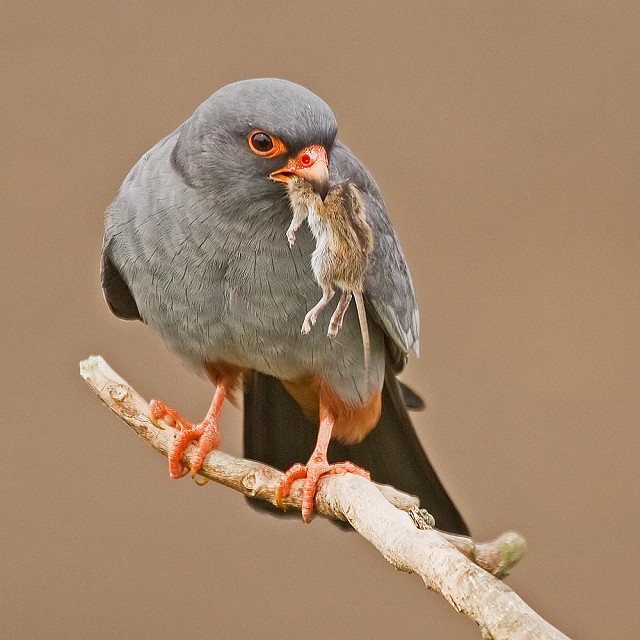 Red-footed Falcon, Hungary (Photo: Garth Peacock)
With over 700 photo uploads over the last six years, Garth Peacock is a veteran BirdGuides contributor. Most of Garth's images were taken in the counties around his Cambridgeshire base, but his trips further afield have also generated some great shots. Recently, a trip to Hortobágy in Hungary gave him the opportunity to boost his image collection with some superb photos of the local specialities. Our favourite is this well-composed image of a Red-footed Falcon with prey isolated against a plain background. This is an image that works on many different levels: stunning bird, interesting behaviour, great colours, and so on, but an often-overlooked aspect is the use of angles to add depth. Many bird photographers aim for the field-guide-style sideways-on poses, but these can appear 'flat' and uninteresting. In Garth's image, tracing the lines along the perch, up the legs, up the body, up the neck and then down through the falcon's eye-line and prey results in a complex path of diagonals that reveal why some images appear to leap off the screen more than others and make you feel as though you were actually there.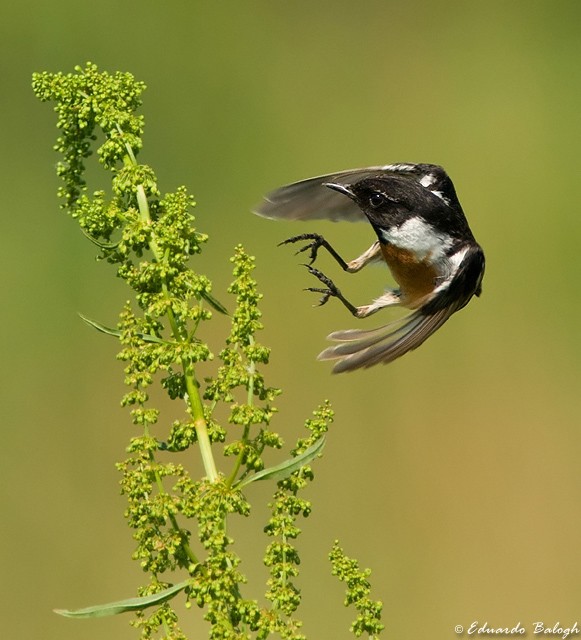 European Stonechat, Hungary (Photo: Eduardo Balogh)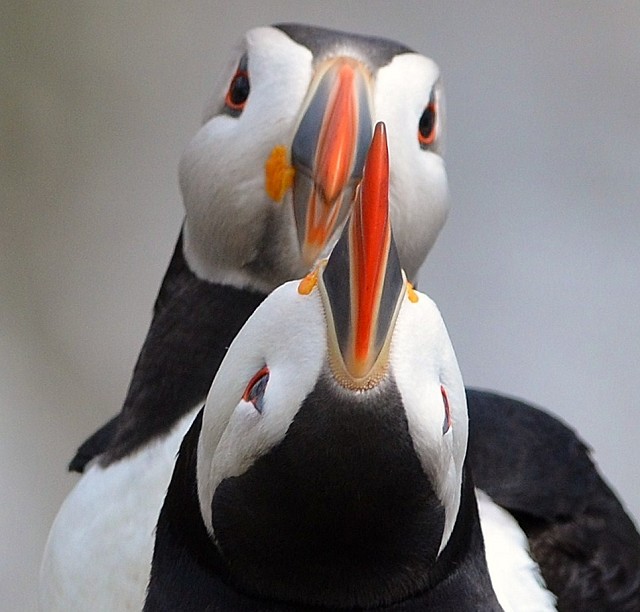 Puffin, Farne Islands, Northumberland (Photo: Morgan)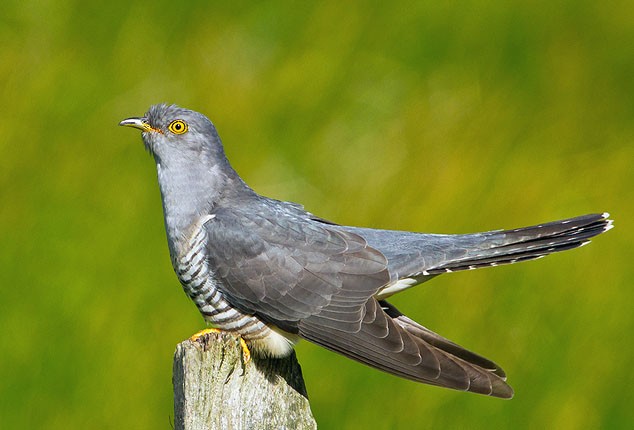 Cuckoo, undisclosed site, Worcestershire (Photo: Stuart Andrews)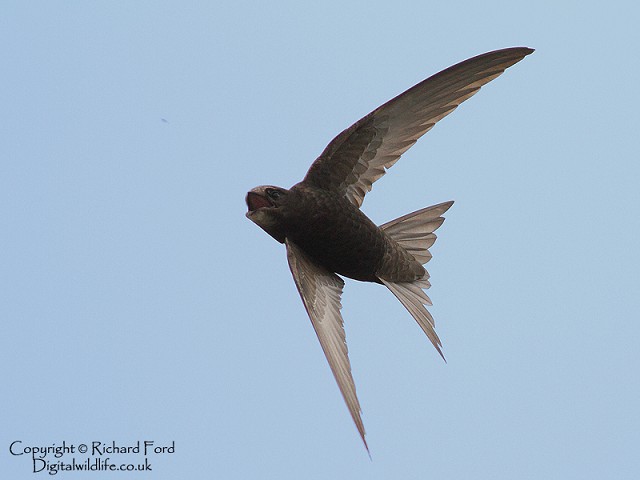 Common Swift, Pennington Marshes, Hampshire (Photo: Richard Ford)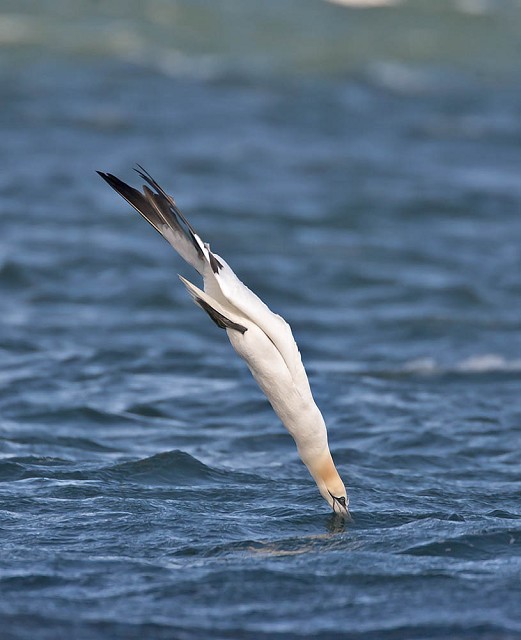 Gannet, Fife Ness, Fife (Photo: John Anderson)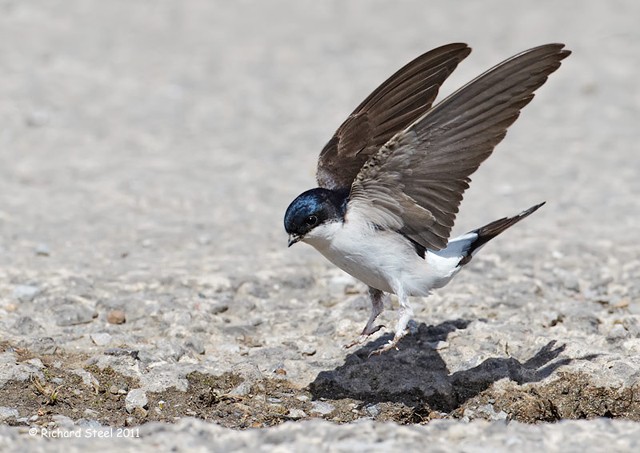 House Martin, Mold, Clwyd (Photo: Richard Steel)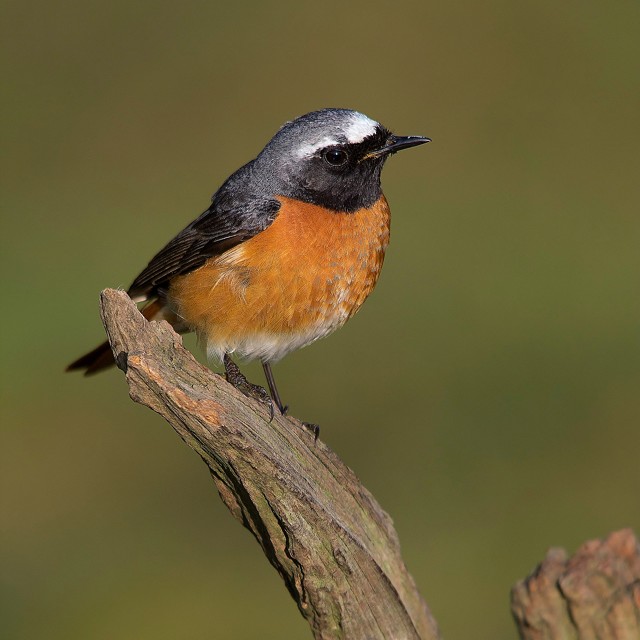 Common Redstart, undisclosed site, Worcestershire (Photo: Mr Clive Daelman)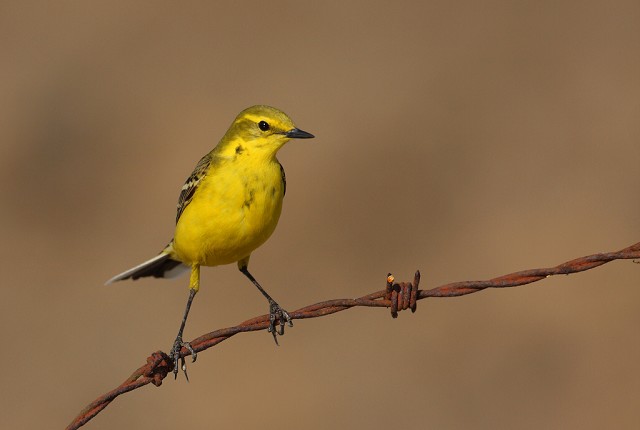 Yellow Wagtail, private site, Hertfordshire (Photo: Daniel Trim)

Common Snipe, undisclosed site, Durham (Photo: John Power)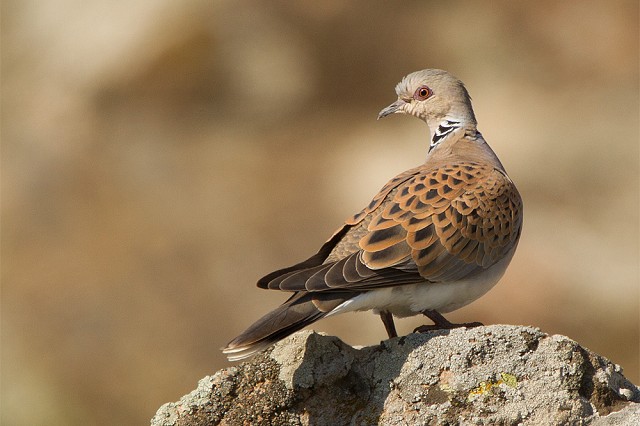 Turtle Dove, Greece (Photo: Jamie MacArthur)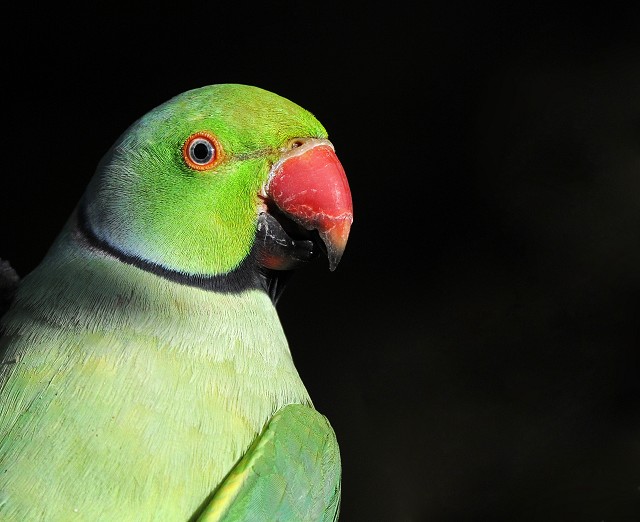 Ring-necked Parakeet, Fressingfield, Suffolk (Photo: Jon Evans)

Lapwing, Summer Leys LNR, Northamptonshire (Photo: Ben the Plumber)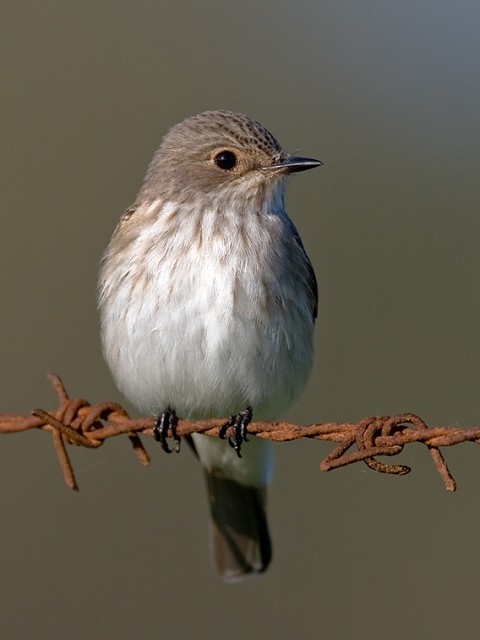 Spotted Flycatcher, Greece (Photo: Tom Melton)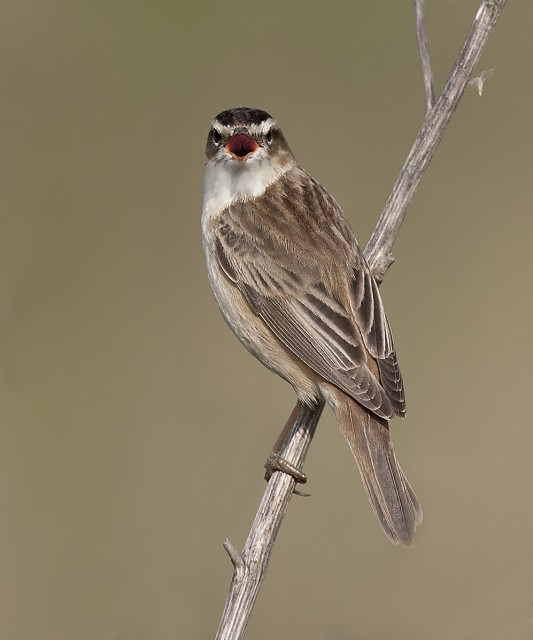 Sedge Warbler, undisclosed site, Suffolk (Photo: Chris Darby)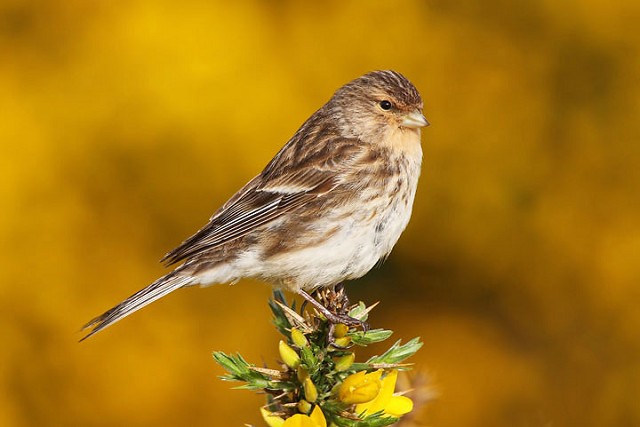 Twite, North Uist, Outer Hebrides (Photo: John Dickenson)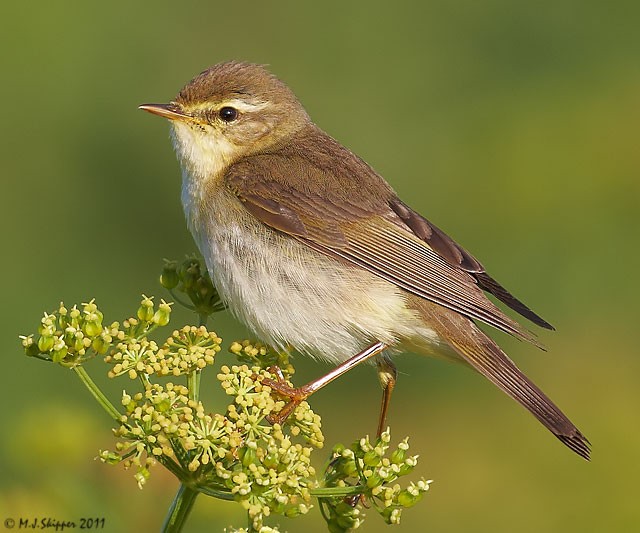 Willow Warbler, Morston, Norfolk (Photo: Mark Skipper)