The week at a glance
As another cold, unsettled and generally uninspiring April week passes by, the ornithological dynamism (and warm temperatures!) experienced during March seems a very long time ago. For the first time in many a week, it was difficult to pick a 'star bird' out of the pack, although further wandering Black-winged Stilts and a rather impressive passage of Arctic Terns ensured that, in a week where southern areas were threatened by drought and flooding simultaneously, there was still some excitement to be found.
Rather unsurprisingly for mid-April, Scotland dominated the rare goose headlines. Two new birds were found among northbound Pink-feet: a Ross's was at Forres (Moray/Nairn) during the morning of 24th, while a Red-breasted pitched up in roadside fields at Brora (Highland) that evening. Both lingered until 25th. Meanwhile, a second Red-breasted was still with the Solway Barnacles at Loaningfoot (Dumf & Gall) on 24th, and a Snow Goose appeared at Loch Leven (Perth & Kinross). Six white morphs, including a Darvic-ringed individual, at Wasbister (Orkney) on 23rd were apparently from a feral population in Germany, and had earlier been seen flying north at East Newton (E Yorks) on 20th and Mire Loch (Borders) the following day.

Red-breasted Goose, Brora, Highland (Photo: Chris Griffin)
A Richardson's Canada Goose remained on the Outer Hebrides, this time appearing at Aird an Rùnair, N. Uist on 21st, while another at Llanishen Reservoir (Glamorgan) on 22nd was either the Slimbridge (Glos) bird (there on 24th) or that from Chew Valley Lake. A Todd's Canada Goose was seen at Ennis (Clare) on 22nd.

Richardson's Canada Goose, Chew Valley Lake, Somerset & Bristol (Photo: Gary Thoburn)
In addition to the aforementioned Snow Goose, Loch Leven (Perth/Kinross) also scored a pristine drake Blue-winged Teal on 22nd–23rd. It would be tempting to suggest that this is the bird seen in Clyde last week, but this isn't the case — their head patterns appear considerably different. Meanwhile, the female lingered at Walmsley Sanctuary (Cornwall) throughout. Eight drake Green-winged Teal included new birds at Hornsea Mere (E Yorks) on 22nd–24th, Welney (Norfolk) on 23rd and Blithfield Reservoir (Staffs) on 24th. Others remained on Fair Isle (Shetland) and at Loch of Strathbeg (Aberdeenshire) to 21st, Tacumshin (Wexford) to 22nd, and Loch Gruinart, Islay (Argyll) to 23rd. A further bird was reported from Marshside (Lancs) on 21st.

Blue-winged Teal, Loch Leven, Perth & Kinross (Photo: John Nadin)
Glamorgan's ever-present drake Lesser Scaup was still performing well at Cosmeston Lakes on 23rd, although it had moved down the River Taff to Cardiff Bay by 24th. A drake Ring-necked Duck replaced early April's Falcated at Cross Lough, Mullet (Mayo) on 20th–21st, while the Lincolnshire drake was again at Kirkby-on-Bain Gravel Pits on 24th and the Cornish bird remained at Stithians Reservoir to 22nd. Females were again on Benbecula (Outer Hebrides) on 19th and at Hatfield Moors then Blaxton (S Yorks) on 21st–22nd.

Ring-necked Duck, Kirkby on Bain GPs, Lincolnshire (Photo: Trevor Gunby)
Up in Highland, the drake Surf Scoter remained off Portmahomack to 21st at least, although messages regarding an "aberrant drake Common Scoter with extensively yellow bill" perhaps cast some doubt over last week's Black Scoter report. A female King Eider in The Wash somewhere off Leverton Lucasgate (Lincs) will be the second county record when accepted, while the drake continued on the Ythan Estuary (Aberdeenshire) throughout.

King Eider, Ythan Estuary, Aberdeenshire (Photo: Finlay Jolliffe)
White-billed Divers remained off Burghead (Moray/Nairn) all week, with two, possibly three, on 19th–20th. Two remained off Port Skigersta, Lewis (Outer Hebrides) and the Aberdeenshire individual was still off Portsoy on 22nd.
A male Little Bittern on the Teifi Marshes (Pembrokeshire) on 19th–20th stole the show from the lingering Purple Heron at Seafield (Waterford), which was still there early on. A ringed Night Heron seen in a Windley (Derbys) garden on 15th was belatedly reported on 19th. Although photos are not yet available, it seems reasonable to speculate that this could well be the Dutch-ringed escapee present in Warwickshire in January. Cattle Egrets remained at Bannow Bay (Wexford) to 21st and Walmsley Sanctuary (Cornwall) to 24th and a new bird was at Burnham Overy (Norfolk) on 25th. Meanwhile half-a-dozen Great White Egrets included a new bird in the notable location of Munlochy Bay (Highland) for a few hours on 24th.

Little Bittern, Welsh Wildlife Centre & Teifi Marshes NR, Pembrokeshire (Photo: Mike Young-Powell)
Another bewildering array of White Stork records was headlined by belated news (reported on 22nd) of an astonishing flock of nine following the plough in a field near Abberley (Worcs) on 17th. The farmer managed some terrible-yet-gripping photographs from the cab of his tractor, which have apparently been sold to the national press for publication — keep your eyes peeled! Six of these birds were then picked up flying high west over Colwyn Bay (Conwy) late morning on 23rd, being tracked northwest over nearby Llandudno before being lost once more; no doubt the observers must have been rubbing their eyes in disbelief! News then emerged that they had been seen in a ploughed field at Holywell (Clwyd) the previous day, while a single bird flying over fields near Crewe (Cheshire) on 24th could also have been part of the original flock. Two more near Gosberton (Lincs) for a couple of days to 24th were presumably the pair seen in Yorkshire earlier in April, while flyover records from West Sussex and Surrey on 20th–21st perhaps account for the bird that spent a few hours in fields near Wool (Dorset) on 23rd. A further bird at Bishop Middleham (Durham) and several other nearby sites on 22nd–23rd no doubt refer to the long-staying escapee seen sporadically in the area.

White Stork, Wool, Dorset (Photo: Mark Eggleton)
Three Glossy Ibises remained at Marloes Mere (Pembrokeshire) throughout the week, with a further Welsh bird again at Foryd Bay (Gwynedd) on 22nd. The Galway bird was again at Mullaghmore Lake on 23rd, while another was again at Timoleague (Cork) on 21st. Aird an Rùnair, N. Uist (Outer Hebrides) continued to entertain a single bird throughout. English birds were still in Dorset, Cleveland and Lancashire, with a fourth again at Arnside (Cumbria) on 25th.
Content continues after advertisements

Glossy Ibis, Balranald RSPB, N.Uist, Outer Hebrides (Photo: Willie)
Last week, we speculated as to where the Lincolnshire Black-winged Stilt would end up next. Well, the answer was not very far — it settled down a short hop to the east, at Frampton Marsh, for the entirety of the week. Three more were new in at Exminster Marshes (Devon) on 25th, as were two at Clayhanger Marsh (W Mids) on 19th. The latter pair made a 180km overnight dash northwest to Leighton Moss (Lancs), where they spent the day on 20th, although they had departed by the following morning. Another pair was at St. Ouen's Pond (Jersey) on 21st.

Black-winged Stilt, Exminster Marshes RSPB, Devon (Photo: Charlie Fleming)
A male Kentish Plover at Ynyslas (Ceredigion) on 20th was the first confirmed 2012 record of this increasingly scarce species, while an American Golden Plover flew over Tacumshin (Wexford) with its European counterparts the same day. The two moulting Long-billed Dowitchers remained at Meare Heath (Somerset) throughout, with the Kidwelly (Carmarthenshire) still there on 20th. A report of one with Black-tailed Godwits in Belfast (Antrim) on 19th could explain why just one remained at The Cull (Wexford) on 21st.
Its moult into a rather attractive summer plumage complete, the Spotted Sandpiper at Chew Valley Lake (Somerset) wasted no time in heading off north — it was last seen on 21st. Conversely, the Greater Yellowlegs stayed put at Loch of Strathbeg (Aberdeenshire) all week. A Pectoral Sandpiper was an early find at Stretton Sugwas Pits (Herefordshire) on 21st, lingering a couple of days to 23rd.

Spotted Sandpiper, Chew Valley Lake, Somerset & Bristol (Photo: Gary Thoburn)
A further report of the juvenile Thayer's Gull at Elsham (Lincs) during the early morning of 19th remained unsubstantiated, for the bird was not seen again. Otherwise, it was quiet on the gull front: two second-summer Ring-billed Gulls continued at Groomsport (Down) and Lochgilphead (Argyll) respectively, while a solid scattering of immature Iceland Gulls across the country suggests that 2012 will be a bumper year for summering individuals.

Ring-billed Gull, Loch Gilp, Argyll (Photo: Jim Dickson)
It was, however, a fantastic week for Arctic Terns. Following the first northward pulse of birds late last week, the 'main event' took place on 24th–25th. Many hundreds of birds were noted at waterbodies across much of England, with some of the more impressive counts including 125+ at the Cotswold Water Park (Wilts) and 100+ at Draycote Water (Warks) and Marbury Country Park (Cheshire), with lesser counts of up to 80 birds noted at plenty of sites. Among these were small numbers of Black and Little Terns, as well as excellent numbers of Little Gulls — for example, 46 of the latter were at Staines Reservoirs (Surrey). A probable Whiskered Tern reported at Long Eaton Gravel Pits (Derbys) during the evening of 25th quickly disappeared.
As winds picked up again during the week, a flush of northbound Pomarine Skuas was noted along the south coast from Cornwall east to East Sussex, with site counts peaking at seven past Dawlish Warren (Devon) on 25th. One or two were also noted off Suffolk, Lancashire and Ayrshire. An adult Sabine's Gull past Cape Clear (Cork) on 24th was a good spring record, while unseasonable large shearwater reports concerned a Cory's past Selsey Bill (W Sussex) on 21st, and a couple of Great Shearwaters at the mouth of Loch Gairloch (Highland) on 23rd.
Five new Hoopoes were seen this week: a second individual joined the remaining bird at Sandwich Bay (Kent) on 21st, and another was in the county at Hythe on 19th. Others were at Barton on Sea (Hants) on 19th, Fair Isle (Shetland) on 21st and Caerleon (Gwent) on 23rd. A small arrival of Wrynecks to the Northern Isles included five on Shetland on 21st and another on North Ronaldsay (Orkney) on 20th–22nd; a further bird was at Boyton Marshes (Suffolk) on 25th. Two Alpine Swifts were reported on 24th: a probable over Minsmere (Suffolk) briefly and another at Kilcoole (Wicklow).
Also brief was a summer-plumaged Red-throated Pipit at New Passage (Glos), and the Richard's Pipit dropped in at Kelling (Norfolk) again on 20th. The male Ashy-headed Wagtail was still at Burton Mere (Cheshire) on 19th, while a confusing series of reports from Cley (Norfolk) on 24th–25th suggested that at least one male, either an Ashy-headed or Spanish Wagtail, was present around the scrapes. Red-rumped Swallows have been noticeably absent so far this spring, so a brief bird at Pulfin & High Eske Nature Reserve (E Yorks) on 21st would have been popular had it lingered.
The first Savi's Warbler of the year spent about five minutes reeling from a small patch of reeds on the coast at Steart (Somerset) during the morning of 21st, although was not heard again. In contrast, the long-staying Yellow-browed Warbler at Warndon (Worcs) was still around to 21st at least, and was heard singing at times. Rather confusing were a couple of chiffchaffs: the identification of the Apuldram (W Sussex) bird of last week was seemingly resolved as a Common, only to be replaced by a more convincing candidate for Iberian at Castor Hanglands (Cambs) from 22nd. However, appearance didn't appear to live up to vocals and, when the bird started giving snippets of Common Chiffchaff, doubt started to creep in. Identification remains unclear....
Scotland enjoyed an excellent week for northbound Great Grey Shrikes, reflecting an apparent exodus from wintering sites further south. At least eight were scattered across Shetland, including two at Skaw, Whalsay on 21st–23rd. Further new birds were located in Borders (2), Lothian and Aberdeenshire. One at Filey (N Yorks) on 22nd may or may not be the same bird seen there in early April. Also in Shetland, a good showing of migrant Hawfinches included three at Sandgarth.
The Devon Little Bunting was not noted this week, but another was found on the common at Landguard (Suffolk) during the morning of 24th. However, it failed to linger more than a few hours.
Photo of the Week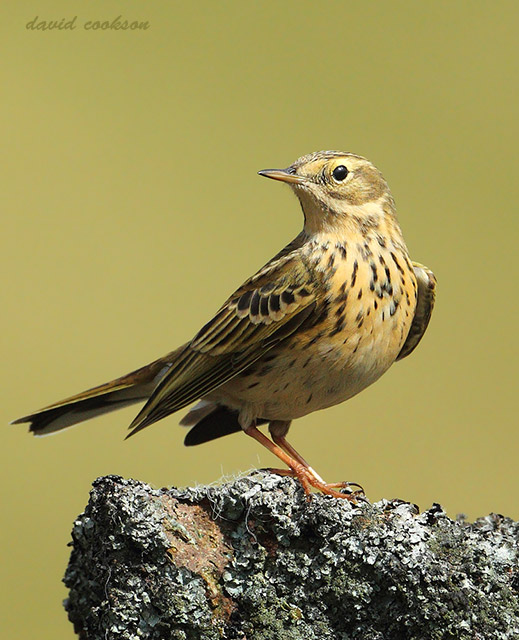 Meadow Pipit, Alwinton, Northumberland (Photo: David Cookson)
As a classic 'little brown job', Meadow Pipits are very difficult to photograph in an interesting way and so, until now, have never featured in our Photo of the Week choices. For a bird photographer to create an arresting image of such a species is doubly challenging, but this feat has certainly been achieved by David Cookson. So how did he manage it? To start with, David has caught up with his subject in good light that brings out the bird's warm colours. He has captured it on a richly-textured perch, with the light direction bringing out the textures to full effect, while providing 'modelling' of the subject (i.e. the transitions between the lit and unlit areas emphasise the form of the bird). As with so many good portrait shots, a diffuse backdrop in a compatible colour eliminates distractions and makes the subject pop out of the frame. Shooting at eye level with the bird establishes rapport and, last by by no means least, a classic pose with the body facing one way and the head facing the opposite way adds a graceful curve to the centre of the well-framed composition. You know you've made it as a bird photographer when you can make a Meadow Pipit look this good!
Other notable photos

Common Buzzard, Spital, Cheshire (Photo: Steve Round)

Goldcrest, undisclosed site, Powys (Photo: Tom Melton)

European Bee-eater, Malta (Photo: Natalino Fenech)

Grasshopper Warbler, Campfield Marsh RSPB, Cumbria (Photo: Darren Robson)

Cuckoo, Two Tree Island, Essex (Photo: Mick Southcott)

Olive-backed Sunbird, Singapore (Photo: David Moran)

Common Redstart, undisclosed site, Worcestershire (Photo: Carl Day)

Sand Martin, Reculver, Kent (Photo: Marc Heath)

Great Crested Grebe, undisclosed site, Lancashire (Photo: Austin Thomas)

European Stonechat, North Wirral, Cheshire (Photo: Richard Steel)

Great Grey Shrike, Upper Hollesley Common, Suffolk (Photo: John Richardson)

Great Reed Warbler, Israel (Photo: Dave Barnes)

Dipper, Trough of Bowland, Lancashire (Photo: Martin Jump)

Ring Ouzel, Staines Moor, Surrey (Photo: Ian Curran)

Linnet, Smeale, Isle of Man (Photo: Sean Gray)

Black-winged Stilt, Chew Valley Lake, Somerset & Bristol (Photo: Rich Andrews)

Common Kestrel, Rye Harbour NR, East Sussex (Photo: Will Rawles)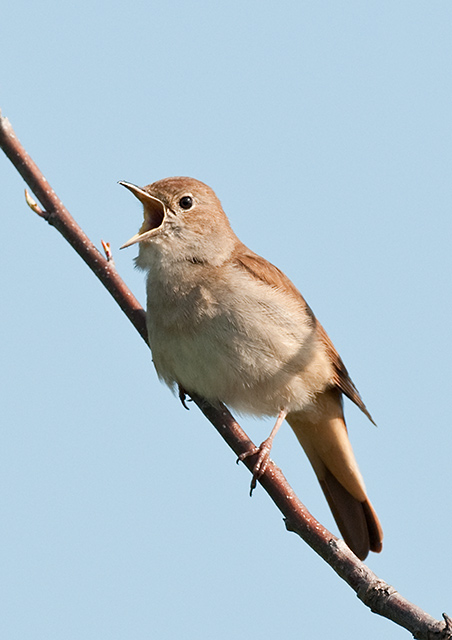 Nightingale, Two Tree Island, Essex (Photo: Steve Hiscock)

Tawny Owl, Hythe, Hampshire (Photo: Andy Pullen)