The week at a glance
The lull of last week proved short-lived as summer 2013's momentous run of form continued. The Bird News Extra page was awash with exciting reports emanating from right across Britain & Ireland as new rarities continued to tread the rulebook into the dirt — shouldn't July be a time for relaxing, not sitting panicked, dreading which far-flung location the next outstanding waif has decided to pitch down at?!
There wasn't much anyone could do about the week's rarest bird, though, irrespective of its choice of location — Fair Isle. A routine Storm-petrel ringing session overnight on Sunday suddenly exploded into life in the early hours of Monday morning. Warden David Parnaby describes the chain of events:
"Things were getting a bit quieter by around 2.40am, until Will wandered out of the ringing hut with Billy (our current John Harrison Memorial Fund volunteer) and started yelling "THERE'S A SWINHOE'S CALLING!". Noa and I ran to the far end of the net where Will was and, sure enough, chattering away just offshore was the distinctive call of Swinhoe's Storm-petrel (prior to that, the speakers had been between the bird and us, pumping out the calls of various petrel species). At this stage, Richard had seen the gathering (but not heard the shouts as he'd been too close to the other speakers!) and started heading towards us from the other net when he also recognised the call as Swinhoe's. Although the call was heard several times, apparently from the same place (possibly on a small shelf of exposed, flat rocks a few metres offshore from the net site on South Haven), the bird was not seen. At one point, it was answering back directly to the call of Swinhoe's Petrel coming from the speakers! I ran to the Obs to get sound recording equipment, but by the time I returned, the bird had flown and was not heard again or seen."
There has been no further sight (or sound) of the bird so far this week, although it may yet reappear before the summer is out — time will tell and, though the Fair Isle guys didn't see the bird, the experience must have been right up there with some of the most exhilarating on the island!
The 22nd turned out to be something of a crazy day. A seawatch at Newbiggin (Northumberland) suddenly struck gold as a Fea's-type Petrel drifted out of the fog plaguing the northest coast that morning, flying north just 100 metres offshore! Quick-thinking Gary Woodburn headed down to the shore at Beadnell and was rewarded for his perseverance as he picked up the bird sitting on the sea in the late morning. Astonishingly, he even managed some reasonable record shots as the bird got up and continued northwards — further shots and a write-up of his experience can be found on Gary's blog. The bird was later seen flying north past Staple Island in the Farnes twenty minutes later.

Fea's Petrel, Beadnell (village), Northumberland (Photo: Gary Woodburn)

Fea's Petrel, Beadnell (village), Northumberland (Photo: Gary Woodburn)
Shortly before midday, news then came from Norfolk of a possible dark-morph Booted Eagle seen over Holt Lowes. Subsequent searching produced another sighting over the tip at Edgefield at 13:40 and a further report from the area also came on 24th. Seen by well-respected birders, it seems there is certainly an interesting (though elusive!) bird of prey in the area, but whether the identification will be clinched remains to be seen. A report of an apparent first-summer Bonelli's Eagle came from Walderslade (Kent) during the afternoon on 22nd, but again went without confirmation.
Earlier in the week, great excitement had been provided by the arrival of a first-summer male Rock Thrush at St. Fergus (Aberdeenshire) during the morning of 18th. Though not the finest-looking Rock Thrush one will ever see, it was nevertheless a find of the highest order: the first Scottish record since June 1970 and also the first ever on the mainland, he was deservedly popular during his five-day stay.

Rock Thrush, St. Fergus, Aberdeenshire (Photo: Liam Reid)

Rock Thrush, St. Fergus, Aberdeenshire (Photo: Liam Reid)

Rock Thrush, St. Fergus, Aberdeenshire (Video: Steve Evans)
Scotland also hosted a wader that many have been hoping for in recent years. After three records in three years from 2002, Lesser Sand Plover (of either form) looked set to become a more frequent discovery on British shores but, since that all-too-brief bird in Lothian in July 2004, British birders have had not so much of a sniff. It was therefore highly exciting when an email from Moray & Nairn recorder Martin Cook arrived in the BirdGuides inbox, depicting a stunning male of the race mongolus (split by some as Mongolian Sand Plover) that had been photographed on the beach at Lossiemouth on 16th. Sadly, despite searching, there has been no further sign of the bird, which could be anywhere by now. The wait goes on!

Lesser Sand Plover, Lossiemouth, Moray & Nairn (Photo: Margaret Sharpe)
And the week became more exciting as the vanguards of what looks set to be a considerable autumn influx of Two-barred Crossbills began to arrive from 20th. The first was a brief juvenile at Gramborough Hill, Salthouse (Norfolk) early afternoon and was followed very quickly by another brief (yet incredibly confiding) male near Cley beach car park. Two (a male and juvenile) simultaneously turned up in the pines at Holme Dunes, while a further couple of juveniles were briefly on Havergate Island (Suffolk) and a singleton was photographed at Spurn Point (E Yorks), taking the day's tally to seven. This seemingly unusual arrival in East Anglia (why were none on Shetland, the usual location for Two-barreds' first landfall?) coincided with foggy conditions in the North Sea coupled with a gentle northeasterly breeze. As such, conditions were primed to waft these irrupting beauties from southern Scandinavia, and it was no great surprise to see the Low Countries and northern Germany also registering records.

Two-barred Crossbill, Cley next the Sea, Norfolk (Photo: John Miller)

Two-barred Crossbill, Kelling Heath, Norfolk (Photo: Trevor Williams)
On 21st, a juvenile was found inland at Lynford Arboretum (Norfolk) and it was joined by another juvenile and female to make it a trio by the end of the day. Two were reported in Kelling (Norfolk) that day, while a juvenile became reasonably reliable at nearby Kelling Heath on 22nd–24th, as a fourth individual joined the Lynford mini-flock. Shetland finally got in on the act with a female at Wester Quarff on 23rd and a juvenile on a boat off Lerwick on 24th; further females were briefly at Rimac (Lincs) and Salthouse (Norfolk) on 24th. Add to this a report of a male at Storrington (W Sussex) on 20th and the total for the week was approaching twenty, most of them in Norfolk. No doubt there will be many more to follow in the coming weeks.

Two-barred Crossbill, Wester Quarff, Mainland, Shetland (Photo: Hugh Harrop)

Two-barred Crossbill, Lynford Arboretum, Norfolk (Photo: David H Hatton)
Content continues after advertisements
In among the bedlam, an old favourite — the Farne Islands' Bridled Tern — continued to call in on Inner Farne on a daily basis throughout the week, though its timings were a little more unpredictable. A Caspian Tern at Acre Nook Sand Quarry (Cheshire) during the evening of 24th stayed until dusk, but had moved on by first light the following morning — this is the first record for Cheshire since a bird in June 1994! Elsewhere, the Gull-billed Tern continued at Tacumshin (Wexford) to 20th. A new first-summer Bonaparte's Gull was at Rye Harbour (E Sussex) on 20th; the adult remained at Heysham (Lancs) to 22nd and the long-staying Kent bird was still on the Oare Marshes on 23rd. Both Iceland and Ring-billed Gulls remained at Nimmo's Pier (Galway), with another 'Ringer' still in County Kerry.

Bridled Tern, Farne Islands, Northumberland (Photo: Colin Bradshaw)

Bridled Tern, Farne Islands, Northumberland (Photo: David Aitken)

Bonaparte's Gull, Heysham, Lancashire (Photo: Phil Boardman)
A Pacific Golden Plover was a new arrival at Burwell Fen (Cambs) on 24th, though it only hung around for a couple of hours before departing high to the southwest. Despite the close proximity to Rutland Water, photos clearly demonstrate the Burwell individual to be different (the Rutland bird was last seen on 18th). A third PGP was belatedly identified from photographs, having been seen at Rye Harbour (E Sussex) on 1st July.

Pacific Golden Plover, Rye Harbour NR, East Sussex (Photo: Mali)
Baird's Sandpiper
(
Photo: Spadgebirder
)
The week's thunderstorms certainly proved prolific for wader-watching. A
Baird's Sandpiper
(originally identified as a White-rumped Sandpiper) was a new arrival at Frampton Marsh (Lincs), with up to 20
Curlew Sandpipers
from 24th. The Lodmoor (Dorset)
White-rumped Sandpiper
was still there on 20th and a second individual was at Blennerville (Kerry) on 21st–22nd. Both
Wood
and Curlew Sandpipers were well represented from Tuesday onwards, with birds typically most numerous in eastern areas.
Temminck's Stints
were at East Chevington (Northumberland) on 19th and Saltholme (Cleveland) on 20th–23rd. An impressive twelve
Pectoral Sandpipers
continued the rich run of records for 2013, with notable records including inland records from Belvide Reservoir (Staffs) on 19th, Letham Pools (Fife) on 21st and Weir Wood Reservoir (E Sussex) on 24th; lingering birds were at Pennington Marshes (Hants) from 20th and Belfast Lough (Antrim) from 21st with last week's Rainham (London) bird last noted on 19th. In Carmarthenshire, the
Lesser Yellowlegs
was noted at the National Wetlands Centre to 21st, and as we went to press on 25th has just been reported once more.

Baird's Sandpiper, Frampton Marsh RSPB, Lincolnshire (Photo: Richard Jackson)

Pectoral Sandpiper, Pennington Marshes, Hampshire (Photo: Simon Johnson)

Wood Sandpiper, Thornwick Bay, East Yorkshire (Photo: Andy Hood)
A drake Black Duck at Killelton (Kerry) on 23rd was a fantastic find. This species' status is diminished by the presence of long-staying birds; new individuals are always very significant. Indeed, an elusive drake was present not too far away at Ventry between 2006 and 2011, although the feeling is that this is a new individual. Off Titchwell (Norfolk), the identification of an interesting first-summer drake scoter ebbed and flowed in favour of Black Scoter from 18th. Though the bird was seen until 20th, the identification remained unconfirmed due to differing opinions among observers. A single drake Surf Scoter remained off Blackdog (Aberdeenshire) to 21st; the female Ring-necked Duck was still on Lough Beg (Antrim) to 22nd and the North Yorkshire drake still at Brompton-on-Swale on 24th.

Black Duck, Killelton, Kerry (Photo: Davey)
With little in the way of wind throughout the week, seawatching again remained quiet (rare petrels aside). A microscopic flurry of Cory's Shearwaters on 24th concerned eight past the Old Head of Kinsale (Cork), two from a Scilly pelagic and a singleton past St. Ives (Cornwall), and hinted that a more significant passage might just be a southwesterly breath away.
At least three Little Bitterns remained at Ham Wall (Somerset) throughout the week, with the elusive Night Heron showing occasionally at Old Moor (S Yorks) to 24th. A new Cattle Egret was at Randalstown (Antrim) on 23rd, in addition to the Elmley (Kent) bird still there on 24th. A Great White Egret was at Lodmoor (Dorset) on 19th and at least one was back at Dungeness (Kent). Belated news was received of a Glossy Ibis at Warton (Lancs) on 13th, with the Pembrokeshire bird lingering on. White Storks flew over Brockworth (Glos) and Heworth (Durham) on 18th and 22nd respectively.
In County Donegal, the male Snowy Owl was again seen on Arranmore Island on 18th. A probable female Red-footed Falcon was seen drifting over Stiffkey (Norfolk) the following day.
A Bee-eater flew over Aston Pigott (Shropshire) on 20th, while the male Western Subalpine Warbler continued his lonely summer vigil on Fair Isle to at least 23rd. A small flurry of east-coast Red-backed Shrikes — no doubt arriving thanks to the same conditions that brought the Two-barred Crossbills — joined the female still at St. Fergus to 21st. Males were at Donna Nook (Lincs) on 21st–22nd, and Gibraltar Point (Lincs) and Easington (E Yorks) on 22nd.
Other wildlife included the long-staying Bearded Seal still on Yell (Shetland). Cetaceans included good numbers of White-beaked Dolphins still in the Northeast (see the BirdGuides blog post) and up to ten Minke Whales still off North Yorkshire until 19th. Insects included a Dewick's Plusia trapped in Weymouth (Dorset) overnight on 22nd, and a Lesser Emperor at the Cotswold Water Park (Wilts) on 24th.

Bearded Seal, Yell, Shetland (Video: Hugh Harrop/Shetland Wildlife)

Blue-tailed Damselfly, undisclosed site, Lincolnshire (Photo: Nick Clayton)
Photo of the Week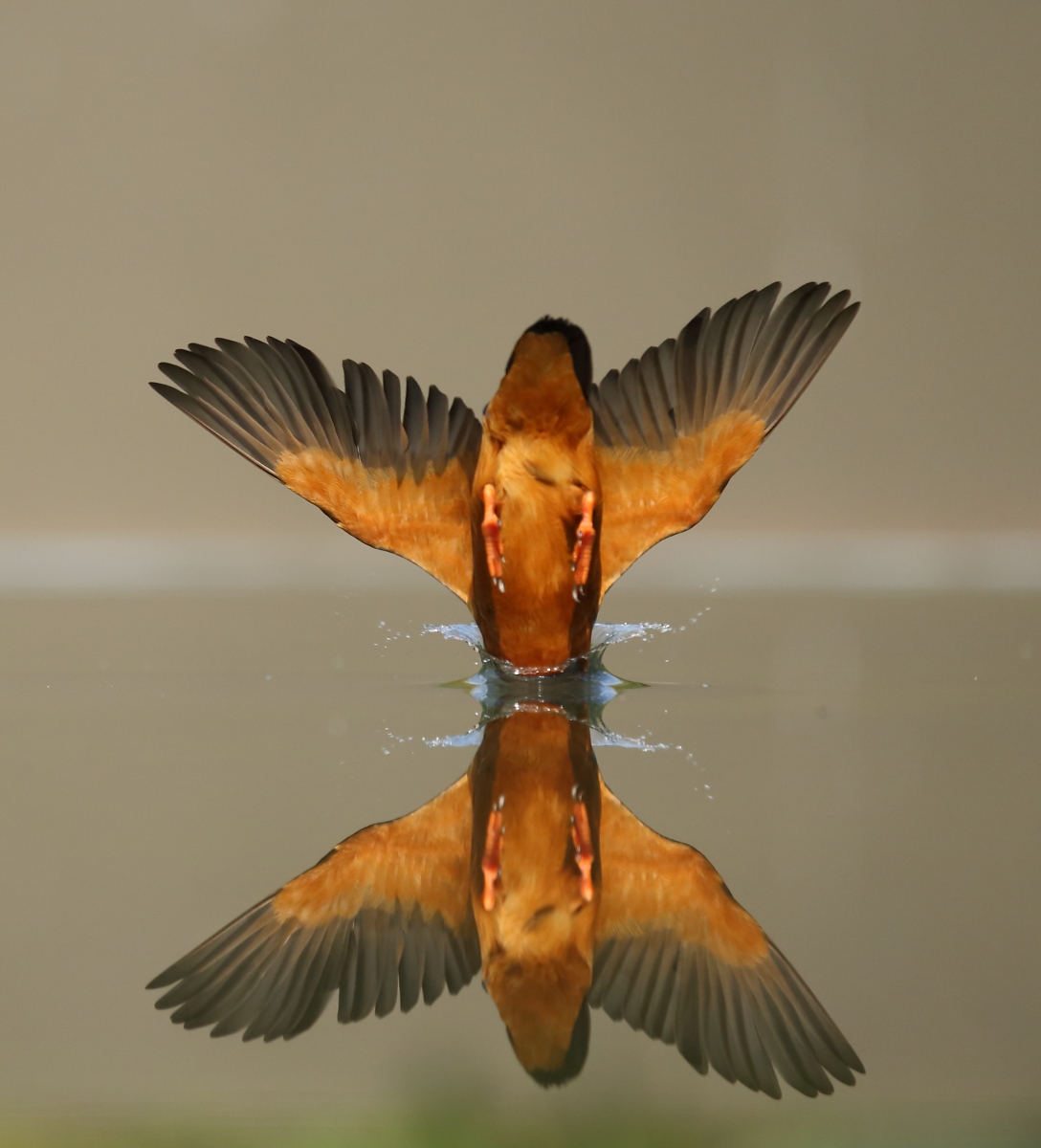 Kingfisher, undisclosed site, Worcestershire (Photo: Mike McKenzie)
Having received almost 3000 images of the Common Kingfisher, we thought we'd seen this species photographed from every possible angle. However, bird photographer Mike McKenzie managed to surprise us with a new take on this most photogenic of subjects. Freezing a diving Kingfisher as it enters the water is one of those 'Holy Grail' shots for bird photographers, but even this has been achieved many times. What Mike has done, though, is different in multiple respects: he has captured this shot from a low angle, from the bird's underside, with a clear reflection and background and, finally, with a perfect 'entry splash'. Putting these all together results in a graphic, colourful action image with a real 'wow factor'. If there are other bird photographers looking to find a new angle on this wildlife spectacle, Mike has just made their task even more difficult!
Other Notable Photos

Little Owl, Ashby Magna, Leicestershire and Rutland (Photo: Paul Riddle)

Short-eared Owl, Ardmore, S.Uist, Outer Hebrides (Photo: David Shallcross)

Osprey, Feshiebridge, Highland (Photo: Mark Hancox)

Little Bittern, Poland (Photo: Jacek)

Sand Martin, Wigan, Greater Manchester (Photo: Roy)

Arctic Tern, Farne Islands, Northumberland (Photo: Ian Curran)

Black-tailed Godwit, Frampton Marsh RSPB, Lincolnshire (Photo: Russ Telfer)

Kestrel, Bala, Gwynedd (Photo: Neill Carden)

Green Woodpecker, undisclosed site, Cheshire (Photo: Richard Steel)