The week at a glance
The exciting start to 2017 continued this week, with several excellent finds meaning there was plenty on offer for all birders — be it in the form of lifers, quality year ticks or just a good day out.
In terms of number of records, the Pacific Diver found in Northumberland is the standout bird of the week. First confidently identified at East Chevington on 20th, by which time it was present for its third day, the bird moved to nearby Druridge Bay Country Park from 21st. Here it has lingered ever since, showing extremely well and to within a few metres at times. It transpires that this bird was seemingly photographed on the Blyth Estuary earlier on 18th but suspected to be a Black-throated Diver. A first for Northumberland, this is also perhaps only the eighth individual ever seen in Britain.

Pacific Diver, Druridge Bay CP, Northumberland (Photo: Keith Dover)

Pacific Diver, East Chevington NWT, Northumberland (Photo: John Malloy)
The Pacific may win plenty of accolades among birders this week, but another diver certainly gave it a run for its money — in fact, many observers may say that the beautiful juvenile White-billed on the River Witham near Woodhall Spa, Lincs, from 20th eclipses it. An exceedingly rare species inland full stop, this record is made all the more remarkable by the fact that it has chosen the same watercourse (River Witham) to pitch down on as a famous bird that was ticked by many in February 1996. Even more coincidentally, this new bird is frequenting an area just a few miles upriver of the stretch favoured by the 1996 bird! Thankfully, though, the similarities end there — the 1996 bird turned up oiled, seemingly unwell, and ended up dying after swallowing a fisherman's hook. The 2017 individual seems to be in much ruder health and is (for now) happily commuting over a distance of up to 5 km along the river. Here's hoping for a happier outcome than that 21 years ago.

White-billed Diver, Stixwould, Lincolnshire (Photo: Russell Hayes)
Another terrific find this week was the second Pine Bunting of the month. This time a well-marked first-winter male, the bird was found among a large Yellowhammer flock favouring rough fields and paddocks on the outskirts of Dunnington, N Yorks, on 20th. Mobile, elusive and with viewing conditions often hampered by thick fog, it was never easy to connect with — but at least those that dipped it over the weekend can take solace in the fact that the chances are it will hang around for a while yet. And, failing that, there are likely to be more chances before spring comes — indeed another male was photographed on the outskirts of Sittingbourne, Kent, on 24th.

Pine Bunting, Dunnington, North Yorkshire (Photo: Chris Gomersall)
Though the female Black-throated Thrush was not seen at Adwick Washlands, S Yorks, after Thursday, two other rare thrushes prolonged their respective stays by another week — the Blue Rock Thrush at Stow-on-the-Wold, Glos, and the Dusky Thrush at Beeley, Derbys.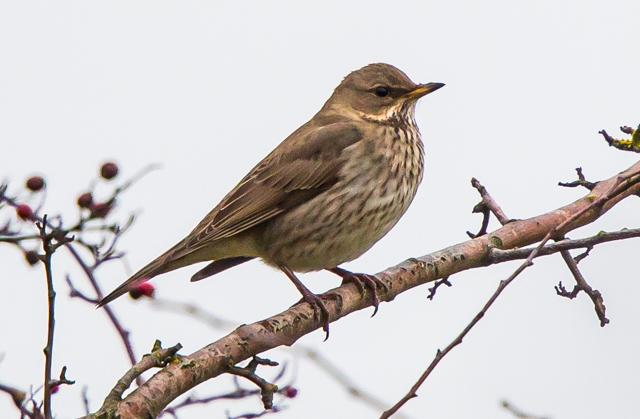 Black-throated Thrush, Adwick Washlands RSPB (Dearne Valley), South Yorkshire (Photo: Peter Garrity)

Dusky Thrush, Beeley, Derbyshire (Photo: Paul Thomas)
Other continuing rarities included the Killdeer on Shetland (though it was conspicuous by its absence on Saturday and Sunday), American Coot on North Uist, Eastern Black Redstarts in Cleveland and Cornwall, and Hudsonian Whimbrel and Pacific Diver in the latter county.

Eastern Black Redstart, Mousehole, Cornwall (Photo: Ben Williams)

Hudsonian Whimbrel, Perranuthnoe, Cornwall (Photo: Simon Thurgood)
Also putting in another seven days was the Hooded Merganser at Lochwinnoch, Clyde. The drake Lesser Scaup was again noted on Orkney, while a new bird was found at Belfast Lough, Co Antrim, on 18th and the regularly returning male continued at Dozmary Pool, Cornwall. Ten Ring-necked Ducks were at nine sites and included a new female at Siddick Ponds, Cumbria, and a drake found at Acharacle, Highland, both on 21st. Ferruginous Ducks remained at Holme, Norfolk, and Blashford Lakes, Hants, with the bird of unknown origin also still at Washington WWT, Durham.

Ring-necked Duck, Pitlochry, Perth & Kinross (Photo: Graham Harden)

Lesser Scaup, Belfast Lough, Antrim (Photo: Ronald Surgenor)
Eight American Wigeon were seen over the seven days, none of which were new, the highlight being the confiding bird still at South Kessock, Highland. Thirteen Green-winged Teal included two still together at Loch of Lintrathen, Angus. At least three Surf Scoters were off Llanddulas, Conwy, while two males were at Rhossili Bay, Gower, Glamorgan, on 22nd and a further two were in Brandon Bay, Co Kerry, on 19th. Single birds were seen at a further seven sites. Northumberland's Black Scoter continued to show well off Goswick at times and the White-billed Diver continued off South Ronaldsay, Orkney.
The Red-breasted Goose was seen again at Cockerham Moss, Lancs, on 18th and regularly in that area thereafter. It could well be that the Todd's Canada Goose seen in Norfolk earlier this winter has followed the Red-breasted west to Lancashire — one was at Cockerham Moss on 20–21st. Another remained at Wexford Wildfowl Reserve. Black Brants were in East Yorkshire, Essex, Dorset and Co Kerry, while the Lesser White-fronted Goose was again seen on Foulness Island, Essex, early in the review period.
It was nice to hear that the Northern Harrier had battled through the recent adverse weather in the Northern Isles — it was still on North Ronaldsay on 22nd. Also in Orkney, a new Pallid Harrier was discovered at Mill Dam of Ringo, Mainland — first reported on 21st, it had apparently been present for six days. Elsewhere the juvenile Pallid continued at Welwick, E Yorks. A white-morph Gyr Falcon flew over Gawley's Gate, Co Antrim, on 20th, with another seen on North Uist on 21st. The female Snowy Owl was again seen at Spiddal, Co Galway, on 18th, with the Eday, Orkney, female also still showing on 20th.
Cattle Egrets, reported at just shy of 30 sites, peaked at 11 on the Gannel Estuary, Cornwall, and 10 at Myrtleville, Co Cork, with a group of seven in the latter county and sixes in Co Wexford and Dorset. Glossy Ibises were noted at two sites in Essex, with two still together on the Somerset Levels and a fifth in south Devon.
Another week passes and rare shorebird news looks exactly as it has done for what seems like an eternity: the Long-billed Dowitcher at Tacumshin, Co Wexford, and the Lesser Yellowlegs at Lytchett Bay, Dorset, were both still present and correct. In Staffordshire the Temminck's Stint was again at Branston Gravel Pits on 24th.
... and it's just as settled for Bonaparte's Gulls and Forster's Terns, with the long-staying individuals of both species still in Devon and Co Galway respectively. Seventeen sites logged Ring-billed Gulls, including up to four adults at Nimmo's Pier, Co Galway, and two adults and two first-winters at Tralee, Co Kerry. Two were again at Blashford Lake, Hants. Glaucous Gulls were reported from around 120 sites and Iceland Gulls from 90, though the true number of both species around our isles is considerably higher. Just three Kumlien's Gulls were seen, including a third-winter at Lancashire's Fishmoor Reservoir on 21–22nd.

Glaucous Gull, Goodwick, Pembrokeshire (Photo: Richard Stonier)

Iceland Gull, North Shields, Northumberland (Photo: Ron Hindhaugh)
A grand total of 490 Waxwing reports this week was slightly down on the previous seven days, but there's a feeling that this is largely down to a reduction in observer coverage as birders get back into routine after the post-Christmas period. The number of birds is clearly still very high and the species is clearly now widely distributed across southern England, and penetrating Ireland too.

Waxwing, Stourbridge, West Midlands (Photo: Andy Payne)

Waxwing, Pitsea, Essex (Photo: Max Hellicar)
Though the Knettishall Little Bunting wasn't seen past 20th, another was found at a feeding station near Chipping Norton, Oxon, on 22nd and lingered thereafter. Two were at Brew sewage works, Cornwall, on 23rd, with one still nearby at Nanjizal on 24th.

Little Bunting, Chipping Norton, Oxfordshire (Video: Jason Coppock)
East Sussex's European Serin continued to show well at times at Tide Mills throughout the week. Richard's Pipits remained in Gloucestershire and Dorset, with new birds at Graveney Marshes, Kent, on 21st and Huntspill, Somerset, on 22nd. Rose-coloured Starlings remained in Dorchester and Crawley and the Desert Wheatear lingered on at Thurlestone, Devon. Yellow-browed Warblers were logged at 13 sites, typically showing a south-westerly bias — most were in Cornwall.

Serin, Tide Mills, East Sussex (Photo: Gerald Millard)

Rose-coloured Starling, Crawley, West Sussex (Photo: Jan-Paul Charteris)
Western Palearctic news
Spain's third Eyebrowed Thrush (and the first alive) was seen in Navarra on 18th but unfortunately the German Ivory Gull, which was one of last week's highlights, died. A Western Swamphen on the northern French coast at Baie du Mont-Saint-Michel from 17–20th only strengthened the case for acceptance of the Suffolk/Lincolnshire bird. A Sora at Silves, Algarve, was a first for mainland Portugal.

Sora, Silves, Portugal (Video: Georg Schreier)
Pied Crows continue at two sites in Morocco, while Pine Buntings included up to four at Locarno, Switzerland, singles at three sites in the Netherlands and one in Belgium. Hungary finally got in on the Siberian Accentor invasion with a bird at Pócsmegyer from 18th.