The week at a glance
Just when it was looking like the week might be written off as a bit of a non-event for mid-September — the Northern Isles aside — Martin Casemore was in the right place at the right time to make one of the most extraordinary discoveries in recent years. An Empidonax flycatcher must have been the last thing he expected to see on the beach at his local patch of Dungeness, Kent, and thus the shock must have been a little acute!
Fortunately the bird, seemingly exhausted, went on to show well for the following hour before disappearing during a rain shower late morning. It was relocated in the early afternoon in the garden of South View Cottage, where it showed on and off until the evening, despite the often dreadful weather conditions. Photos showed a bird with a robust bill, very green upperparts and yellowish underparts, which led to rapid feedback from birders in the US that this 'Empid' was unlikely to be another Alder type, and in fact something new for Britain.

Acadian Flycatcher, Dungeness NNR, Kent (Photo: Lee Fuller)
Apart from an inconclusive possible sighting at 7:30am, there has been no sign of the bird this morning following a clear night. However, it appears that enough photographs were taken to label this bird reasonably confidently as Britain's first Acadian Flycatcher — a combination of the robust bill, extremely long primaries and lack of emargination on p6 pointed away from the similar Yellow-bellied Flycatcher, which would have been a first not only for Britain but the Western Palearctic. Acadian is a WP second, following a bird found dead in Iceland on 4 November 1967. Lots more photos of this bird can be seen here.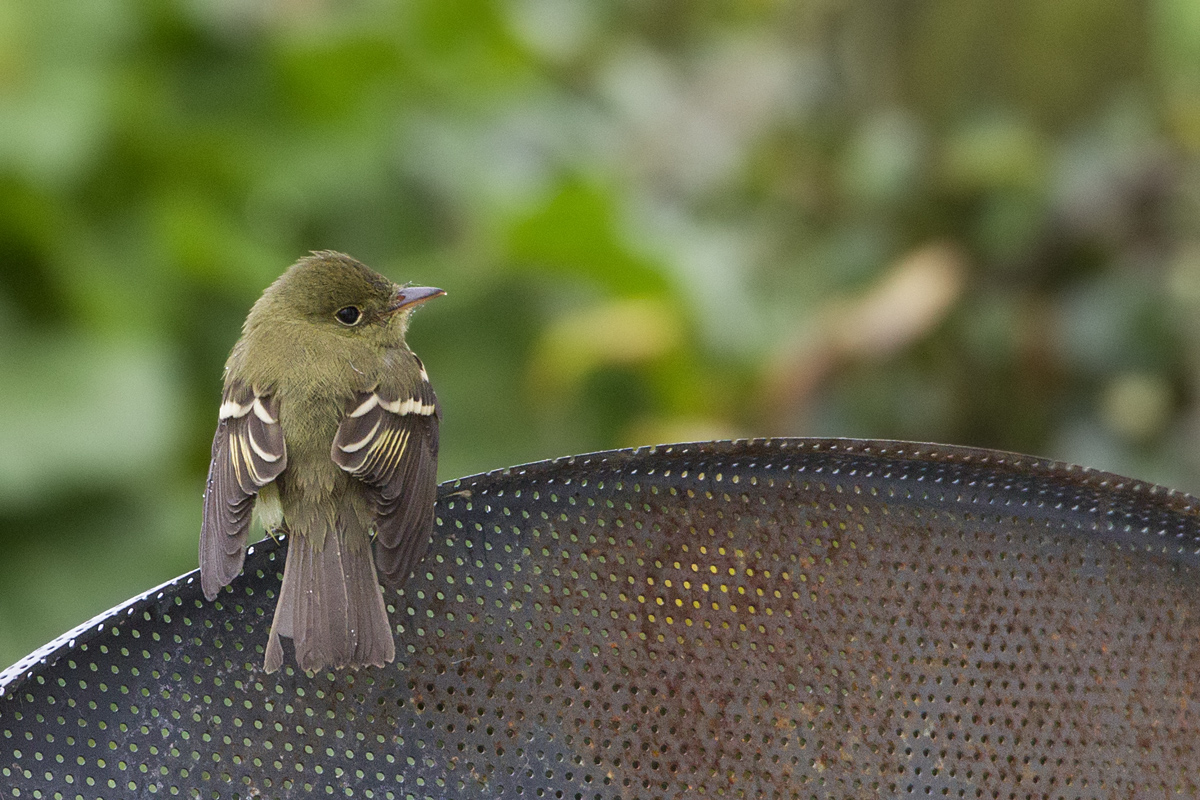 Acadian Flycatcher, Dungeness NNR, Kent (Photo: David Monticelli)
Content continues after advertisements

Acadian Flycatcher twitch, Dungeness, 22 September 2015 (Photo: Josh Jones)
In any other week the 'Flycatcher of the Week' award would likely have gone to the smart male Collared present at Sumburgh Head, Shetland, on 21st, allowing many a smart photo to be taken as it performed alongside a battalion of Yellow-browed Warblers throughout the day.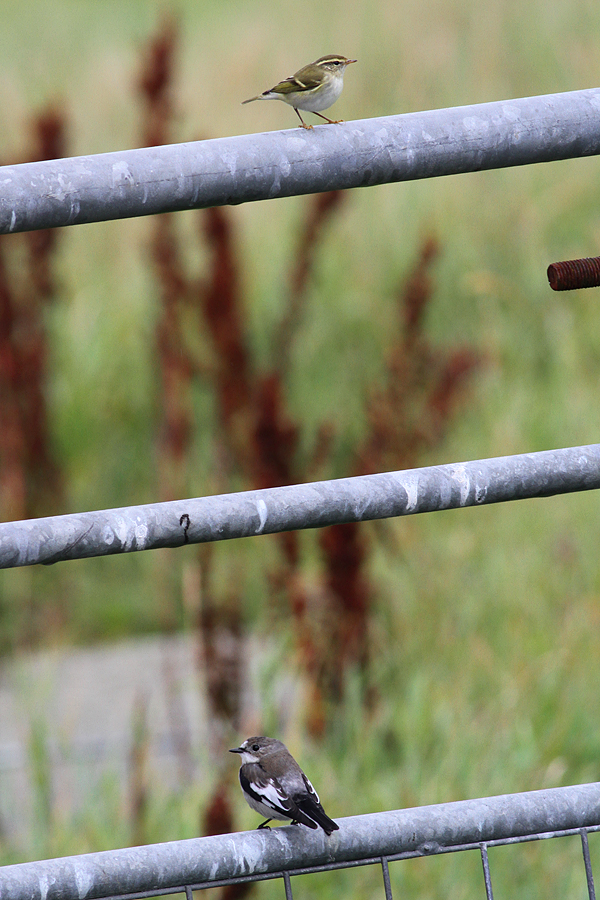 Collared Flycatcher, Sumburgh, Mainland, Shetland (Photo: Rob Fray)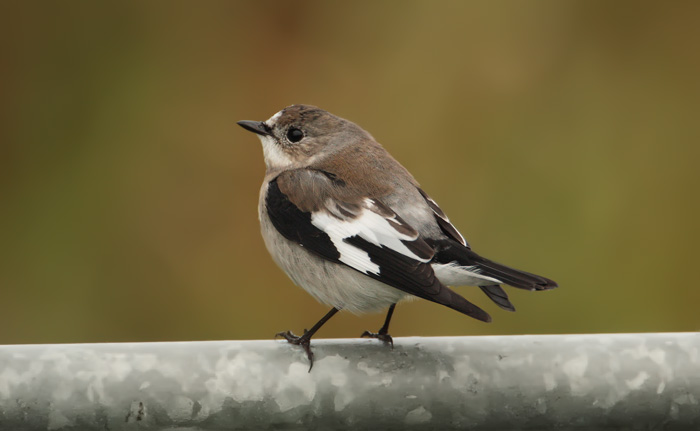 Collared Flycatcher, Sumburgh, Mainland, Shetland (Photo: Steve Arlow)
The adult Hudsonian Godwit played an agonising game of cat and mouse with some visitors to Inishmore, Co Galway, early on in the week, some Irish (and British) twitchers missing it on at least two occasions. Present at Kilmurvy flood until mid-morning on 16th, it was flushed by a Peregrine and only returned there 24 hours later. Thankfully it remained settled for the rest of 17th but had once again vanished by first light on 18th, and hasn't been seen since.

Hudsonian Godwit, Inishmore, Galway (Photo: David Monticelli)
There were two independent reports of a Little Swift at Titchfield Haven this week. The first sighting lasted a matter of seconds for two fortunate observers in mid-afternoon on 17th before the bird was reported again in mid-morning on 18th, although it wasn't seen after this.
The Lesser Scaup was still at Chew Valley Lake, Somerset, on 21st, and a drake Ring-necked Duck was at Lough Beg, Co Londonderry, on 18th. Drake American Wigeon remained on Islay, Argyll, and at Tacumshin, Co Wexford. A drake Surf Scoter off Ferny Ness, Lothian, on 16th was still in the area on 20th, while the eclipse drake King Eider was off Nairn, Moray & Nairn, on 20th and an immature male flew past Annagh Head, Co Mayo, the same day.
In Gloucestershire the juvenile Purple Heron continued to perform well at Slimbridge to 18th, while the only Cattle Egret reported this week was that at Dungeness, Kent — where have all those birds from the end of August gone? Essex's Glossy Ibis reappeared at Wat Tyler Country Park and was seen both there and at Vange Marsh during the week; the Co Waterford bird was still at Clohernagh on 20th and another was on Scilly on 20–21st. A Black Stork over Staines Moor, Surrey, on 18th continued the great run for this inland site and may well be the East Yorkshire bird heading south, as it hasn't been reported from Sunk Island in over a week.
At least one juvenile Pallid Harrier remained on Unst, Shetland, throughout the week and the Fair Isle bird was also still present to 21st. Elsewhere a probable juvenile was seen at St David's Head, Pembrokeshire, late in the morning on 22nd and, an hour later, on the adjacent Ramsey Island. The juvenile Red-footed Falcon remained on the Isle of May, Fife, to 19th, while another at Berney Marshes, Norfolk, on 20th had apparently been suppressed for several days. Rough-legged Buzzard reports came from Donna Nook, Lincs, on 17th, Walsey Hills, Norfolk, on 18th, Sunbiggin, Cumbria, on 19th and Cley Marshes, Norfolk, on 22nd. A Snowy Owl was photographed in a tree somewhere near Tain, Highland, on 22nd.
A minor influx of American Golden Plovers brought two adults to Loop Head, Co Clare, on 16th (with one to 19th) and further five individuals, all but one in Ireland. One flew over Termoncarragh Lough, Co Mayo, on 16th, with others on Dursey Island, Co Cork, on 17th and two juveniles in Co Londonderry, at Myroe Levels and Magilligan Point respectively. The only British record was of a juvenile on Tresco, Scilly, on 22nd.

American Golden Plover, Myroe Levels, Londonderry (Photo: Derek Charles)
A juvenile Long-billed Dowitcher arrived on Skokholm, Pembrokeshire, on 20th and initially proved very mobile and elusive, although it had settled down nicely by 22nd. Another juvenile was at Tacumshin, Co Wexford, on 22nd.

Long-billed Dowitcher, Skokholm, Pembrokeshire (Photo: Richard Brown)
The Buff-breasted Sandpiper at Tacumshin was joined by a second on 20th, while popular juveniles were at White Nothe, Dorset, from 17–21st and Whitburn, Durham, on 20–21st. Another was at the private Predannack Airfield, Cornwall, from 19–21st. Just 10 Pectoral Sandpipers were noted, including three juveniles together on St Mary's, Scilly, and two at Truska, Co Galway, on 21st. The latter site also hosted two showy Dotterel, although one was dismantled by a Peregrine on 21st.

Buff-breasted Sandpiper, Whitburn Coastal Park, Durham (Photo: Frank Golding)

Pectoral Sandpiper, Tonatanvally, Achill Island, Mayo (Photo: Richard Bonser)
After being found at Pannel Valley, E Sussex, and showing throughout the afternoon and evening of 19th, what was presumably the same Wilson's Phalarope then arrived at Vange Marsh, Essex, on 20th and lingered there until the week's end. A juvenile Spotted Sandpiper was a good find on Bryher, Scilly, on 21st.

Wilson's Phalarope, Vange Marsh RSPB, Essex (Photo: Neil Hughes)
Confiding Grey Phalaropes always draw crowds and it was no surprise that birds in East and West Sussex continued to prove very popular. The former was particularly outrageous, showing to within inches of onlookers at Cuckmere Haven from 19–21st. The only Red-necked Phalarope was the continuing juvenile still at Stretton Sugwas, Herefordshire, throughout the week.

Grey Phalarope, Cuckmere Haven, East Sussex (Photo: Ephraim Perfect)

Red-necked Phalarope, Stretton Sugwas Pits, Herefordshire (Photo: Jeff Lack)
The only Ring-billed Gull reported this week was the continuing adult on Vatersay, Outer Hebrides, while the returning Bonaparte's Gull was again at Dawlish Warren, Devon, and the Forster's Tern was still at Rogerstown Estuary, Co Dublin, on 17th. A juvenile White-winged Black Tern was off Dungeness, Kent, on 18th, and there was a belated report of an adult Ross's Gull seen off Brora, Highland, on 12th.

Bonaparte's Gull, Dawlish Warren NNR, Devon (Photo: Dave Stone)
Just a single Hoopoe record concerned a bird at Robert's Cove, Co Cork, on 16th. Around 30 Wrynecks included an impressive four among a fall at Portland Bill, Dorset, on 16th. Golden Orioles were at Kilnsea, E Yorks, and St Agnes, Scilly, on 20th.
A Citrine Wagtail was on the beach at Norwick, Unst, from 19–21st, while the autumn's first Pechora Pipits were reported: a possible seen and heard over Portland Bill on 16th and another briefly at Melby, Shetland, on 22nd. The first Richard's Pipit of the autumn flew over Ballyteige Bay, Co Wexford, on 16th and was soon followed by reports of fly-overs from Dorset on 17th and Norfolk on 20th.
A Bluethroat was on Holy Island, Northumberland, on 16th and a male was on Yell, Shetland, on 22nd, while an extremely early Desert Wheatear reported from St Mary's, Scilly, on 21st is potentially the earliest autumn record by two days.
A Blyth's Reed Warbler was trapped and ringed on Fair Isle on 20th; it was still present there on 22nd when another was trapped on North Ronaldsay, Orkney. In Shetland, both of last week's Western Bonelli's Warblers were last seen on 18th, while another was discovered at Galley Head, Co Cork, on 17th. The Eastern Olivaceous Warbler was also still on Whalsay on 16th and the Arctic Warbler last seen at Skateraw, Lothian, that day; a Greenish Warbler was also discovered on Sanday, Orkney, on 16th. In East Yorkshire the male Eastern Subalpine Warbler reappeared at Flamborough Head, E Yorks, on 18–19th after last being seen there on 1st.

Blyth's Reed Warbler, Fair Isle, Shetland (Photo: Micky Maher)
Rather typically for the second half of September, Icterine Warbler numbers have dropped right off and just two were seen this week: on Whalsay on 16th and another at Garinish Point, Co Cork, on 19th. Around 20 Barred Warblers were seen, with peaks of two at several Shetland sites, while Melodious Warblers were geographically predictable at St Mary's, Scilly, and Mizen Head, Co Cork.

Barred Warbler, Staines Moor, Surrey (Photo: Andrew Moon)
Another strong pulse of Yellow-browed Warblers came on 21st, Fair Isle bagging an amazing record count of 53 and North Ronaldsay following with 31. Elsewhere 18 were in the Sumburgh area alone and it's difficult to speculate just how many must have arrived across the archipelago that day — an update on the Nature in Shetland website included over 125 on 22nd, excluding Fair Isle!

Yellow-browed Warbler, Fetlar, Shetland (Photo: Ben Lewis)
Last week's Woodchat Shrike was last seen at Nosterfield, N Yorks, on 19th. Around 10 Red-backed Shrikes included a showy bird at Kelling, Norfolk, on 16–17th and another at Old Head of Kinsale, Co Cork, on those dates. Red-breasted Flycatchers were difficult to come by: aside from a handful in Shetland and one on North Ronaldsay, the only records were from the Farne Islands, Northumberland, on 17th and Uwchmynydd, Gwynedd, from 20th. The adult Rose-coloured Starling remained on Islay on 16th, while juveniles were on Guernsey and St Agnes, Scilly, on 16th and 17th respectively.

Woodchat Shrike, Nosterfield LNR, North Yorkshire (Photo: Roy Richardson)

Red-breasted Flycatcher, Uwchmynydd, Gwynedd (Photo: Shirley Roulston)
The only Common Rosefinch record away from the Northern Isles concerned the continuing bird on Tory Island, Co Donegal, to 19th; the peak count was of three on Fair Isle on 21st. Two elusive Little Buntings were at Sumburgh, Shetland, on 21–22nd and a third was on Out Skerries on the latter date. A Rustic Bunting was on Foula from 20th, while two Ortolans were on Bryher, Scilly, on 19th and another remained on Lundy, Devon, to 16th.
Western Palearctic news
An American Redstart was an excellent find on Faial, Azores, on 19th, and was still showing well in tamarisks at Porto Pim to 22nd. Elsewhere in the archipelago a Hudsonian Whimbrel remained on Terceira. In France a Caspian Plover was frequenting fields near Ruan, north of Orléans, throughout the week after having been found back on 11th. The bird was with Northern Lapwings and isn't all that far from Britain ... how welcome it would be over here!

American Redstart, Faial, Azores (Photo: Rob Sandham)
Portugal's first mainland Red-billed Tropicbird at Peniche on 22nd was co-found by BirdGuides news team member David Campbell as he was taking part in the Peniche Seabird Count, while the Black-browed Albatross relieved nervous Western Palearctic birders when it was reported from a ferry north of Hirtshals on 20th; this is the first report since its run-in with a pair of White-tailed Eagles.

Red-billed Tropicbird, Peniche, Portugal (Video: Peniche Seabird Count)
Belated news concerned Austria's first-ever Desert Wheatear seen at Hinterhornbach on 6th. The Western Reef Heron remained on Sicily, while Kuwait's fifth Grey-necked Bunting was at Al-Abraq on 18th.