The week at a glance
What has already proved a charitable November continued to produce brilliant birds into the third week of the month, not least Suffolk's first (and Essex's second) Forster's Tern. Initially on the Stour Estuary between Wrabness and Manningtree on 19–20th, there was no sign of the bird there throughout 21st but its relocation just to the north at Felixstowe Ferry late in the afternoon was perhaps no major surprise.

Forster's Tern, Mistley, Essex (Photo: Josh Jones)
Forster's Tern has been something of an enigma on British shores in recent times. The last remotely twitchable bird on British soil was near Oban in January 2003, though it was late November 2002 when large numbers of birders last saw this species in Britain — when a bird lingered on Cornwall's Hayle Estuary for 10 days. Quite why it's been so long is one of those mysteries that is probably only explained by chance — after all, several new birds have appeared in Ireland during that time and there have also been records from the Near Continent. Either way, the extended wait for another British record is finally over, for which many were grateful — as the large crowd on Sunday demonstrated!

Forster's Tern, Mistley, Essex (Photo: David Aitken)
Proof that it's never safe to declare the autumn over before the end of November came in the form of a male Siberian Rubythroat on Fair Isle late on 18th. Seen late in the day, it could not be relocated on Saturday. This is the fourth year in five that the species has been recorded on Fair Isle — just how many more are being missed elsewhere? Another reminder of autumn was the continuing Eastern Black Redstart at Skinningrove, Cleveland, which was still present throughout, though there was no sign of Avoch's Siberian Accentor.

Eastern Black Redstart, Skinningrove, Cleveland (Photo: Lee)
Conversely, you could argue that the reappearance of the Pacific Diver in Co Galway this week, off Tawin on 19–20th, signifies that winter is upon us. It's now seven winters since what is presumably the same bird was first seen (in January 2010). Another possible Pacific Diver was seen flying past Lizard Point on 20th.

Pacific Diver, Tawin, Galway (Photo: Niall Keogh)
Shetland's two major rarities both appeared to move on this week, as a spell of bitterly cold weather gripped the isles. You really fear for the Oriental Turtle Dove at North Roe, which was last seen on 17th and evidently wasn't in the best of health anyway (having been taken into care shortly after its arrival). The Killdeer at Sandwick, however, could well still be around but, with no sign all day on 19th, it's at least moved away from the area it had favoured for almost a week.

Killdeer, Sandwick, Mainland, Shetland (Photo: David Aitken)

Oriental Turtle Dove, North Roe, Mainland, Shetland (Photo: Rob Fray)
A bit of wintry weather is unlikely to bother the American Coot in the Outer Hebrides, which was still present at Balranald to at least 21st — the track record of previous occurrences would suggest that this one will probably attempt to winter.
Last week's Hooded Merganser was still at Kilbirnie Loch, Ayrshire, to 21st but could be elusive at times. The only Lesser Scaup was the drake at Lough Rea, Co Galway, on 19th, alongside one of the week's six Ring-necked Ducks (others in Kent, Perthshire and Cos Wexford, Sligo and Down). Gut-wrenching news emerged concerning the shooting of the famous drake Lesser Scaup bearing a red nasal saddle, seen at many sites across Britain over the past couple of years — it apparently met its demise on Northern Ireland's Lough Neagh back in September.

Hooded Merganser, Kilbirnie Loch, Ayrshire (Photo: Sam Northwood)

Ring-necked Duck, Dungeness RSPB, Kent (Photo: Brian Anderson)
We seem to be going through a fruitful period for American Wigeon in Britain and Ireland currently, with eight on offer this week, including a new bird at Dundrum Bay, Co Down, on 20th. An increase to at least 13 Green-winged Teal nationwide saw a second bird join the regular drake at Caerlaverock, Dumfries & Galloway, and further new birds found in the likes of Morayshire, Staffordshire and North Yorkshire. Two separate drake Surf Scoters were seen off the Lothian coast, and up to four White-billed Divers remained off Papa Westray, Orkney, with one in Shetland's Bluemull Sound and a further fly-past at Titchwell RSPB, Norfolk, on 19th.

American Wigeon, South Kessock, Highland (Photo: Robert McMillan)
Other wildfowl this week included a Todd's Canada Goose still in the Docking area of Norfolk to 21st, another at Wexford Wildfowl Reserve on 18th and two still alongside a Richardson's Cackling Goose in Co Sligo. The Snow Goose was seen again at Caerlaverock on 19th for the first time in two weeks. Black Brants were reported in Kent, Dorset and Co Louth — the latter at Salterstown on 19th.
Cattle Egrets were logged at 18 sites, a slight increase on last week, with the few new birds including one near Ashbourne, Co Meath. The biggest flock was the seven near Carrigaline, Co Cork. Glossy Ibises were noted at two sites in Essex, near Ely, Cambs, and on the Rogerstown Estuary, Co Dublin. The Squacco Heron was again belatedly reported from Pembrokeshire on 18th, having been seen in Saundersfoot on 15th. The Dalmatian Pelican remained at Restronguet Creek, Cornwall, to 20th before going on another wander down to Land's End (it was seen flying towards Pendeen from Botallack later that day).

Cattle Egret, Skidbrooke, Lincolnshire (Photo: Paul Thomas)
A Snowy Owl was on Westray, Orkney, on 18th. The juvenile Pallid Harrier headed back north of the Humber on 16th, visiting Spurn before relocating to Welwick Saltmarsh to 17th. On the latter date it briefly revisited Donna Nook but was again at Welwick on 19th. The male Northern Harrier on North Ronaldsay, however, is somewhat more settled — it was still there to 21st at least. A grey Gyr was reported at Tralee, Co Kerry, on 17th, and Rough-legged Buzzards were seen at a couple of Norfolk sites with a third near Langrick, Lincs, on 20th.
Gulls will likely become increasingly prominent in this column as we head towards Christmas, but at present they remain something of an also-ran. The Bonaparte's Gull continued at Dawlish Warren, Devon, while the adult Ring-billed Gull returned to Blashford Lakes, Hants, from 18th (and another was at Ennis, Co Clare, from 19–21st). Glaucous Gulls numbered into the twenties (two Shetland sites claimed three apiece) while Iceland Gulls were slightly fewer overall. Forty-three sites noted Caspian Gulls, with at least six seen at Dungeness, Kent.
The Tacumshin Long-billed Dowitcher and Lytchett Fields Lesser Yellowlegs extended their respective stays by another week, while the American Golden Plover was still at Carrahane Strand, Co Kerry, on 20th. Tacumshin also held an adult Semipalmated Sandpiper on 19–20th. The Hudsonian Whimbrel was also still showing well near Perranuthnoe, Cornwall.

Hudsonian Whimbrel, Perranuthnoe, Cornwall (Photo: Brian Field)
It appears that the surge of Waxwings has abated for now, at least, with around 300 reports this week approximating to a 25 per cent reduction in report rate. That said, it may just have been the week's largely unsettled conditions putting birders off going outside. Sizeable flocks included a massive 420 in Aviemore on 20th and 223 at Brampton, Cumbria, on 17th.

Waxwing, Norwich, Norfolk (Photo: Trevor Hannant)
A big reduction in Shore Lark numbers at Holkham, Norfolk, left just two there on 20th — perhaps the 20+ at Blakeney Point on 19th came from there? Elsewhere up to 20 were at John Muir Country Park, Lothian, while a fantastic record for Herefordshire concerned a single bird atop Garway Hill from 18th onwards. Another inland occurrence came from Faseny Bridge, Lothian, on 20th.

Shore Lark, Garway Hill, Herefordshire (Photo: Chris Cook)
Desert Wheatears can usually be relied upon to brighten the often-dreary days of late November and December, and two were on offer this time out. Last week's male continued to show well on the beach at Thurlestone, Devon, all week while another male was found at Lytham St Annes, Lancs, on 19th and showed well thereafter. Also attracting a steady flow of admirers was Suffolk's Black-bellied Dipper, which was still at Needham Market to at least 20th.

Desert Wheatear, Lytham St. Annes, Lancashire (Photo: Craig Bell)
The long-staying Hornemann's Arctic Redpoll continued at Baltasound, Unst, to at least 20th, and at least one Coues's Arctic Redpoll was at Queenamidda, Orkney, on 19–20th.

Hornemann's Arctic Redpoll, Baltasound, Unst, Shetland (Photo: Brydon Thomason)

Coues' Arctic Redpoll, Queenamidda, Mainland, Orkney (Photo: Alastair Forsyth)
A new Pallas's Warbler arrived at Easington, E Yorks, on 20th. Yellow-browed Warblers were reported from eight sites. A Richard's Pipit flew over the sewage works at Weston-super-Mare, Somerset, on 20th, with the East Yorkshire bird still at Kilnsea on 16th. A late Red-breasted Flycatcher was at Seven Heads, Co Cork, on 22nd, a flyover Red-throated Pipit was at Steart, Somerset, on 19th and a Wryneck was on St Martin's, Scilly, on 20th. A Little Bunting found inland at Nunnery Lakes, Norfolk, on 16th is a great inland record — though given the autumn's influx, it may be the first of several this winter. The Suffolk bird was also seen again at Bawdsey on 16th.
Western Palearctic news
The American Tree Sparrow continued to show well near Staffanstorp, Sweden, to dusk on 18th but was, quite surprisingly, not seen thereafter. The Red-necked Stint also continued to perform an hour's drive away at Vejbystrand until at least the end of the weekend, and a new Siberian Accentor was found just north of Malmö on 22nd. Neighbouring Denmark continued to host a Siberian Accentor at Hirtshals, while Finland produced at least two in Turku and one at Lahti.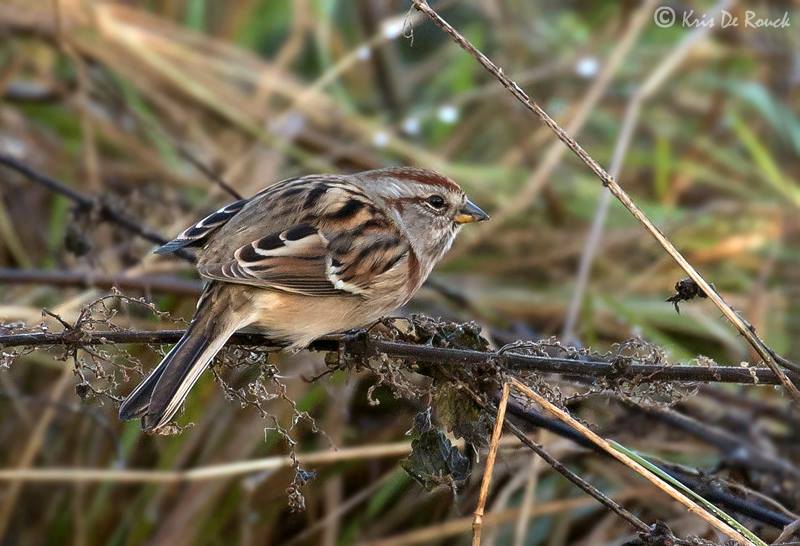 American Tree Sparrow, Sweden (Photo: Kris De Rouck)
An apparent near-adult Vega Gull was seen at a rubbish dump on the outskirts of Paris, France, on 17th but has not been seen since despite searching. In Spain the Steppe Eagle was again seen in the La Janda area of Cádiz over the weekend. Other news included the Pallas's Gull still in Mecklenburg-Vorpommern, Germany, and the second Eversmann's Redstart in Kuwait in the space of a week.

Vega Gull, France (Photos: Thibaut Chansac)
Content continues after advertisements