The week at a glance
Though spring migration continued to advance at an exciting pace, much of the week's focus remained on the continued presence of the first-winter Great Blue Heron on the Isles of Scilly. Following its initial discovery last Tuesday evening, the bird was still to be found in Old Town Bay, St Mary's, until late morning on 16th, when it began a fine game of cat and mouse — just as the Scillonian pulled into dock. One brief sighting at Holy Vale later that afternoon was the nearest any of the visiting twitchers got to seeing it either that day or for much of the next, when further scouring of St Mary's (and the off-islands) drew a blank. That was until late evening on Thursday, when news filtered through that the bird had been relocated on Bryher!

Great Blue Heron, Bryher, Isles of Scilly (Photo: Josh Jones)
Friday came and with it news of the heron's continued presence. For some gathered on Penzance quay that morning, it was a third attempt (following dips midweek and back in December 2007). But the nervousness proved unfounded: the Great Blue showed well around Big Pool throughout the day and the weekend, making life easy for those travelling from the mainland. Three settled days was evidently enough as, since Monday afternoon when it flew to Tresco, the bird has been back up to its old tricks. Tuesday saw it alternate between Bryher and Tresco before relocating back to St Mary's in the evening; it'll be interesting to see how its movements pan out in the coming week.

Great Blue Heron, Bryher, Isles of Scilly (Photo: Tony Dixon)
Arguably the best discovery this week was a Great Spotted Cuckoo well inland at Cwm Cadlan, Glamorgan, late on 15th. A county first, it lingered throughout the following day though it proved typically mobile and restless, rarely posing for photographs. Though still present early on 17th, it was seen to fly off purposefully in the morning and didn't return.

Great Spotted Cuckoo, Cwm Cadlan, Glamorgan (Photo: Richard G Smith)
Further colour was provided by a flock of five European Bee-eaters in Dover, Kent, on 19th; lingering for just a couple of hours, they had moved on by midday but were later seen at Abbot's Wood, E Sussex. Further records concerned birds in Cornwall at Gurnard's Head and Tregadgwith on 20th, and at least one bird on Tresco and Bryher, Scilly, on 21st. The first Golden Oriole of the season graced St Mary's on 15–16th and was followed by birds on Great Blasket Island, Co Kerry, on 19th and at Nanquidno, Cornwall, on 20th. Eurasian Hoopoes were again very numerous: though not present in the concentrations of last week, birds did become more widespread and there were evidently still a number arriving, as the bird in-off at Cuckmere Haven, E Sussex, on 21st suggested. In total, we logged 110 reports of the species on Bird News Extra during the week. Wryneck numbers totalled around 20, including an inland bird at Tice's Meadow, Surrey, on 15th and lingering birds on St Mary's, Scilly, and at Beachy Head, E Sussex.

European Bee-eaters, Dover, Kent (Photo: Neil Hughes)

Hoopoe, Marloes, Pembrokeshire (Photo: Brendan Sheils)
The year's first Short-toed Lark was at Vazon Bay, Guernsey, from 18–20th, while two Richard's Pipits were reported at Fleetwood, Lancs, on 19th. Among the numerous Blue-headed and so-called 'Channel' Wagtails was a potentially good shout for an Ashy-headed Wagtail at Frampton Marsh, Lincs, from 15–17th. Red-rumped Swallow reports came from Scilly, Devon, Dorset (2), East Sussex (2), Essex, Suffolk and Greater Manchester, the latter record the only multiple sighting (two at Heaton Park early on 17th).

Short-toed Lark, Vazon Bay, Guernsey (Photo: Mark Guppy)

Red-rumped Swallow, Radipole Lake RSPB, Dorset (Photo: Barry Freeborn)
Ring Ouzels were still very numerous this week, with some astonishing counts registered. An outstanding 32 were at Roydon Common, Norfolk, on 18th and many other double-figure counts were registered across the country — for example 25+ at Pendle Hill, Lancs, 19 at Snettisham, Norfolk, and 18 at Warren Hills, Leics, plus similar counts from Buckinghamshire and Bedfordshire. In total, we put out 459 reports of the species on our news services this week!

Ring Ouzels, Linky Down, Oxfordshire (Video: Jason Coppock)
Two Western Subalpine Warblers remained at Kynance Cove, Cornwall, on 15th, with one reported to 20th; the Co Waterford bird also hung on at Brownstown Head to 17th. An Eastern Subalpine Warbler was identified at Nanjizal, Cornwall, and stayed for two days from 19th.

Western Subalpine Warbler, Brownstown Head, Waterford (Photo: Seamus Feeney)
Five Woodchat Shrikes were seen this week. One remained on Ramsey Island, Pembrokeshire, for six days following its discovery on 15th, while another was found at nearby Whitesands Bay on 16th; it too lingered to 20th. A third Pembrokeshire record came from Cwm yr Eglwys on 16th, and another was near Camborne, Cornwall, on 20–21st. An Irish record came from Saltee Islands, Co Wexford, from 17–19th.

Woodchat Shrike, St. David's, Pembrokeshire (Photo: Richard Stonier)

Woodchat Shrike, Ramsey Island, Pembrokeshire (Photo: Greg Morgan)
Two Little Buntings were found along the east coast this week: a bird was photographed at Flamborough Head, E Yorks, on 15th and was followed by a singing male at Gibraltar Point, Lincs, late on 20th and again early the next morning. A European Serin at Spurn, E Yorks, on 21st was preceded by one at nearby Easington the previous day.
It looks as though 2015 is set to be another good year for Black-winged Stilts, and this week produced a typically bewildering array of records as wandering pairs and groups penetrated as far north as Cheshire. Following six at Higham Marshes, Kent, on 14th, an amazing eight were seen there the following day but soon dispersed — just two remained to 19th. What were presumably some of these birds were seen at nearby Northward Hill on 16th and Cliffe Pools on 18–19th; two at Dungeness on 17th may or may not have been part of the flock. Two birds arrived at Bowers Marshes, Essex, on 14th and lingered to the end of the week. Three were briefly on the Nene Washes, Cambs, early on 16th with two apparently different birds nearby on 17th; what could have been this latter pair then pitched up at Drayton Bassett, Staffs, on 18th and then at Ashton's Flash, Cheshire, on 19th. Meanwhile, in West Sussex, at least one (probably two) remained in the Medmerry and Pagham area until 19th.

Black-winged Stilts, Drayton Bassett Pits, Staffordshire (Photo: Dave Hutton)
It's still early on the early side but Dotterel are beginning to pitch up in traditional locations. Seven remained at Choseley, Norfolk, to 15th only, while five were at Garreg Lwyd, Carmarthen, on 16–17th. One was at Pendle Hill, Lancs, on 19th and other singletons graced Plynlimon, Ceredigion, on 19–20th and Ingleborough, N Yorks, on 20th, in addition to further records from Norfolk (at Kelling, Snettisham and Happisburgh).

Dotterel, Plynlimon, Ceredigion (Photo: Janet Baxter)
The Greater Yellowlegs finally lingered at Titchfield Haven, Hants, for longer than a day — it was around from 19–21st. However, a Lesser Yellowlegs at Wheldrake Ings, N Yorks, on the eve of 15th was brief.

Greater Yellowlegs, Titchfield Haven NNR, Hampshire (Photo: Ian Williams)
What was presumably last week's Gull-billed Tern relocated to Walmsley Sanctuary, Cornwall, briefly on 19th, while an apparent Eastern Common Tern was photographed among recently arrived Common Terns on Coquet Island, Northumberland, on 15th. The Laughing Gull was again at Seaforth, Lancs, to 17th and then back at New Brighton, Cheshire, on 20th. Immature Ring-billed Gulls remained on the Hayle Estuary, Cornwall, and on North Uist, while the first-winter American Herring Gull was again at Cahermore, Co Cork, on 19th; the second-winter was reported at Sancreed, Cornwall, on 20th.
A report of a White-tailed Eagle at Thornham Point, Norfolk, raised eyebrows on 18th but was followed by an adult over Hickling Broad and Horsey, Norfolk, and later Boyton, Suffolk, on 21st. Black Kite records came from Cornwall (2), Dorset, Hampshire and Co Londonderry, this last belatedly reported from (and photographed at) Limnavady on 14th. Rough-legged Buzzards were reported from Suffolk, Lincolnshire, East Yorkshire, Aberdeenshire (2) and Highland, while the first Montagu's Harrier of 2015 was a male briefly at Napton Reservoir, Warks, on 16th; it was closely followed by a male at Kilvington, Notts, later that day. In Co Clare, the Snowy Owl was again near Ballyvaughan on 16th.

Snowy Owl, Gleninagh Mountain, Clare (Photo: Jeffcopner)
Up to four Night Herons continued to be seen on St Mary's, Scilly, throughout the week, along with a single bird on Tresco on 21st; another was at Marazion, Cornwall, to 15th. A Purple Heron was at Drift Reservoir, Cornwall, on 20th and perhaps the same bird was over Penzance the following day. Two Cattle Egrets continued to cavort around Dungeness, Kent, throughout the week, while there was a report of three White Storks over Braintree, Essex, on 20th. Another flew over New Passage, Glos, on 21st, having also been seen at Cam. Long-staying Glossy Ibises were still in Nottinghamshire and Cambridgeshire.
April is not renowned for producing Wilson's Storm-petrel records, so a bird seen from RV Celtic Explorer some 70 miles WSW of Slyne Head, Co Galway, on 21st was impressive. Pomarine Skua passage is yet to really get going in the south, with just a single bird off Chesil Cove, Dorset, on 21st.
Ten White-billed Divers were seen from MV Gemini Explorer off Portsoy on 18th, though only one or two were seen from land throughout the week. An excellent record for Lothian concerned a bird off Thorntonloch from 18th, while another was found in Gruinard Bay, Highland, on 15th. A decade or so ago, the north-east coast of Lewis was the place to see White-billed Divers, and the three off Port Skigersta on 16th was a notable count, even if upstaged by Portsoy. One also remained off South Ronaldsay.

White-billed Diver, undisclosed site, Aberdeenshire (Photo: Harry Read)
Though the female remained off Brora throughout the week, the Aberdeenshire Harlequin was last seen on 15th with no sign since. Some consolation was the stunning drake King Eider on the Ythan Estuary which, judging by images, appears have been showing rather well. A total of five Surf Scoters (three drakes and two females) were seen off Hoylake, Cheshire, during the week; two drakes were off Rerwick Head, Orkney, on 17th and single birds were still in Fife and Lothian.

King Eider, Ythan Estuary, Aberdeenshire (Photo: Samuel Langlois)
A drake Lesser Scaup was belatedly reported from Tophill Low, E Yorks, on 17th, while the female remained on South Uist and the drake in Ayrshire. Four Ring-necked Ducks were still at Standlake, Oxon, to 18th, as was the drake at Ballyherly Lough, Co Down; a drake at Blanket Nook, Co Donegal, on 19th was new. Tresco's American Black Duck continued to show all week and the Highland bird was again reported from Strontian on 19th, having been present for several weeks. Drake American Wigeon remained in Shetland, Orkney and Co Wexford, six Green-winged Teal included a new drake at Radford Meadows, Staffs, on 19–20th, the Blue-winged Teal continued at Donna Nook, Lincs, and a Black Brant was still at Frampton Marsh, Lincs, on 16th.

American Black Duck, Strontian, Highland (Photo: Chris Morgan)

Blue-winged Teal, Donna Nook, Lincolnshire (Photo: Mark Johnson)
Western Palearctic news
There was great excitement in Germany as last year's adult Black-browed Albatross returned to Heligoland, Schleswig-Holstein. Following a sighting at sea on Sunday 19th it was back on the cliffs at Lange Anne, at the north-west end of the island, on 21st. Here's hoping that it stays around a little longer than last year, when its numerous visits were frustratingly brief throughout late May and June. Perhaps it might consider a trip across the North Sea, too — a visit to Bempton Cliffs would be very welcome...
Content continues after advertisements

Black-browed Albatross, Germany (Photo: Felix Timmermann)
Kuwait's first Plain Leaf Warbler was found at Al Mutla'a on 15th and was still there three days later; though identification of this subtle Phyllosc is not straightforward, it's surprising that the species remains so rare in the far southeast of the WP region. In Israel the Grey Hypocolius was still at Ashkelon early in the week, while what initially looked like a male Taiga Flycatcher, photographed in Eilat on 16th, proved to be a Red-breasted and was a fine lesson that even males of this species pair can be tricky to conclusively identify.

Plain Leaf Warbler, Kuwait (Photo: Abdulrahman Alsirhan)
In the Netherlands the juvenile Thayer's Gull was relocated on the beach at Bergan aan Zee, Noord-Holland, and lingered throughout the week. Spain's first Stilt Sandpiper was photographed at Pals, Girona, on 18th and was followed by a Greater Yellowlegs at Alcollarín, Cáceres, the following day.
Photo of the Week, 15—21 April

Blackbird, Woolacombe, Devon (Photo: Carl Bovis)
Our latest Photo of the Week owes as much to composition as to anything else, writes Steve Young, with the singing Blackbird nicely positioned in relation to the setting sun.
Exposure is always difficult in these situations; expose for the bird and the sun is a washed-out white blob. The key is to expose for the sun and see what the silhouette looks like. Thankfully the digital revolution means that photographers can take a fair few images these days and see what works best, which I would imagine is what Carl has done on this occasion.
This image has worked very well for him and is another example of how an everyday subject can be given a new lease of life by trying something different; congratulations to Carl on his lovely winning photo.
Other notable images

Willow Warbler, Chasewater, Staffordshire (Photo: Derek Lees)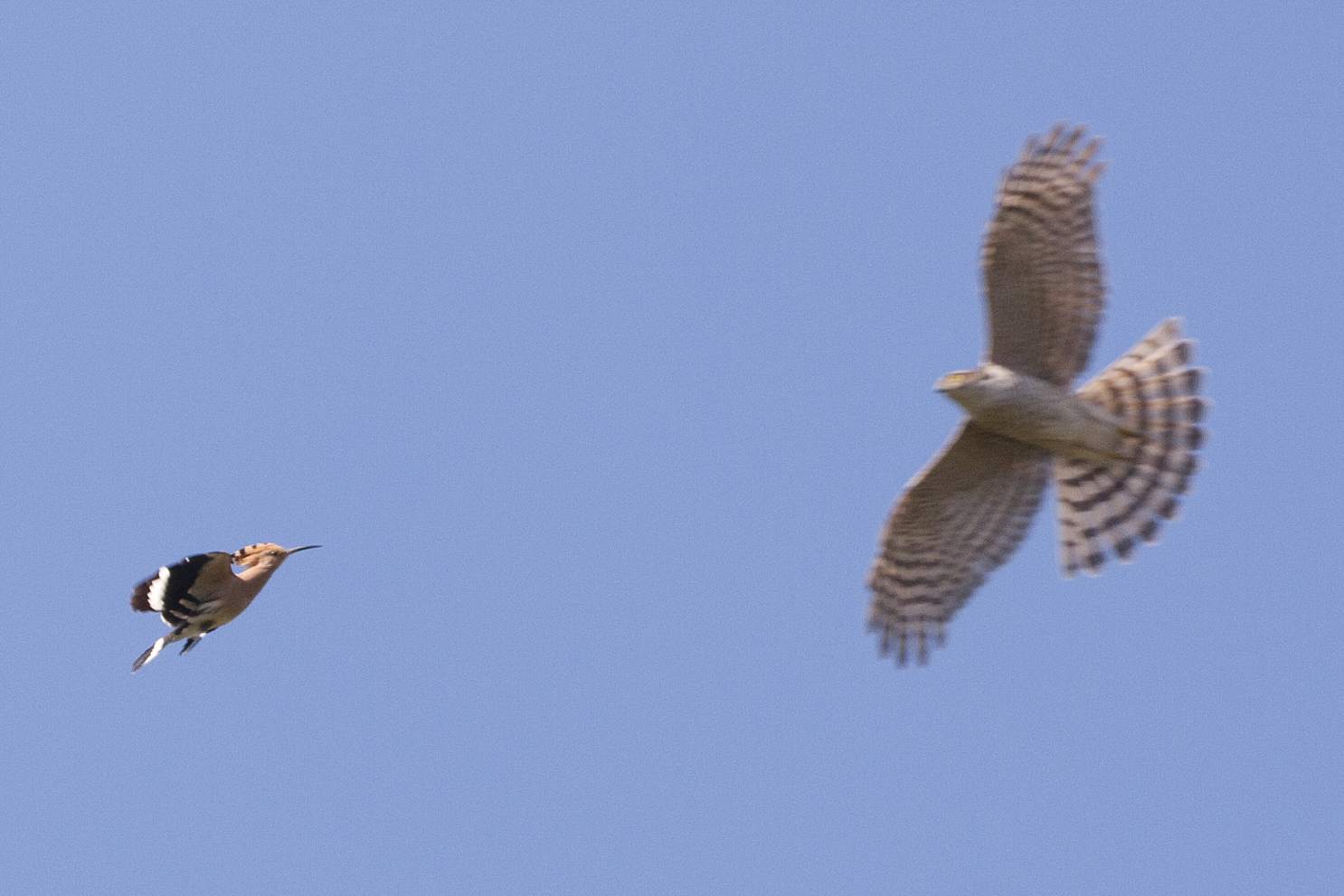 Hoopoe, Mizen Head, Cork (Photo: Caleb Knight)

Ring Ouzel, Northrepps, Norfolk (Photo: Carl Chapman)

Fulmar, Cresswell, Northumberland (Photo: Heiko Peters)

Eider, Fife Ness, Fife (Photo: Joe Graham)

Waxwing, Sutton Common, Suffolk (Photo: John Richardson)

Coal Tit, Turriff, Aberdeenshire (Photo: Geoff Eyles)

Cattle Egret, Israel (Photo: Wally Harris)

Pied Flycatcher, Llandrindod Wells, Powys (Photo: Bazz Pugh)

Dipper, undisclosed site, Devon (Photo: Rob Cross)

Nightingale, Woodbridge, Suffolk (Photo: Debra Pickering)