The week at a glance

White-crowned Sparrow, Cley next the Sea, Norfolk (Photo: Jamie Macarthur)

Buff-bellied Pipit, Youghal, Cork (Photo: Owen Foley)

Putative Thayer's Gull, Pools Brook CP, Derbyshire (Photos: Paul Bagguley)
As some wonderful cold, frosty and gloriously sunny winter weather saw in a new week, Valentine's Day came and went with many of the nation's birders still appearing to be rather taken by the Nearctic lonely heart still encamped around its scrubby little hideaway at Cley (Norfolk). The adult male White-crowned Sparrow continued to entertain anyone and everyone as the first hard frosts of 2008 began to penetrate, but these sparrows are made of stern stuff, so survival doesn't appear to be in doubt. The bird remained to 20th and visiting birders' continuing generosity has seen the collection for St. Margaret's Church ease through the £5,500 mark. A Wilson's Snipe lingered at Lower Moors, St. Mary's (Scilly) from 14th-20th, while the first-winter American Buff-bellied Pipit remained at Red Barn Strand, near Youghal (Co. Cork) until 17th at least. In Derbyshire, the putative Thayer's Gull (or hybrid) was relocated at Pools Brook GP on 16th and was still there to 18th. This teasing, perplexing individual was last seen in Oxfordshire on 6th January, prompting the obvious question as to where could such a distinctive bird have been hiding for over a month? Of no doubt was the identification hornet's nest that was reopened with the bird's reappearance. A bird that's never hiding, but just under-recorded, is the drake Barrow's Goldeneye at Quoile Pondage (Co. Down), which was still in place to 19th at least. In Cornwall, the still-to-be-pinned-down possible adult Pacific Diver was again seen off Porthpean on 20th.
On Shetland, a White-billed Diver was noted off Kirkabister, Mainland on 13th with another between Unst and Fetlar on 19th. Two White-billed Divers were reported off the coast of Lewis (Outer Hebrides) on 14th, but couldn't be located the following day. A single Pomarine Skua was seen from Mucking Tip (Essex) on 16th, while Little Auks were reported from Kyle of Lochalsh (Highland), with two on 13th; on Loch Broom, Highland (two on 18th;, and singles were off North Ronaldsay (Orkney) and Turnberry Point (Ayrshire), both on 19th.

Cattle Egret, Grinsdale, Cumbria (Photo: Tristan Reid)

Cattle Egret, Legbourne, Lincolnshire (Photo: Andrew P. Chick)
In Cornwall Cattle Egrets were seen at five different locations this week, with the group around Treganhoe Farm, Sancreed still proving to be the largest group at large in the country, with at least 19 birds present to 17th at least. Two birds were at Stithians Reservoir on 15th, while a single bird was seen at Wadebridge on 17th. At Widegates, 10 birds remained until 17th at least and three were seen at Trevollard near Saltash on 16th (possibly from the Widegates group). Across the mighty Tamar, and on into Devon, two birds remained at Saltram to 14th (with one there to 19th). The 15th saw one bird on Isley Marsh RSPB in the north of the county, and on 16th and 19th one was seen at Bere Alston (and was commuting to nearby Warleigh Point), while three birds were again alongside the Exe Estuary at Powderham to 19th. In Somerset, two birds were at Stretcholt on 14th (with one there the following day), one remained near Old Cleeve to 17th and five were seen near Bridgewater on 18th-19th, with three there on 20th. Three birds were again seen at Radipole Lake RSPB (Dorset) on 16th, while in neighbouring Hampshire, two birds were still being seen at St. Leonards Grange from 14th-17th and the Harbridge individual remained to 17th at least. In Wiltshire, one bird was still at Britford Water Meadows on 17th-20th while dropping across to West Sussex, two birds were at East Lavant from 14th-17th and one was also still in place at Chichester GP, to 14th at least. In East Sussex one remained at Piddinghoe to 17th at least. The bird at Legbourne (Lincolnshire) remained until 18th, and the lone bird at Higher Poynton (Cheshire) was still being seen to 19th. Another county to join the Cattle Egret party was Cumbria: a bird was noted at Grinsdale on 17th-20th (though it had been present since 12th). In Ireland, several reports came in from County Cork this week - eight were seen at Dunmanus Bay on 14th, followed by one at Union Hall on 16th, when others were noted at Bandon, five were at Clonakilty and eight were seen later at Clogheen Marsh. On 18th, four were at Great Island and one was again at the City Lough. In Waterford, eight birds were at Ballycrompane on 16th-17th at least and one was at Dungarvan on 17th.

Spoonbill, National Wetlands Centre, Carmarthen (Photo: Chris Cook)

Glossy Ibis, Howden's Pullover, Lincolnshire (Photo: Darren Chapman)

Common Crane, St. Monans, Fife (Photo: John Anderson)
Great White Egrets were reported from eight English and one Welsh county this week, some of which have been in the news for several weeks at least - including birds in Hampshire, Wiltshire, Cambridgeshire and Suffolk. A Great White Egret flew south over Chesil Cove (Dorset) on 16th, and one was seen in Cheshire at Ashton's Flash, on the same date. The bird seen at Crossen's Marsh (Lancashire) late last week remained in the area until 18th (with it or another reported at Pilling Marsh on 17th). In Powys, one was found near Caersws on 18th. Nine Spoonbills were reported this week, with five at Isley Marsh RSPB (Devon) the highest tally noted, on 15th. A single bird was at Cuckmere Haven from 14th-17th at least, and other notable singles were at East Hoo Creek (Kent) on 15th and on Bryher (Scilly) on 16th. The two second-winter Glossy Ibises remained in situ for the week - the popular Spanish-ringed bird at Howden's Pullover (Lincolnshire) was still present to 20th and the resident bird at Warton Marsh (Lancashire) was still in place to 17th. The adult Night Heron at the Mere Sands Wood LWT reserve remained to 15th and there have been suggestions that it may have been a bird of the Nearctic race hoactli. Thoughts as to the race of this bird have been tempered with the almost inevitable suggestions (as yet unfounded) of potential captive origins. The 11 Common Cranes remained near Elgin (Moray) to 16th, while the trio in Highland, at Hastigrow, were still present to 19th at least. Also in Scotland, a single Common Crane was seen at St. Monans (Fife) for an hour, late in the day on 17th, before flying north. At Welney WWT (Norfolk), the lone bird was still present to 17th. A Spotted Crake was an unusual February find at Shoreham-on-Sea (West Sussex) on 19th.

Red-breasted Goose, Easton, Cumbria (Photo: Craig Shaw)
At least one Ross's Goose was still present in Cumbria this week, remaining around Easton to 15th. On the same date, a Ross's Goose was also seen at Newton Marsh (and the thought that this could have been the bird seen recently in Lancashire should perhaps be considered). The white adult Snow Goose was at Heigham Holmes (Norfolk) from 15th-17th (paying a brief visit to nearby Hickling Broad NWT on 14th and Horsey on 19th). Another adult white-morph bird was at Loch Calder (Highland) on 17th-19th and the first-winter near Rennibister, Mainland (Orkney) was present to the same date. The intermediate adult Snow Goose was at Slains (Aberdeenshire) to 16th. In County Sligo, a "Richardson's" Canada Goose was seen at Ballintemple on 16th and Lissadell on 18th, while, back in Cumbria, the adult Red-breasted Goose was seen again, at Easton, from 16th-17th. Just half a dozen Black Brants were reported this week, with two at Shotley Marshes (Suffolk) on 14th being of note. At least three remained in Norfolk, with singles still in Devon (on the Kingsbridge Estuary) and one in County Down (near Newtonards).

American Wigeon, Angle Bay, Pembrokeshire (Photo: Chris Cook)

Lesser Scaup, Draycote Water, Warwickshire (Photo: Dave Hutton)

King Eider, Northam Burrows CP, Devon (Photo: Pat Mayer)
The drake American Wigeon was still at Angle Bay (Pembrokeshire) to 17th and the drake at Wick (Highland) remained to 19th. Seven drake Green-winged Teals were mainly rather familiar individuals: at Marshside RSPB (Lancashire) on 14th-19th, at Woodhorn Flash (Northumberland) on 14th-19th, on the Loch of Tingwall (Shetland) on 15th and in Ireland at Belfast Lough RSPB (Co. Antrim) on 14th and Bell Harbour (Co. Clare) to 15th. A new arrival was at Wigan Flashes LNR (Lancashire) on 19th, when another drake was again at Seamill (Ayrshire). The presumed hybrid drake Green-winged Teal x Eurasian Teal was again at Salthouse (Norfolk) on 15th. Garganeys remained at Cotswold Water Park (Wiltshire) and Lochmaben (Dumfries & Galloway), both to 19th. The drake Black Duck at Ventry (Co. Kerry) was seen on 17th, and was the first report of this bird since the first week of January. The two first-winter Lesser Scaup in middle England remained into another week: at Appleford GPs (Oxfordshire) to 17th and at Draycote Water (Warwickshire) to 20th. The adult drake was still on Coot Loch, Benbecula (Outer Hebrides) to 19th, and the drake at Stourton (Wiltshire) was still present on 20th (though it hadn't been mentioned since New Year's Day). One or two females were on Shetland on 16th - the bird on Yell was still present to 19th and another (?) was seen on Unst on 16th. In Ireland, the first-winter drake was at Lough Arrow (Co. Sligo) for much of the week, with an adult drake there on 19th, and a new drake was found at Lough Ennell (Co. Westmeath) on 17th. The latter site was also host to two Ring-necked Ducks (a pair) on the same date - someone did very well for themselves there! In County Donegal, the drake at Glenveagh National Park was still present to 13th, and the drakes in Somerset and Buckinghamshire were still present throughout the week. The female at Stithians Reservoir (Cornwall) was still present to 17th. The drake Ferruginous Duck present near Heanor (Derbyshire) was reported to 9th. The now-familiar double-hit of King Eiders was still on offer this week: the adult male at Mousa on Shetland was still present to 15th, while the first-winter drake at Girdle Ness (Aberdeenshire) remained to the same date. Way down in southwest England, a first-winter drake King Eider discovered at the mouth of the Taw/Torridge Estuary (Devon) set the pulses of many county listers racing on 18th-20th. This first for Devon was arguably the find of the week. Another rise in numbers of Surf Scoters over the past few days included two drakes in Lower Largo Bay (Fife) on 14th and three birds were off Dornoch (Highland) on 16th. The threesome of two drakes and a duck were still in the Sound of Taransay (Outer Hebrides) to 20th, and a drake remained off Mainland Orkney to 19th. First-winter females remained off Dawlish Warren (Devon), Tiree (Argyll) and Silver Strand (Co. Galway) during much of the week.
The juvenile Rough-legged Buzzard in Norfolk, often present between Burnham Norton and Burnham Deepdale, was drawing regular admirers from 14th-19th at least. In Cleveland, the bird at Sleddale was still present on 16th, and on the Isle of Sheppey (Kent) a juvenile was still to be seen to 20th.

Spotted Sandpiper, Kinneil Lagoon, Forth (Photo: John Nadin)

Lesser Yellowlegs, Rosscarbery, Cork (Photo: Owen Foley)
Two Spotted Sandpipers again this week; both long-stayers, though the bird at Kinneil Lagoon (Forth) from 16th-19th has proved rather less frequently reported than the bird at Lisvane Reservoir area (Glamorgan), which remained to 20th. The first-winter Long-billed Dowitcher was again at Bowling Green Marsh RSPB (Devon) on 16th, while Lesser Yellowlegs were still to be seen at Rosscarbery (Co. Cork) to 16th and the Montrose Basin (Angus) to 19th. The wintering adult Temminck's Stint was at Slimbridge WWT (Gloucestershire) on 14th.

Kumlien's Gull, Greencastle, Donegal (Photo: Derek Charles)

American Herring Gull, Galway, Galway (Photo: Stttphane Aubry)
In Somerset, the second-winter Franklin's Gull showed a little consistency in terms of its evening appearances at Chew Valley Lake (Somerset), appearing every evening from 14th-17th. Ring-billed Gull numbers jumped significantly this week with at least 24 birds recorded, 14 of those in Ireland. Leading the way were three adults each for Blennerville (Co. Kerry) and Nimmo's Pier (Co. Galway), on 17th and 18th respectively. A first- and second-winter were again at Cork City Lough (Co. Cork) to 18th, and two adults were at Cobh (Co. Cork); also on 18th. In Scotland, the adult was again at Kinneil Lagoon (Forth) to 17th and in Wales, the adult was again at Llys-y-Fran Reservoir (Pembrokeshire) to 18th and a first-winter was seen at Lamby Lake (Glamorgan) on 18th-20th. One or two first-winters were seen in Cornwall: at Stithians Reservoir (Cornwall) on 15th and at Sennen on 19th, while in Essex, two birds were noted - the regular adult at Westcliff-on-Sea, and a new adult at Manningtree on 17th. The juvenile American Herring Gull remained around Nimmo's Pier (Co. Galway) until at least 18th, and in Cheshire, a possible young American Herring Gull was seen again at Moore NR and Arpley Landfill Site on 15th-16th. After several low weekly tallies in a row, there was a rise in the number of Caspian Gulls this week - at least 28 birds were reported. Six of these were at Hole Haven, Canvey Island (Essex) on 16th, but other notable birds included a first-winter at Strathclyde Loch (Clyde) on 14th and an adult at Weir Wood reservoir (East Sussex) on 15th. Up to 70 Glaucous Gulls were noted this week, with high counts being three at Draycote Water (Warwickshire) on 16th, and two tallies of four on 17th, at Peterhead (Aberdeenshire) and Dingle (Co. Kerry). The number of Iceland Gulls again topped three figures this week, with at least 120 birds reported. The largest count this week (and indeed the highest count of the winter so far) was of 17 birds at Nimmo's Pier (Co. Galway) on 18th (the figure comprising two adults, two second-winters and 13 juveniles). Ten birds were at Killybegs (Co. Donegal) on 19th, nine were at Loch Ceann on Lewis (Outer Hebrides) on 15th, eight were at Rossaveal (Co. Galway) on 15th, five were in the roost at Strathclyde Loch (Clyde) on 17th and four were at Newlyn Harbour (Cornwall) on 15th. Kumlien's Gulls included an adult at Wigg Island (Cheshire) on 14th, five birds in County Galway on 16th (two at Nimmo's Pier and three at Rossaveal), two birds (an adult and juvenile) at Cork City Lough (Co. Cork) on 14th and 18th and a second-winter at Pools Brook CP (Derbyshire) on 18th. At least one adult Forster's Tern continued its winter holidays around Galway Bay this week, seen at Traucht on 15th and Nimmo's Pier on 16th-17th.
The presumed eastern race Yellow Wagtail remained at Trevollard (Cornwall) to 19th at least and, along with the three Cattle Egrets mentioned earlier, keen eyes also discovered a Richard's Pipit at the same site on 14th, the bird remaining to 19th at least. The bird at Howden's Pullover (Lincolnshire) remained to 17th.

Dark-breasted Barn Owl, Wacton Common, Norfolk (Photo: Sean Nixon)

Black-bellied Dipper, Watton, East Yorkshire (Photo: Barrie Hanson)
Waxwings again failed to show themselves this week, despite the mini cold snap here. This week, the largest flock was in Aberdeen, where 45 were seen on 20th. Fifteen were in Glasgow (Clyde) on the same date and 12 flew over Shiremoor (Northumberland) on 19th. Seven Waxwings flying over Hollywood (Worcestershire) on 15th were also of note. The rather dashing Dark-breasted Barn Owl remained on Wacton Common, near Long Stratton (Norfolk) to 19th and the bird at the Cotswold Water Park (Wiltshire) was still present to 20th. The two over-wintering Black-bellied Dippers continued to be seen: at Watton, (East Yorkshire) and on Fair Isle (Shetland). A little less seasonable were the two Swallows seen in the week, at Shepherd's Chine (Isle of Wight) on 14th and over Chichester (West Sussex) on 19th.

Hume's Leaf Warbler, Stockton-on-Tees, Cleveland (Photo: Ian Forrest)
Three Hume's Yellow-browed Warblers managed to draw continuing interest over the week - the two birds in Cornwall, at Cot Valley and at Tehidy CP near Camborne, were both present to 20th, while the bird at Stockton-on-Tees (Cleveland) remained to the same date. Single Yellow-browed Warblers could still be seen in Cornwall (at Helston), Devon (in Plymouth) and Somerset (at Chew Valley Lake), but the bird found in Herefordshire, at Bartonsham sewage works, was an excellent find on 17th, remaining to 19th. A Garden Warbler, in the company of two Blackcaps, at Wadebridge (Cornwall) on 20th was exceptional - few winter records exist of this often elusive songster.

Great Grey Shrike, Ty-Rhyg, Pembrokeshire (Photo: Richard Crossen)
Chough isn't really a species known for making the review, but a bird at Warton Crag LWT, near Carnforth (Lancashire) on 19th-20th certainly merits a mention. At least 22 Great Grey Shrikes could still be found around the country this week, including at least two (probably three) in Hampshire, two in Nottinghamshire, two in Lancashire and two in Norfolk. Most noteworthy were birds seen in five different Welsh counties during the week: in Pembrokeshire, Powys, Conwy, Ceredigion and Clwyd. The Little Bunting that was trapped and ringed at Noss Head, near Wick (Highland) on 12th, was present again on 15th.
Content continues after advertisements
Photo of the Week

Short-eared Owl, undisclosed site, Lancashire (Photo: Steve Fletcher)
There's no doubt that owls make superb photographic subjects and BirdGuides has recently been inundated with high-quality owl images. To see a photo of two owls in flight, though, is quite unusual. With his wonderfully-composed aerial action shot, Steve Fletcher has managed to freeze a pair of Short-eared Owls less than a wing span apart, connected by a strong line of eye contact. Both birds have been captured in powerful poses and their vertical positioning - with the lower bird flying directly upwards - makes for a dynamic, graphic image.
Other notable photos

Brown Booby and Flying Fish, Caribbean (Photo: Dave Winnard)

Red-legged Partridge, undisclosed site, Lancashire (Photo: Sue Tranter)

Whooper Swan, Welney WWT, Norfolk (Photo: Mick Southcott)

Mediterranean Gull, Scarborough, North Yorkshire (Photo: Dean Eades)

Spoonbill, Ernesettle, Devon (Photo: Chris Buckland)

Purple Heron, Netherlands (Photo: Rudi Debruyne)

Goldcrest, private site, Cheshire (Photo: Steve Round)

Goldeneye, Stithians Reservoir, Cornwall (Photo: Matthew Sallis)

Brambling, Shobdon, Herefordshire (Photo: George Ewart)

Hume's Leaf Warbler, Stockton-on-Tees, Cleveland (Photo: Ian Forrest)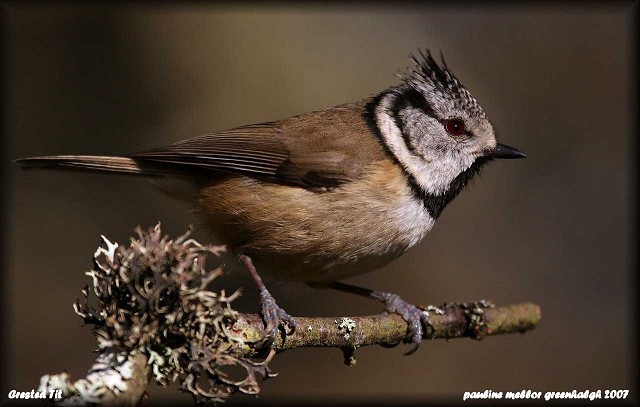 Crested Tit, Abernethy Forest RSPB, Highland (Photo: Pauline Greenhalgh)

Bittern, Potteric Carr YWT, South Yorkshire (Photo: George)