The week at a glance
With little or no hint of any further blasts of summer heat, the weather remained rather temperamental this week, bringing pretty strong winds to much of the country coupled with showers, rain and for the north of Ireland, and severe flooding too. The south of Ireland fared well in the seabird stakes, and the Northern Isles again enjoyed a decent crop of rare passerines, but it was a North Sea coastal county that provided the best birding ray of sunshine for weeks and weeks.

Audouin's Gull, Chapel Point, Lincolnshire (Photo: Steve Evans)

Audouin's Gull, Chapel Point, Lincolnshire (Photo: Graham Catley)
After an initial report of a "probable" Audouin's Gull at Huttoft Bank on 15th made its way to the news service providers in the middle of 16th, there was (almost inevitably) a rather short period of "um-ing and ah-ing" before a confirmed sighting ensured that any grumblings and hints of disquiet were dispelled. The bird, a slightly scruffy third-summer (or near-adult if you prefer), had been photographed and the identity was concrete-firm. However, with no sign on 16th, it already seemed as though it may have slipped under the radar, as birders in neighbouring counties went to "red alert" on the off-chance that it might hit Yorkshire or Norfolk. Perseverance paid off though for Lincolnshire birders on 17th, the bird reappearing along the coast at nearby Chapel Point in mid-afternoon, where it showed for half an hour or so, with a further show mid-evening. In between performances at Chapel Point, the bird also had a flypast further along the coast, near Mablethorpe. On 18th, the bird was back on the beach at Chapel Point and showed well off and on during the day, doubtless to the collective relief of the many folk who had missed out on the species before this. The bird remained to 19th, still moving up and down along the grey North Sea coastline. After being predicted for so many years, it was only five years ago that the species finally made it to the British List, thanks to a second-summer at Dungeness (Kent) on 5th–7th May 2003, and this bird becomes at least the fourth record (last year's sightings in Kent and Devon may have been the same bird). Another bird that took a little while to be pinned down this week was the moulting adult Stilt Sandpiper at Coombe Hill Meadows (Gloucestershire). Following a report of a Long-billed Dowitcher on 15th, nothing more was heard until 19th, when the Dowitcher was reported again. By early evening, the bird's true identity was known and Gloucestershire had a county first tucked nicely under the belt. The bird remained to 20th.

Great Shearwater, At Sea, Isles of Scilly (Photo: Richard Layton)
County Cork pushed the tally of Fea's Petrel sightings in Ireland over the past three weeks from two to four as singles passed Galley Head and Dunowen Head, both on 15th, with the latter bird flying by twice in two hours (although there is a chance it could even have been a second bird). County Clare then boosted the tally to at least five as one (and possibly two) flew by Bridges of Ross on 19th. The same site also logged single Wilson's Storm-petrels on 15th–16th and another was seen from Old Head of Kinsale (Co. Cork) on 18th, while in British waters, one was seen from a Scilly pelagic on 16th. Fewer than 40 Great Shearwaters were seen this week: singles were seen on Scilly pelagics on 14th and 15th while six were seen from a pelagic there on 17th. Two birds were seen from Porthgwarra (Cornwall) on 14th, followed by one on 17th and three on 18th, with another seen from the Scillonian III crossing on 18th. In Devon, two flew past Berry Head and one was off Seaton on 15th. Three birds were seen (at sea) off Gairloch (Highland) on 17th. In Ireland, Galley Head recorded three birds on both 16th and 18th, with singles there on 15th and 17th, while in County Waterford, three were seen from Helvick Head on 16th. One was also seen from Bridges of Ross on 19th. Around 200 Cory's Shearwaters were seen over the week, with almost all records coming from Cornwall and Scilly, though birds were also noted in Devon, Dorset and Ireland. On 14th, 33 were seen from Porthgwarra and at least 40 were seen from a pelagic off Scilly on 15th. On Scilly itself, 21 were seen from Peninnis Head, St. Mary's on the same day. On 16th, 15 birds were seen from another Scilly pelagic while, on 17th, upwards of 50 birds were seen around Scilly waters (from the islands and at sea) with 19 off Peninnis the highest single count. Porthgwarra fared well with Balearic Shearwaters this week, with double-figure counts on all days from 14th–18th, with 27 the peak on both 17th and 18th. Off Portland Bill (Dorset), 31 Balearics were seen on 18th, with 36 at Seaton (Devon) on the same date. All these figures were blitzed by the largest count of the year by far—an amazing 109 were reported off Berry Head on 16th (and 82 were counted there on 18th). Also on 18th, 27 Sooty Shearwaters were seen from Berry Head, while Porthgwarra steamed in with a count of 115, easily the highest single total of the autumn so far (with 52 from Bridges of Ross and 60 from Pendeen, both on 19th, the next-highest). Three Long-tailed Skuas were seen off Bridges of Ross in County Clare on 15th, with another there on 17th. Also on 15th, a juvenile Long-tailed Skua was reported from Sheringham (Norfolk) with further juveniles seen from the Long Nab (North Yorkshire) on 18th and Chapel Point (Lincolnshire) on 19th. Two adult Long-tailed Skuas were seen near Kilbaha (Co. Clare) on 19th. Some 40 Pomarine Skuas this week included seven off Berry Head and five from Hound Point (Lothian) on 17th, while at least 15 Sabine's Gulls were noted, with five of them seen from Bridges of Ross (two on 15th, two on 16th and one on 19th). Others were noted at Dawlish Warren (Devon) and Galley Head (Co. Cork) on 15th, Strumble Head (Pembrokeshire) on 16th, from Whitburn Country Park (Co. Durham), Fishtown of Usan (Moray) and off Scilly on 17th, with singles in Highland, off Staffin Bay, Skye, off Spurn (East Yorkshire) and Seafield (Co. Clare) on 19th, with one off Strumble Head (Pembrokeshire) on 20th, the final bird of the week. Single Grey Phalaropes were seen from the Scillonian III on 14th and 18th, another was seen from St. Mary's on the latter date, and two were seen from Bridges of Ross on 15th. The adult summer White-billed Diver remained in the waters surrounding South Ronaldsay (Orkney) to the end of the week.

Spoonbill, Cley Marshes NWT, Norfolk (Photo: Steve Purcell)

Glossy Ibis, Allerton Bywater, West Yorkshire (Photo: Brian Irvine)
Somewhat out of the blue were the 13 Cattle Egrets reported at Radipole Lake (Dorset) on 16th—presumably a post-breeding dispersal, but from how far away? In Norfolk, the Cattle Egret continued to commute between Blakeney Freshmarsh and Cley Marshes to 15th, with others at Ballard Down (Dorset) and Dungeness (Kent) on 17th, with the bird in Dorset remaining to 20th. A Great White Egret returned to Blashford Lakes (Hampshire) this week and another was at Lough Corrib (Co. Galway) on 18th. The 19 Spoonbills were still at Havergate Island (Suffolk) on 16th and six more lingered in Poole Harbour (Dorset) and at least six were still in Norfolk (at three sites). In Wales, single birds were at Barmouth (Gwynedd) on 15th and still at the Newport Wetlands (Gwent) from 15th–20th, while in Scotland, the two adults were still at Kinneil Lagoon (Forth) to 20th and two were at Kirkcudbright (Dumfries & Galloway) to 19th at least. A Purple Heron was a good inland record for Fen Drayton GPs (Cambridgeshire) on 17th–18th. In Shropshire, the two Common Cranes remained near Crudgington to 18th (taking in a little jaunt to nearby Tibberton on 17th) and 21 Cranes (including one juvenile) were at Hickling Broad (Norfolk) on 18th. The juvenile Black Stork was still around Clara Valley and Crawcrook (Co. Durham) to 14th. Meanwhile, in Hampshire, a White Stork was seen at Stoney Cross Plain on the same date and two juveniles were seen at three sites in Hertfordshire on 16th. Presumably the same youngsters then appeared in East Sussex, at Lewes on 18th and then at Firle on 20th, before flying over Lydd (Kent) later the same day. In West Yorkshire, a Glossy Ibis was found at Allerton Bywater on 17th (remaining to 20th) and must surely have been the bird seen in the same county at the end of July. If so, where has it been hiding for the 18 days? In Kent, a Spotted Crake was found at Oare Marshes NR on 16th, and was still present to 20th.
At Chew Valley Lake in Somerset, the drake Ferruginous Duck remained until 14th at least. It was very much "as you were" for both the eclipse drake Lesser Scaup at Balgray Reservoir (Clyde) and the eclipse drake Ring-necked Duck at Loch Gelly (Fife), both birds still in place on 17th. Remaining north of the border, a Surf Scoter was noted off Blackdog (Aberdeenshire) on 14th, with two birds there the following day. In Dorset, the eclipse first-summer male Hooded Merganser remained at Radipole Lake to 20th.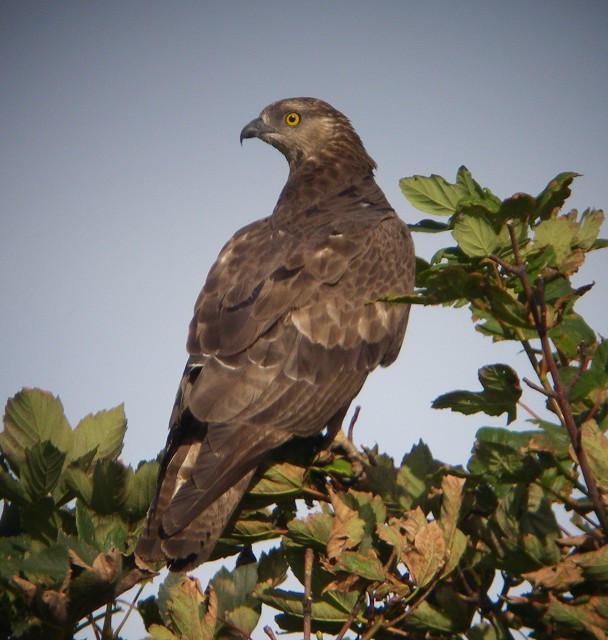 Honey Buzzard, Fauxquets Valley, Guernsey (Photo: Mark Guppy)
There were very few raptors of note this week: three Honey Buzzards remained at Swanton Novers (Norfolk) into the new review period and singles were seen at Ogston Reservoir (Derbyshire) on 17th and at Hartlepool (Cleveland) on 19th. Migrating Montagu's Harriers were seen at Pitstone Hill (Buckinghamshire) and Minsmere (Suffolk) on 15th, at Hengistbury Head (Dorset) on 16th and around the Frampton and Freiston Marshes reserves (Lincolnshire) on 17th–20th.

Wilson's Phalarope, Grindon Lough, Northumberland (Photo: Willie Mcbay)
Aside from the Stilt Sandpiper, the best wader this week was arguably the juvenile Marsh Sandpiper that was at Hickling Broad (Norfolk) on 18th–20th (with a Buff-breasted Sandpiper reported here briefly on 19th). An adult Pacific Golden Plover was seen at Anthorn (Cumbria) on 19th–20th while a Long-billed Dowitcher was in Dundalk Harbour (Co. Louth) on 19th–20th (a site where one spent several months during the early part of 2007). In Northumberland, the winter adult Wilson's Phalarope remained at Grindon Lough to 17th at least. On South Uist (Outer Hebrides) the adult Baird's Sandpiper was at Baile Gharbhaidh until 14th and, on 16th, it (or another) was at Rubha Ardvule, and was still there to 20th. In Kent, the adult summer American Golden Plover remained at Elmley Marshes from 15th–17th (with presumably the same bird at Conyer Creek on 16th). A Buff-breasted Sandpiper lingered on North Ronaldsay (Orkney) to 19th and a Pectoral Sandpiper was at Freiston Shore (Lincolnshire) on 17th–18th. A Temminck's Stint was at Holland Haven (Essex) on 17th–20th and, also in Essex, another was at Abberton Reservoir, on 18th. An adult Red-necked Phalarope was found at Saul Warth, Frampton-on-Severn (Gloucestershire) on 14th and remained there until 20th. In Cleveland, a Red-necked Phalarope dropped in briefly at Hartlepool on 17th before heading off south. An adult Kentish Plover was seen at Pegwell Bay (Kent) on 17th. Two groups of Dotterel (a three, then a seven) were seen flying south over Spurn (East Yorkshire) on 18th.

White-winged Black Tern, Covenham Reservoir, Lincolnshire (Photo: Ross Ahmed)
A Bonaparte's Gull was reported at Lunan Bay (Angus) on 17th while in Forth, at Kinneil Lagoons, an adult Ring-billed Gull appeared on 14th and, almost inevitably, raised the question as to whether it could possibly have been the bird seen here for a week in February. Other "Ring-bills" this week were a second-summer at Kinnegar Pools (Co. Antrim) and an adult still at Nimmo's Pier (Co. Galway). The first-summer Iceland Gull were still to be found in Sligo harbour throughout the week, with another at Liscannor (Co. Clare) on 18th, and single Glaucous Gulls were on Lewis (Outer Hebrides) to 20th, at Brora (Highland) on 15th–16th and Ramore Head (Co. Antrim) on 18th. A "sub-adult" Caspian Gull was at King George VI Reservoir (Surrey) on 15th, an adult was at Rutland Water (Leicestershire) on 16th, and another adult at Ashton-on-Trent GPs (Derbyshire) on the same date. In Norfolk, a third-summer Caspian Gull was at Cley Marshes on 16th. After the mini-rush of White-winged Black Terns last week, just one remained in to this week, an adult at Thamesmead (London) to 14th. Lincolnshire laid claim to two new White-winged Black Terns: an adult was seen flying past Sandilands, near Mablethorpe (Lincolnshire) on 17th and a juvenile was at Covenham Reservoir on 20th. Roseate Terns were reported from at least six counties this week (mainly still in the northeast, but one was in Hampshire) while decent numbers of Black Terns were on the move around the country in the middle of the review period, with high counts of 55 or more off Cross Ness (London), 55 off Dungeness (Kent) and 45 at Blithfield Reservoir (Staffordshire), all on 17th.
On the Outer Hebrides, a female Snowy Owl (presumably the bird last seen at the beginning of July) was found at Balranald, North Uist on 17th, and was still present on 20th. Following on from one or two Citrine Wagtails on Orkney this month, Shetland finally bagged one, a juvenile appearing on Fair Isle on 16th–20th. In Dorset, the female Lesser Grey Shrike remained at Hartland Moor, near Middlebere, until 15th and a female Red-backed Shrike was at Hauxley NR (Northumberland) on 18th. Two birds appeared on Fair Isle (Shetland) on 18th, and on Whalsay (Shetland) one was found on 19th. Another new arrival was a Wryneck up in the northeast coast, at South Gare, on 17th–18th. More Wrynecks arrived on 18th: on North Ronaldsay (Orkney), Inner Farne (Northumberland) with two on Fair Isle (Shetland). On 19th, a Wryneck was at Rattray Head (Aberdeenshire) and two were on North Ronaldsay (Orkney), while singles made it to Sands of Forvie (Aberdeenshire) and Sea Palling (Norfolk) on 20th. A Thrush Nightingale was on Fair Isle (Shetland) on 18th–19th, while on 14th, belated (rather remarkable) news came emerged from Wiltshire where a Thrush Nightingale had been trapped (along with four Nightingales) on MoD land on 9th. An inland, summer Sprosser, trapped alongside its more mellifluous cousin means some obvious questions will be asked.... In East Yorkshire, the summering Shore Lark was seen again at Spurn on 20th.
A Paddyfield Warbler was trapped, ringed and released at Skaw, Whalsay (Shetland) on 17th and becomes only the second August record of the species in Britain. It was also the eighth Paddyfield Warbler on Shetland since the turn of the decade (and was the second to be trapped at Skaw—the other being on 12th June 2006). Shetland also claimed one of the two Booted Warblers found this week: one was at Sumburgh Head on the mainland on 20th and followed one that paid a brief visit to Kingsdown (Kent) on 16th (with a Marsh Warbler also reported in the same county, at Sandwich Bay, on 15th). Another Marsh Warbler was found on North Ronaldsay on 18th. A Melodious Warbler was trapped and ringed at Brew Pool (Cornwall) on 17th with another reported briefly at Twatt (Shetland) on 18th. Also on Shetland an Icterine Warbler was at Scatness, Mainland on the same date. Another Icterine Warbler was found at Windwick, on South Ronaldsay (Orkney), on 18th. At least nine Barred Warblers arrived on the Northern Isles this week: two were on North Ronaldsay (Orkney) on 17th (with one still present to 19th) with another on South Ronaldsay, at Hestily, on 18th, while on Shetland, singles were found on Fair Isle and at Skaw, Whalsay, on 16th (with two birds on Fair Isle on 19th), at Geosetter, Mainland on 17th, at Norwick, Unst on 18th and at Quarff, Mainland on 20th. A mainland Barred Warbler was found at Girdle Ness (Aberdeenshire) on 18th. Another typical mid-August species, Greenish Warbler, was represented by six birds this week: one on Stronsay (Orkney) on 17th was followed by two birds on 18th, one on North Ronaldsay (Orkney) and another on Inner Farne (Northumberland), while three birds were found in Aberdeenshire on 20th, at Loch of Strathbeg, Sands of Forvie and Cruden Bay.
Two-barred Crossbills fell away from the headlines this week, although it is possible that the invasion may still be continuing as the two sites at the centre of the irruption—Sumburgh and Fair Isle—saw a slight fluctuation in the numbers of birds present during the week. At Sumburgh Head, three birds (a male and two juveniles) were still present on 14th, and at least five birds were there again on 16th. On Fair Isle, three juveniles were seen on 15th and five birds on 17th, with four on 18th. A presumed new arrival was a male that was found near Olna Firth, Mainland (Shetland) on 18th. The adult Rose-coloured Starling at Cromdale (Highland) remained to 20th, while in Cornwall birds were seen at Gwithian on 16th and Hayle on 20th.

Short-toed Lark, Tiree, Argyll (Photo: Jim Dickson)
Content continues after advertisements
Photo of the Week

Little Egret, Summer Leys LNR, Northamptonshire (Photo: Matthijs Ravensberg)
In the UK, Little Egrets have progressed from infrequent visitor to relatively common status in only a few years. At some locations, it's now possible to see over a hundred of these birds at once. As they move inland from coastal wetlands, these birds show how versatile they can be when it comes to hunting for food. Despite this, when Matt Ravensberg lined his camera up on a young egret fishing among reeds at Summer Leys in Northamptonshire, he surely couldn't have imagined that it would emerge with a Reed Warbler in its bill! Despite this, he managed to maintain his composure and capture a stunningly dramatic image, with the struggling warbler—bill open and wings spread—looking directly into the eye of its attacker.
Other notable photos

Spoonbill, Cley Marshes NWT, Norfolk (Photo: Douglas Mcfarlane)

Wood Sandpiper, Covenham Reservoir, Lincolnshire (Photo: Dean Eades)

Small Pratincole, India (Photo: Kit Day)

Common Snipe, Cley Marshes NWT, Norfolk (Photo: Richard Bedford)

Common Tern, St. Peter Port, Guernsey (Photo: Paul Hillion)

Reed Bunting, Farnborough, Hampshire (Photo: Richard Bond)

Goldfinch, Venus Pool NR, Shropshire (Photo: Jim Almond)

Blackbird, undisclosed site, Manchester, Greater (Photo: David Cookson)

Turnstone, Leasowe Lighthouse, Cheshire (Photo: Richard Steel)

Common Kestrel, Langstone Harbour, Hampshire (Photo: Lee Cooper)

Black-tailed Godwit, Cley Marshes NWT, Norfolk (Photo: Nigel Pye)

Arctic Skua, Grutness, Mainland, Shetland (Photo: Mark Breaks)