There can be no doubt now that autumn is well and truly upon us. It's proved an entertaining seven days around Britain and Ireland, and the coming six weeks are set to be action-packed as peak migration season unfolds. Many birders will be away on their autumn holidays from this week onwards, and the number of birders on Shetland in particular will rise exponentially as we head in to the weekend. It just so happens that the forecast is looking very good for arrivals both from the east and the west, and anticipation is stratospheric for next week at least. Make sure you tune in next week …
For now, we return to the highlights of the week just gone. And some highlights they were: most significant, despite last year's twitchable bird, was the arrival of a Black-billed Cuckoo at Dale of Walls, Shetland, on 18th. Just a few years ago this species had become a near-mythical vagrant of bygone days, which many genuinely thought may never be gettable on these shores again – especially with ongoing declines across North America. Well, there have now been three in the space of just four years. Following a brief bird on North Ronaldsay in October 2014, an exceptional spring record on North Uist last May (seen by many hundreds of twitchers) we now have Shetland's second, following a bird picked up exhausted on Foula in October 1953. A classic autumn record, the Dale of Walls bird was present for an afternoon but had disappeared by the following morning – one suspects it simply moved on rather than succumbed on site, given it seemed in rude health on 18th.

Black-billed Cuckoo, Dale of Walls, Shetland (Roger Riddington).
The other headline act was a twitchable Pallas's Grasshopper Warbler, found on the north Norfolk coast at Burnham Overy Staithe, on Sunday afternoon. There have been a number of recent, short-staying mainland birds and thus news that this bird was actually showing well in response to playback on Sunday evening genuinely surprised many. The good news was that the bird lingered until the end of the review period, although the bad news concerns the views it generally gave – brief, flight-only sightings that usually involved it flying away from the observer. Still, a fantastic record, if not quite as confiding as the famous Blakeney Point bird of 2001, and a third for the county. Talking of Blakeney Point, a Lanceolated Warbler was there on 15th but not reported until the following day.

Pallas's Grasshopper Warbler, Burnham Overy, Norfolk (Jake Gearty).
Meanwhile the American Redstart also provided delightfully confiding, eventually completing an 11-day stay and departing its favoured bunch of sycamores at Eoligarry, Barra, overnight on Sunday/Monday. After a 30-odd-year wait, it's fair to say that this delightful American sprite has been well and truly unblocked, making a lot of people happy in the process.

American Redstart, Eoligarry, Barra, Outer Hebrides (Lee Fuller).
Semipalmated Plover is undoubtedly an under-recorded species in Britain and Ireland yet, despite increased awareness, remains a skilful and exciting find anywhere. A second-calendar-year bird on Achill Island, Co Mayo, on 13th was exactly that. Curiously it was in exactly the same spot as a juvenile last autumn, behaving in a similar manner, and it is presumed that they are one and the same. Is it returning, or did it simply never leave ...?

Semipalmated Plover, Achill Island, Co Mayo (Tim Jones).
Other shorebirds included the continuing Hudsonian Whimbrel on the Co Sligo coast and further exciting arrivals in Dorset, which has been having an exceptional time of late. Though the Stilt Sandpiper wasn't seen at Lodmoor past Friday, the Least Sandpiper remained in situ to the morning of 19th. A Baird's Sandpiper appeared just along the coast at Wyke Regis on 17th and the week's only Spotted Sandpiper at Abbotsbury the same day – both lingered and showed well, as did a Buff-breasted Sandpiper at Portland on 13–14th. A juvenile Baird's was inland at White Holme Reservoir, West Yorks, from 13–15th, with perhaps the same bird at Hatfield Moors, South Yorks, on the morning of 16th. Another was at Spey Bay, Highland, from 13–16th and further birds were still in Co Sligo and Co Cork. The only White-rumped Sandpiper was at Carrahane Strand, Co Kerry, on 13th while Buff-breasted Sandpipers showed a strong westerly bias to their distribution and included a flock of five seen to come in off the sea at Baleshare, North Uist, on 18th. A juvenile Long-billed Dowitcher at Saltfleet, Lincolnshire, from 16th was perhaps the bird from Kilnsea; others were in Kent and Co Kerry. Juvenile Semipalmated Sandpipers showed well on St Mary's, Scilly, and at Balgarva, South Uist. The only Lesser Yellowlegs this week was the bird in Angus, while a handful of American Golden Plovers included a confiding juvenile on Scilly and new adults on Lewis and Whalsay.

Least Sandpiper (left), Lodmoor RSPB, Dorset (Doug Kelson).

Baird's Sandpiper (left, with Dunlin, right, and Ringed Plover, behind), Wyke Regis, Dorset (John Wall)

Spotted Sandpiper, Abbotsbury, Dorset (John Wall).
The American Royal Tern was again seen on Guernsey on 13th, off St Stephen. This is the first report of it since mid-August – has it been elsewhere, or simply remained undetected around the island's coast? The moulting White-winged Tern showed well at Tyttenhanger, Herts, until 18th while the Forster's Tern remained at Soldier's Point, Co Louth. There was a report of a Bonaparte's Gull at Kilnsea Wetlands, East Yorks, on 13th.

White-winged Tern, Tyttenhanger GPs, Hertfordshire (Dominic Mitchell).
Content continues after advertisements
It's always great to watch the now-annual invasion of Yellow-browed Warblers begin. It commenced with some strength this week as the east coast became littered with these extraordinary Siberian sprites and, more significantly, there were a number of early inland occurrences – including one in an isolated sycamore by a school in Elephant & Castle, Central London. Many thousands must be waiting to cross the North Sea and, with easterly winds forecast, we are surely to be inundated over the next week or so.

Yellow-browed Warbler, Kilnsea, East Yorkshire (Ian Bollen).
No fewer than four Arctic Warblers were reported, including yet another on Shetland at Esha Ness on 16th. One arrived at Easington, East Yorks, on 17th and another showed well at Wells Woods, Norfolk, on 17–18th.

Arctic Warbler, Wells Woods, Norfolk (Baz Scampion).
A Red-throated Pipit reached Tory Island, Co Donegal, on 17th. Minsmere's Citrine Wagtail lasted to 16th. Another arrived on Fair Isle on 17th, that day also producing Western Bonelli's Warbler, Melodious Warbler and Rustic Bunting on the island. Another Western Bonelli's was at Mire Loch, Borders, on 19th.
Greenish Warblers included birds at Easington, East Yorks, on 16th and nearby Spurn the following day, Druridge Pools, Northumberland, on 16–17th and Seabrook, Kent, on 17th. Scarcities included the typical scattering of Common Rosefinches on the Northern Isles, a dozen or so Barred Warblers including a few on the east coast, six Red-backed Shrikes including a female at Bempton Cliffs, East Yorks, and Red-breasted Flycatchers at Spurn/Kilnsea and in Norfolk and Suffolk.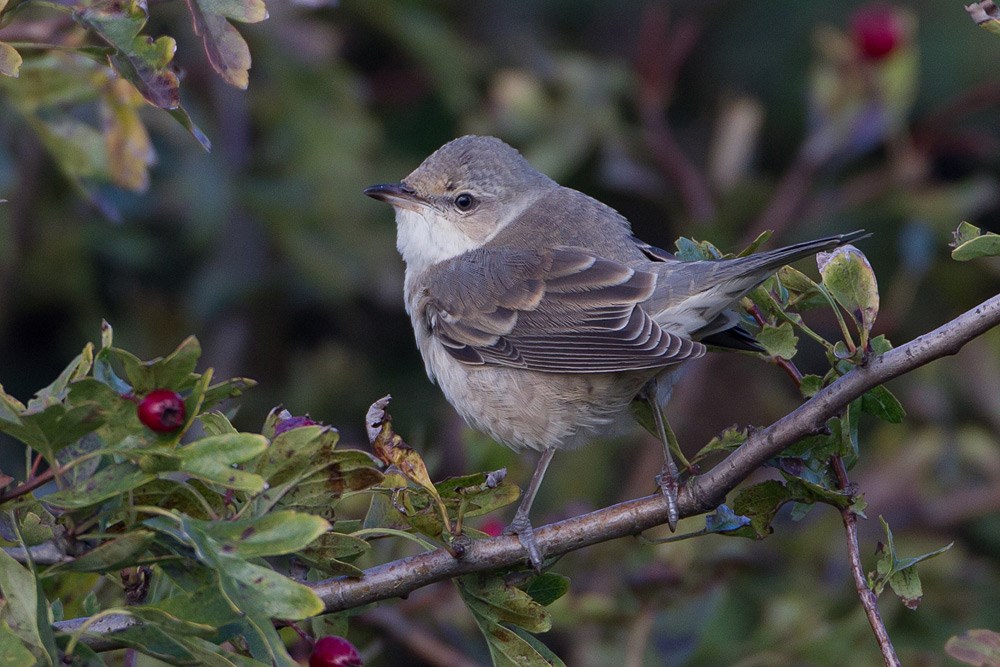 Barred Warbler, Marske-by-the-Sea, Cleveland (Martyn Sidwell).
Wrynecks were conspicuous in the southern half of Britain this week, but not further north. A Hoopoe reached Papa Westray, Orkney, on 19th, with another in Wakefield, West Yorks, and the continuing bird at Portland. The Woodchat Shrike remained near Chipping Sodbury, Glos.

Wryneck, Shingle Street, Suffolk (John Richardson).
The female King Eider was again north of Ynyslas, Ceredigion, on 18–9th – the first time it has been reported in a month or so – and the American Wigeon was still at Rutland Water.
Western Palearctic news
Italy's first Masked Shrike was in the Aspromonte area on 17th, while one of the country's few modern-day records of Buff-breasted Sandpiper was at Piombino.
An immature drake American White-winged Scoter was at Suðuroy, Faroe Islands, on 16th, and the isles' second and third Bonaparte's Gulls were also seen this week.
In Israel at least one Swinhoe's and one Wilson's Storm Petrel remained in the Bay of Eilat, while the immature Yellow-billed Stork remained in the Beit She'an valley. A Brown Booby was off Gran Canaria on 14th, while the Grey-tailed Tattler and Redhead remained on Terceira, Azores.

Grey-tailed Tattler, Cabo da Praia, Terceira, Azores (Daniel Mauras).

Redhead, Praia da Vitória, Terceira, Azores (Daniel Mauras).