In a week where many remained looking forlornly towards the Northern Isles, it was rather the extreme south-west of the country where the biggest treasure was to be found. Surprisingly discovered during a light easterly breeze, the Hermit Thrush at Porth Hellick on St Mary's, Scilly, on 18th marks a stellar addition to this week's review.
The first example of this sprightly Catharus on the Isles since 1993, unfortunately it wasn't present the following day for any would-be day-trippers. A lost mammal provided the week's other major rarity story, with a suitably whiskered Bearded Seal present on the slipway at West Burra, Shetland, from 14th.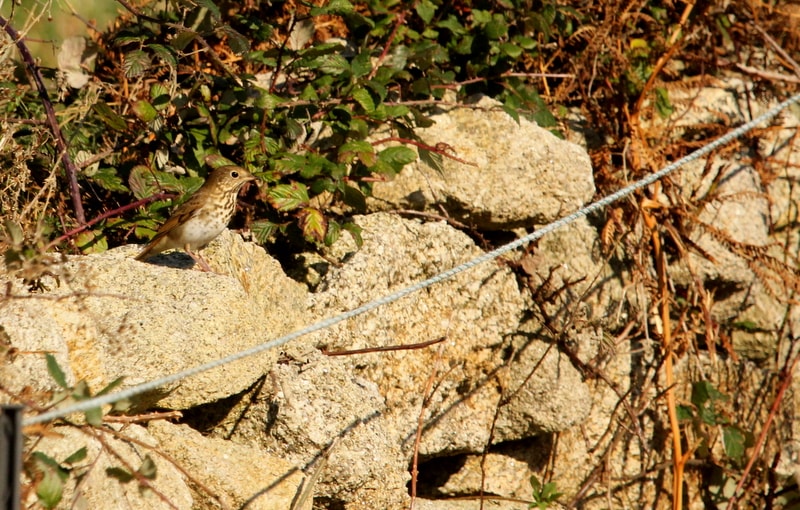 Hermit Thrush, St Mary's, Isles of Scilly (Kris Webb).
The intriguing Paddyfield Pipit remained in situ on the Cornish mainland at Sennen – it was hardly able to move anywhere else – until 14th, although it was nowhere to be found in the following days. Last seen under hot pursuit by the local house cat, it seems a gruesomely likely possibility that this most remarkable of British and Western Palearctic vagrancy occurrences met an untimely end. At the opposite end of the same field the delightful American Buff-bellied Pipit was reported again on 18th.
On the Northern Isles, the popular moulting first-winter drake Steller's Eider remained on Papa Westray until 18th at least. Present in the exact same channel and favouring the exact same bay as the island's last occurrence, there is clearly something in the water here which appeals to this characterful Polysticta, and only time will tell how long this particular drake chooses to linger. It would certainly prove popular if it reappeared in the spring of 2021!
Nearby, the Blue Rock Thrush remained bouncing around the quarry at Lamb Holm throughout. Recent photographs have allowed much closer study of this bird; apparently different to the one on St Mary's until 31st. Evident orange undertail coverts are perhaps suggestive of an individual from one of the eastern races.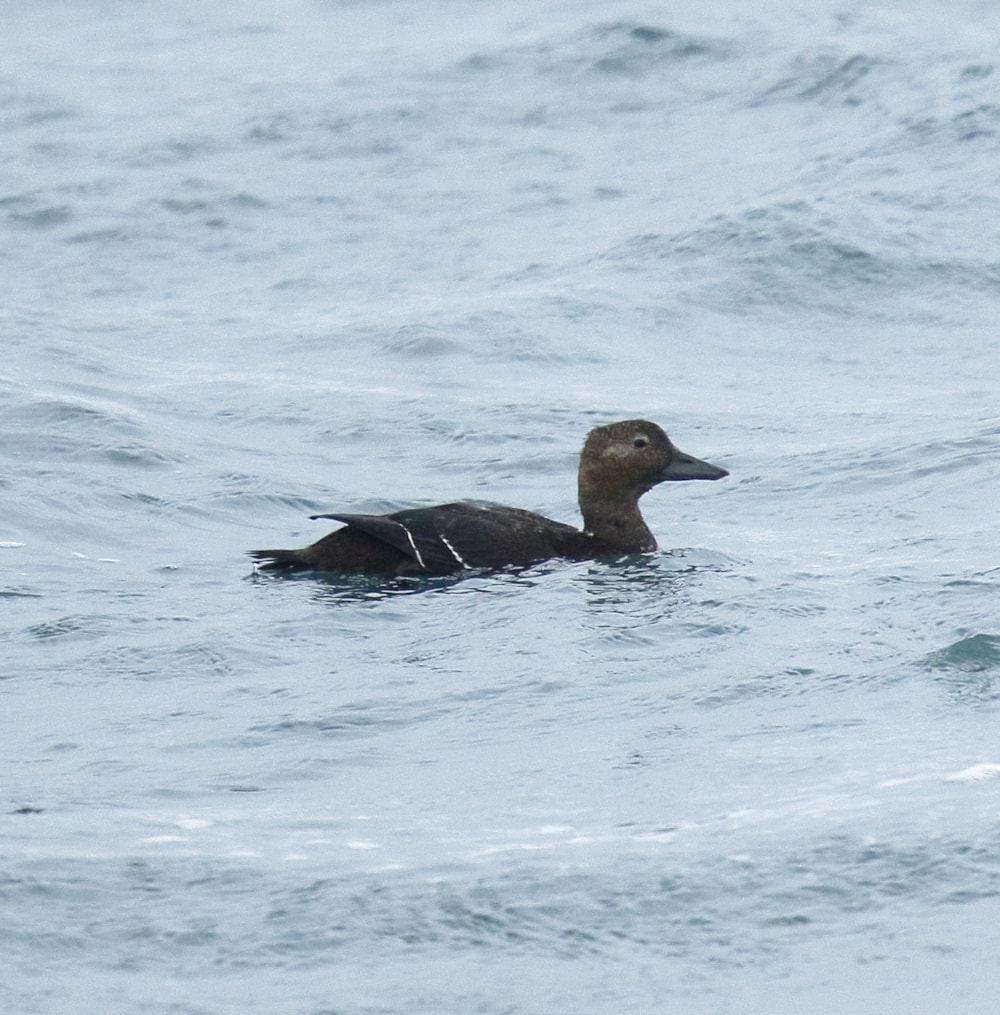 Steller's Eider, Papa Westray, Orkney (Mark Rayment).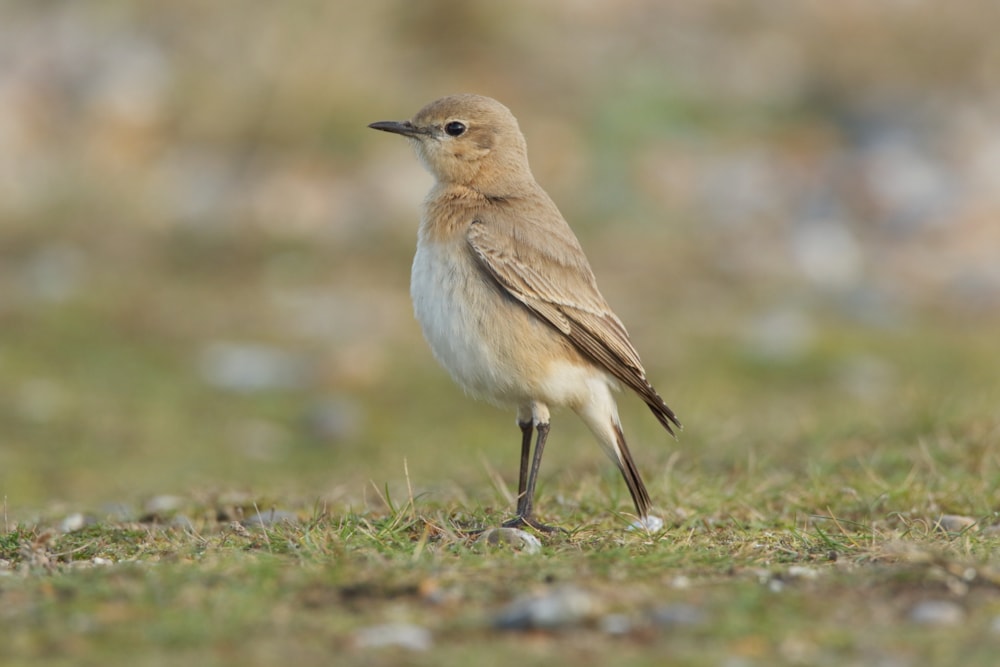 Isabelline Wheatear, Cley Marshes NWT, Norfolk (Andrew Jordan).
Very much a feature of British November rarity round-ups, a first-winter male Desert Wheatear briefly graced the island of Foula on 16th. The popular Norfolk Isabelline Wheatear at Cley Marshes NWT was still present at the end of the week, although was looking rather worse for wear. A Red-throated Pipit (or a continuing bird) was in the company of an Olive-backed Pipit at Pelistry, St Mary's, on 18th, providing decent supporting fodder for Hermit admirers.
Suffolk's first Eastern Yellow Wagtail remained by its favoured pool at Walberswick NNR throughout. This county first was remarkably followed by a second individual at nearby Havergate Island from 12th. A more 'classic' – in a vagrancy context at least – monochrome individual, it was still present on 14th, the same day its identity was confirmed by sonogram analysis.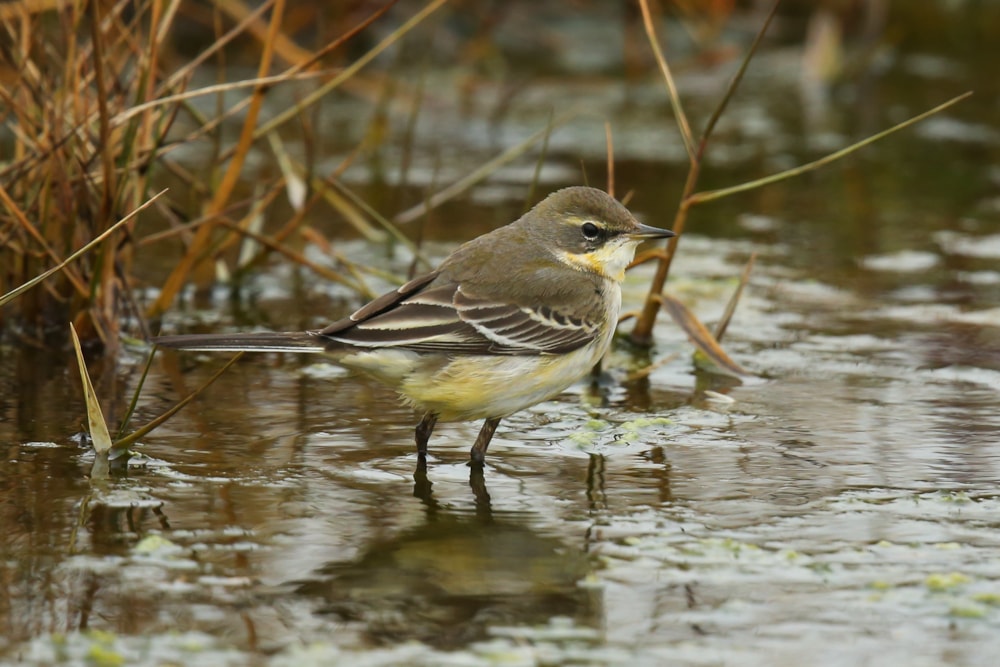 Eastern Yellow Wagtail, Dunwich Pools, Suffolk (Lee Gregory).
Now an omnipresent winter spectacle, the American White-winged Scoter remained at close quarters off the Musselburgh sea wall all week. A new Black Scoter was a solid find at Lunan Bay from 13th. With the battle-scarred Northumberland drake going absent without leave this week, it was rather surprising when photographs showed the Dundee bird to be different, and with a clean bill of health.
Richardson's Cackling Geese were again present among the Barnacle Geese hordes on North Uist, with one at Loch Paible on 13th followed by a duo at Knockintorran on 15th and 16th. Also present throughout was the Blue-winged Teal at Man Sands, Devon. The Cork Pacific Diver at Crookhaven made a reappearance on 16th.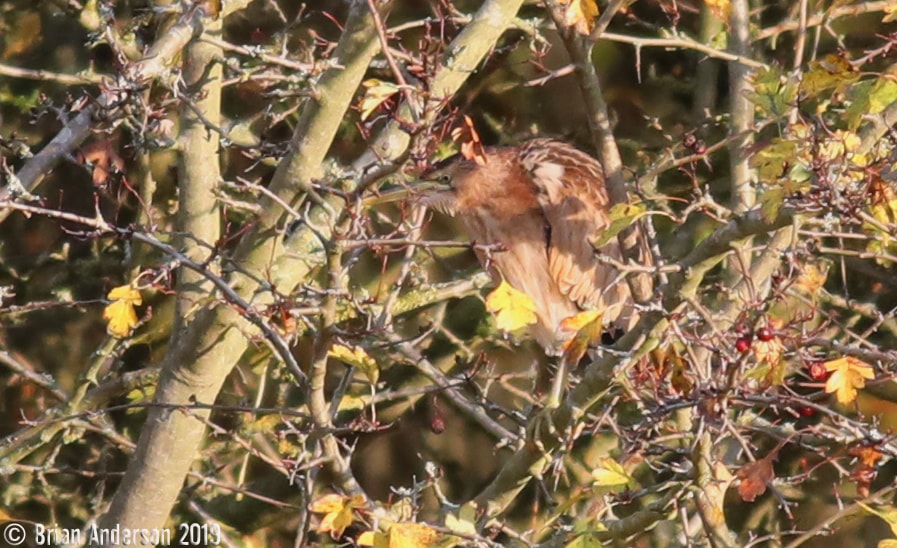 Little Bittern, Amwell NR, Hertfordshire (Brian Anderson).

Long-billed Dowitcher, Cresswell Pond NWT, Northumberland (Heiko Peters).
Becoming a seemingly frequent late autumn occurrence in recent times, the Titchwell RSPB, Norfolk, Little Bittern was still present at the start of the review period. The next day another individual, this time a female, was found in Hertfordshire at Amwell NR, being reported again briefly the following day.
In Ireland, two new Bonaparte's Gulls were discovered, with a first-winter at Kildavin, Co Carlow, on 13th followed by a sub-adult, at Kilmore Quay, Co Wexford, between 15th and 17th. In Northumberland, the returning adult was again present off Stag Rocks from 17th.
Hampshire birders saw a brief period of excitement on 16th when initial images suggested Western Sandpiper as a highly credible possibility for the Oxey Marsh 'peep', though it was eventually pinned down as Semipalmated Sandpiper. A new Long-billed Dowitcher showed well on the roadside scrape at Campfield Marsh RSPB, Cumbria, between 15th and 17, although there was no sign of the Irish Short-billed Dowitcher this week. Elsewhere singles remained settled at Cresswell Pond NWT, Northumberland, and at Bowling Green Marsh RSPB, Devon.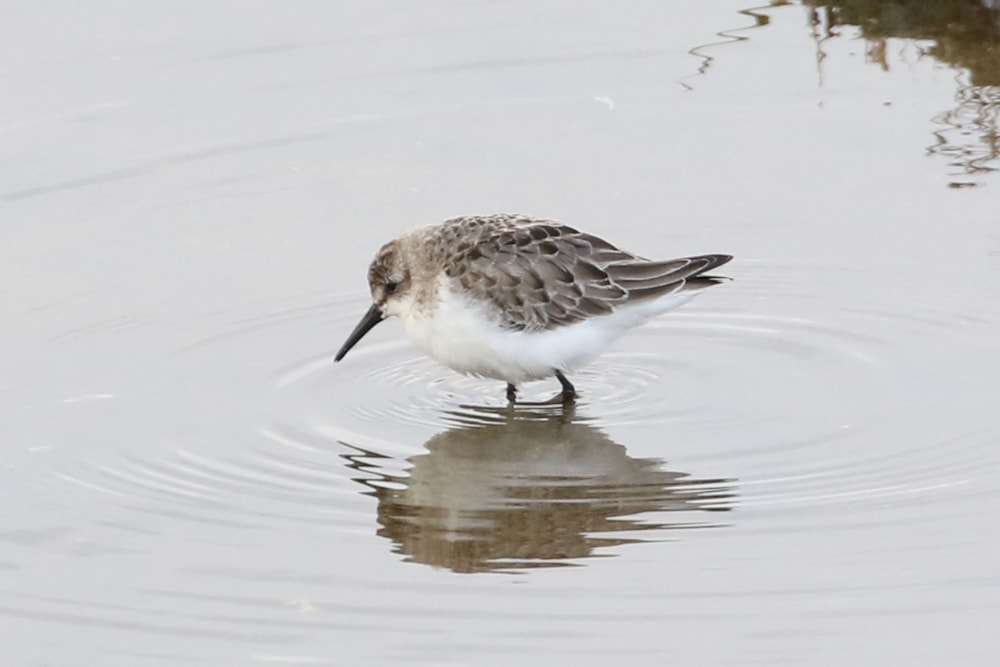 Semipalmated Sandpiper, Oxey Marsh, Hampshire (Chris Rose).
Continuing last week's Hume's Leaf Warbler influx, now the second largest ever recorded, one remained at Bempton Cliffs RSPB, East Yorks, throughout. Another was found at the nearby Spurn YWT on 15th, while the birds at Easington and Flamborough Head were last reported on 13th. In Norfolk, one turned into two at Holkham Pines on 16th, with both still in place at the end of the week.
The presumed first-winter male Siberian Stonechat quartered the fields along Peter Lane, Easington, East Yorks, until 13th before seemingly relocating to Langford Lowfields RSPB, Notts, on 16th – the only rarity found in the Midlands this week. Over in Norfolk the Northern Long-tailed Tit was reported again from Upton Broad and Marshes NWT on 15th. A Coues's Arctic Redpoll was on North Ronaldsay, Orkney, on Wednesday.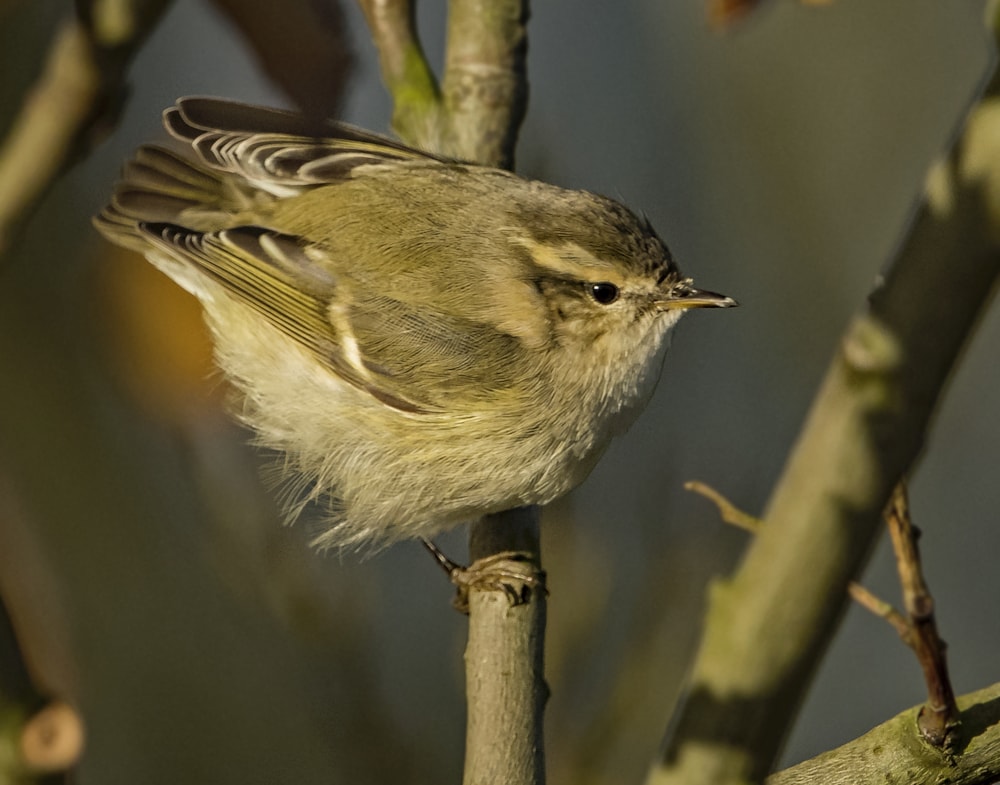 Hume's Leaf Warbler, Bempton Cliffs RSPB, East Yorkshire (Martyn Jones).
Scarce and local
North-east England
Beasts from the east and west – namely Barred Warbler and American Wigeon – were among the scarcity highlights. The former continued at Hartlepool Headland, Cleveland, throughout, while the drake wigeon was still at Grindon Lough, Northumberland, until 17th.
Hooded Crows were at Boulmer, Northumberland, and Hartlepool Headland, Firecrests were at Newbiggin-by-the-Sea, Northumberland, and Skelton, Cleveland, and a Great Grey Shrike was at Willington, Co Durham, briefly on 19th. There was a good number of Waxwing reports, mainly in Northumberland, with Ashington scoring the highest count of 42 on 19th.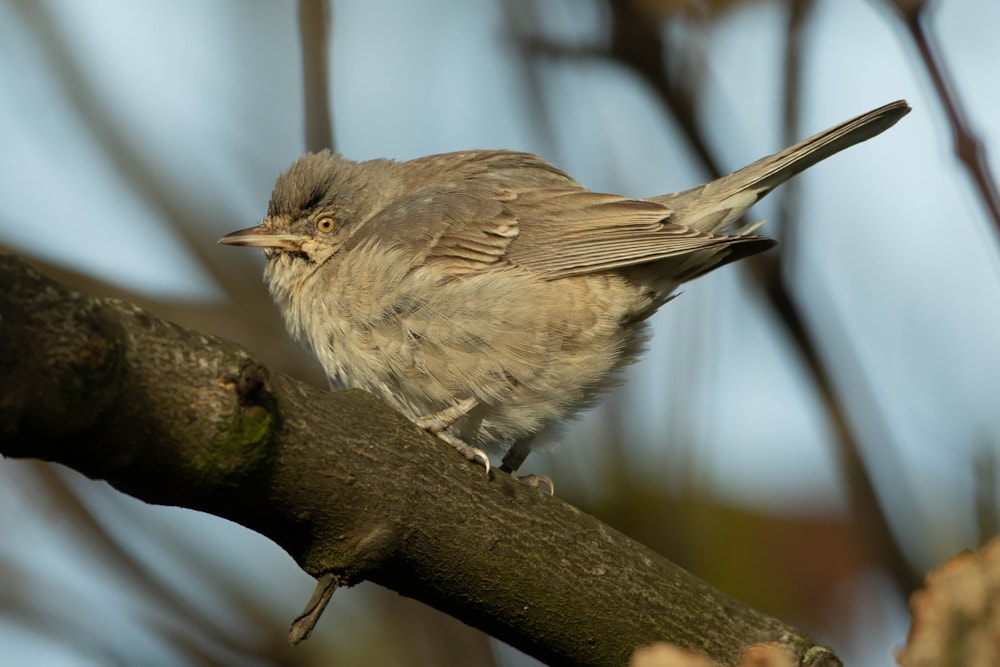 Barred Warbler, Hartlepool Headland, Cleveland (Martyn Sidwell).
Co Durham hosted both Siberian Chiffchaff and Yellow-browed Warbler, while one juvenile Iceland and two juvenile Glaucous Gulls could be enjoyed at North Shields fish quay, Northumberland. Another Iceland Gull was at Rising Sun CP, on 17th.
North-west England
Cumbria scored a Todd's Canada Goose, with an individual among some 4,500 Barnacle Geese at Seaville on 13th. The first-winter drake Ring-necked Duck continued to delight visitors to Pine Lake, Lancs, throughout.
A juvenile Glaucous Gull was at Hale, Cheshire, on 17th, while a Hooded Crow was at North Walney, Cumbria on 14th. Cumbria and Lancashire held the only Waxwings of the week, with one at Penrith on 17th and three at Fleetwood on 18th respectively.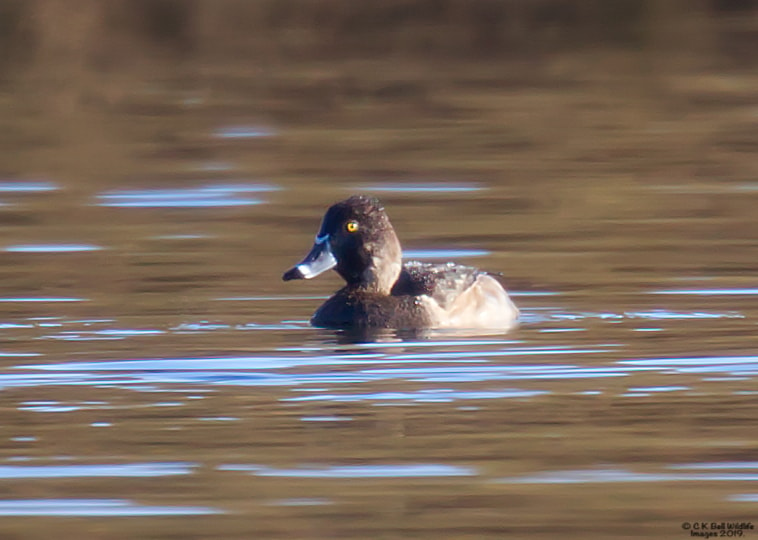 Ring-necked Duck, Pine Lake, Lancashire (Craig Bell).
In Greater Manchester, a Firecrest was a decent find at Chorlton-cum-Hardy on 14th, a Caspian Gull was at Audenshaw Reservoirs on 15th and Rock Pipits were logged at both Elton Reservoir and over Bury on 16th.
Yorkshire and Lincolnshire
Catterick, North Yorks, was the unlikely location for a Lesser Yellowlegs, which was incongruously found in a ploughed field on 17th. Despite being seen the following day, there was no sign on 19th. Also in North Yorkshire, which enjoyed a decent week, a Black-crowned Night Heron was at Staveley YWT on 15th.
A drake Ring-necked Duck put in a showing for a few days at Cold Hiendley Reservoir and then Jonny Brown's Common. The Pallas's Warbler showed again, though briefly, at Grimston, East Yorks, on 13th while a Dusky Warbler was slightly more co-operative, lingering at Anderby Creek, Lincs, from 16-17th.
Lincolnshire also scored a fly-over Snow Goose at Saltfleetby All Saints on 16th. Black Brant were at Kilnsea, East Yorks, (the lingering adult) and at Horse Shoe Point, Lincs. The loitering drake Green-winged Teal remained in East Yorkshire too.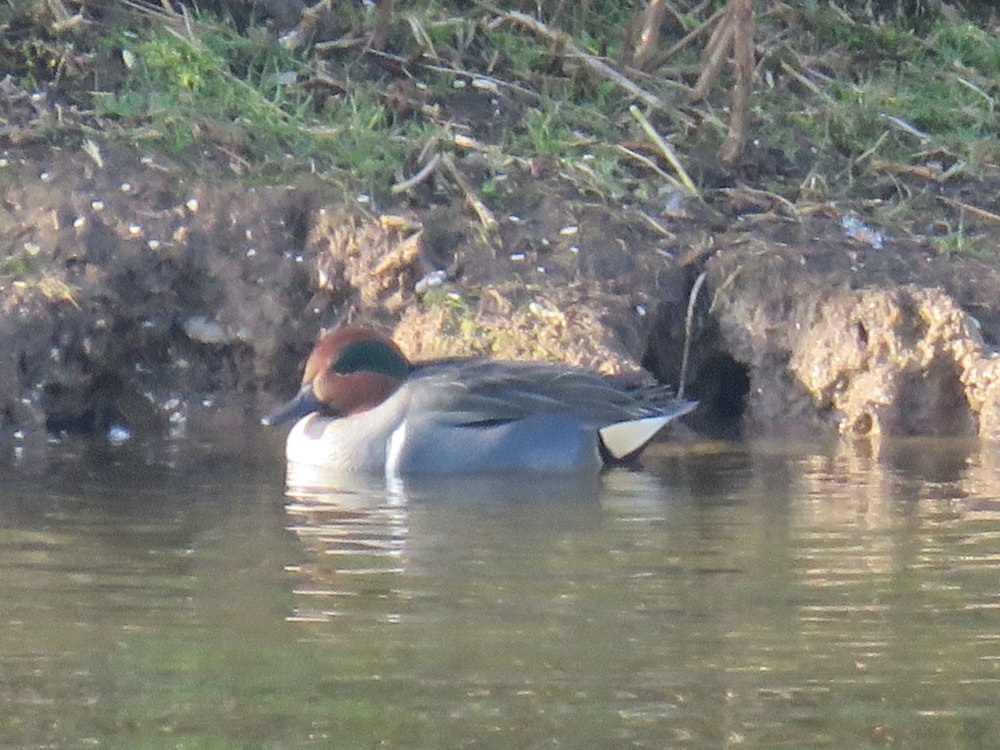 Green-winged Teal, North Cave Wetlands YWT, East Yorkshire (Mark Spedding).
Some 12 sites hosted Waxwings and a Northern Gannet flew over Silkstone Common and Midhope Reservoir, South Yorks, on 15th.
West Midlands
Some late records stood out this week, of which the most notable in terms of scarcity value was a brief Wryneck at Compton Bridge, Warks, on 17th. For the time of year, though, a juvenile Common Cuckoo photographed at the same site on 19th was quite remarkable.
Arguably more impressive than both of the above, in light of its decline as a visitor to our isles, was an inland first-winter Ring-billed Gull at Lugg Meadows, Herefordshire, on 19th. Continuing the Nearctic theme, the drake Green-winged Teal continued at Wall Farm NR, Shrops.
A Purple Sandpiper was just the sixth for Belvide Reservoir, Staffs, since 2000, while up to three Common Scoter loitered at Blithfield Reservoir, Staffs, and a Kittiwake was at Draycote Water, Warks, on 13th.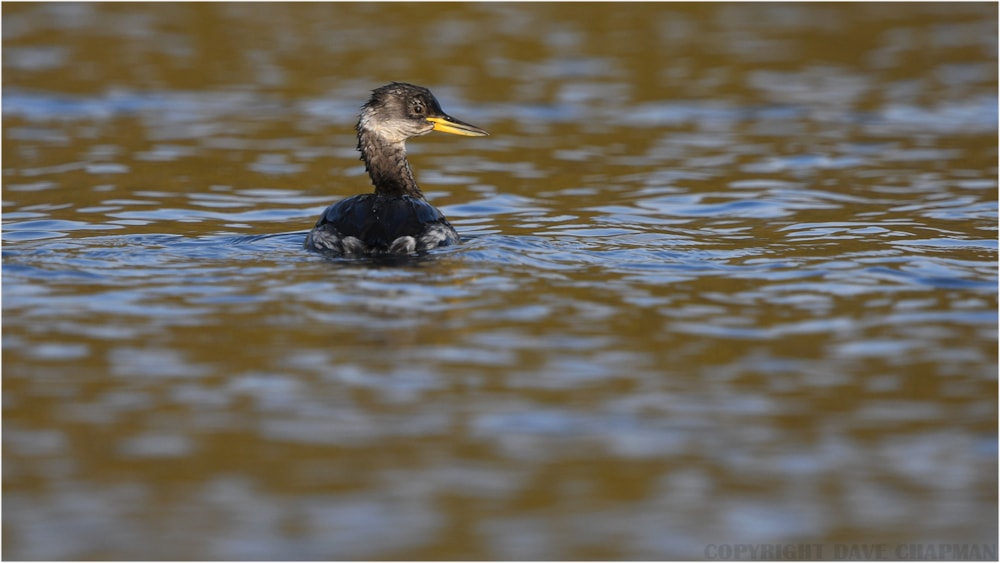 Red-necked Grebe, Venus Pool NR, Shropshire (David Chapman).
Other highlights included a showy Red-necked Grebe on Venus Pool, Shrops, Snow Buntings at three sites, a Firecrest at Westport Lake, Staffs, and two Pink-footed Geese at Enville, Staffs. Nine Waxwings flew over Fillongley, Warks, on 18th.
East Midlands
A Rough-legged Buzzard, which flew over to the south-west of Eaton, Leicestershire and Rutland, on the morning of 14th was a most noteworthy record. The previous day, a Waxwing was seen in Ketton in the same county.
Northamptonshire scored three Siberian Chiffchaffs (two at Ditchford GPs on 15th and one at Ringstead GPs on 17th) and a Great Grey Shrike at Crick from 17th. Another Sibe Chiff was at Ogston Reservoir, Derbys, where the female Common Scoter lingered. Elsewhere in Derbyshire, the adult female Long-tailed Duck remained at Drakelow NR.
The Long-tailed Duck was still at Holme Pierrepoint, Notts, where a drake Common Scoter dropped in on 15th. Another Nottinghamshire highlight were two Bewick's Swans at Gringley Carr. Smew and Red-breasted Merganser were new in at Rutland Water during the week.
East of England
Content continues after advertisements
This part of the world's appeal to Rough-legged Buzzard was emphasised by at least six recorded during the week, all in Cambridgeshire, Norfolk and Suffolk. The last county scored two most notable ringing records: Eurasian Penduline Tit at Orford Ness on 13th and Dusky Warbler (re-trapped) at Hollesley on the same date.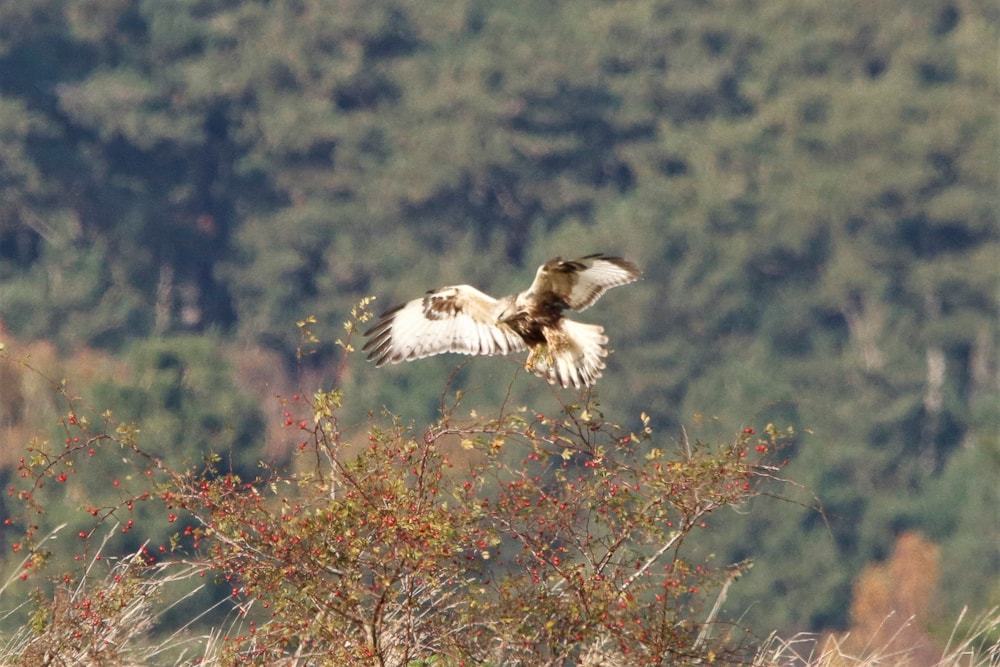 Rough-legged Buzzard, Wells-next-the-Sea, Norfolk (DAVID Griffiths).
Suffolk also saw an incredible movement of some 3,000 Great Cormorants – presumably Continental birds – past Thorpeness in a mere two hours on 18th. In Norfolk, a Rosy Starling was with its Common congeners at Burnham Overy on 16th, while a Great Grey Shrike was a smart find at Trimingham on the same day.
Another Great Grey Shrike set up shop at Brogborough Lake, Beds. A late Ring Ouzel was at Heartwood Forest, Herts, on 16th. Iceland Gulls were logged in both Cambridgeshire and Essex, the latter county also home to the continuing drake Ring-necked Duck at Abberton Reservoir where, impressively, a Little Auk lingered throughout the week from 14th – a terribly hard species to twitch inland.
Norfolk and Suffolk hogged the Waxwings, with nine sites hosting birds in the former county and four in the latter.
South-east England and Greater London
In stark contrast to the north of England, there was only one Waxwing record – a bird at Longsdale Bottom, Hants, on 18th. In the same county, a female Lesser Scaup was at Ibsley Water and two Great Grey Shrikes were present – one in the New Forest at Holm Hill and a decent inland record at Woolmer Forest. Elsewhere, a late European Turtle Dove was at Bordon and a Siberian Chiffchaff was trapped and ringed at Eastleigh.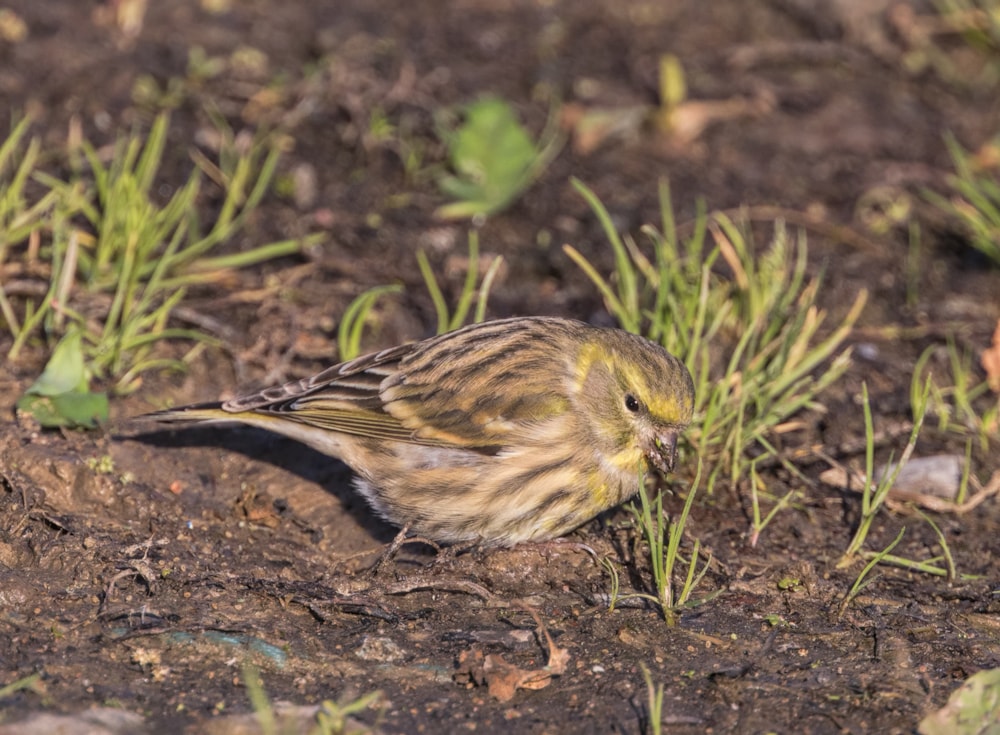 European Serin, Flimwell, East Sussex (Mark Tomlins).
Late Ring Ouzels were on the Isle of Wight (Culver Down) and West Sussex (Truleigh Hill, The Burgh and Black Down NT). The showy European Serin continued in East Sussex at Flimwell – hope to inland patch-watchers everywhere – while a Siberian Chiffchaff was found at Cuckmere Haven. The reintroduced Great Bustard remained at Bishopstone until 14th, while a Rock Pipit was a nice find at Arlington Reservoir on 17th.
Another Rock Pipit was at Grimsbury Reservoir, Oxon, with a Yellow-browed Warbler in the same county at Hailey. Eastcote, Greater London, also held one, though the best bird of the week in the capital was the European Penduline Tit at Rainham Marshes RSPB on 17th.
Kent highlights also included European Penduline Tit, with one at Grove Ferry on 16th, along with Pallas's Warbler at Dungeness on 17th, the continuing Great Grey Shrike at Bockhill Farm and a late Eurasian Stone-curlew at Greatstone-on-Sea on 17th.
South-west England
There was a good selection of scarce wildfowl in the region, with Cornwall hosting two Lesser Scaup: the adult drake at Helston and the first-winter female at Stithians Reservoir. In the same county, the drake Green-winged Teal was at Wacker Quay, with other birds at Chew Valley Lake, Somerset, and St Mary's, Scilly.
Ring-necked Duck were in Dorset and Devon, with a drake Surf Scoter in the latter county at Broadsands from 17th. The Black Brant continued at East Fleet, Dorset.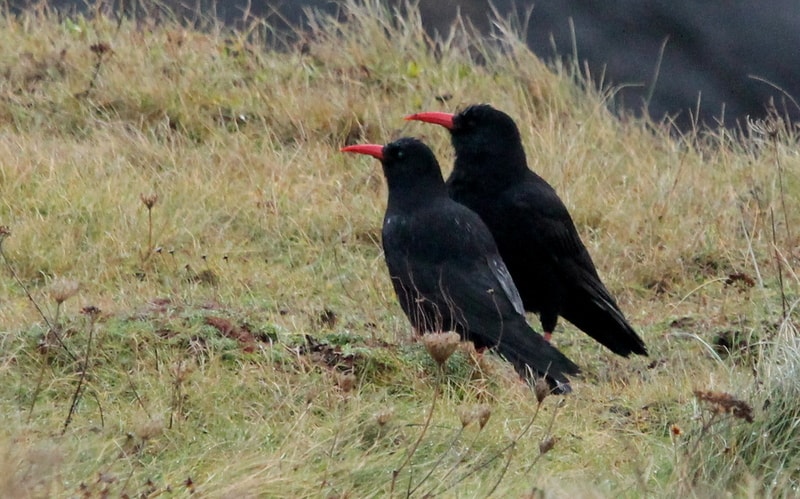 Chough, St Mary's, Isles of Scilly (Kris Webb).
A Red Knot was good value at Eysey, Wiltshire. Stoodleigh, Devon, and Wareham Forest, Dorset, hosted Great Grey Shrikes, with a late Red-backed Shrike on Bryher, Scilly, on 18th. Another bird that'd be wise to leave our shores soon was the Wryneck that was still at Portland Bill, Dorset, on 15th.
The lingering Hoopoe at Minehead, Somerset, continued to please, but another, photographed near Swanage, Dorset, on 17th, wasn't gettable. A Rosy Starling was at Hoslworthy, Devon, on 18th, while a Bluethroat by the Exe Estuary at Turf on 19th was a great mid-November record.
Elsehwere, there was a Richard's Pipit in Somerset, Dusky Warblers in Cornwall and Scilly and a Pallas's Warbler in Cornwall. The arrival of two Chough on St Mary's from 14th intrigues – could they stay and breed?
Scottish mainland
Wildfowl headed up proceedings on the Scottish mainland, with no fewer than three American Wigeon (all in the north and east) and two Green-winged Teal logged, along with a new drake Ring-necked Duck at Carlingwark Loch, Dumfries and Galloway, on 18th.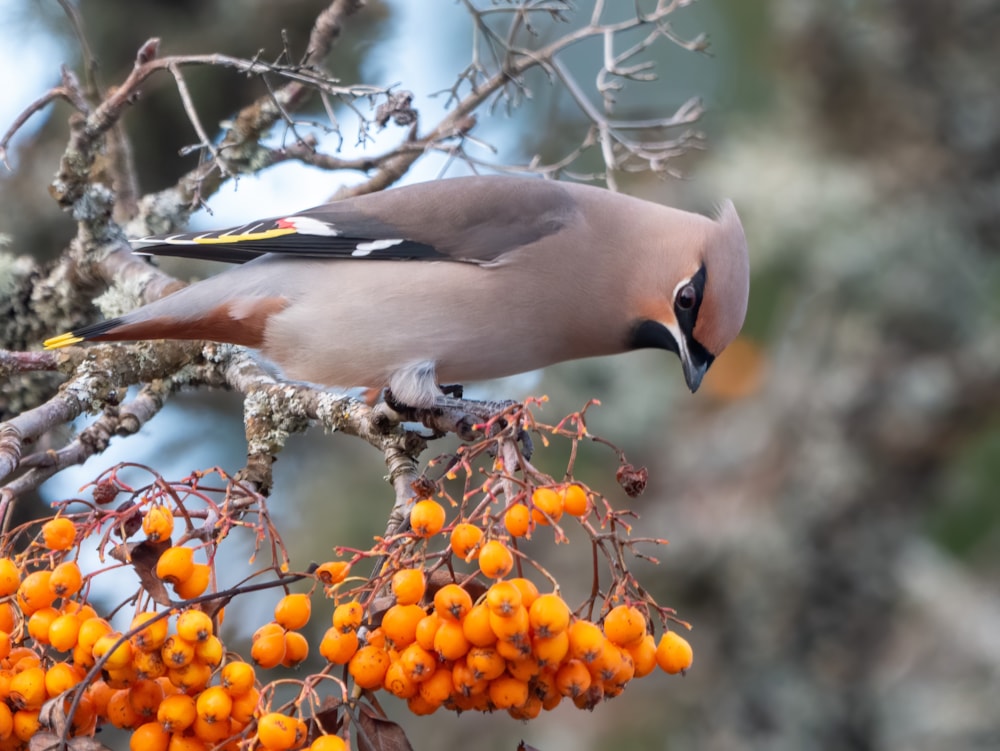 Waxwing, Blair Atholl, Perth & Kinross (Colin Leslie).
At Musselburgh, Surf Scoter were still up for grabs offshore. In Clyde, a gripping record concerned a Little Bunting photographed visiting feeders at a private hide at Gryfe Reservoirs. The lingering Great Grey Shrike at Backwater Reservoir, Angus and Dundee, was slightly more co-operative.
There were two Rosy Starlings – in Borders and Dumfries and Galloway – and the Aberdeenshire Hoopoe, at Foveran Links, was last seen on 13th. The Firecrest lingered on the Isle of May, Fife, until 13th, while an impressive six sites hosted Great Egrets. Some 24 locations recorded Waxwing, with a heavy east coast bias.
Northern Isles and Western Isles
Amid the Orcadian megas up for grabs, there was a good showing of White-billed Divers, with as many as 10 off Mull Head on the mainland and five past Papa Westray on 15th. The Green-winged Teal continued on North Ronaldsay, where a candidate Tundra Peregrine Falcon was photographed on 19th.
Sticking with the brutish raptor theme, a juvenile Northern Goshawk caused a stir on Shetland at Setters Hill Estate on Unst. Elsewhere on the archipelago, the Ring-necked Duck continued at Loch of Houlland and a Little Bunting was at Scatness.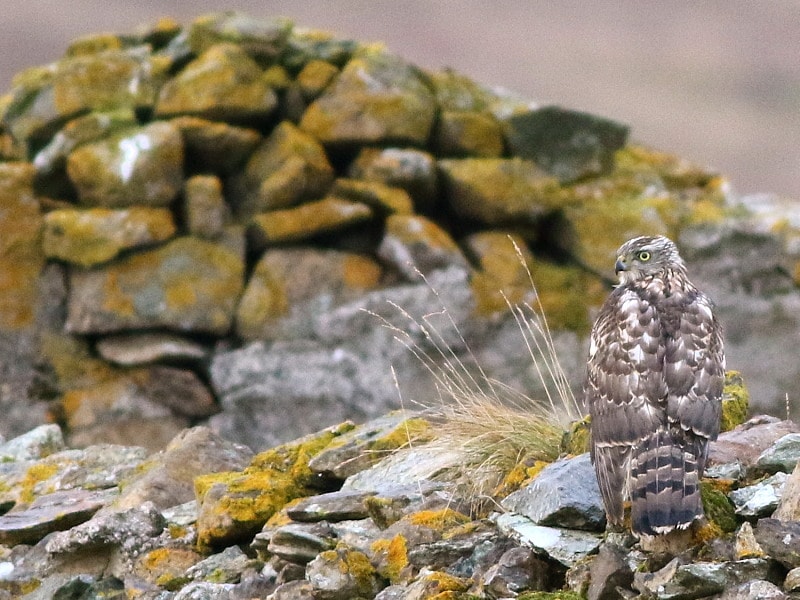 Northern Goshawk, Baliasta, Unst, Shetland (David Cooper).
The Outer Hebrides were fairly quiet, though Knockintorran, North Uist held onto its Snow Goose, as South Uist did its drake Green-winged Teal.
Wales
Glamorgan enjoyed an excellent week, with a Richard's Pipit at St Donat's on 13th, a late Red-backed Shrike at Porthcrawl from 15-18th and a Siberian Chiffchaff at Kenfig NNR on 18th. Another Sibe Chiff was trapped and ringed at Oxwich on 19th, along with a Firecrest.
On Anglesey, a Richard's Pipit was at The Range RSPB on 18th. Gwynedd did well for wildfowl, with the returning drake Ring-necked Duck back at Llyn Caer Euni and a drake Green-winged Teal at Abergynolwyn on 17th. In Clwyd, a Great Grey Shrike was at Ruthin.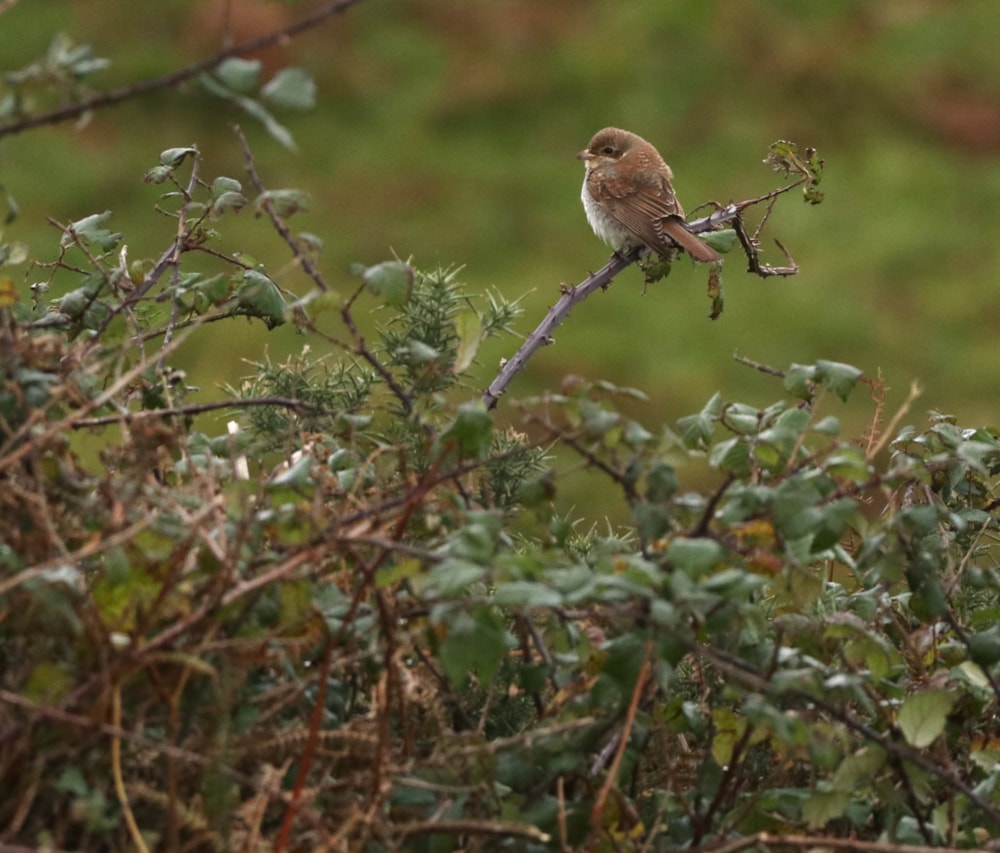 Red-backed Shrike, Porthcawl, Glamorgan (Tate Lloyd).
Northern Ireland
It was a quiet week, with the lingering Great Egret still at Lower Lough Erne, Fermanagh and the juvenile White-rumped Sandpiper still at Myroe Levels, Londonderry.
Republic of Ireland
Of a poor return of four Ring-billed Gulls, only one was a first-winter – at Bantry, Co Cork, on 17th. Adults were at Nimmo's Pier, Co Galway, Blackrock, Co Louth, and Doorly Park, Co Sligo. The Great Egret continued at The Gearagh, Co Cork.
Four sites hosted Ring-necked Duck, including two at Lough Yganavan, Co Kerry. The drake Green-winged Teal remained at Kilcoole, Co Wicklow, while the American Wigeon continued at Kilcogan, Co Cork.
The Glossy Ibis was still in situ in Co Cork. A White-rumped Sandpiper was found at Black Rock Strand, Co Kerry, on 13th.
Western Palearctic
Three particularly attention-grapping WP records stood out this past week. A first-winter Striated Heron, photographed on 19th on the Kladissos River at Chania, Crete, was a first for Greece and ties in with the species' recent and rapid northward expansion along the Mediterranean coast in Israel.
A flock of some 13 Black-throated Thrushes at Mor Daği in neighbouring Turkey on 14th was another standout record, while Spain's seventh Killdeer – at Cabo de Peñas in Asturias on 17th – proved popular, thanks in part to its rather showy nature.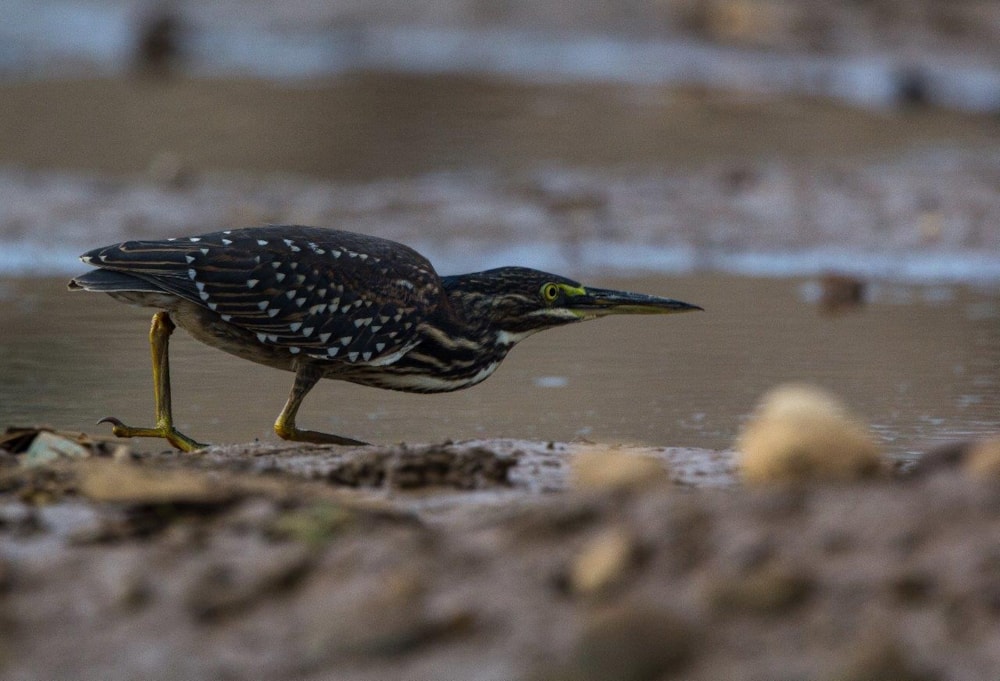 Striated Heron, Kladissos, Crete (Viv Walker).
Other Spanish highlights included an adult Brown Booby past Conil de la Frontera on 14th, a Hume's Leaf Warbler on Mallorca and the continuing Laughing Gull on Gran Canaria.
Sweden, seemingly on an endless run of quality birds this year, held onto both the Oriental Turtle Dove at Kristinehamn and first-winter Black-faced Bunting on Öland at Nabbelund. Israel also hosted an Oriental Turtle Dove, with late news of one at Eilat on 12th, while Finland celebrated both a maiden qualification for the football European Championships and the continuation of the individual at Kitee.
Familiar names lingered in The Netherlands, chiefly the Pied Crow and Crested Lark, though a Great White Pelican, failing miserably to blend in with Mute Swans at Voorst on 16th, was new. The Pygmy Cormorant either reappeared or was reported for the first time in a little while in Brussels on 19th.
As ever at this time of year, there were a couple of tasty records from Kuwait, with Sulaibiya Pivot Fields hosting the continuing Indian Roller as well as three Sociable Lapwings. Another Sociable Lapwing, some 40 miles from Vienna, had Austrian birders in a whirl as it waltzed around Seewinkle NP for one day only.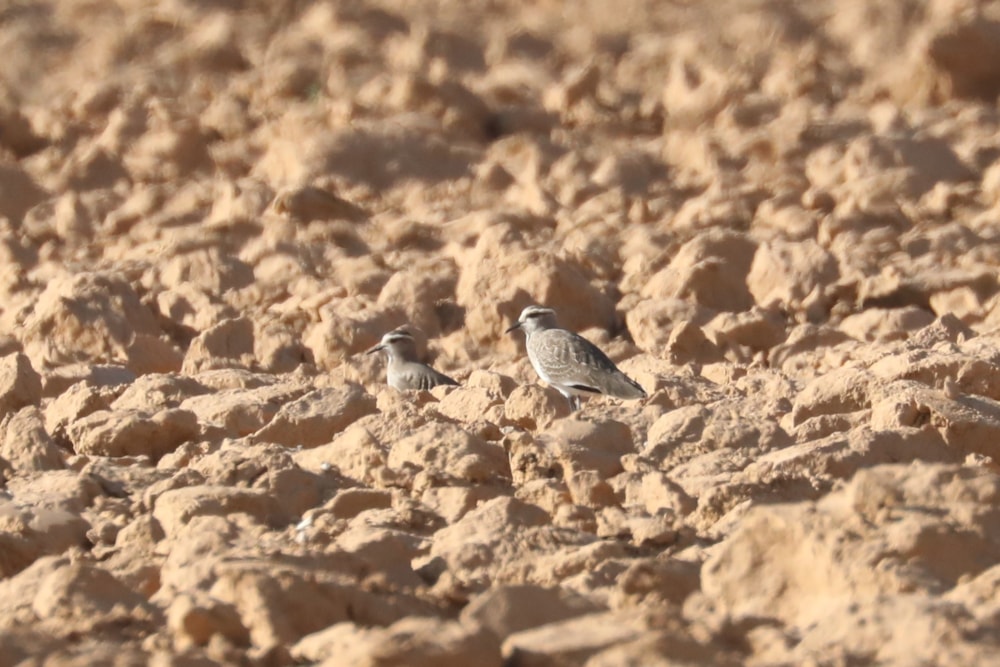 Sociable Lapwing, Negev desert, Israel (Matthew Mellor).
Other odds and sods included a Black Scoter in the far north of Germany, close to the Danish border, the fourth Pallid Swift for Poland at Warsaw on 16th and a juvenile Blue-cheeked Bee-eater at Kiev Reservoir, Ukraine, on 15th. Finally, the fifth Belarussian Kittiwake was at Smalyavichy on 12th.