March can be a fickle month. The weather can be truly terrible, as it was at times this week, while it can also be glorious. The birding, too, can change dramatically from week to week, with pulses of real excitement occurring amid the quieter periods. However, if there were a couple of rare species that you'd put money on to appear in March year after year, the chances are at least one of either Bonaparte's Gull and Blue-winged Teal would figure – and, lo and behold, both turned up this week after a barrage of transatlantic weather systems.
The former concerned a first-winter at the gull hot-spot of Killybegs, Co Donegal, on 15th – the second year running that this site has produced a Bonaparte's after last February's adult. In light of the recent weather, and indeed because the peak weeks for this species lie ahead, it may well prove the first of a few.
The teal was a fine drake in full breeding regalia, found on a small loch in Mellon Charles, Highland, on the afternoon of 18th – and still present there the following morning. Although there has been a downturn in the regularity of this species in autumn in recent years, smart spring drakes like this do seem to pop up every year or two and are always well received when they appear. Given that it's almost 23 years since the last in Highland (also a drake, on 30 March 1996), one would imagine that a fair few Scottish birders will head over to the west coast to catch up with this one. For those who don't, it'll no doubt prove a source of envy – as great birds showing well in remote locations often tend to be.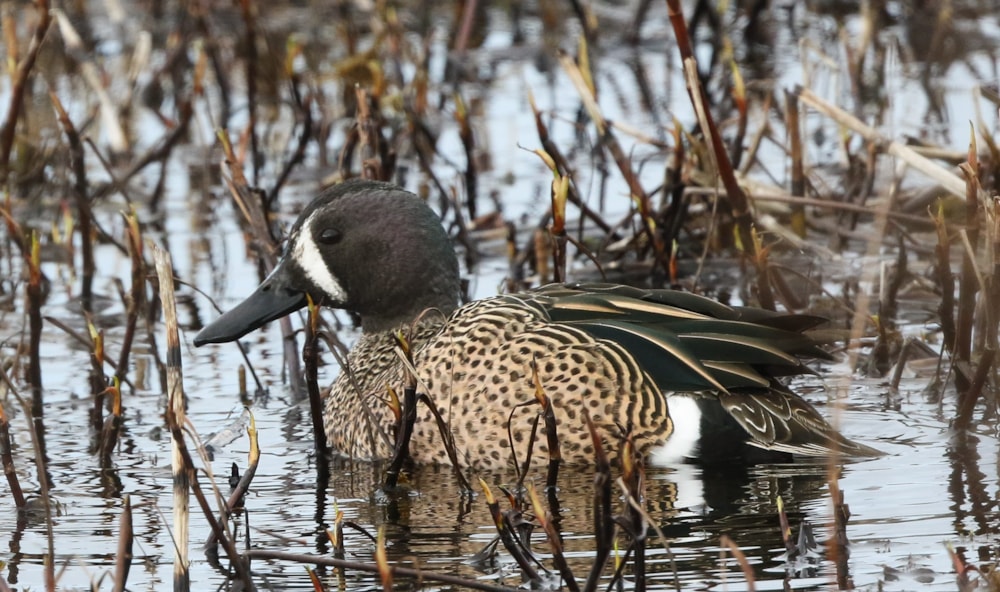 Blue-winged Teal, Mellon Charles, Highland (Bob McMillan / www.skye-birds.com).
Rarities were otherwise again in relatively short supply, although at least two Snowy Owls remained at large in the Northern Isles: the male was again seen on Eday, Orkney, while the female was noted at Ronas Hill, Shetland, for a second time on 14th before presumably relocating south to near Mangasta on 16th.
In the strong winds and often sheeting rain, it was no great surprise that migration also stalled somewhat – at least until things calmed down after the weekend. On Monday and Tuesday, though, there was a clear push of arriving Northern Wheatears, with the species 'in' in reasonable numbers along the south coast by the end of the review period. Plenty of inland sites also scored the species, while Sand Martins and Swallows continued to arrive and Little Ringed Plover and White Wagtail numbers were also bolstered. Garganey, however, remained scarce, with drakes at Longham Lakes, Dorset, from 15th and at Shapwick Heath, Somerset, on 19th. Seventeen Western Osprey reports were received from along the spine of the country as far north as Fife.

Northern Wheatear, Cardiff Bay, Glamorgan (Tate Lloyd).
The Cornish Pacific Diver was again seen off Marazion on 19th – the first confirmed report of it since 4 February. A White-billed Diver remained in South Nesting Bay, Shetland, while the Pied-billed Grebe was still at Loch of Spiggie.
The Lesser Scaup was back at Chew Valley Lake, Somerset, early in the week before presumably relocating west to Blagdon Lake from 15th. Ring-necked Duck were noted at six British and three Irish sites, the latter including seven still at Garranes Lake, Co Cork, and six near Lough Morne, Co Monaghan. A Ferruginous Duck was a new arrival at Alvecote Pools, Warks, on 19th. A total of four American Wigeon, all referring to long-staying individuals, was amassed, while Green-winged Teal numbered a dozen. Two Surf Scoter lingered off the Co Meath coastline, with a third still lurking off Musselburgh, Lothian.

Lesser Scaup, Blagdon Lake, Somerset & Bristol (Nick Wilcox-Brown).

Ring-necked Duck, Radipole Lake RSPB, Dorset (Edmund Mackrill).
The Richardson's Cackling Goose and small Canada Goose remained among Barnacle Geese continued at Balranald, North Uist, while there were two Todd's Canada Geese still at Harpsdale, Highland, on 19th, as well as one Todd's still near Port Ellen, Islay. A Black Brant was at Spurn, East Yorks, on 19th, while the apparent Grey-bellied Brant was again at Lurgan Green, Co Louth, on 18th.
At least 10 Glossy Ibises remained in the White's and Clogheen Marsh area of Co Cork, with another still in Co Wexford seven further sites across Britain claiming the species. Sample counts from among the hordes of Western Cattle Egrets sprawled across southern Britain included 55 at Walmsley Sanctuary, Cornwall.

Glossy Ibis, Walberswick, Suffolk (Jim Mountain).
Rather surprising was news of a White-tailed Eagle over Wivenhoe, Essex, on 19th; this may have accounted for reports of a large raptor in Kent earlier that day and on 18th. It later passed over Woodbridge, Suffolk. Photos appear to confirm it as the bird that wintered in Hampshire and was subsequently seen in West Sussex last week. This came a few days after an immature was last seen tracking roughly northwards in Yorkshire – after leaving Hatfield Moors on 13th, it later flew over Blacktoft Sands and out over the Humber. Then, on 17th, there was a report from Sleddale, Cleveland – the first sighting here since New Year's Day. Half-a-dozen sites registered Rough-legged Buzzard, these including the Scilly bird again on St Martin's on 15th and another at Dounby, Orkney, from 18th. There were reports of Black Kites in Hampshire and Northamptonshire.

White-tailed Eagle, Wivenhoe, Essex (Richard Allen / www.richardallenillustrator.com).
The Spotted Sandpiper was still at Ferrybank, Co Wexford, on 16th, while the Lesser Yellowlegs continued in both Cornwall and Dorset, as did the Long-billed Dowitcher at Frampton Marsh, Lincs. The Temminck's Stint was at Chapel Amble, Cornwall, all week, while a Grey Phalarope took up residence at Conwy RSPB from that day onwards.

Grey Phalarope, Conwy RSPB, Conwy (Bob Garrett).
March typically produces a pulse of Ring-billed Gulls, and indeed the five together at Tralee, Co Kerry, on 17th was a welcome increase on recent weeks to a total rarely matched anywhere in either Britain or Ireland these days. Two further adults were in Cork City on 18th and another was in Limerick City, although just two were seen in Britain – single adults at Hayle Estuary, Cornwall, and Blashford Lakes, Hants. Iceland Gulls numbered perhaps 25, with a peak count of five at Killybegs, Co Donegal. Glaucous and Caspian Gulls were present in similar numbers. However, the most interesting larid of the week was the apparent Ring-billed × Lesser Black-backed Gull, which was regular at Blakeney Harbour, Norfolk, from the weekend. Meanwhile, in Guernsey, the American Royal Tern was again seen at Grande Havre Bay on 13th.

Ring-billed × Lesser Black-backed Gull, Blakeney, Norfolk (Craig Shaw).
The first Alpine Swift of the year was seen in Greystones, Co Wicklow, on 19th. A Red-rumped Swallow also called in at Fingringhoe Wick, Essex, for a few hours that day. In Cornwall, the Pallas's Warbler was again seen at Coverack on 18th, while seven sites in southern England scored Yellow-browed Warblers, including two together in Yeovil, Somerset. A Coues's Arctic Redpoll was in a garden at Cockley Cley, Norfolk, with the regular bird also visiting the feeders at Sculthorpe Moor. Just the six Great Grey Shrikes were noted, including the confiding bird still at Clumber Park, Notts. The Little Bunting was still at Weybourne, Norfolk, on 13th.

Coues's Arctic Redpoll, Sculthorpe Moor NR, Norfolk (Dominic Mitchell).

Great Grey Shrike, Clumber Park, Nottinghamshire (Paul Coombes).
With the Grove Ferry bird seen again on 18th, no fewer than three Eurasian Penduline Tits were seen this week. The male at Crossness, London, was noted again on 15th, while the Lodmoor, Dorset, male was still there on 17th.

Eurasian Penduline Tit, Grove Ferry NNR, Kent (Mark Chidwick).
Western Palearctic
Though reproduction has been strongly suspected in recent years, it was great to hear that Golden Nightjar has finally been confirmed as a breeding species in Western Sahara – a female was found north-west of Awsard this week with two young chicks. Other news from this corner of the region included three Blue-naped Mousebirds still south of Choum, Mauritania.

Female Golden Nightjar, Awsard, Western Sahara (Felix Timmermann).
Azores news concerned a Pied-billed Grebe and Greater Yellowlegs at Fajã dos Cubres, São Jorge, with the Praia da Vitoria area of Terceira producing American Herring Gull, Bonaparte's Gull and 14 Ring-billed Gulls.
Spain scored two different Sociable Lapwings this week (at Aiguamolls de l'Empordà and Alcázar de San Juan), with the American Coot still present in Galicia. French records included the continuing Forster's Tern at Noirmoutier Island, the wintering Wallcreeper (now with a black throat) in Dinan and an Alpine Accentor on the northern Brittany coast at Cap Fréhel.
Other continuing birds included the Nutcracker in The Netherlands, Eastern Imperial Eagle and Oriental Turtle Dove in Sweden, American Wigeon in Poland, American White-winged Scoter in south-west Iceland and two Crested Honey Buzzards in Eilat, Israel.