The week at a glance
As is sometimes the way with June, the first week of the new month seems to hurtle in like a whirlwind and, as last week showed only too well, often offers up some of the rarest birds of the year. Then, almost immediately, the summer doldrums seem to becalm many birders as the middle of the month looms. This week has seen the weather become rather hit and miss, with a mix this week of almost April-like conditions - an occasional brisk northerly breeze, with showers and sunshine too. But it was warm enough when the sun shone....
On Shetland, the avian ray of sunshine that spent the previous week on Fair Isle, the adult male Citril Finch, was seen again on 12th, but proved so elusive that just one birding crofter (who had seen the bird throughout its stay) saw the bird on its last day on the island. To the south of Fair Isle, on mainland Orkney, the singing male River Warbler remained at Evie to 18th, while the most intriguing report of the week was of a probable intermediate-phase Eleonora's Falcon which flew inland along the River Don in Aberdeen on the early evening of 16th. With five accepted records on the books, none of which have really lingered, this particular species is highly prized and much sought after by those with a listing inclination. The most recent record was of a pale adult at Reydon in Suffolk in October 2003, and that came 16 years after a first-summer bird was seen (and eventually accepted) at Hickling in Norfolk.
Cory's Shearwater has already made it in to the North Sea this year, with one seen in Northumberland (passing St. Mary's Island and Seaton Sluice) on 13th, and another off Kinnaird Head (Aberdeenshire) on 15th. Some 25 or more Balearic Shearwaters were reported over the past week, including one off the Norfolk coast (seen off Mundesley and Eccles on Sea), with all others noted in the southwest of England, from Cornwall to Dorset, including three birds off Portland Bill (Dorset) on 13th with six there on 17th. Another half-dozen Balearics were seen from Porthgwarra (Cornwall) on 18th, with four off Portland on the same date. Two Pomarine Skuas were seen off the Farne Islands (Northumberland) on 12th and in the same county an adult flew past Tynemouth on 15th. Other records this week were from Whitburn (Co. Durham) on 15th and one was seen in Somerset, at Sand Point, also on 15th. Up to half a dozen Long-tailed Skuas were seen along North-Sea coasts this week: on 12th, an adult flew past Peterhead (Aberdeenshire) and was followed by two birds off Whitburn on 13th, with another there the following day; an adult was off Filey Brigg (North Yorkshire) on 15th, and another bird was seen off Peterhead on 16th. A first-summer Long-tailed Skua flew past Porthgwarra on 18th. Leach's Storm-petrels were noted off Whitburn and St. Mary's Island on the evening of 12th and one flew past Holy Island (Northumberland) on 15th.

Spoonbill, L'Eree, Guernsey (Photo: Paul Hillion)

Spoonbill, Sandbach Flashes, Cheshire (Photo: R.L.Brown)

White Stork, Wat Tyler CP, Essex (Photo: anon)

White Stork, Melrose, Borders (Photo: Peter Delaney)
The only Cattle Egrets reported this week were both seen in Cambridgeshire - one was at Earith near the Ouse Washes on 15th-16th and another was seen at Sutton Gault on 15th. After a decent showing of almost double figures last week, this week saw just two Great White Egrets noted, at Grove Ferry (Kent) on 12th (when it flew off southwest) and at Rye Harbour (East Sussex) on 13th (this could, of course, have been the same bird). As with last week, just under 30 Spoonbills were seen around the country, with six in Pool Harbour (Dorset) on 15th still the largest gathering. Four birds were at Breydon Water (Norfolk) on 13th and three were again at Cley Marshes (Norfolk) on 16th. Elsewhere, two birds were seen at Minsmere (Suffolk) on 12th, two were at Leighton Moss (Lancashire) on 16th, notable singles remained at Old Moor (South Yorkshire) to 12th, and another was at Budle Bay (Northumberland) on 14th. The Glossy Ibis remained at Marshside (Lancashire) to 17th at least, while the two Common Cranes at Crudgington (Shropshire) were still present to 16th. The lone Crane was still near Stornoway Airport, Lewis (Outer Hebrides) to 17th, while in West Sussex, three birds flew over near Arundel on 13th. In neighbouring East Sussex, a Black Stork was reported over Brighton on 16th, with a White Stork seen in the same county on the same day, over Ashdown Forest. There were numerous other White Storks this week: birds were seen in Lancashire (in Burnley on 12th and near Preston on 13th), in Dorset (over Christchurch Harbour on 13th), in West Yorkshire (where two flew over Fairburn Ings on 14th - though these may be Harewood Hall birds), in Suffolk (near Kessingland, on 14th), in Hampshire (near Southampton), Gloucestershire (at Slimbridge) and Essex (at Wat Tyler CP) all on 15th, in Borders (at Melrose) and on Shetland (on Yell) on 17th and, still in Scotland, in Edinburgh (Lothian) on 18th, when one was also seen at Bridge, near Canterbury (Kent). A Night Heron was seen at Eastbridge and nearby Minsmere (Suffolk) on 11th-12th, and a second-summer Night Heron was at Earith (Cambridgeshire) on 15th-16th, before relocating within the county (but remaining on the Ouse Washes) to Chain Corner on 18th. Singing Spotted Crakes in Suffolk this week were around Minsmere on 13th-16th (with two birds present on 18th) and Trimley Marshes on 14th with others noted at Grove Ferry (Kent) on 14th and two were heard at Sutton Gault (Cambridgeshire) on 16th-18th.
Onto wildfowl now....and Hooded Merganser! Now officially a Category A species (as predicted here for the past six months, including last week before the BOURC announcement), which presumably means that any future records will be scrutinised even harder (if that's possible) than has previously been the case. And the first bite of the shiny new listing cherry came courtesy of the reappearance of the first-summer drake in Dorset, which popped up at Radipole Lake on 15th, a week after it was seen at nearby Portland. A drake Green-winged Teal was seen at Inner Marsh Farm (Cheshire) on 17th-18th, while a remarkable four adult drake Surf Scoters were seen off Murcar Golf Course (Aberdeenshire) on 15th, with two of these moving to Aberdeen later the same day.

Honey Buzzard, Troutsdale, North Yorkshire (Photo: Andy Booth)
A White-tailed Eagle from County Kerry's release programme was seen at Clea Lakes (Co. Down) on 15th, and on the same date, an eagle species, possibly a White-tailed, flew over Far Ings (Lincolnshire). A Black Kite was seen over Exminster Marshes (Devon) on 12th and on the same date, one was noted at Redgrave Fen (Suffolk). On 14th, a Black Kite was reported at Flitcham (Norfolk), but it was a wing-tagged Red Kite that was seen (and photographed) there soon afterwards, while on 15th, a Black Kite was at Heversham Moss (Cumbria). The final report of the week was of a bird seen near Langham (Norfolk) on 18th. After a month or more of almost continual Red-footed Falcons, just one bird was seen this week, the long-staying female was still at Lakenheath Fen (Suffolk) on 16th.

Black-winged Stilt, undisclosed site, Cheshire (Photo: Malcolm Richings)
In Cheshire, the family group of Black-winged Stilts seem to be going from strength to strength at Neumann's Flash (Cheshire), with the surviving youngster now three weeks old, and its chances of surviving to fledging stage improve as every day passes. The same site also welcomed a Red-necked Phalarope, present on 15th-16th, while another Red-necked Phalarope was still present at Loch na Muilne, Lewis (Outer Hebrides) on 18th. A Pectoral Sandpiper was found at Grove Ferry (Kent) on 12th and a Lesser Yellowlegs paid a visit to Minsmere (Suffolk) on 15th, while the bird at Lough Beg (Co. Derry) was still present to 17th. A late moving Dotterel was at Great Yarmouth (Norfolk) on 12th.

American Herring Gull, Chew Valley Lake, Somerset & Bristol (Photo: Tim Corke)

Bonaparte's Gull, Loch Ruthven RSPB, Highland (Photo: Alan Sinclair)
The much-discussed adult American Herring Gull remained at Chew Valley Lake (Somerset) between 12th and 16th and despite so many features that seem to be well within the range of the species, the wing-tip pattern may prove to be the crucial element in the bird's undoing in official acceptance terms. No such worries for the first-summer Bonaparte's Gull that was still at Loch Ruthven (Highland) to 13th while the first-summer Caspian Gull was again at Minsmere (Suffolk) this week, while an unseasonable Glaucous Gull flew past Bacton (Norfolk) on 16th. Two Iceland Gulls were still at Mallaig (Highland) on 14th, while one was still on St. Mary's (Scilly) to 18th. In Conwy, an Iceland Gull was on the beach at Pensarn on 14th. In Gloucestershire, the first-summer Ring-billed Gull was again at Slimbridge from 12th-15th at least, while in Ireland, the Forster's Tern remained at Tacumshin (Co. Wexford) between 12th and 14th.
A couple of Hoopoes were seen this week: on Otmoor (Oxfordshire) on 15th and in South Yorkshire, at Langsett Reservoir on 16th. Cornwall laid claim to several records of Bee-eaters this week: one was heard over Truro on 13th with another seen in a private garden, at Paul, on the same date. On 15th, a Bee-eater was seen at Cape Cornwall and then later at Cot Valley, with maybe the same bird being seen at Polgigga. On 16th, a Bee-eater was at Land's End and one flew over nearby St. Just on 17th. Elsewhere, single Bee-eaters were seen over Minsmere (Suffolk), on 14th and at Winterton (Norfolk) on 16th. Two Short-toed Larks appeared during the week: one was seen at Sennen (Cornwall) on 13th with the other found on North Ronaldsay (Orkney) on 16th. An Alpine Swift was reported at Oakham (Leicestershire) on 17th and the male Snowy Owl was at Greinetobht, North Uist (Outer Hebrides) on 15th and 17th.

Marsh Warbler, Kirton, Lincolnshire (Photo: Jo Fisher)
Late news from Kent, where a Thrush Nightingale was reported from Hythe on 9th. A singing male Icterine Warbler was found at Longwick (Buckinghamshire) on 14th with another being caught, ringed and released at Stanford Reservoir (Northamptonshire/Leicestershire border) on the same date. On Fair Isle (Shetland), an Icterine Warbler was present on 12th. A Marsh Warbler remained in a private garden at Sea Palling (Norfolk) to 16th and on Shetland, singles were seen at Norwick (Unst) on 12th, Sandwick on 13th and Wester Quarff on 14th, with Norwick grabbing a second bird on 16th. A Red-breasted Flycatcher spent much of the 16th in the Observatory garden at Portland Bill (Dorset).

Red-backed Shrike, Burton Mill Pond, West Sussex (Photo: Maxie B)
Back on Shetland, the singing male Golden Oriole remained at Busta, Mainland (Shetland) to 15th at least, while two birds were present on Unst on 12th, with another on the island on 13th. On 13th, a Golden Oriole was near Abbotsbury (Dorset) and on 14th, a singing bird was at Yearsley Moor (North Yorkshire). The male Red-backed Shrike near Shopham Bridge (West Sussex) remained in place to 16th and others were noted on Fair Isle (Shetland) on 12th and 16th, at Cunningsburgh, Mainland (Shetland) on 12th-13th and Waxham and Sea Palling (Norfolk) on 15th-18th, with a further Norfolk bird on Kelling Heath on 17th at least. The Rose-coloured Starling that arrived last week at Inskip near Preston (Lancashire) was present to 12th and new arrivals were seen at the River Warbler site at Evie, Mainland (Orkney) on 17th-18th, at Greenock (Clyde) on 18th and another was seen in a garden in King's Lynn (Norfolk) on 14th-17th.

Coues's Arctic Redpoll, Norwick, Unst, Shetland (Photo: Mike Pennington)
A Coues's Arctic Redpoll was a surprise find on Unst (Shetland) on 12th and the bird remained present to 16th. Late-spring and early-summer records are, understandably, rather unusual, but Shetland boasted two in mid-2001 - one was on Fair Isle in May, with another on Fetlar on 11th June that year. To go with the Redpoll, there was also a curious rash of Waxwings this week - after two birds on Fair Isle on 11th (with one still there on 16th), four birds were seen on mainland Orkney, at Graemeshall, on 12th and were followed by three birds at Griais, Lewis (Outer Hebrides) on 14th, with another on the same island, also on 14th, at Col. Quite where these birds are originating from is an interesting question, and maybe they are tail-gating the heavy irruption of Crossbills along the east coast. Could we be in line for any more invasions of northern forest dwellers? Two-barred or Parrot Crossbills? Or what about Pine Grosbeak?!
There were two singing Common Rosefinches to report this week; one was seen on Barra (Outer Hebrides) on 14th and the previous day saw a singing first-summer male appear at Portland Bill (Dorset). Also on 13th at Portland, a female Red-headed or Black-headed Bunting was seen for a short time early in the morning, before disappearing sometime after 6.30am. The identification of the striking males is a given, but the challenge remains as tough as ever for the females of the two species. Sadly, this one didn't linger long enough for another identification debate to begin.
Photo of the Week

Green Bee-eater, India (Photo: Kit Day)
On a recent trip to Goa, India, Kit Day photographed a range of exotic local species, including this brilliantly coloured Green Bee-eater. With birds as beautiful as these, a standard portrait shot in good light is all that's needed to create a stunning image. Not content to settle for that, though, Kit set out to capture something even more special. Using a tripod set up on a favoured perch, he froze this bird just as it was coming back in to land after a successful hunting foray, a butterfly clasped in its bill. This is one of those images that has it all: a highly photogenic species caught in an action-packed instant, a well selected setting with a simple perch against a diffuse background, and perfect lighting on every bit of the scene. A truly breathtaking image. [Note: The cut-off for next week's Photo of the Week selection will be on Tuesday afternoon, a day earlier than usual. Images uploaded after the cut-off will go into the following week's selection process.]
Other notable photos

Gannet, Bass Rock, Lothian (Photo: Richard Steel)

Short-eared Owl, undisclosed site, Conwy (Photo: Steve Round)

Pied Kingfisher, India (Photo: Kit Day)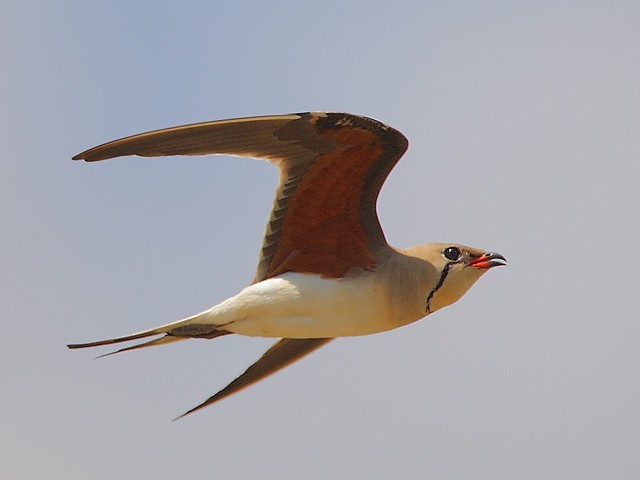 Collared Pratincole, Spain (Photo: Steve Fletcher)

Sandwich Tern, Brownsea Island NT, Dorset (Photo: Nigel Forrow)

Common Redstart, Cannock Chase, Staffordshire (Photo: Steve Seal)

Bearded Tit, undisclosed site, Lincolnshire (Photo: Dean Eades)

Pied Flycatcher, Undisclosed site, Gwynedd (Photo: Steve Round)

Shag, Farne Islands, Northumberland (Photo: Damian Waters)

Razorbill, Farne Islands, Northumberland (Photo: Damian Waters)

Common Kestrel, Whitley Bay, Northumberland (Photo: Andy Gordon)

White-bellied Woodstar, Peru (Photo: Selen Ediger)

Marsh Harrier, Minsmere RSPB, Suffolk (Photo: Max Silverman.)

Black-necked Grebe, undisclosed site, Lincolnshire (Photo: Dean Eades)

Peregrine Falcon, St. Martin's, Guernsey (Photo: Paul Hillion)

Golden Plover, Bransdale, North Yorkshire (Photo: Steve Race)

Abyssinian Roller, Eritrea (Photo: Malcolm Douglas)

Common Swift, Walmsley Sanctuary, Cornwall (Photo: Colin Selway)