The week at a glance
As Britain and Ireland continued to bask in above-average temperatures not experienced on our shores so consistently for seven years, it was fair to say that, at last, summer had well and truly arrived. The high pressure that was so settled over our islands this week meant light winds, big blue skies and (at least in the south) unbearable heat, ensuring that bird activity was less than dynamic. For once, there was no impromptu mega to ruin weekend plans, though there was a hint that the pace of return wader passage was beginning to grow.
Many expected an East Anglian excursion from the somewhat mobile Bridled Tern, after it flew south past Flamborough at the end of last week. So it's probably fair to say that the majority were surprised when, during the afternoon of 13th, the bird reappeared among the tern roost by the jetty on Inner Farne (Northumberland)! Over the following few days, the bird settled into a reasonably predictable routine of arriving to roost during the early afternoon and then again during the evening, although it was also present in the early morning of 17th. How long the bird persists in visiting the Farnes is anyone's guess, although the chances are that it will find its way onto a few more patch lists in the coming weeks.

Bridled Tern, Farne Islands, Northumberland (Photo: David Aitken)
Pick of the bunch of the week's waders was a stunning, breeding-plumaged Pacific Golden Plover at Rutland Water from 15th. Present all day on its first day, it then went missing for much of 16th only to return late in the evening and then show well again throughout 17th. Not surprisingly, this is the county's first record of what is a very rare species inland (though nearby Cambridgeshire can boast two records).

Pacific Golden Plover, Rutland Water, Leicestershire and Rutland (Photo: Richard Bayldon)

Pacific Golden Plover, Rutland Water, Leicestershire and Rutland (Photo: David Aitken)
July is traditionally the best month for Pacific Goldies in Britain & Ireland, followed by August. The pattern of accepted records of the species also accurately reflects the species' history, defined by the BOU's decision to split 'Lesser Golden Plover' into Pacific and American Golden Plovers in 1986 — there was a marked upturn from the late 80s onwards.

Annual distribution of accepted Pacific Golden Plover records, 1950–2011, from the BirdGuides ORB archives.
In Carmarthenshire, the Lesser Yellowlegs remained at the National Wetlands Centre to 17th, though it could be mobile at times; another 'legs was on Rosslare Backstrand (Wexford) on 16th. An adult Pectoral Sandpiper arrived at Rainham Marshes (London) on 11th and remained for the week, while a two-dayer was not too far away at Vange Marshes (Essex) on 14th–15th. The first adult White-rumped Sandpiper of the autumn dropped in at Lodmoor (Dorset) on 17th, and Northumberland's Temminck's Stint was still at Derwent Reservoir on 11th. A Spotted Crake was at Ballycotton (Cork) on 13th.

White-rumped Sandpiper, Lodmoor RSPB, Dorset (Photo: Brett Spencer)

Lesser Yellowlegs, Llanelli, Carmarthen (Photo: Robin Mawer)

Temminck's Stint, Derwent Reservoir, Northumberland (Photo: Paul Massey)
Four Red-necked Phalaropes were relatively brief visitors to the Pool of Virkie (Shetland) on 16th, with two Grey Phalaropes seen at sea off Fair Isle on 11th. In the ultra-calm conditions, seawatching proved a bit of a non-starter. The week's only Cory's Shearwater passed Melmore Head (Donegal) on 17th and just a handful of Sooty and Balearic Shearwaters were noted; the peak count of the latter was 18 off Portland Bill (Dorset) on 17th. A Sabine's Gull was seen at sea in The Minch on 12th, although this is a fairly typical record for the time of year. As such, cetaceans provided much of the week's entertainment for sea-gazers, with the pick of the bunch being up to a dozen (possibly more) Minke Whales off the North Yorkshire coastline between Filey and Scarborough and a Sei Whale moving north off there on 16th.

One of several Minke Whales seen off Filey Brigg this week — lots more on Mark's blog (Photo: Mark Pearson).
The super run of Bonaparte's Gulls continued, with yet another individual found this week — this time another pristinely plumaged adult, feeding off the outfalls near Heysham Power Station (Lancs) from 13th. The altogether grottier first-summer remained on the Oare Marshes (Kent) to 12th, and another was reported at Sennen Cove (Cornwall) on 17th. An adult Ring-billed Gull had returned to Nimmo's Pier (Galway) by 17th (Iceland Gull also there), with a first-summer again at Rosslare Backstrand (Wexford) and the second-summer still in northwest County Kerry. A Gull-billed Tern remained at Tacumshin throughout the week and the east Norfolk Caspian Tern flew past Walcott on 11th. Away from their northeastern strongholds, odd Roseate Terns included singletons on North Ronaldsay (Orkney) and in Aberdeenshire, Devon and Dorset, with regular groups of up to three at Seaforth (Lancs), Rye Harbour (E Sussex) and Cemlyn Lagoon (Anglesey).
Content continues after advertisements

Bonaparte's Gull, Heysham, Lancashire (Photo: Gavin Thomas)
A female Ring-necked Duck was new from the County Antrim shoreline of Lough Beg on 14th, while drakes remained at Barns Ness (Lothian) to 13th and Brompton-on-Swale (N Yorks) to 15th. Two drake Surf Scoters remained off Blackdog (Aberdeenshire) on 15th, and the single drake was off Rhunahaorine Point (Argyll) on 16th — no further sightings of the frigatebird though!
As if three wasn't enough, news on 16th relayed the presence of four Little Bitterns at Ham Wall (Somerset): the pair, and two further 'barking' males! With breeding (presumably) taking place, this number is likely only to swell before the summer is out. The Night Heron was again at Old Moor (s Yorks) on 17th and a Cattle Egret toured Elmley Marshes (Kent) on 13th–15th. A White Stork lazily drifted over Coventry (W Mids) on 16th, while the West Sussex Glossy Ibis reappeared for the first time since April, flying over Arundel on 11th. No surprises that the Pembrokeshire bird was also still at Marloes Mere.

Little Bittern, Ham Wall RSPB, Somerset & Bristol (Photo: Simon Kidner)
The West Cornwall Black Kite remained in the Sancreed/Drift Reservoir area to 13th, while another flew over Allendale (Northumberland) on 17th.
Late news concerned a Hoopoe photographed on private land at Stow Bardolph (Norfolk) on 8th–9th, with another at Kilrane (Wexford) on 13th–14th. A Golden Oriole was at Tetney (Lincs) on 15th and a female Red-backed Shrike settled in near St. Fergus (Aberdeenshire) from 14th. Another belated record concerned an Iberian Chiffchaff singing in a garden at Tyrwaun, near Pwll (Carmarthern) for twelve weeks up to 11th July. Singles of Marsh Warbler and Common Rosefinch remained on Fair Isle during the week, with a red male of the latter species at Borrowby (N Yorks) on 10th in addition to the long-stayer at Tressait (Perth/Kinross) to at least 15th. Finally, a Rose-coloured Starling was at Aird of Sleat, Skye (Highland) on 16th.

Common Rosefinch, Tressait, Perth & Kinross (Photo: John Nadin)

Hoopoe, Stow Bardolph, Norfolk (Photo: Simeon Grundy)
With the hot weather set to continue into next week, what odds on a midsummer mega to provide some relief? The obvious answer in hot, anticyclonic conditions is a Blue-cheeked Bee-eater, but will it finally fall this year? Perhaps we'll see a White-headed Duck or two as we head into August, although more likely it'll be a bunch of Ruddy Shelducks from the Netherlands. Either way, the summery conditions appear to be doing much-needed wonders for our insects. Moth catches are on the up, butterflies are performing well, and it's looking like a good year for Red-veined Darters. We'll leave you with a selection of recent highlights from our Lepidoptera and Odonata galleries:

Red-veined Darter, Reculver, Kent (Photo: Marc Heath)

Purple Emperor, Bentley Wood, Wiltshire (Photo: Craig Richardson)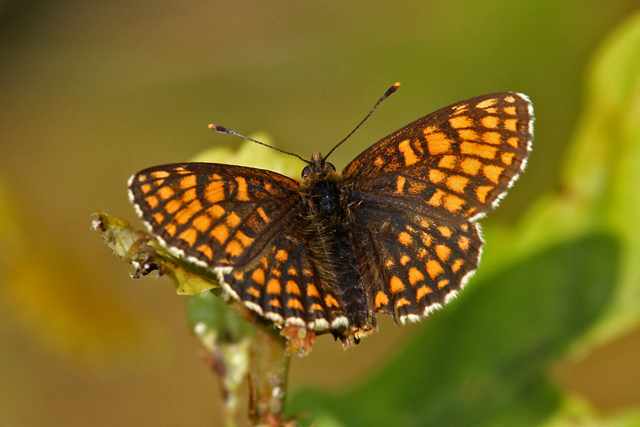 Heath Fritillary, East Blean Woods, Kent (Photo: Richard Bonser)

Silver-washed Fritillary, Killarney, Kerry (Photo: Fionn Moore)

Marbled White, Stockbridge, Hampshire (Photo: Craig Richardson)
Photo of the Week

Long-eared Owl, Cockmuir Bridge, Lothian (Photo: Bruce Kerr)
Although we have become accustomed to receiving images of various owl species out in the open, the vast majority of uploaded images of Long-eared Owls show the birds roosting in dense thickets. This week, though, Lothian-based photographer Bruce Kerr submitted a couple of shots of one such owl actively hunting in the last light of the day. Although one of the shots was a head-on flight shot, we actually prefer this one of the bird perched on a fence post. This image freezes the owl in a fully alert pose with wide-open eyes looking straight at the camera. The rich orange in the bird's eyes contrasts well with the green backdrop and really grabs the viewer's attention. After 300+ uploads over the past five years, Bruce finally gets his first Photo of the Week.
Other Notable Photos

Stonechat, Wayoh Reservoir, Lancashire (Photo: John Barlow)

Red-necked Grebe, Romania (Photo: Richard Steel)

Black-tailed Godwit, Oare Marshes NR, Kent (Photo: Ian Curran)

Green Woodpecker, Billing Aquadrome, Northamptonshire (Photo: Douglas McFarlane)

Sand Martin, Bala, Gwynedd (Photo: Neill Carden)

Blackbird, undisclosed site, Worcestershire (Photo: Mike McKenzie)

Yellow Wagtail, undisclosed site, Norfolk (Photo: Nick Appleton)

Spotted Flycatcher, undisclosed site, North Yorkshire (Photo: Carl Wright)

Black-throated Diver, undisclosed site, Highland (Photo: Jon Worthington)

Little Tern, undisclosed site, Norfolk (Photo: Steve Hatch)

Meadow Pipit, private site, Suffolk (Photo: Ian Clarke)