The week at a glance
A generally mild, if at times unsettled, week passed in which incoming summer migrants made up much of the excitement, although the standout find was a fourth-calendar-year Glaucous-winged Gull on Fair Isle, Shetland, on 2nd.
This, just the third for Britain, has so far proven a one-day wonder. With gulls coming and going on Fair Isle, their movements seemingly dependent on the weather, the likelihood of this bird being twitchable seems low — particularly at a time of year when gulls are on the move. Perhaps it might pitch up in Lerwick harbour, though that seems fanciful...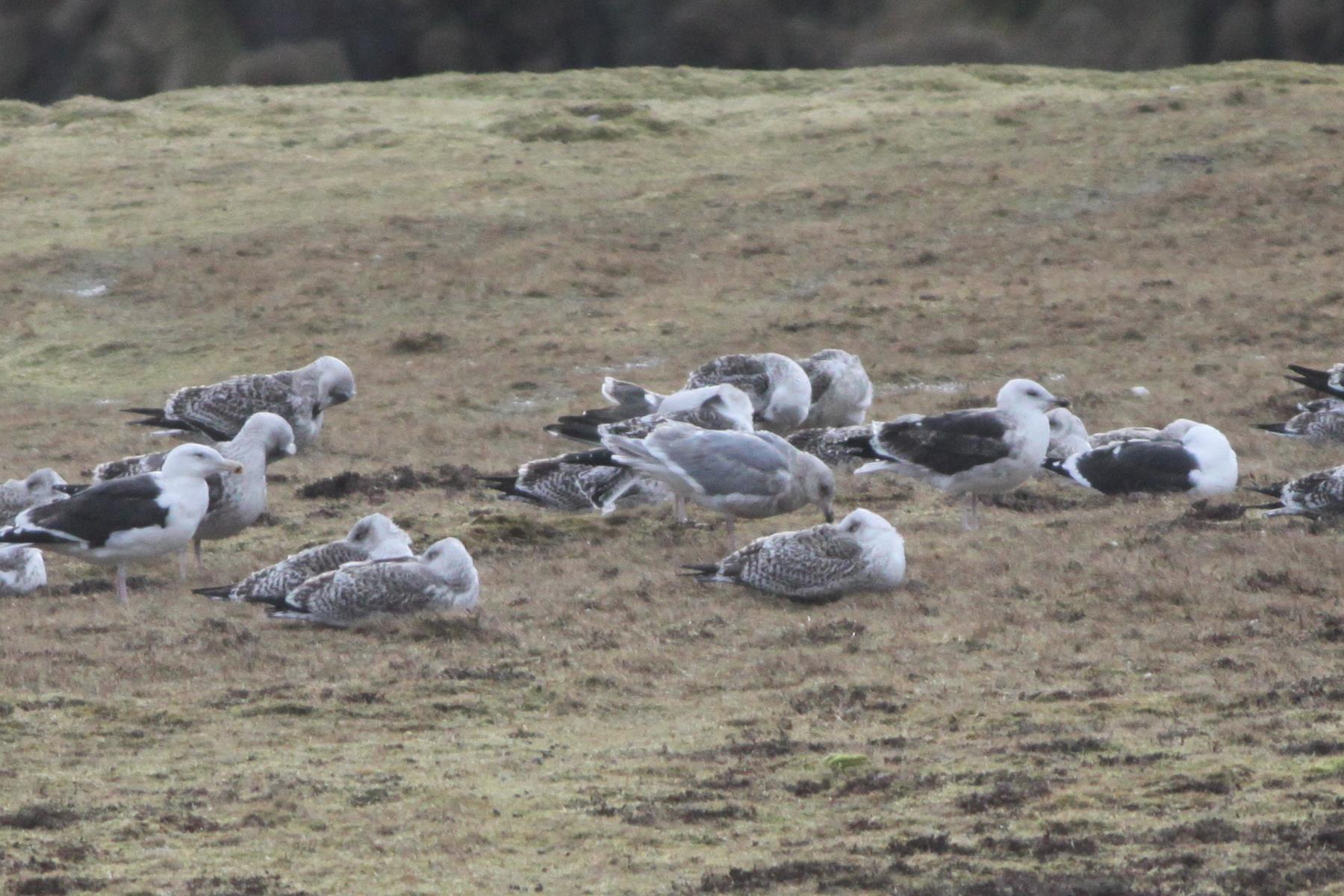 Glaucous-winged Gull, Fair Isle, Shetland (Photo: David Parnaby)
Content continues after advertisements
Otherwise the first seven days of March slipped by somewhat serenely, as it often does. The first half of March often experiences a 'lull' as wintering migrants quietly make their exit and birders await the first big arrival of the spring, and this week certainly felt like we were in that holding pattern, full of anticipation for the months ahead.
Though the first wave of arrivals is still yet to appear in any real number, there were some interesting records from as far north as Scotland. There were eight reports of Swallow this week, the first of which was at Kilmacthomas, Co Waterford, on 1st, and another had reached Rosehearty, Aberdeenshire, on 6th. A widespread arrival of Sand Martins seemed to occur from 4th — while not in great numbers, small flocks over southern and Midlands waterbodies were very much welcome. Five Northern Wheatears arrived on 6th, with males at two sites in Norfolk and others in Somerset and Dorset (2). Several more followed on 7th, as far north as Lothian.

Northern Wheatear, Weybourne, Norfolk (Photo: Jake Gearty)
Little Ringed Plovers were fresh in at Blashford Lakes, Hants, on 3rd, Titchwell, Norfolk, on 6th and Tice's Meadow, Surrey, on 7th, while the first migrant Garganey of the year arrived at Stanpit Marsh, Dorset, on 4th. Two House Martins remained at Lowestoft, Suffolk, to 4th, and another was reported at Formby, Lancs, on 5th. Ring Ouzels were noted in West Sussex and South Yorkshire on 7th.
The Pine Bunting at Dunnington, North Yorks, continues to show well at times, while the Kent bird was again reported a couple of times on 1st.

Pine Bunting, Dunnington, North Yorkshire (Photo: Dave Mansell)
It almost goes without standing that the Blue Rock Thrush at Stow-on-the-Wold, Glos, and the Eastern Black Redstart at Skinningrove, Cleveland, remained throughout.

Blue Rock Thrush, Stow-on-the-Wold, Gloucestershire (Photo: Jake Gearty)

Eastern Black Redstart, Skinningrove, Cleveland (Photo: Paul Coombes)
Though not technically British in listing terms, the continuing American Royal Tern on Guernsey is still drawing plenty of attention from British birders. It was still at Perelle Bay on 6th; might it be so kind as to wander north and spend a day or two at Ferrybridge?
Devon's Pacific Diver was off Brixham harbour on 7th and the Northumberland bird was still showing well at East Chevington on 6th. What was presumably last month's White-billed Diver was again off Ferny Ness, Lothian, on 1st; it won't be long now before the first are reported off the north Aberdeenshire coast.
The American Coot hung around at Balranald, North Uist, to at least 5th, but there was no sign of the Hooded Merganser at Lochwinnoch, Clyde. Once again Lesser Scaup were limited to drakes at Loch of Boardhouse, Orkney, and Dozmary Pool, Cornwall. Ring-necked Ducks were logged at 10 sites, including a new drake at Lough Neagh, Co Armagh, from 4th. The perplexing Ferruginous Duck, accepted as wild but perhaps not truly so, remained at Washington WWT, Durham, on 3rd.

Ferruginous Duck, Washington WWT, Durham (Photo: Sam Northwood)
Drake Black Scoter remained off Rossbeigh, Co Kerry, on 3rd and Goswick, Northumberland, on 4th. At least three Surf Scoters were off the Co Louth coast between Salterstown and Hermitage, while twos continued in Ballinskelligs Bay, Co Kerry, and off Musselburgh, Lothian, in addition to a single drake off Murvagh, Co Donegal.
Nine American Wigeon were observed, all but one of which were drakes. The female continued at Grimley, Worcs, while a new male was at Dundrum Bay, Co Down, from 4th. Nine Green-winged Teal included a new male in Cumbria. The drake American Black Duck was still on show at Strontian, Highland, on 4th.

American Wigeon, Grimley, Worcestershire (Photo: Andrew Warr)

Green-winged Teal, Lytchett Bay, Dorset (Photo: Ian Ballam)
The week's only Snow Goose was the blue morph at Nateby, Lancs, to 4th. Lancashire's Todd's Canada Goose resurfaced at Crossens Outer Marsh on 4th, while up to five Cackling Geese were dotted around Islay, Argyll, on 3rd. Six Black Brants were seen, with Kent and Essex holding two apiece and Hampshire and East Yorkshire hosting the others.

Cackling Goose, Islay, Argyll (Photo: John Nadin)
Thirty-three sites produced Cattle Egrets, the spring-like weather seemingly not convincing any of them to head off back to the continent. Eleven were at Holbeton, Devon, 2nd, with an amazing 18 at St Clement, Cornwall, on 1st. Other notable counts included 18 at St Peter, Jersey, and up to six in the Birkdale/Southport area of Lancashire. Glossy Ibises remained on the Isle of Wight and in Somerset, Cambridgeshire and Leicestershire.
The juvenile Pallid Harrier ranging widely around the Wells/Holkham area of Norfolk was one of the week's most popular birds, but the East Yorkshire bird wasn't reported. The Northern Harrier was still on North Ronaldsay, while fleeting reports of a white-morph Gyr were received from numerous sites in Northumberland — at Bamburgh and Cresswell Pond on 2nd, Druridge Pools on 3rd, Longhirst Flash on 5th and East Chevington on 7th.

Pallid Harrier, New Holkham, Norfolk (Photo: Baz Scampion)
There was no news on the Hudsonian Whimbrel this week, but the Killdeer was still at Sandwick, Shetland, on 5th. The Long-billed Dowitcher was reported at Tacumshin, Co Wexford, on 5th for the first time since late January. Meanwhile the Lesser Yellowlegs remained ever-present at Lytchett Bay, Dorset.
March marks the start of the best period of the year for new Bonaparte's Gulls, and a first-winter duly obliged by arriving at Helston, Cornwall, from 5th. Elsewhere the Co Cork adult was relocated at Lee Reservoirs from 3–5th and the Devon bird remained on show.

Bonaparte's Gull, Helston, Cornwall (Photo: Alex McKechnie)

Bonaparte's Gull, Cardwell Bay, Clyde (Photo: Bob Greer)
It's been another lean winter for American Herring Gulls so news of a first-winter at Polgigga, Cornwall, was welcome on 5th. A new Ring-billed Gull was at Loch an Tiumpan, Lewis, on 3rd — one of four British records, with another nine noted in Ireland. Around 30 sites produced Caspian Gulls, with Glaucous Gulls at 70 sites and Iceland Gulls at over 100. The Forster's Tern was again noted at Nimmo's Pier, Co Galway, on 4th.

Ring-billed Gull, Loch an Tiumpan, Lewis, Outer Hebrides (Photo: John Sweeney)
There was again no sign of the Welsh Red-flanked Bluetail but the Hume's Leaf Warbler was seen again at Portland, Dorset, on 1st and 7th and the Desert Wheatear remained at Thurlestone, Devon, all week. The Bluethroat also continued to show well at Willow Tree Fen, Lincs, at times, and must be close to being the most-twitched bird of the year. Yellow-browed Warblers were seen at nine sites and included up to three still at Staverton, Devon. Richard's Pipits continued in Dorset (2) and Gloucestershire.

Bluethroat, Willow Tree Fen LWT, Lincolnshire (Photo: Mike Robinson)
Rose-coloured Starlings hung on in Crawley, West Sussex, and Dorchester, Dorset. A single Coues's Arctic Redpoll remained in Hamilton, Clyde, early in the week but there was no news on the European Serin at Tide Mills, East Sussex. Bedfordshire's Little Bunting continued to draw a small trickle of admirers to Great Barford, where it showed well over the seven days.

Little Bunting, Great Barford GPs, Bedfordshire (Photo: Paul Chamberlain)
Great Grey Shrikes were reported from a reasonable 28 locations this week, including two in Scotland. One of these was significantly far west at Bridgend, Islay. The total number of Waxwing reports this week was 262.

Great Grey Shrike, Acaster Malbis, North Yorkshire (Photo: Bri Clark)
Western Palearctic news
With several groups of WP birders heading south to Western Sahara this week in the hope of connecting with Golden Nightjar and Sudan Golden Sparrow, it was no great surprise that the continuing White-throated Bee-eater was reported on a near-daily basis. Though in frightful condition, it somehow retains its beauty and elegance and this could prove a serious WP 'blocker' for the listers down there at the moment.

White-throated Bee-eater, Western Sahara (Photo: Dan Brown)
The Norwegian Yellow-throated Bunting continued in Lofoten at Gravdal early in the week, while a Siberian Accentor was found in the country at Løten, Hedmark, on 4th and an Oriental Turtle Dove was at Klepp, Rogaland. A Black-throated Thrush showed well at Parola, Finland with another at Kajaani muted as a possible hybrid, given its strong supercilium.

Black-throated Thrush, Finland (Photo: Kari Haataja)
Cape Verde's first Stilt Sandpiper was found at Curral Velho, Boa Vista, on 4th, while Azores records included the first Snow Goose for Faial on 6th and the continuing Forster's Tern at Ponta Delgada, São Miguel.

Stilt Sandpiper, Cape Verde (Photo: Ernst Allbegger)
Both the Baikal Teal and Brown Shrike remained on show in the Netherlands, while the Thayer's Gull remained in Galicia, Spain, and the Sora at Silves, Algarve. What is potentially Italy's first Brown-necked Raven was photographed on the southern island of Pantelleria. A Pied-billed Grebe was on Gran Canaria on 3rd, the same day the long-staying Bateleur was noted again at Gal'on, Israel. Finally, a Baikal Teal was at Gonyu, Hungary, on 5th.