The week at a glance
This week's star bird was discovered in the Channel Islands — which, though not technically Britain (and thus not countable on a British list), managed to grip off plenty of British birders. That said, if mainland birders are in luck, it might yet wander north across the Channel...
The bird in question is a superb first-winter Royal Tern, present along the north-west coast of Guernsey from 5th. A record of this species anywhere in Europe in winter is of massive significance, and the usual questions regarding origin were quick to surface — African or American?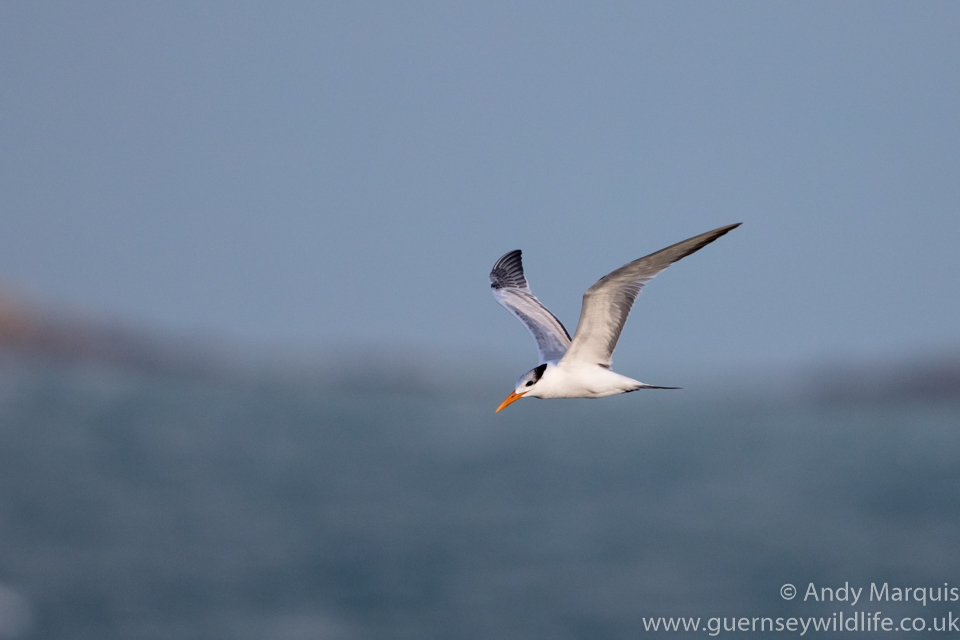 Royal Tern, Miellette, Guernsey (Photo: Andy Marquis)
Content continues after advertisements
With one confirmed British record of American Royal Tern occurring at Kenfig Pool, Glamorgan, in late November 1979 (it had been ringed as a nestling in North Carolina the previous summer) and another ringed bird presumably having crossed the Atlantic to Mumbles, Gower, in December 1987, there appears to be a (small) precedent for transatlantic vagrancy in mid-winter. One would suspect that this bird, too, is of Nearctic origin but proving it might be difficult. The best hope would be for a faecal or feather sample to be collected, much in the manner of last summer's bird in Co Mayo — that individual was also assumed to be of American origin yet later proved to be African albididorsalis, so it's perhaps unwise to rule the latter out!

Royal Tern, Miellette, Guernsey (Photo: Dan Scott)
Otherwise, it was business as usual. Both Pine Buntings started out the week at their respective sites in Kent and North Yorkshire. The latter remains faithful to its favoured fields near Dunnington, and was still showing occasionally on 6th, and the Kent bird continued at Little Murston.
Both star thrushes are showing no sign of going anywhere — the Blue Rock Thrush was still at Stow-on-the-Wold, Glos, and the Dusky Thrush still at Beeley, Derbyshire. Eastern Black Redstarts remained in Cleveland and Cornwall, the former passing the 100-day anniversary of its discovery this week, while the latter county also held on to those two stalwarts, the Pacific Diver in Mount's Bay and the Hudsonian Whimbrel at Perranuthnoe.
Elsewhere the juvenile Pacific Diver continues to perform at East Chevington, Northumberland — though it doesn't appear as confiding at this site as it was at Druridge. Unfortunately (for birders) it appears that the River Witham White-billed Diver has realized the error of its ways and headed back out to sea. Its final showing came on 1st, by which time it had moved as far south as Tattershall Bridge and Dogdyke, and it was last seen flying south towards The Wash. It wasn't seen anywhere along the river on 2nd. The only other White-billed report concerned a juvenile off North Ronaldsay, Orkney, on 2nd.

Pacific Diver, Druridge Bay CP, Northumberland (Photo: David Aitken)

White-billed Diver, Woodhall Spa, Lincolnshire (Photo: Andy Ingham)
Once again, we start the wildfowl round-up with the continuing Hooded Merganser at Lochwinnoch RSPB, Clyde, which was still present on 6th. The drake American Black Duck remained alongside at least three hybrid young near Strontian, Highland, on 1st. Nine American Wigeon included new drakes at Drumpellier Country Park, Clyde, and South Alloa, Forth, both found on 3rd. Interestingly, the drake was back at Grindon Lough, Northumberland, on 1st — it was last seen here in late November. Just nine Green-winged Teal included a new drake briefly at Filey Dams, N Yorks, on 3rd as well as the Dorset bird back at Lytchett Fields for the first time since mid-January.
The only female among the week's eight Ring-necked Ducks was the continuing bird at Paxton Pits, Cambs. The only new individual was a male at Nosterfield, N Yorks, on 4th and 6th. Just a single Lesser Scaup was reported — the drake at Dozmary Pool, Cornwall. Ferruginous Ducks continued at Blashford Lakes, Hants, and Washington WWT, Durham. A probable drake Black Scoter was glimpsed off Burry Holms, Gower, Glamorgan, on 5th, while the Northumberland bird was still off Goswick that day. Two Surf Scoters remained in Ballinskelligs Bay, Co Kerry, with two also off the Lothian coastline in addition to single birds off Co Meath, Conwy and Fife.
The Red-breasted Goose looks to have been performing really well with Eurasian White-fronted Geese in Lancashire in recent days; it was in the Pilling area until 5th, when it was last seen at Eagland Hill. Nearby the Snow Goose was also showing well among Greylags at Nateby to 6th. A Richardson's Cackling Goose continued on Islay, while three presumed Todd's Canada Geese could be found among Barnacle Geese at Drumlemble, Argyll, on 5th. Another Todd's was found among Greenland White-fronts at Belclare, Co Galway, and the Lancashire bird was at Eagland Hill on 1st then Upper Thurnham from 5th. Black Brants were reported from five sites spanning three counties, with Essex claiming three birds.

Red-breasted Goose, Pilling Lane Ends, Lancashire (Photo: Geoffrey Pain)

Snow Goose, Nateby, Lancashire (Photo: John Tymon)

Cackling Goose, Ballygrant, Islay, Argyll (Photo: Jim Dickson)
Cattle Egrets remained at over 30 sites nationwide, with at least 12 at Devoran, Cornwall, on 6th the highest count. Further north, up to five remained at Malltraeth, Anglesey, while a record 15 were on Jersey on 2nd. Two Glossy Ibises continued on the Somerset Levels, while others were still in Essex and Aberdeenshire — the former a bird flying over Brightlingsea on 4th.
The female Snowy Owl was still on Eday, Orkney, on 4th but there was no sign of the Co Galway bird this week. A white-morph Gyr was seen on Harris, Outer Hebrides, on 5th. The Northern Harrier continued on North Ronaldsay, while the Pallid Harrier was reported from Welwick, E Yorks, on a near-daily basis.

Snowy Owl, Spiddal, Galway (Photo: Dermot Breen)
Shetland's Killdeer was still at Sandwick on Friday, while the Lesser Yellowlegs was still at Lytchett Bay, Dorset, all week. A new yellowlegs was at Longdon Marsh, Worcs, on 5th before presumably relocating to Coombe Hill Meadows, Glos, on 7th.
A new Bonaparte's Gull was discovered at Cardwell Bay, Clyde, on 5th and was still there the following day; meanwhile the Devon bird was still on the Exe Estuary on 5th. An adult Laughing Gull was seen off Creggoduff, Co Galway, on 3rd but couldn't be relocated the following day. Ring-billed Gulls were noted at 11 sites and included up to four (two adults and two first-winters) at Tralee, Co Kerry, and two still at Nimmo's Pier, Co Galway. Glaucous Gulls appeared slightly down on the previous week and were seemingly outnumbered by Iceland Gulls for the first time this winter — counts of the latter included seven at Sligo Town and at least six around Stornoway, Outer Hebrides.

Bonaparte's Gull, Cardwell Bay, Clyde (Photo: John Sweeney)

Ring-billed Gull, Chew Valley Lake, Somerset & Bristol (Photo: Lee Gardiner)
The weekly total of Waxwing reports dropped yet further, only just exceeding 400 over the seven days. Colour-ringed birds, originating primarily from Aberdeen, continue to pop up across both Britain and Ireland — their latest movements have been charted in this article.

Waxwing, Penkridge, Staffordshire (Photo: Derek Lees)
In Glamorgan the Red-flanked Bluetail was again seen near Caerphilly on 5–6th, but continues to prove frightfully elusive in a large wood. Rose-coloured Starlings were still in Dorchester, Dorset, and Crawley, W Sussex, this week but no Richard's Pipits were reported. The Desert Wheatear was still at Thurlestone, Devon, on 4th. A Hume's Leaf Warbler was again at Portland, Dorset, on 5th — the first sighting of it since mid-December. Yellow-browed Warblers were noted at eight sites as far north as Staffordshire, while Lesser Whitethroats were seen at Holme Dunes, Norfolk, on 5th and at South Ascot, Berks, and Ballasalla, IOM, on 6th. A slight increase in Great Grey Shrike sightings saw birds noted at 22 sites.

Desert Wheatear, Thurlestone, Devon (Photo: David Aitken)

Rose-coloured Starling, Crawley, West Sussex (Photo: Mark Leitch)
The male European Serin continues to frequent Tide Mills, E Sussex, throughout the week. Another new Little Bunting was unearthed at Great Barford, Beds, on 30 January (news broke on 2nd) and was relocated nearby from 3rd. Elsewhere birds were still at Ports Down Hill, Hants, to 5th and Trinity Hill, Devon, all week.
Western Palearctic news
Italy's fine run of form continued with a smart male Dusky Thrush found at Zenson di Piave, east of Treviso, on 5th (though it wasn't seen again). Last week's male Red-flanked Bluetail was last seen at Cingoli, Marche, on 1st but a juvenile Eastern Imperial Eagle continued on the Po Delta.

Dusky Thrush, Italy (Photo: Roberto Are)
Exciting news from Western Sahara concerned at least three Golden Nightjars singing along the Aoussard Road again this week, with a flock of 20+ Sudan Golden Sparrows seen briefly at Oued Jenna. Just across the water a Brown-necked Raven was found on Lanzarote on 5th.
A drake Baikal Teal was a new discovery in the Netherlands, while long-stayers included the Common Yellowthroat on São Miguel, Azores, the Sora in Portugal's Algarve and the Siberian Accentor at Hirtshals, Denmark.