Last week's big story concerned a Yellow-rumped Warbler on North Ronaldsay on Tuesday 6th May, which quickly relocated to Unst, Shetland, the following day. Finders Mark Warren and Robbie Brookes recount the tales of their respective discoveries, and we take a look at the features that make it identifiable as the same bird.
North Ronaldsay
In early May, our team of wardens here on North Ronaldsay head out into the field each day hoping that, among the common migrants, species such as Wryneck, Red-backed Shrike or Bluethroat might appear. If our luck's really in, we might stumble upon a Subalpine Warbler or a Short-toed Lark, but every now and then the rulebook goes out of the window and something totally unexpected appears. Tuesday 6th May was one of those days!
It had been a good week on the island, with a partial summer-plumaged Spotted Sandpiper, Short-toed Lark and Little Bunting all recorded in the preceding days. Once the morning's rain and fog had cleared away to leave a dry, sunny afternoon, I headed out to my assigned route on the eastern side of the island. With just a few gardens to check, that particular section isn't renowned as being the best for passerines, but I'd seen an island-record seven Garganey, a hatful of waders and the lingering Glossy Ibis after three hours. Heading home and nearing the small garden at Scott's Haa, a couple of Blackcaps flicked out of the fuscia bushes ahead of me followed by another bird with a yellow rump! I froze and swore to myself — there isn't a lot in a British context with a yellow rump, and over the next few seconds I realised that the bird was not a Serin but a Yellow-rumped Warbler! That was it for calmness — I'd never seen any of the American wood-warblers before, having resisted temptation to twitch many a Blackpoll on Scilly while living in Cornwall, and there was something magical about this bird which turned me into a gibbering wreck! A big issue was the bird's incredible mobility — it had clearly just arrived and was all over the place, at one point flying high into the sky and perching on telegraph wires before — much to my relief — returning to the garden. I just about managed to keep track of it, while getting the news out and taking a few photos.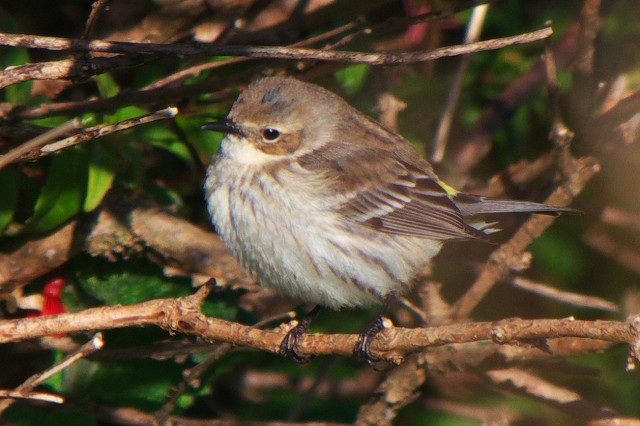 Yellow-rumped Warbler, North Ronaldsay, Orkney (Photo: Peter Donnelly)
The others arrived pretty quickly (as you would!) but I'd developed a few concerns. I had no direct experience of the species and while it was obviously not an adult male, it was quite poorly marked and duller than photos I'd seen of autumn first-winters and though most likely a female, I'd still expected to see a yellow 'carpal patch' which seemed to be missing. The Sibley guide was fetched to check features and help settle some of my early reservations that we weren't throwing away an altogether rarer American wood warbler, before news was texted to the birding information services. The bird was essentially grey-brown above, with a subtly streaked mantle, a similar-coloured crown (within which some random blue-grey feathering was present on both sides), contrasting warmer brown ear-coverts, a subtle white supercilium and white throat. On close examination a hint of a yellowish 'carpal patch' was indeed present, and the white-based underparts had fine blackish streaks on the breast and down the flanks. Its two white wing-bars were always obvious but it was when the bird flew that it looked most striking, revealing its startlingly bright lemon-yellow rump and large white spots on the outer three tail feathers. It also gave a clicking contact call regularly — a bit like that of a Locustella warbler.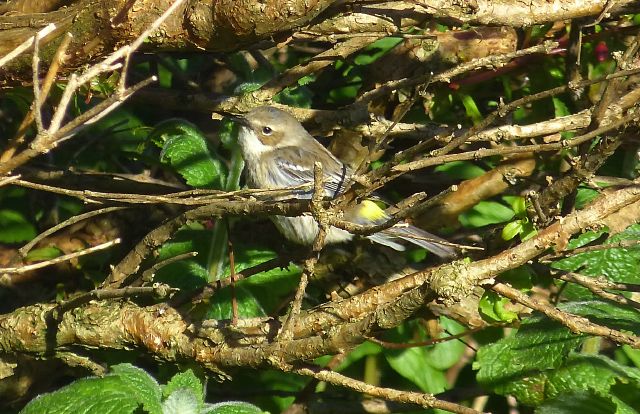 Yellow-rumped Warbler, North Ronaldsay, Orkney (Photo: Rael Butcher)
It was watched until about 7.30pm, when it seemed to go to roost in the Scott's Haa garden, earlier than we'd expected with a couple of hours feeding time still available - perhaps getting some rest before it planned to move on? It couldn't be found the next morning. It becomes the second record for the island after one in October 1995 (with another on the Orkney mainland in October 2003) and, while the highlight of a fantastic early spring on North Ronaldsay, there's plenty more of May and June left to better it!
Content continues after advertisements
Unst
Just after 9.30am on 7th May, I decided to take a drive up the north of the island to look for migrants, as we'd been having quite a spell of south-easterlies (usually good here in spring and autumn). My first stop was going to be Haroldswick Pools, which had been particularly good for common migrants over the preceding weeks (Blackcaps, Chiffchaffs and so on, plus Wryneck and a Hawfinch). However, as I drove down the hill I could see a small van parked there, so decided to go further north and check Skaw, Lamba Ness and Norwick first.
Returning back to the pools not long after 11am, I pulled up and, within a couple of minutes, I noticed a small bird at the far end of the Rosa which was facing me with its head slightly turned. It appeared to have quite a pale breast, slightly streaked with a contrasting dark head. I felt straight away it wasn't anything I'd come across before; so, doing what I always do, I grabbed the camera and managed to fire off a few frames just in time before it dropped down into the Rosa. Looking at the pictures on the back of the camera, I knew it had to be something pretty unusual and had a 'gut' feeling it must be an American warbler due to its overall structure. However, my experience of American passerines was limited to just two birds, a Red-eyed Vireo at Valyie, Unst, in September 2012 and the Cape May Warbler at Baltasound last October. While thumbing through my Collins and also Sibley on my iPod, I kept an eye on the bushes for the bird to reappear; thankfully it did and I got to see its bright yellow rump. Time to 'phone a friend', I thought.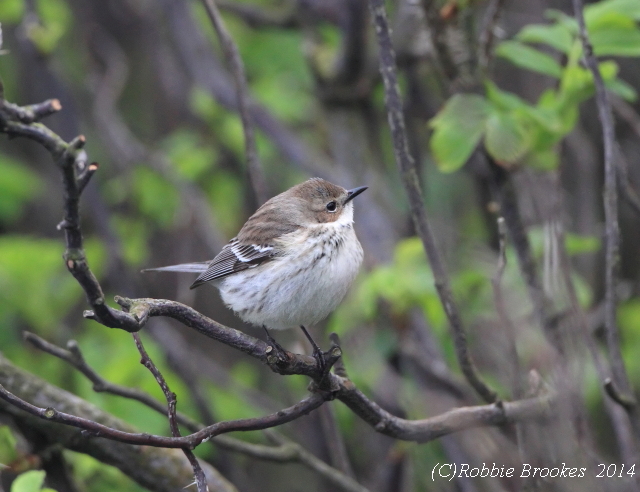 Yellow-rumped Warbler, Haroldswick, Unst, Shetland (Photo: Robbie Brookes)
The first call was to Brydon Thomason, who I knew was on the island. Brydon was out guiding at that time, so he suggested I photograph the back of the camera screen and send him some pictures — this I did, but they just wouldn't send — probably down to the image size and the pretty slow network. The next call was to Chris Rogers who was also birding around the north of Unst; all I got was his answerphone, so I left a message and hoped he received it. Last but not least, I messaged and emailed Mike Pennington, who I knew would be teaching at the school — maybe he would have time to come down at lunchtime? After what seemed like ages, Chris pulled up. He was oblivious to what I thought I'd found, as he'd not received my call (when he arrived, he thought my excitement was because I'd refound the Wryneck!) He looked at the pictures and confirmed, with a few expletives, that it was indeed a Yellow-rumped Warbler!
Shortly after, Brydon arrived with his guests and then, a while later, several other local birders from Mainland arrived. Most of the time, the bird only showed briefly when it came to the outside of the bushes to feed, before flitting back to cover. By mid-afternoon it hadn't been seen for a while, so it was suggested to look around the village. I decided to drive up to a nearby croft cottage with a nice overgrown garden. I didn't find the Yellow-rumped, but I did get a brief view of a Subalpine Warbler — too brief to assign to subspecies, but thankfully it was refound later and identified as a Western. By 5.45pm, I had to return home to Baltasound, but a number of people continued to look for the bird, which then turned up back at the Rosa bushes around 7.45pm and was seen by a number of people.
The following morning I was up at 5am to go and see if the bird was still present. By 5.45am, I'd seen the bird and by 6am the news had been put out again by Brydon. I spent most of the morning watching and photographing the bird; on this day, however, it was behaving differently. Instead of skulking around, it was now perching on the tops of the bushes, flycatching and even going down on the ground to feed in the open. I checked the bushes again the following morning but it had moved on.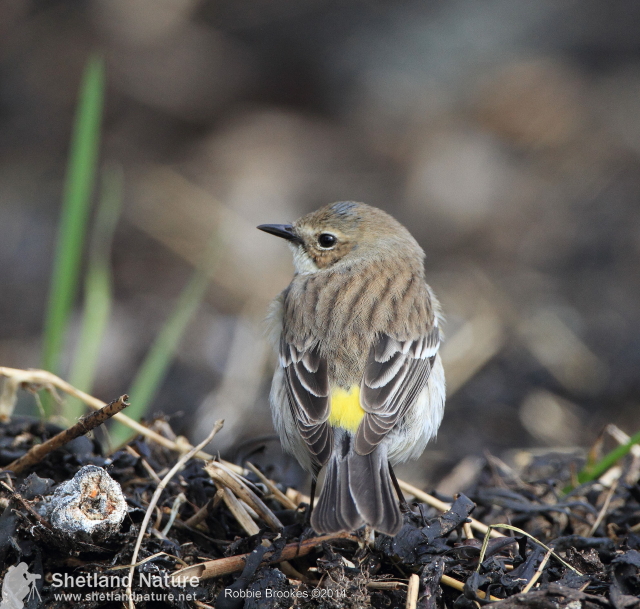 Yellow-rumped Warbler, Haroldswick, Unst, Shetland (Photo: Robbie Brookes)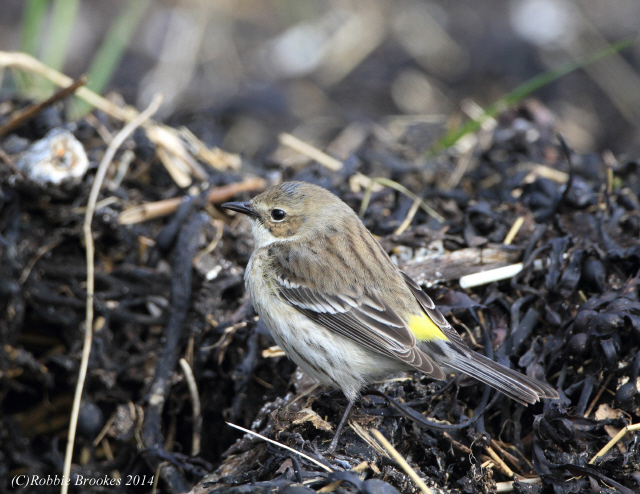 Yellow-rumped Warbler, Haroldswick, Unst, Shetland (Photo: Robbie Brookes)
I had seen that there had also been one on North Ronaldsay the day before, but I didn't think for one minute that this could be the same bird. When I heard later that the pictures of the two sightings had been compared and it was confirmed it was indeed the same bird, it hit home how lucky it was for the bird to be refound 130 miles away, let alone that it was me who found it.
Relocation, relocation ...
On paper, the appearance of a second Yellow-rumped Warbler some 130 miles NNE of North Ronaldsay bird on the following day would have been nothing short of a remarkable coincidence. Had this been mid-October following a series of transatlantic weather systems, logic would dictate that they were likely to have been two birds displaced by the same, prevailing meteorological conditions but, in spring, the situation is quite different. With negative news from North Ronaldsay early on 7th May and the arrival of a bird on Unst, the thought that they were one and the same bird no doubt crossed many birders' minds. And, as it proved, logic prevailed, with photographs demonstrating that the Unst bird was clearly the same female-type Yellow-rumped Warbler as that seen on North Ronaldsay the previous day.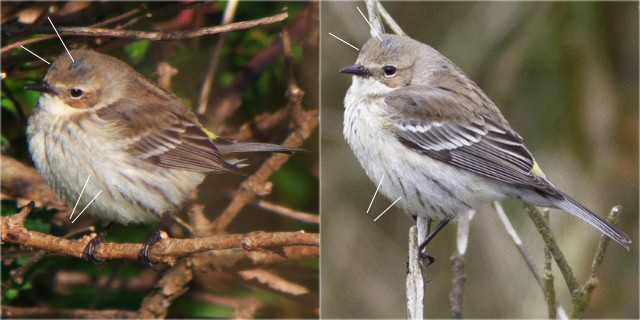 Yellow-rumped Warbler on North Ronaldsay (left) and at Haroldswick, Unst (right). The most striking identifiable feature is the grey feathering on the bird's crown and forehead, although comparison of these two excellent photographs also shows the flank streaking to be identical (two examples annotated) as well as a number of other, less obvious, features (Photos: Peter Donnelly and Roger Riddington).