Wednesday 20 September on the Out Skerries, Shetland, began with very still and clear conditions and a barely detectable south-south-west wind – a pleasant change from the brisk north-westerly that had dominated the previous few days.
Our morning began with a walk over to Housay to walk the iris beds there. However, it proved rather quiet with just a single Wren the only bird found. Most of the morning's interest was skywards with Meadow and Rock Pipits, Skylarks and Common Snipe all making the most of the conditions and moving in a south-westerly direction along Mioness and off towards Whalsay.
After slowly working the gardens and heading back toward Bruray, the first new in migrant appeared: a fine Yellow-browed Warbler, with a Brambling following soon after. Things were evidently arriving at long last: game on!
A half-hour or so later, a Little Bunting was a pleasing find as it flew over calling while we were chatting to Edwin Tate, who has some gripping tales from back in the 'good old days' when he was actively ringing and birding on the islands with Bill Oddie. The bunting dropped in nearby and allowed a few nice views and photo opportunities before moving off towards the airfield.
With another four Yellow-browed Warblers logged shortly afterwards (three of which were showing nicely in the garden of the house where we were staying), it was time to get back into the iris beds on Housay. Optimism was sky high and shortly after entering the iris bed a sharp tick from high up caught my attention and had me searching the sky.
I could see a bird coming in from the north-east: a bunting, and a rather stocky one at that, giving a call somewhat different to the earlier Little Bunting, it being louder and sharper. Clearly it was something rather good, and a shout quickly alerted Steve Wignill and Dave Bywater to the approaching bunting and soon both were on it, and following it as it passed straight over us and landed briefly on wires, before dropping down into the grass on the hillside. It had unfortunately remained silhouetted so no plumage detail could be seen, however on size we all proceeded up the hill thinking we were on to a Rustic Bunting.
Typically there was no sign as we arrived at the hillside. We spread out and worked the grass and neighbouring gardens for the following 20 minutes without a sniff of any bunting whatsoever. It wasn't looking good at all, with the phrase 'the one that got away' beginning to creep into my mind.
Minutes later though our luck changed. My radio crackled into life, as Dave announced that he could hear something ticking in the thick grass on the brow of the hill, and shortly afterwards the mention of Yellow-breasted Bunting had me upgrade my run into a sprint uphill to where Dave was standing. Once we got there, a few calls were followed by a brief flight view, this time not silhouetted and I had my first proper look at the bird. I couldn't see much, but those yellowish underparts certainly looked the business.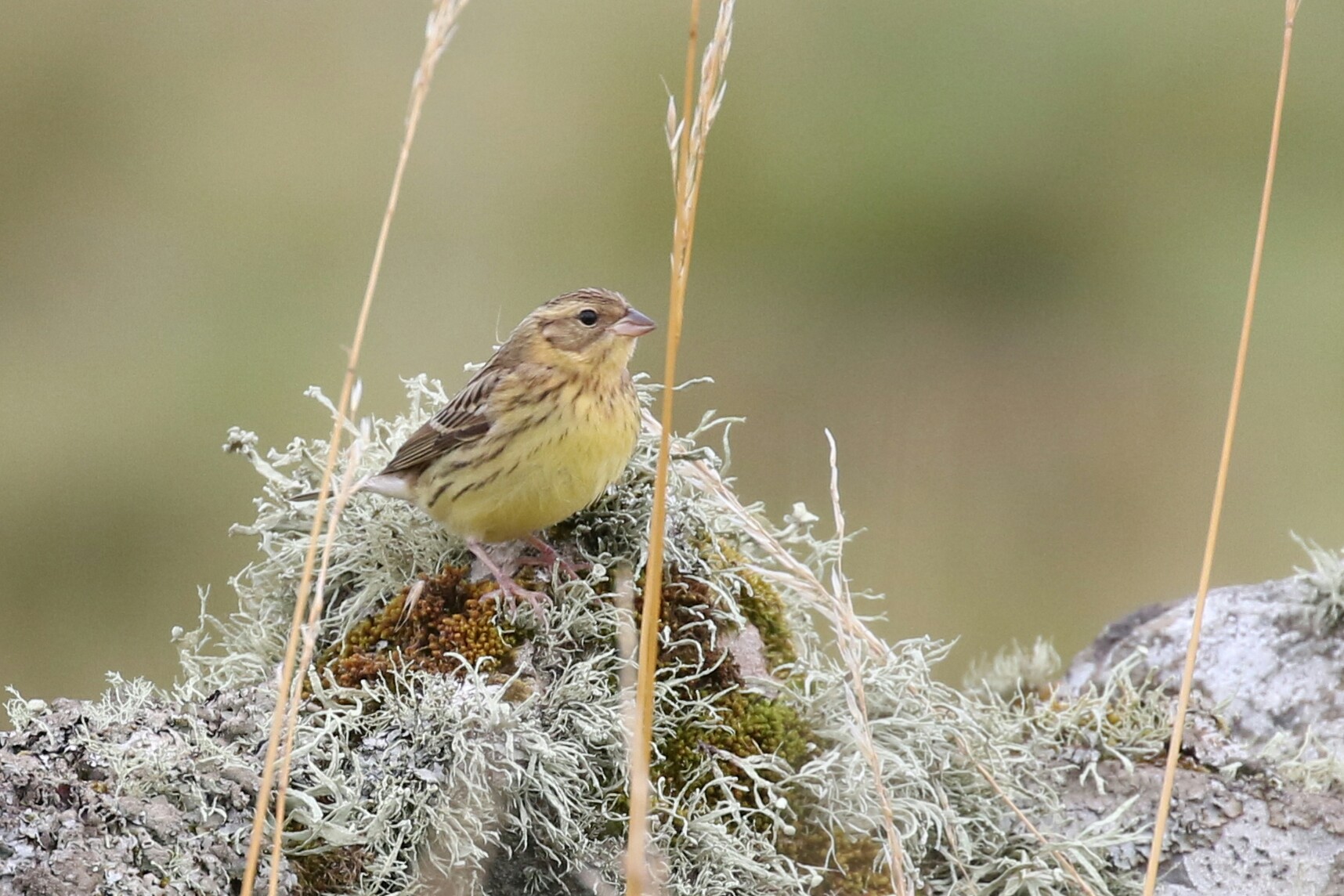 Yellow-breasted Bunting, Out Skerries, Shetland, 20 September 2017 (Dave Bywater).
All three of us had now reconvened and began working the hillside. Soon the bird flew up onto overhead wires, where it showed brilliantly and gave us ample time to photograph it, and confirm that it was indeed a Yellow-breasted Bunting before it even began to sink in. Congratulatory handshakes were given all round, followed by the release of the news.
It was an extremely bright individual (a young male perhaps?). Pictures and views were ample enough to note all features: the pale braces on the mantle, the two whitish wingbars and the broad supercilium, particularly behind the eye. The one thing I did expect to be rather obvious was the crown stripe, which on this bird wasn't very evident at all; in fact on most photos it's hardly detectable.
Over the coming hours it remained rather mobile, and on more than one occasion looked as though it had gone, but luckily it remained vocal most of the time so keeping tabs on it wasn't as hard as it could have been. This was made even easier when our second Little Bunting of the day (also very vocal) joined it. Eventually both birds settled down in crofts by the cemetery, so we kept our distance and limited the amount of disturbance.
The fourth member of 'Team Scarborough', Nick Addey, was due on the island in the evening and arrived around 5 pm. The bunting failed to show up on our attempts to get him on to it and, as the day began to fade away, it looked as though it had gone to roost and Nick was set to dip. Thankfully Nick eventually re-found the bird in the company of the Little Bunting very late on, and was able to join us in the evening's rather boozy celebrations!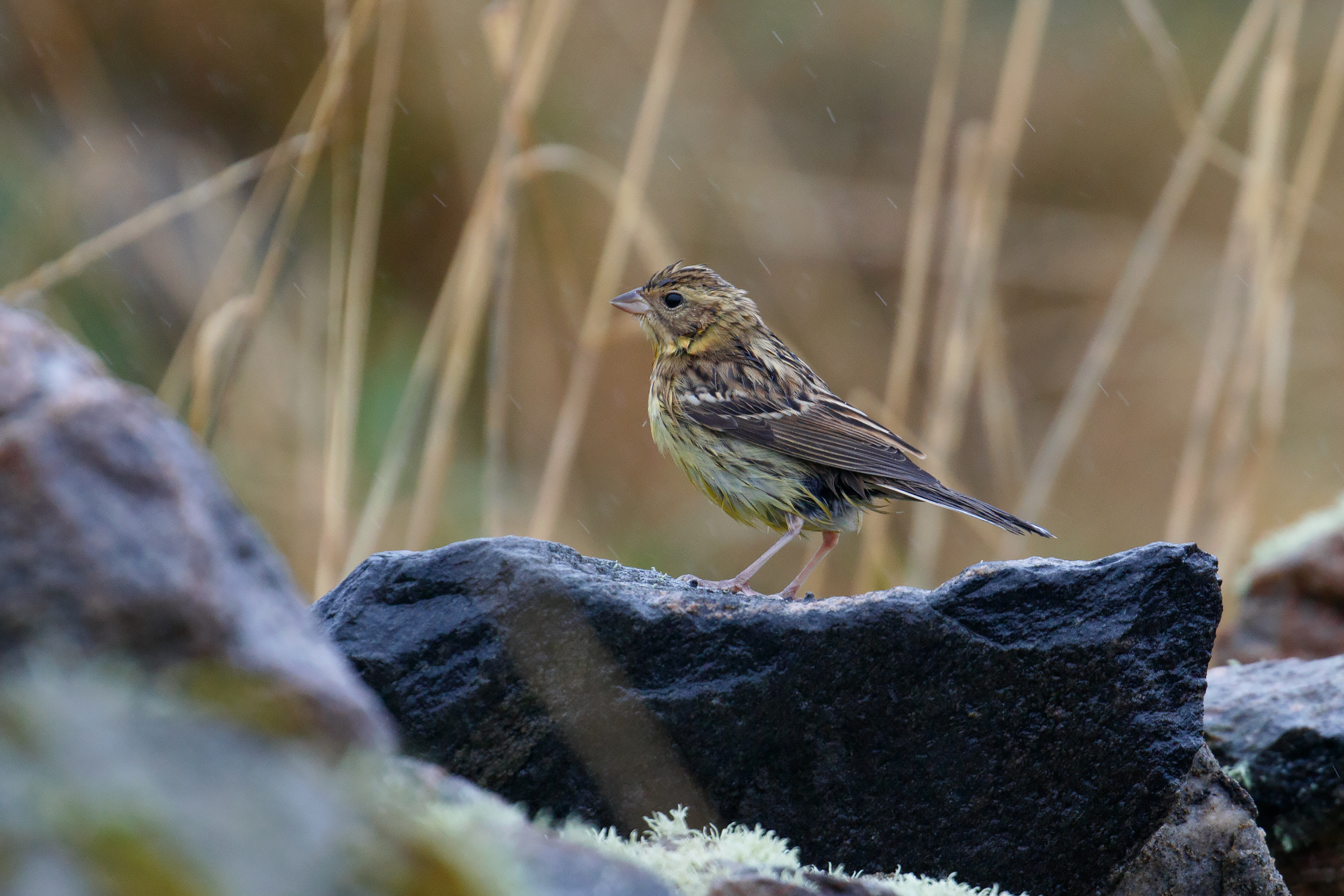 The Yellow-breasted Bunting, now looking very bedraggled in the appalling weather conditions which ensued the following afternoon [21 September], as the bird remained twitchable for a while to quick-off-the-mark birders (Josh Jones).