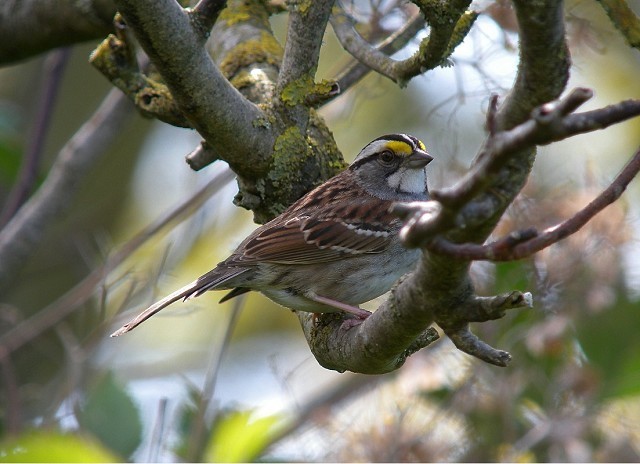 White-throated Sparrow, Boscastle, Cornwall (Photo: John Rowe)
Boscastle has been my local patch since 1968 when my family moved here from the outskirts of London. 'Pre-car', my birding focussed on the cliffs between Tintagel and Crackington, bar the occasional lift to Bodmin Moor or the Camel estuary. South of Boscastle, small islands and stacks hold good populations of gulls, and increasing numbers of breeding Razorbill and Guillemot, although Puffins — which once thrived in several colonies — are rare. This is, of course, old Peregrine country, dating back to a time when the ravages of pesticides had whittled their numbers down to a handful of cherished birds. In winter, Black Redstarts eke out a living on the cliff edge, and I hanker after a return of Choughs. With the Lizard recolonisation, and pairs starting to spread out along the coast, it is no longer a forlorn hope.
Our garden now lies at the top of one of the many small valleys that stretch down to the sea along the north Cornish coast. In the early days, it was surrounded by mature Elms, a protective windbreak we lost to Dutch beetle blight in the 1970s. Nonetheless, we still see a good range of birds, including treats like Spotted Flycatcher, and if the conditions are frozen 'up-country' and on the moors, large flocks of winter thrushes appear, plus Snipe, Woodcock, Lapwing and Golden Plover.
In the early days perhaps the most memorable sighting — in today's terms — was Wryneck; a sighting from boyhood I will always treasure. More recently a Cattle Egret, found near Trevalga, drifted over in December 2007, and in May 2008 I was lucky enough to find a Red-footed Falcon on the Delabole–Boscastle road; I snatched some photos before the elegant bird drifted off east towards Davidstow Airfield.
But none of this had quite prepared me for this May 1st. Late the previous evening, I heard an unfamiliar call from the Sycamores on our boundary. It was dusk, and cold, and the calling soon stopped. Our resident Tawny Owls fired up, so I gave in and retreated to the warmth of the house. At first light just the regular chorus was underway, and an early trip to Truro meant I was away until mid-afternoon.
But when I got home, the call was back, edging into a simple distinctive song. I dug out my ancient cassette recorder, and managed to capture a few phrases, but the bird remained hidden in a mass of Ivy that covers our garage. It was a cold afternoon, and there was lots of activity around and below the feeders. A trio of Dunnocks were chasing about, and eventually a small, rather Dunnock-like bird dropped into the grass by some garden steps. It was definitely odd. At first I just caught glimpses, a bit of tail, and flank, but then the bird put its head up.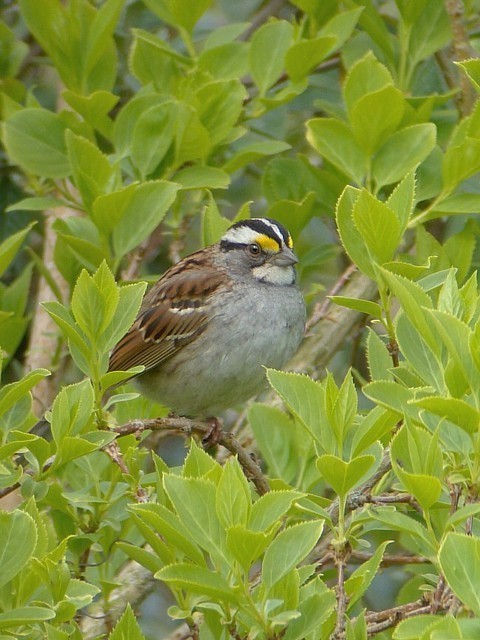 White-throated Sparrow, Boscastle, Cornwall (Photo: K Woolley)
Working for BirdLife means that I have made a number of trips to the States, so I have seen White-throated Sparrow a few times. But on my own patch — the shock was extreme! A hunt for my copy of Sibley's classic field guide to confirm the ID, and I started wondering what to do next. I'd never found a mega before, and it was edging into late afternoon. I rang Derek Julian — chairman of Cornwall Birds — and was very relieved when he answered his phone. Derek said he would drive up from Wadebridge at once. By now, the sparrow was singing regularly — a high, pure whistling as Sibley neatly sums it up. I managed to get some distant safety shots as it fed under the bird feeders and 45 minutes later Derek arrived with Colin Selway, and took up station to watch for the bird. I rushed out to feed our stock, and came back to find two very content birders, who had seen and photographed the sparrow. A quick discussion, and we agreed to try and sort out field parking, and release the news the following morning.
May 2nd arrived cold and overcast. After an agonising wait, the sparrow started to call and then sing not long after first light. Julian and Colin were back at 05:45 and the news was out via mobile and text. The first birders started to arrive at about 08:30, and were the first of a steady flow through the day. Most of the time, the sparrow showed well — and we were particularly lucky that it was such a brightly marked male. By forming a semi-circle round the house, most people got good views as it fed under the hubbub of Gold, Green and Chaffinches, or sang from an old crab-apple, and our newly leafed Hawthorns. John Chapple captured some great video, which appeared on BBC Spotlight the following day, and a number of people captured great stills. It proved a very photogenic bird.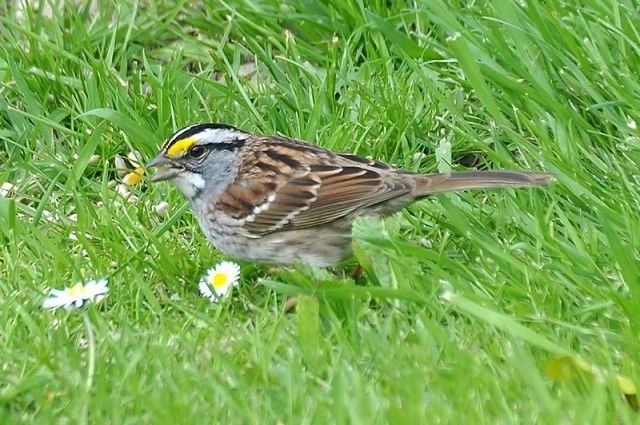 White-throated Sparrow, Boscastle, Cornwall (Photo: Dave Perrett)
No doubt last year's White-throated Sparrow at Winchester took the pressure off this sighting but, as a county first, it was still a very popular local twitch. The steady flow of people coming and going kindly stuck to the agreed space, and made a contribution for parking and towards a collection for the CBWPS (Cornwall Birds). Once or twice the sparrow raised the tension, falling silent or retreating deep into vegetation, but most people saw the bird well, despite a bitter wind. At dusk the last birders left, and I assumed that we would put the news out again in the morning. The sparrow was noisy, and showing well, and the Winchester bird had been a long-stayer. Sadly, however, May 3rd dawned to just the familiar spring chorus. A few birders arrived just after 06:00, but there was no sign. By mid-morning it seemed clear that the sparrow had taken advantage of a clear sky, and moved on, perhaps content with a long day's refuelling. We decided to put out a sad-face to warn people that the bird had probably gone. A few determined people stuck it out until late afternoon, and it was frustrating to see them leave disappointed. The garden seemed strangely silent and empty without the bird.
Editor's note:

The arrival of this bird, a House Finch at Land's End shortly afterwards (on 4th May) and tales of the QM2 have caused much debate. The House Finch was a yellow variant, caused by a lack of certain carotenoids in the diet. This variation is more common in captive birds than wild birds, and even in the wild is more prevalent in the west-coast population. Being such a common bird in captivity, its origins are open to question.


House Finch, Land's End, Cornwall (Photo: Stevehinton)

However, to add to the intrigue, we received news recently of some Atlantic hitch-hikers. As the Queen Mary II left New York on 29th April, five White-throated Sparrows were seen on board. Amazingly, four of these were still on board on 5th May, and as the ship docked in Southampton at 06:30 on 6th May one was still on deck. As to where the other birds jumped ship, no one knows...

Such falls on board ships are by no means unprecedented — many of them are in the annals of British Birds. Alan Durand followed the fortunes of over 100 birds on board the Mauretanica as it left New York on 7th October 1962 (only six remained/survived by the time the ship reached southern Ireland).

Interestingly though, there was a fall of migrants over 29th April to 7th May in Newfoundland, as blogged by Dave Brown. This was due to a series of low pressure systems rapidly moving up the eastern seaboard of the USA. The resultant offshore winds would have carried migrants out over the sea, arriving on Newfoundland. Rather strangely, though, various European species were also present in Newfoundland at the same time, including Garganey, Lapwing, Ruff and over 50 European Golden Plovers. With recent arrivals of White-throated Sparrow on Fair Isle and Dark-eyed Juncos in Kent and Norfolk, perhaps a wild origin is equally likely.