The weather on 7th July had changed from warm and sultry to rather cool and windy, and to be honest it was not surprising that Howard and I had only six people on our normally busy Wednesday guided walk at Rainham Marshes. It was indeed proving to be pretty quiet with only two Whimbrel and a brood of Shelduck to speak of.
At 10:50, as we approached the first viewing platform on the northern boardwalk, six Black-tailed Godwits came in high from the river and almost landed. The pools had started to look really good in recent days, so I put up my 'scope and started scanning from right to left through the Black-headed Gulls and ducks while Howard amused himself counting herons and egrets. About midway along the back edge of the Aveley Pool a bird walked out of the rushes along the back edge. It required a second look...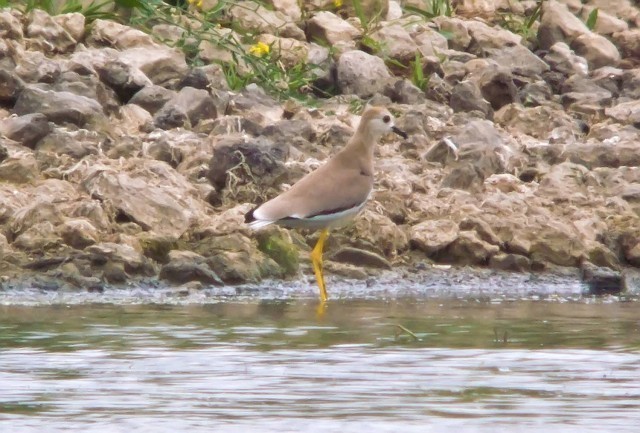 White-tailed Lapwing, Rainham Marshes RSPB, Greater London (Photo: Tim Corke)
At first I couldn't believe what I was looking at. A bold, round, jet black eye set in a very pale face, with a soft brown cap and black bill. As it walked forwards, the darker brown breast band, long bright yellow legs and overall size and shape immediately identified it for me.
I quickly called Howard over and suggested that I thought that I had found something pretty rare and he ought to take a look. He had a quick glance through my 'scope and let out a shout of "White-tailed Plover!" to the group and turned to me and gave me an enormous face-to-face bear hug, lifting me off the ground. I think he was quite happy! You'll have to imagine what the people in our group were wondering... I have never seen Howard speechless before!
Once we both got our breath back, we quickly set about getting everyone onto the bird and radioed it out around the reserve before phoning it out to friends and the news services. Then the phones started to melt.
The next couple of hours were spent soaking up this delightfully elegant lapwing, with its subtle plumage of browns, whites and greys, tiptoeing around on those spindly yellow legs. It seemed settled, but did get spooked briefly by a young Grey Heron and flew. At that point we all thought that it was going to disappear from the reserve on its striking tri-coloured wings, but to our relief it turned round and dropped back onto the pool.
Content continues after advertisements

White-tailed Lapwing, Rainham Marshes RSPB, Greater London (Photo: Ian Curran)
Amazingly, Mike Dent, who was with Howard when he found the Sociable Plover in exactly the same spot back in December 2005, was only yards away on the next viewing platform and was first on the scene. Much handshaking (but no more bear-hugging!) ensued.
The first birders from off site were with us in under 30 minutes and before long a good crowd had gathered, and fortunately the bird performed admirably all day to the delight of over 550 exceptionally well-behaved birders who made the journey.
Sam Shippey

White-tailed Lapwing, Rainham Marshes RSPB, Greater London (Photo: Phil Wallace)
I'd just like to add a short additional note to say a big thank you to all the RSPB volunteers (including Sam) who stayed on the reserve to help me marshall the twitch, car park and after hours entrance till 10pm. All then arrived back at 6am the following morning just in case it was still there. Amazingly, we have been bigging up White-tailed Plover for Rainham Marshes since the northwest bird of June 2007. I felt very privileged to have been with Sam on such a great day and it was just reward for him for being my co-leader on so many walks around the reserve over the last six years. We have worked very hard to create an urban oasis for wildlife on the outskirts of London over the last decade and on top of the breeding birds and other wildlife, it is moments like this that make me realise why we have gone to all the trouble.
Howard Vaughan
Information Officer, RSPB Rainham Marshes
Unfortunately the bird was only present for the one day, no doubt disappointing many who couldn't make the journey south. This is almost certainly the same bird that was seen at Seaforth (Lancashire) on 27th–28th May and then at Bloemendaal, The Netherlands, on 29th May.
Stop Press: The bird reappeared at Slimbridge WWT (Gloucestershire) on 9th July.
There are just six previous records of White-tailed Lapwing in the UK, though two of these relate to the same bird, seen at Caerlaverock (Dumfries & Galloway) and Leighton Moss (Lancashire) in June 2007.