Finder David Curtis explains the circumstances surrounding the discovery ...
Having been brought up on a farm alongside the River Witham near Tattershall Bridge I have always had a keen interest in wildlife, much of which I have observed from the riverbank when fishing. It's not always about catching fish — it's always nice to have a Kingfisher perched on the end of a rod, to make eye contact with a hunting Barn Owl or to watch a Starling murmuration against the setting sun.
On the sunny afternoon of Friday 20 January, I walked along the Sustrans Water Rail Way from Kirkstead Bridge to Stixwould. I reached the station house at Stixwould at approximately 3.30 pm and decided to walk back on top of the riverbank. Somewhere in the vicinity of the iron sheep sculptures I saw a Little Egret, and I dropped down to the water's edge in the hope of getting near enough to take a photo. As I got closer I noticed another bird on the water that I had never seen before. While I am not what you would call an avid birder, I am familiar with most of the usual waterfowl, but the colouring of this bird and its large, pale bill particularly drew my attention. Keeping low along the bank I managed to take some photos until the bird gradually moved away across to the far bank.
Back at home I downloaded the photos and consulted the Collins Bird Guide, concluding that it might be a White-billed Diver. My wife works in the offices at the Lincolnshire Wildlife Trust and suggested that we email it to Gibraltar Point warden Kev Wilson to confirm and ask if it was common ... I had no idea what I had started!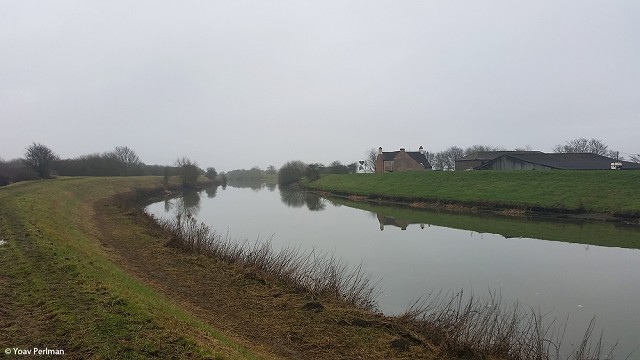 The River Witham at Stixwould (Yoav Perlman)
Kev Wilson takes up the story ...
Sue had sent the email late on Friday evening, so I did not pick it up until the Saturday morning. We often receive emails during evenings and weekends about tidying up any administrative errors that the Field Staff (us!) may have made! Therefore, it was a pleasant surprise to see that I was being asked to identify a mystery bird.
Her message read as follows:
Hi Kev
David, my husband, took this photo on the River Witham this afternoon.
Can you help please — Is it a Loon? Are these common?
Have a good weekend
Sue
My first thought was that, with David being a keen angler, he would be familiar with Cormorants. As such I was expecting to see an image of, maybe, a Great Northern or a Black-throated Diver, which seem to turn up inland most frequently. However, I had a flashback to the White-billed Diver that was found on this stretch of the River Witham by Kev Durose in February 1996 and which I had been fortunate enough to see.
When I opened the image, I nearly fell off my chair! I regularly get sent photographs of birds to identify — often pin-prick sized or blurred images (I like the challenge!) but here was a full-frame, crisp photograph of a juvenile White-billed Diver on the River Witham in January 2017.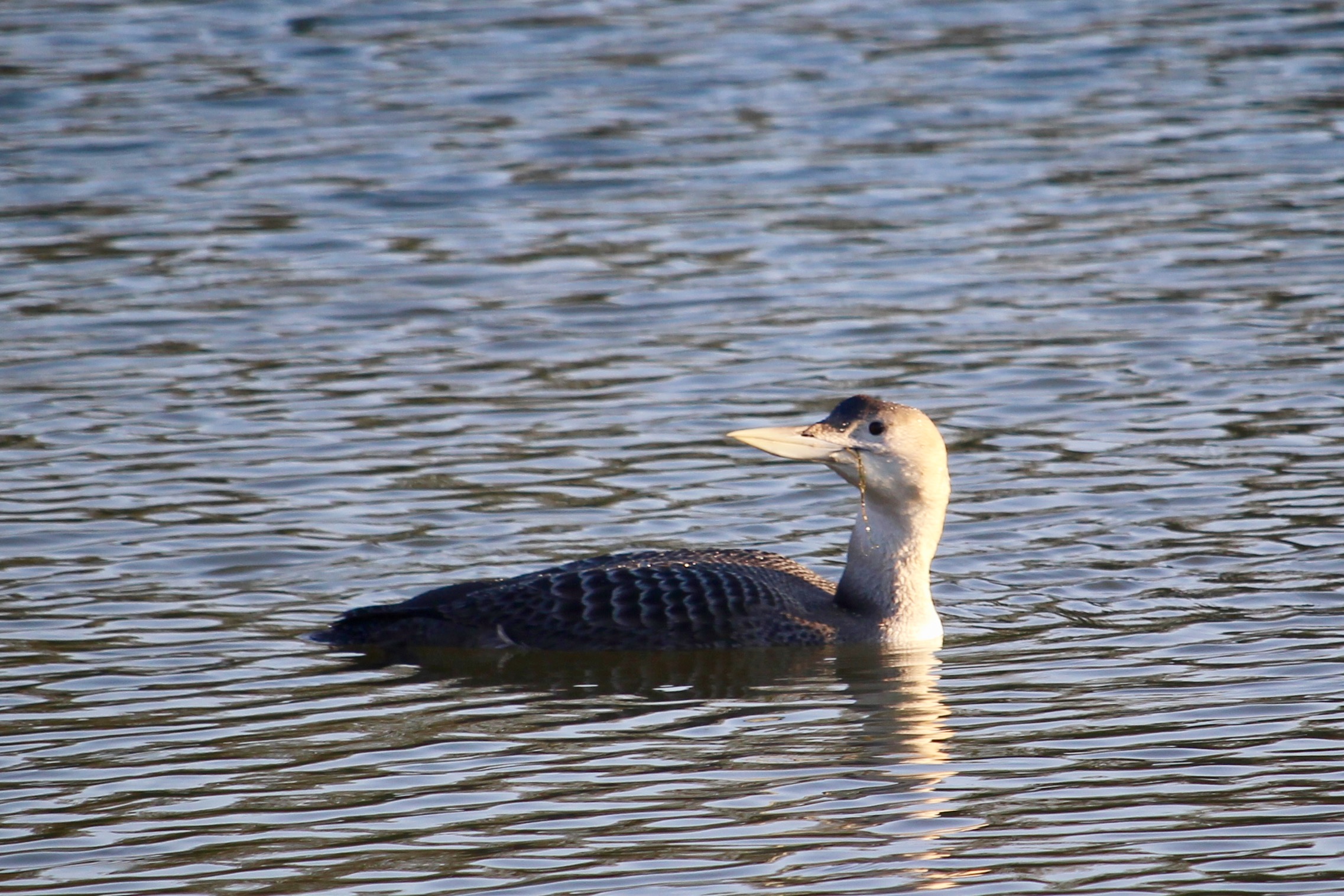 One of David's first photos of the White-billed Diver, sent to Kev Wilson to confirm the ID.
My first thought was: "It must be a hoax!"
I immediately rang a couple of birders that I know watch sites in that area, with the caveat that it could be a hoax, while I managed to get a confirmatory message back from Sue via another colleague, Dave Bromwich, that the bird was 'for real'. I then sent messages to many local birders and put the news out nationally.
Like me, many county birders were due at a joint meeting of the Lincolnshire Bird Club and Lincolnshire Naturalists' Union at Whisby, Lincoln that day, where an excellent illustrated presentation was to be given by Graham Catley.
Although one or two people did check out some sections of the river, the diver had moved slightly and it wasn't relocated until very late on in the afternoon. Fortunately the bird remained into the following day and until the end of the month, and was enjoyed by large numbers of visitors. I was fortunate enough to be able to see it on the Sunday afternoon, just before the site became fog-bound for almost two days.
The occurrence of a second White-billed Diver on this stretch of the River Witham, some 20 years after the first, was nothing short of astonishing. How could such a coincidence happen — is there any science to it? Is there a previously undiscovered migration flight path of White-billed Divers in mid-winter over central Lincolnshire? I don't think so! This stretch of river now accounts for two of just four British inland White-billed Diver records. Impressively, there are no other accepted records of a live bird for the entirety of Lincolnshire, including the coast — a dead bird was picked up in The Wash in March 1976.
I am sure that there cannot be too many parallel situations of rarity occurrences in the UK but I'd be very interested to hear of any similar.
One that does come to mind is that of Lincolnshire's two albatross records — not seen from coastal watchpoints as one might presume, but the first reportedly shot on the Trent at Stockwith and identified as a Yellow-nosed Albatross in 1836 (although never fully accepted as this species) was followed by an undoubted Yellow-nosed photographed on a fishing lake near Messingham, about 10 miles away, in 2007!
After the 1982 bird, perhaps I should make a diary note for November 2017 to check the plantation at Gibraltar Point for another American Redstart ...
(Video: Clare Gillatt)

(Photo: Dave Andrews)

(Photo: Dave Hutton)

(Photo: John Dickenson)