The past two years have seen me engaged in quite a bit of offshore survey work on the Marine Institute's research vessels, the RV Celtic Explorer and RV Celtic Voyager, through my role as a Seabird Fieldworker with BirdWatch Ireland. The timing of these trips has not exactly been ideal from a traditional seawatching perspective, taking place between late October and early April. Admittedly they have worked out very well on occasion, with some fantastic seabirds and cetaceans encountered such as Black-browed Albatross and Sowerby's Beaked Whale, but more often than not I end up coming home with a rather average haul of sightings (e.g. one winter Sooty Shearwater during three weeks of effort) after playing cat and mouse with fickle Atlantic weather systems. So, when I was asked to take part in a survey for cetaceans and seabirds along the Porcupine Seabight/Bank area in the third week of May this year, I jumped at the chance.
Intercepting some northbound Long-tailed Skua migration was certainly on the cards but it wasn't long before thoughts drifted to 'that' geolocator map presented in the 2012 Cahow Recovery Program Report which showed that at least some Bermuda Petrels were making it as far east as the Porcupine Bank in the period from April to early June. But, without chum, what really was the chance of success? Slim to none I reckoned, but surely worth a punt for the sake of it? I was keen to get offshore during a time of year when a bit more variety might be on the cards anyway, so no questions asked, I signed up there and then.

The 2012 Cahow Recovery Program Report geolocator map, illustrating records of Cahow not far off the west coast of Ireland
(Map: Jeremy Madeiros/Cahow Recovery Program).
On Saturday 17th May we set sail from Cork on board the RV Celtic Voyager with feeding rafts of Manx Shearwaters, a few Puffins and a Minke Whale all on show between Roche's Point and the Old Head of Kinsale. The real excitement of the day came in the form of a tail-slapping Humpback Whale just a few miles off Galley Head — an unusual time of year to see one in Irish inshore waters. The Sunday was spent visiting various points along the edge of the Porcupine Seabight where the cetacean team deployed several static acoustic monitoring (SAM) devices, which will hopefully detect interesting species over the next few months. During this time the seabird team (consisting of myself and Ryan Wilson-Parr) were clocking up some nice species diversity, albeit with rather low numbers in general. A single Sooty Shearwater along with a handful of Great Skuas and European Storm-petrels made for a good start to the day, followed by a few stunning adult Long-tailed and Pomarine Skuas ploughing north, migrating flocks of Arctic Terns, a fourth-calendar-year Yellow-legged Gull following the ship and an exciting encounter with a group of Long-finned Pilot Whales which came in to inspect us.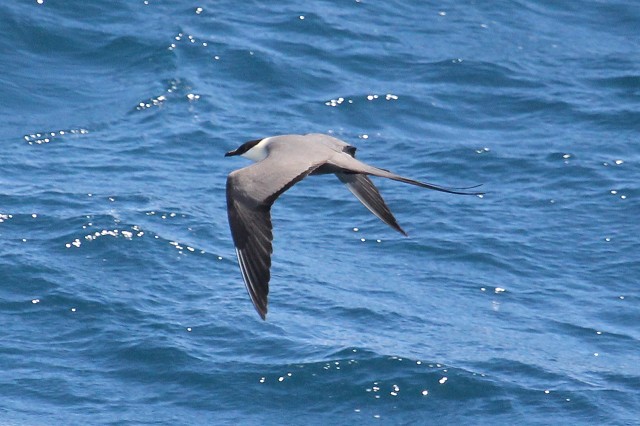 Long-tailed Skua, 18 May 2014 (Photo: Ryan Wilson-Parr).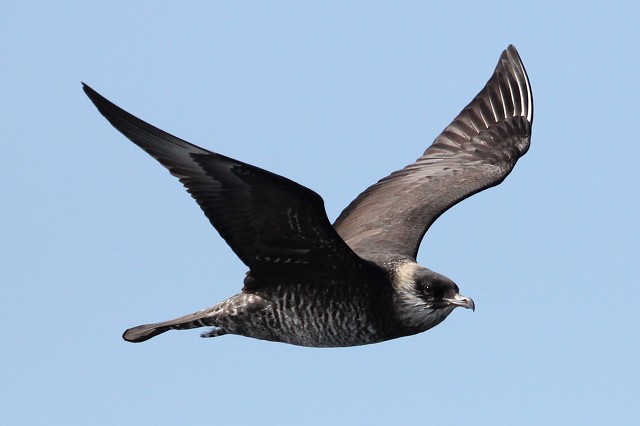 Pomarine Skua, 18 May 2014 (Photo: Ryan Wilson-Parr).
Our course for Monday 19th May had us travelling north along the outer Porcupine Bank shelf edge, due west of Kerry. Sea conditions were somewhat rougher than we anticipated with a sea state of 5 backed by a fresh north-east wind. Other than being a little 'choppy', the cool air allowed for crisp viewing conditions across a dark blue sea, and with the sun making itself known through patches of cloud it was a rather fine day to be on deck. Bird numbers were down on the previous morning, with an apparent increase in Fulmars perhaps the only notable occurrence. After lunch we settled in for an extended survey stint and by 1 pm it started hotting up with the first couple of Long-tailed Skuas appearing, tearing about among a flock of feeding Manx Shearwaters, Kittiwakes and European Storm-petrels. Then, all of a sudden, we came upon an impressive aggregation of skuas and were surrounded by Long-tails and a few Pomarines! A scan revealed up to 125 Long-tails alone, including a single flock of 90 birds travelling north in a tight bunch out towards the horizon line! The excitement began to simmer down soon after that, with the occasional flurry of two or three Long-tails and some broken Manx Shearwater passage keeping us focused.
After consulting the seabed charts, a plan was hatched by Simon Berrow (Irish Whale and Dolphin Group) to divert from the northbound transect and head eastwards over the middle of an underwater canyon jutting into the side of the Porcupine Bank. The cetacean team obviously had their beaked whale caps on but I couldn't help shake the idea that I had read something before about Pterodromas also liking these dramatic deep-water features. So we steamed along our new course, but encountered very little of note, and by 5.30 pm dinner time was upon us with thoughts of bacon, cabbage and mashed spuds starting to take hold. This canyon was our best shot in terms of habitat during the trip, however, so after some consulting with Ryan we figured our stomachs would come second best for another half an hour as we approached the head of the deep-water gorge. Proceeding into extra time, our gung-ho surveying attitude seemed to be amounting to no more than a futile exercise.
At 5.56 pm, just four minutes before we were due to pack it in, I panned to our starboard and caught a glimpse of a black and white, Manx Shearwater-sized seabird low over the water travelling parallel to us at about 250 m range. Even as I was raising my binoculars to get a better view, I knew something was afoot. Next thing I knew I was staring at a bird with that unmistakable Pterodroma build, a prominent wedge of white feathering jutting above the base of the bill contrasting with a blackish, 'eyeless' hood, followed by uniform dark nape, mantle and wings and a glaring white uppertail covert patch set against a dark tail. As the penny dropped the bird banked slightly to reveal gleaming underparts and extensive protrusions of white through the middle of the underwing, bordered by an almighty dark ulnar bar. Given the size and structure of the bird, thoughts of Black-capped Petrel were not entertained in the slightest and before I knew what I was doing I was calling "BERMUDA PETREL!!!" (an interesting choice of words seeing as I've always preferred the name 'Cahow').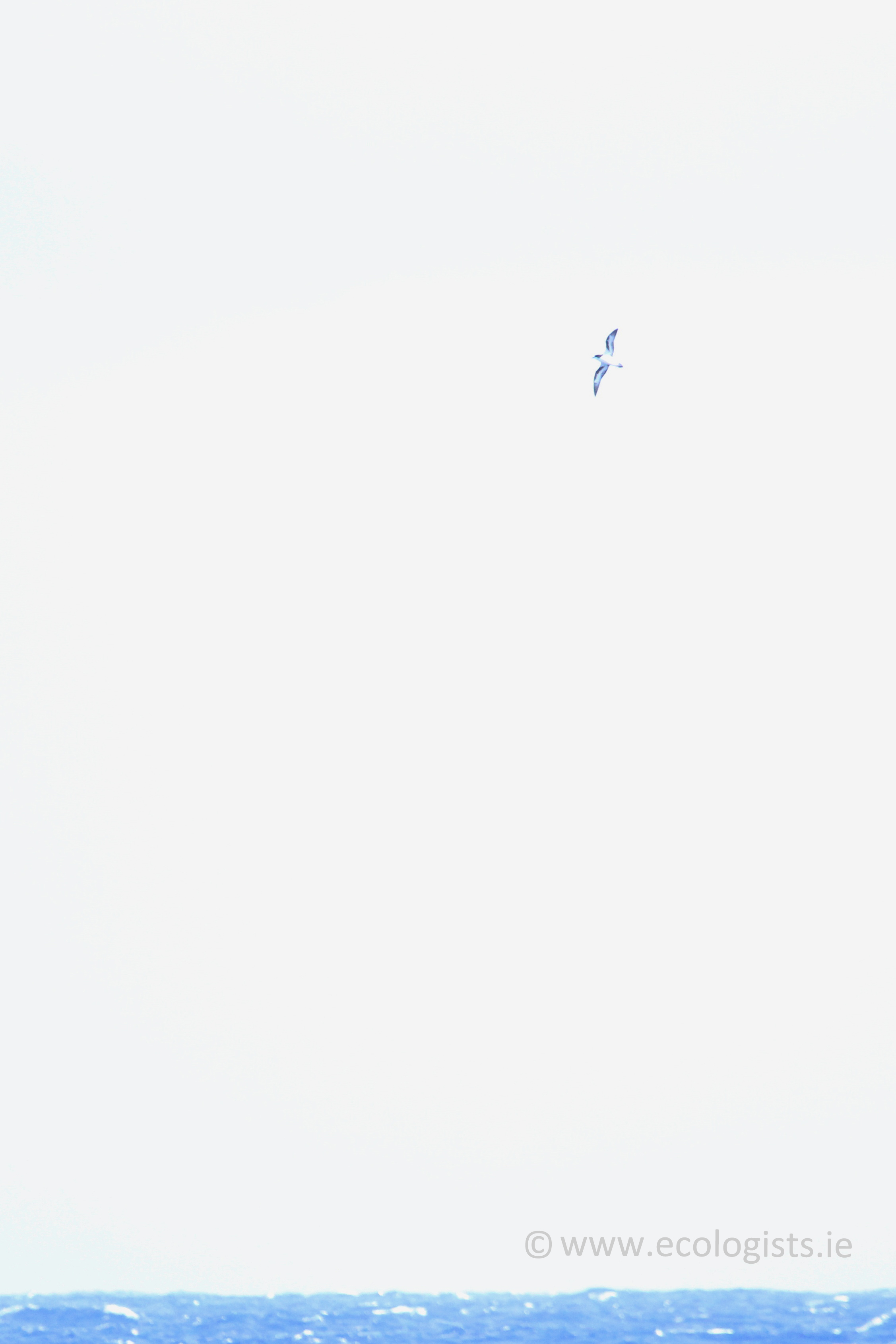 Bermuda Petrel, 19 May 2014 (Photo: Ryan Wilson-Parr)
I'm still not sure how I managed it, but a moment of composure meant that whatever directions I gave ensured both Ryan and Simon locked onto the bird quickly. As the cameras began to rattle off shots I was safe in the knowledge that the bird was not only being witnessed by others, but also that we'd likely have some tangible evidence to bring home. With that, the full magnitude of the event started sinking in. Views through the binoculars rapidly turned into tunnel vision, hands began to shake and I could sense the quiver in my voice as directions being shouted were reduced in accuracy to simply "low over the water" … "now way up over the horizon" … "low again" … "high again", a testament to the powerful arcing flight style which catapulted the bird high up against a bright blue sky. This allowed for a really nice sequence of underpart views before the bird twisted over and dropped low into the troughs, out of sight, momentarily causing yet more panic thinking that we'd lost it before it would suddenly rise up again to a chorus of camera shutters.
Additional ID features nailed down included a noticeable dark tip to the underside of the tail and a slightly greyer tone to the mantle offset by a subtle dark 'M' pattern across the upperwings. The white uppertail covert patch appeared to be slightly broken by intrusions of dark feathering but still shone bright as the bird tore away to the south-east, disappearing amid a whirl of confusingly similar-looking Manx Shearwaters and adult Long-tailed Skuas. I must add that not once do any of us recall seeing the bird take a single flap — commanding the waves in the way only Gadflys can!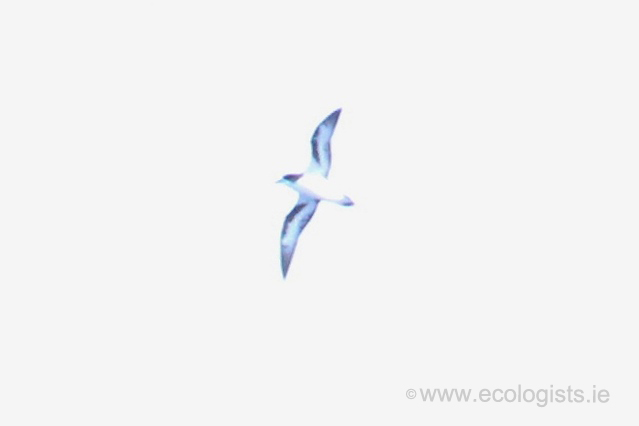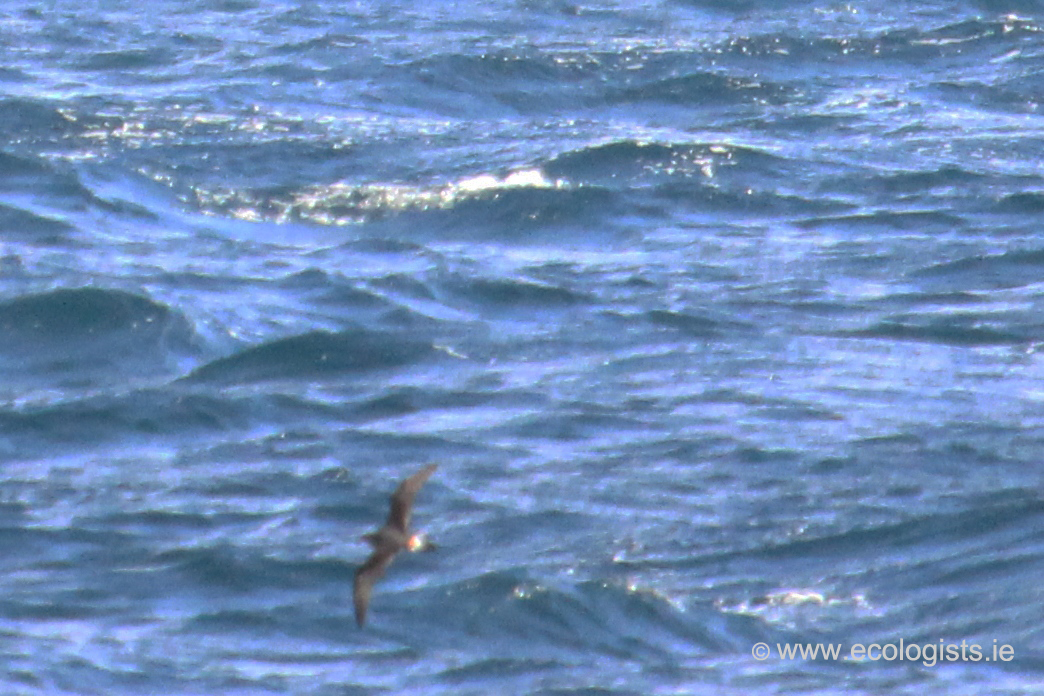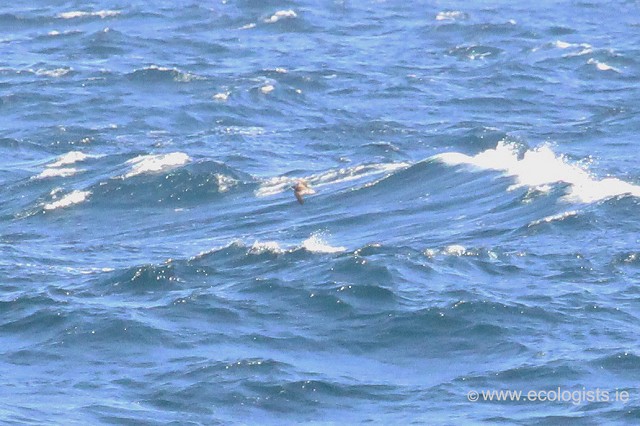 Bermuda Petrel, 19 May 2014 (Photos: Ryan Wilson-Parr)
No more than a minute had gone by since I first clapped eyes on the bird of a lifetime and between all the excitement and panic followed by the seemingly effortless manner in which the bird made itself scarce, I was now very much in the post-mega seabird situation where I needed to confirm with myself what had actually just happened.
I'll never forget the moment when Simon displayed the zoomed-up image of the bird on the back of his camera. Seeing that bold underwing pattern in all its pixellated glory was enough to set me right and after a round of handshakes and hugs it was time to collapse on the deck for a moment, face buried in my hands.


Bermuda Petrel, 19 May 2014 (Photo: Simon Berrow)
The bacon and cabbage was particularly good, by the way.