Killybegs has not been kind to me over the years — or at least as kind as it could have been. Despite considerable effort, I've never found the Ross's, Ivory, Thayer's or even American Herring Gull that I've longed for. Rather than give up completely I had said to my companion, Majella Callaghan, that we should put even more effort in this winter. That said, I never thought it would pay so handsomely this early on!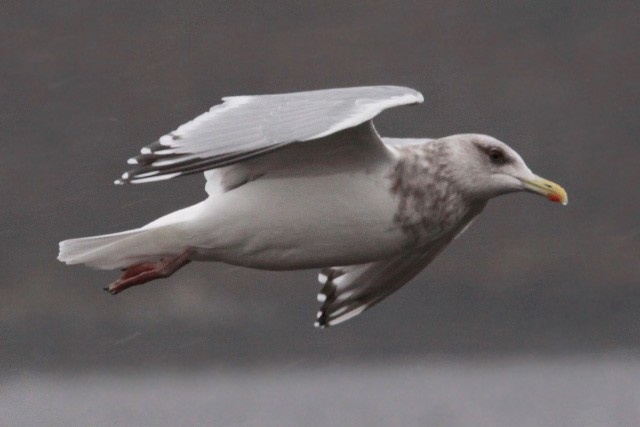 Adult Thayer's Gull, Killybegs (Donegal), 15th December 2013. (Photo: Derek Charles)
The gulling season at Killybegs had begun on 23rd November, and a smart juvenile Kumlien's Gull was a great start. We had planned a weekend visit to Killybegs over 21st–22nd December but, when my Finnish friend Hannu Palojarvi and his friend Kari Haataja emailed to say that they were visiting Ireland on 14th–16th December, we changed our plans slightly. Hannu wanted to start his Irish trip off by seeing the Richardson's Canada Goose at Lissadell, so we agreed to meet him at Sligo to help look for the goose. After that, when Hannu went south towards Galway, we would head up to Killybegs. Hannu arrived on Saturday 14th, but so did a storm — this was not your usual Irish-west-coast gale, but a full-on 'tie your pigtails down' kind of storm! Though it took us three hours and a complete soaking, we eventually located the goose and the two Finns headed off happy.
The rest of the day was spent up at Killybegs, which looked fabulous in the storm. All the birds were hunkered down, though we did find a Blue Fulmar as well as three Glaucous and an Iceland Gull sheltering from the winds. Overnight in the B+B, we thought several times that the roof was going to come off — the weather appeared to be worsening.
Sunday morning was slow. In such awful conditions, the gulls sit tight anywhere they can — be it rocky islands, sheltered roofs, piers, etc. — but by and large in places you can't see them. All was not lost, though: I did manage a Killybegs tick in the form of a female Eider! The storm-force winds and driving rain meant that even getting out the car was a pointless exercise. I noticed a group of small gulls feeding off a slick near the main pier, so we positioned the car around 100 metres away and at an angle so that we could look out of the window. After about ten minutes of dreaming of a juvenile Ross's Gull appearing, an adult gull with pale underwings materialized. My mind switched to Kumlien's mode but, as it banked, I could see that the primaries were black. I assumed that it was the adult Scandinavian Herring Gull that had been showing from time to time but, as I watched it land on the water, something didn't seem quite right. I reached for my 'scope but, by the time I'd trained it out the window, the gull had disappeared and another ten minutes' searching produced nothing.
Majella asked if we could go and grab some coffee as hypothermia was setting in, but I said we'd give it half an hour and try a change of plan: we would drive round to the pier and sit in the teeth of the storm. We were there about five minutes when Majella pointed and said "Look at that!", but by the time I'd turned it had dipped below the pier! A couple of minutes later and there it was again, in front of the car this time, hanging in the wind. Flippin 'eck, what was that?! I couldn't even focus the bins on it as it sailed past the car, hardly a metre away. This happened several times and I was trying to reconcile the heavy shawl, dark eye, pale underwing, raspberry pink feet and primary pattern. Majella asked me what I thought, and I replied: "looks like a Thayer's!"

Adult Thayer's Gull, Killybegs (Donegal), 15th December 2013. (Photo: Derek Charles)
Over the next ten minutes or so our luck held as the gull performed a series of flypasts and was dip feeding offshore, allowing me to take a series of photos. The bird then flew to the far side of the harbour, allowing us to go for coffee, peruse the photos and buy a pan loaf. I had no gull books with me, but I recalled a few things to look for on the primary pattern. A black band on p10 with a white tip was good, the mirror not breaking the black on the outer web of p9 was essential, and a black band on p5 was also good but, beyond, that I was guessing. I said to Majella that I wanted to see it on the deck or standing, so back down to the main pier we went. This time I had to get out and scan round the harbour and eventually, after getting yet another soaking, I located a pair of raspberry legs standing on a wooden jetty. The dark mantle, dark shawl, dark eye and leg colour were all part of my search image for adult Thayer's Gull and I was edging ever closer to that as an identification.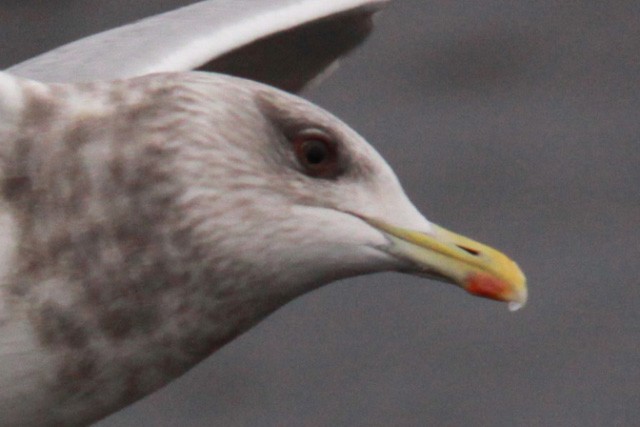 Despite the poor light conditions, this close-up of the bird's head illustrates the pink eye-ring characteristic of Thayer's Gull, as well as the 'peppered' (not dark) iris and heavy blotching around the neck. (Photo: Derek Charles)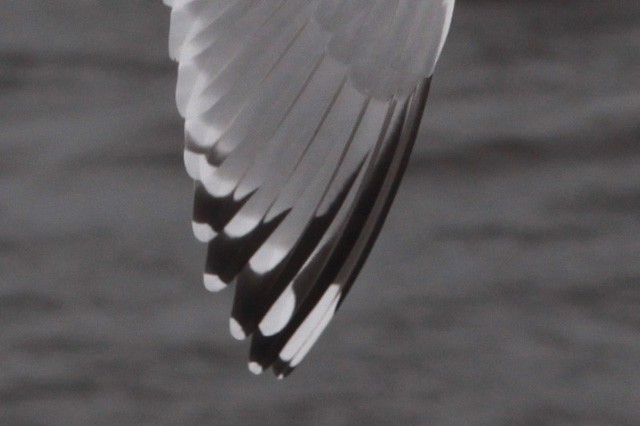 The Killybegs bird demonstrates a classic Thayer's Gull primary pattern: a large white mirror on p10 broken by a black band at the tip, white mirror restricted to the inner web of p9 (and not 'bleeding' on to the outer web) and a dark grey band on p5. Note that the inner webs of p9+10 are dark grey, not black. (Photo: Derek Charles)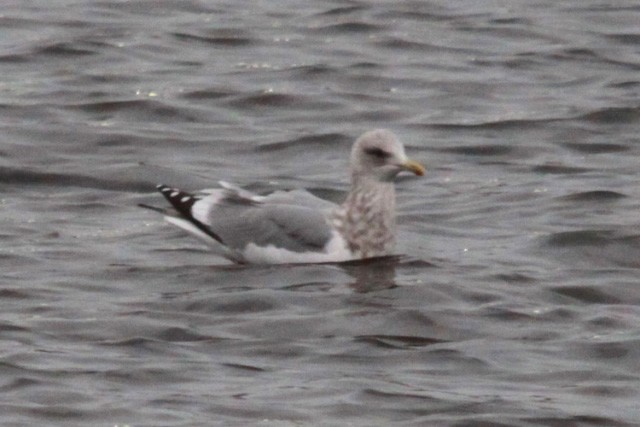 A distant shot of the Thayer's Gull swimming on the water, illustrating the Iceland Gull-like structure at rest. Note the relatively dark grey upperparts (compared to Iceland) and how extensively black the primaries appear. (Photo: Derek Charles)

Another shot, as the bird plunge-dives, illustrating both upper and underwing — note how the latter appears pale. (Photo: Derek Charles)
I contacted a couple of Killybegs regulars, but they were not in the area. However, Brad Robson had a copy of Gulls handy, so I described the bird and primary pattern to him and he told me additional features to look for that he knew offhand. I texted friends that I had a great candidate for an adult Thayer's but I was aware of the lookalike birds in Newfoundland and wanted to check every last detail before news went out. It was late when we got home, but checks of books and the internet were certainly promising. Early next morning, I circulated the photos to friends with a similar interest in gulls together with my thoughts, and consensus remains that this is indeed a fine adult Thayer's Gull!
A familiar face?
While a number of Thayer's Gulls have now been seen in Britain & Ireland, it is difficult to argue that any of the previous records have been quite as clear-cut as this latest bird. A combination of classic Thayer's features — including primary pattern, the comparatively dark hue of the upperparts, structure, leg, eye and eyering colour as well as the heavy shawl — make it a very distinctive gull in a Western European context. Indeed, its distinctiveness immediately attracted the attention of a number of Spanish birders, including Ricard Gutiérrez of Rare Birds in Spain and Daniel López-Velasco, who were quick to point out that it looked extremely similar to a Thayer's Gull that has recently spent the late winter periods around Lugo (Galicia). Further detailed analysis of the bird's features only reinforced the idea, with everything appearing identical — including the primary pattern. Dani describes the history of this bird:
"I think it's interesting to comment on the dates that the Spanish bird has been seen: it was first seen, as a first-winter, in February 2008 by French birders, but Thayer's was not considered at the time and it was thought to be an American Herring Gull. Then, when it was found as a third-winter, the true identification was realized. It arrived on 20th March (David Calleja and Ricardo Rodriguez), and was last seen on 8th April. Next year, it arrived on the 13th March and was last seen on 23rd. It wasn't seen in 2012 despite intensive searching, but it came back this year [2013]: first seen 10th March, and last seen on 17th. The area is quite well birded in the early winter, so it seems clear the bird is not there before March."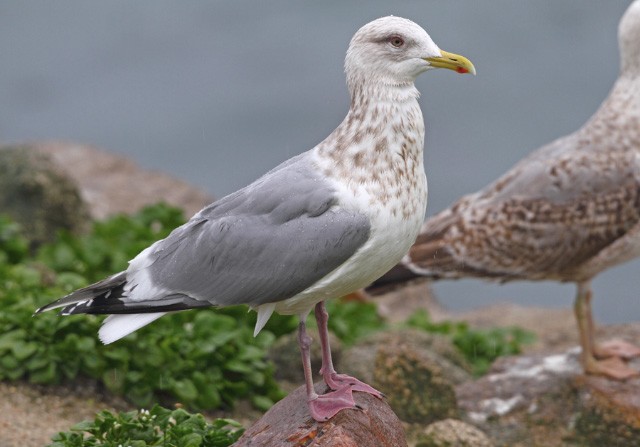 Adult Thayer's Gull, Galicia, March 2013. The somewhat lighter streaking/mottling on the head and neck compared to the Donegal sighting are easily explicable by wear, while the brighter bare-part colouration is attributable to the bird beginning to attain breeding plumage. (Photo: Juan Sagardia)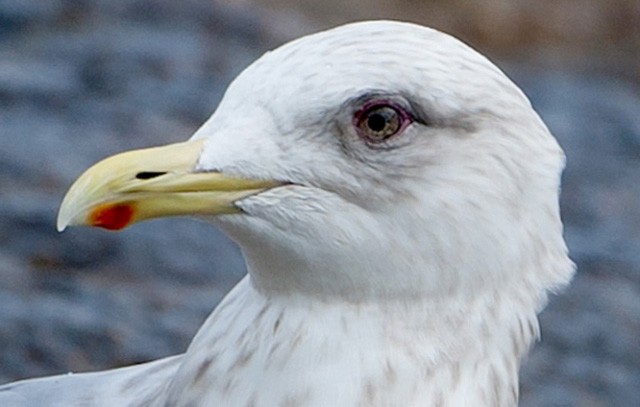 A close-up of the Galician Thayer's Gull, illustrating the pink eye-ring and the peppered iris. (Photo: Pablo Gutierrez)

A flight shot of the Galician Thayer's Gull, showing the bubblegum-pink legs and heavy neck 'shawl'. The primary pattern is also visible on the bird's left wing. Note how the eye appears quite pale in bright sunlight — in contrast to Derek Charles' shots, which were taken in dull, overcast conditions. (Photo: Antonio Martinez Pernas)
Content continues after advertisements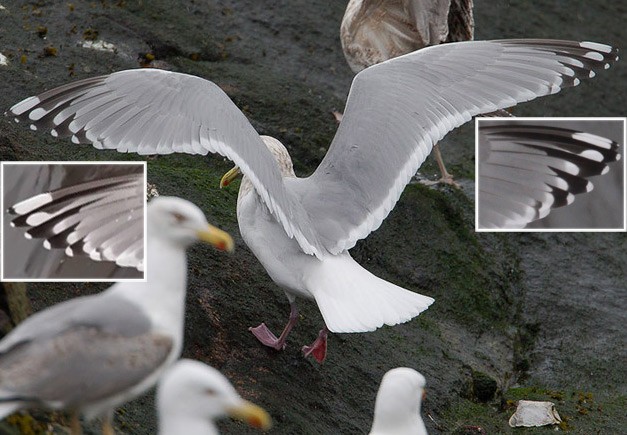 Comparison of the Thayer's Gull in Galicia in March 2013 and (inset) at Killybegs, 15th December 2013. The primary pattern on both wings is, for all intents and purposes, identical. (Photos: Rafael Armada/Derek Charles).
Derek's sighting at Killybegs therefore appears to be another piece in the puzzle of this bird's life story — it would suggest that it has, since arriving in 2008, routinely migrated up and down the western periphery of Europe but had, until 15th December 2013, been detected only at its late winter/early spring staging site in north-west Spain. Where this bird spends the winter is still unclear; as it is absent between November and March, it is clearly not Galicia — could it be that this bird heads even further south for the midwinter period? Portugal, Morocco or even Western Sahara are all realistic possibilities. It will certainly be interesting to see whether it is seen again at Killybegs (or elsewhere in western Ireland) in the coming days and weeks but, given its regularity in Spain in March, a more northerly wintering site/area seems unlikely.

Adult Thayer's Gull, Galicia, March 2013. (Photo: Antonio Martinez Pernas)
Adult Thayer's Gulls from California
Images below depict a number of adult (or near-adult) Thayer's Gulls, photographed in their core wintering range in California in February 2013. All show features in common with the Killybegs bird, though individual variation within the taxon is nevertheless very high.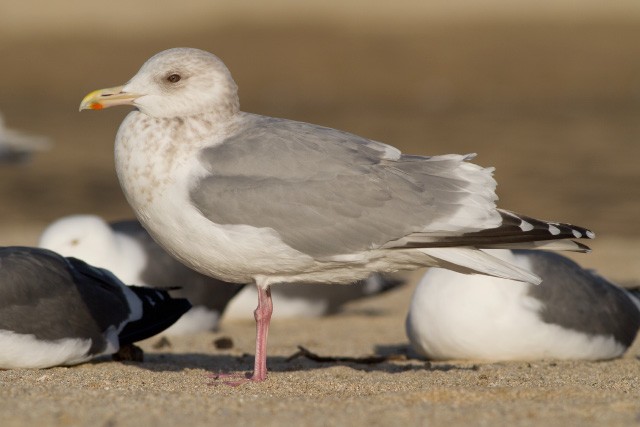 1. Thayer's Gull, Half Moon Bay, CA. A large, sturdy-looking bird with a dark-looking eye (though in reality this was pale and heavily 'peppered' with dark spots) and long bill creating a 'snouty' feel. Note the upperpart colour — the gulls sitting in the background are Western Gulls. (Photo: Josh Jones)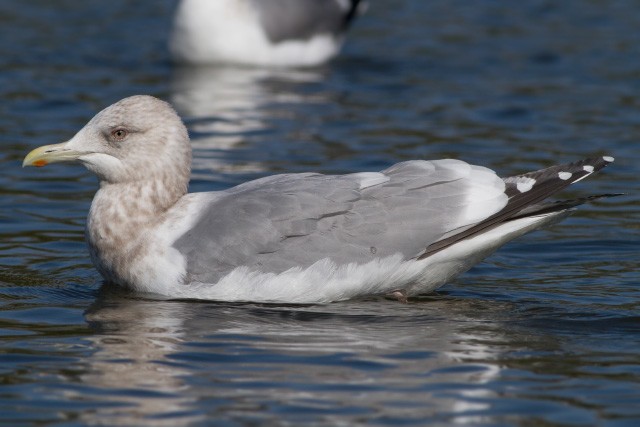 2. Thayer's Gull, Milpitas, CA. A daintier bird, with more Iceland Gull-like structure and largely pale eye. Note that the inner webs of the primaries are a dark grey, with the outer webs black. (Photo: Josh Jones)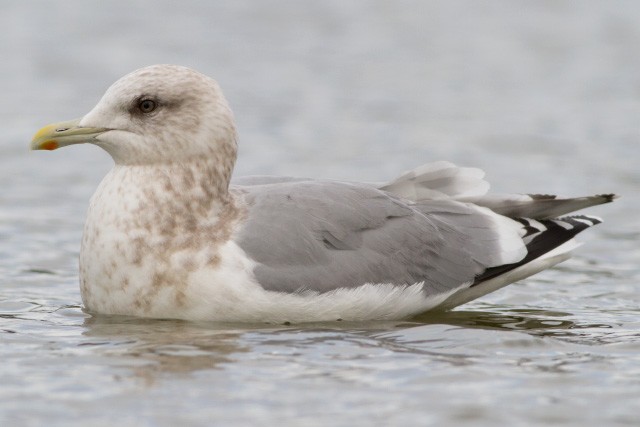 3. Thayer's Gull, Petaluma, CA. A bird extremely similar in appearance to the Killybegs/Spanish bird, with small, rounded head, pale eye peppered with dark spots, and a heavily smudged neck, creating the 'shawl'. (Photo: Josh Jones)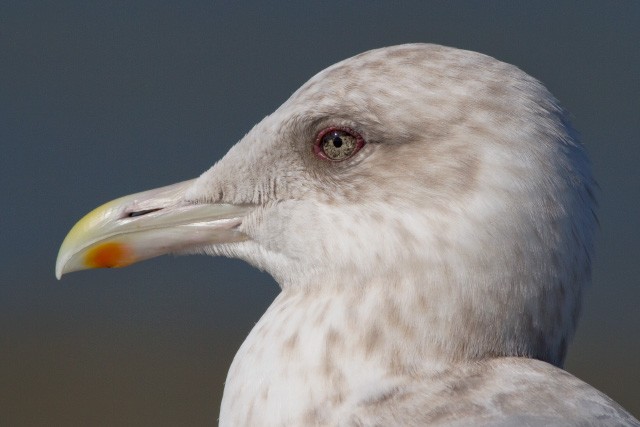 4. Thayer's Gull, Jenner, CA. A close-up of the head and neck, showing the pink eyering and a pale eye with dark peppering. (Photo: Josh Jones)
The primary pattern of the Killybegs/Spanish thayeri has already been discussed, and is in fact at the dark 'extreme' of the taxon (i.e. the safest end!). The images below display a number of open-wing shots of Thayer's Gulls, again from California.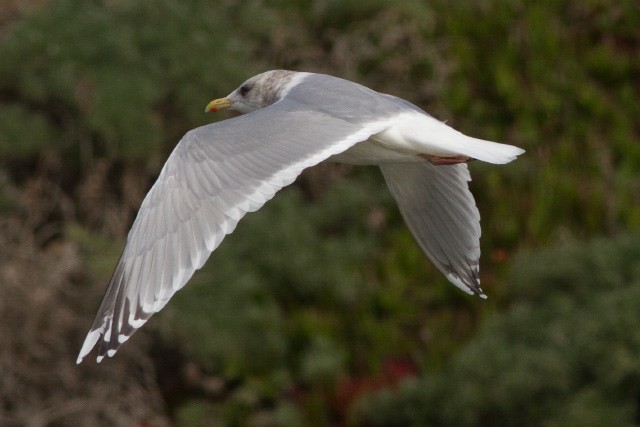 5. Thayer's Gull, Salmon Creek, CA. Though it may be an artifact of the strong sunlight, this individual appears to show very dark grey primary tips (as opposed to black). It demonstrates an incomplete black band on p10, though the mirror on p9 is restricted to the inner web. The marking on p5 is both faint and incomplete. (Photo: Josh Jones)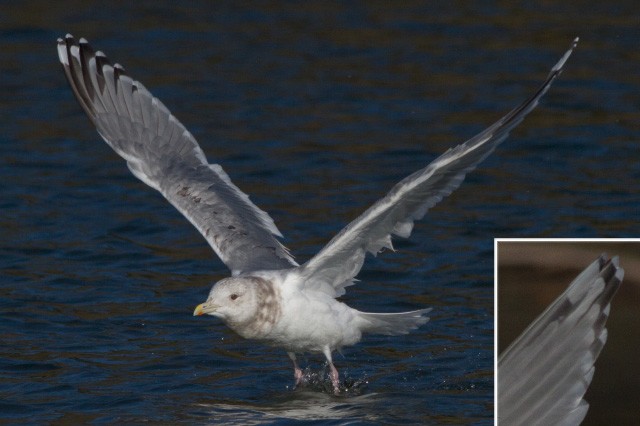 6. Thayer's Gull, Salmon Creek, CA. This individual illustrates a 'classic' thayeri pattern, including the white mirror on p10 broken by a broad black band towards the tip, white on p9 limited to the inner web and a clear dark mark on p5 — though the latter is not complete on the right wing. The insert demonstrates how pale and silvery the underwing of a Thayer's Gull can look. (Photo: Josh Jones)

7. Thayer's Gull, Salmon Creek, CA. Though the large white mirror on p10 is clearly demarcated by a broad black band towards the tip, the white on p9 clearly 'bleeds' onto the outer web, and this bird also totally lacks any dark markings on p5. Though not at the best of angles, note how the underside of the bird's left wing appears pale, almost white. (Photo: Josh Jones)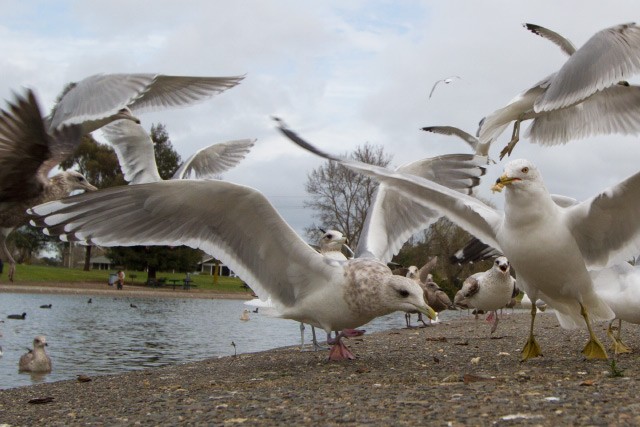 8. Thayer's Gull (with Ring-billed Gull), Petaluma, CA. The same bird as in photo 3. — p9+10 demonstrate the 'classic' thayeri pattern, though note that, as with the bird above, p5 totally lacks any sort of dark marking. (Photo: Josh Jones)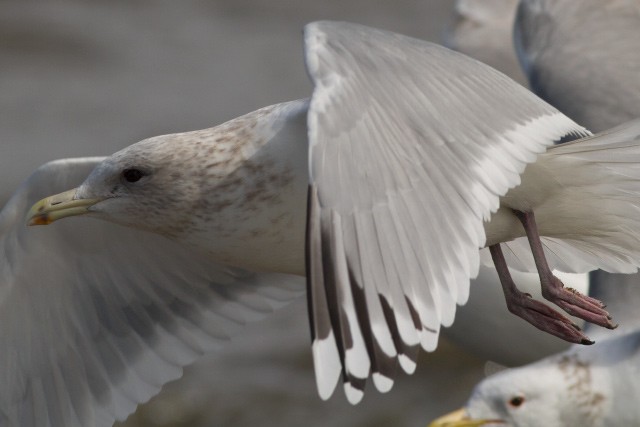 9. Thayer's Gull, Salmon Creek, CA. This near-adult demonstrates a particularly 'white' primary pattern: the white tip to p10 is unbroken and, although p9 is more typical, p6 shows minimal dark marking, and it is missing altogether from p5. Would a bird like this be safely identifiable in Western Europe? (Photo: Josh Jones)
Though the 'Kumlien's issue' is a notorious obstacle in the identification of a potential Thayer's Gull in Western Europe, the issue is further clouded by hybridization in other large white-headed gull species. Hybridization is rife on the Pacific coast of the USA, with Thayer's Gulls wintering alongside an assortment of crosses. One potential pitfall (aside Glaucous x Herring Gulls from closer to home) is Glaucous-winged x American Herring Gull, which can look very similar to thayeri — though size, structure and primary pattern are all good indicators of a hybrid origin.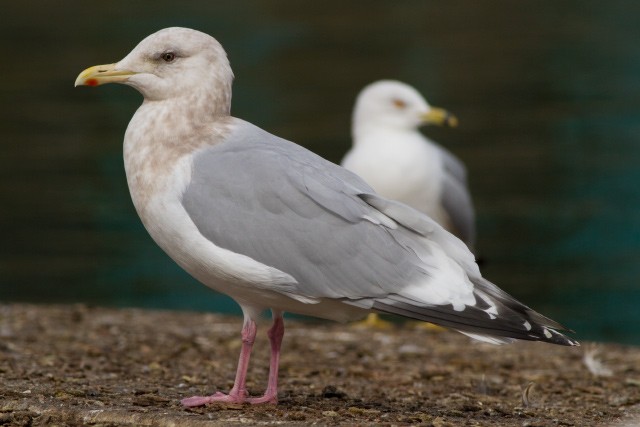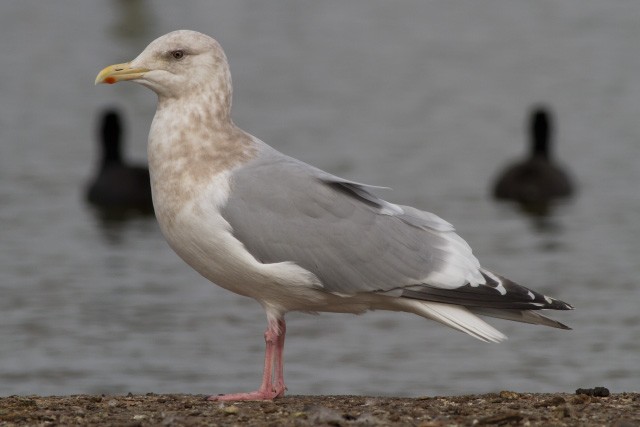 Adult Thayer's Gull or possibly Glaucous-winged x American Herring Gull hybrid, Petaluma, CA. A bird that was identified in the field as a Thayer's Gull: pink eye-ring, pale iris peppered with dark spots, bubblegum pink legs and a comparatively lightweight, long-winged appearance all suggest this. However, primary pattern and overall relative bulk and structure could suggest a hybrid origin (Photo: Josh Jones)
Acknowledgements
Many thanks to Derek Charles for providing the account and photographs of the Killybegs Thayer's Gull.
Thanks to Ricard Gutiérrez and Dani López-Velasco for their initial suggestions that the Spanish and Donegal birds may be one and the same, and to Dani for providing the Spanish bird's history.
Thanks to all the photographers who allowed use of their photographs: Rafael Armada (www.rafaelarmada.net), Antonio Martinez Pernas, Pablo Gutierrez and Juan Sagardia.