Thursday 28 September had been a quiet day on Bryher, Scilly, the best birds being Spotted Flycatcher and Whinchat. I and some other birders were thinking about cutting our losses and leaving on the earlier 2.30 pm boat, rather than staying until the final return boat at 4.30 pm; some were going to transfer to Tresco to try for European Bee-eater, while I was planning to return to St Mary's for a Pectoral Sandpiper.

I was gradually making my way back towards the quay, walking down a track adjacent to the campsite at the edge of Norad Hill, when I noticed what looked like a Phylloscopus warbler, similar in size and shape to a Common Chiffchaff or Willow Warbler. The bird was making its way along the edge of the track, continually popping in and out of low vegetation and sometimes hovering momentarily.

The first thing I noticed about the warbler was the yellow on the throat which extended down to the chest, and to some extent also onto the 'face'. The yellow was rich in tone, not lemon-yellow as in a juvenile Willow Warbler or the brighter yellow of an adult Yellow Warbler. The bird also had a strong supercilium, stronger than a Willow Warbler but not as extensive as in Yellow-browed or Pallas's Warblers. Other characters that stood out were the blackish legs and black primaries. The upperparts appeared to be green, brighter than the greyish-green of Yellow-browed Warbler. The bird did not have a crown stripe, and I did not notice any obvious eyestripe or wing-bar as in Yellow-browed or Pallas's Warblers.

I watched it in my binoculars for less than a minute at a distance of about 12 m in bright conditions, before it flew off up the lower slope of Norad Hill and I lost sight of it. During the time I was watching the bird my mind was in 'Phyllosc' mode, and I felt that perhaps I just had a weird Willow Warbler. A little later, however, the possibility of Tennessee Warbler occurred to me, though I had never seen one before and was trying to recall the relevant features from literature I had read previously (mainly from The North American Bird Guide by David Sibley, which needless to say was back at home in Cambridgeshire).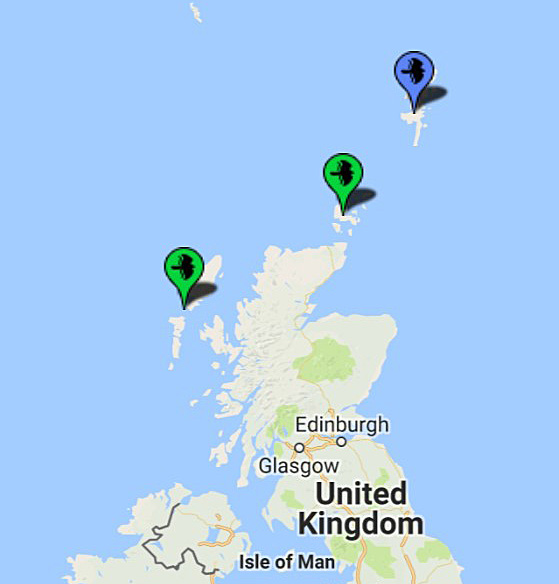 After returning to my flat on St Mary's I went online to check out Tennessee Warbler, initially more to rule it out than anything else. However, after I started to view images I felt that what I had seen was indeed that species. I wish I had taken a quick record shot at the time, but as I only saw it relatively briefly I might not have had enough time to get my camera out and take a picture, and moreover might have observed less detail. It would also have been great to have had someone else see it with me.

The next day a few of us went back to the island to search for the bird (there would have been a few more looking, but then the news broke of the Rose-breasted Grosbeak on St Agnes). Unfortunately, however, we could not relocate it. Notwithstanding, I was really appreciative that the guys who chose to go to Bryher instead of St Agnes had confidence in my abilities as a birder – I just wish they had been rewarded with the warbler.

The locations of the four previous Tennessee Warbler: one each
on the Outer Hebrides and Orkney, and two on Fair Isle, Shetland
(both within a week of each other in September 1975).
Content continues after advertisements
If accepted, this will be the 5th record for Britain, after the last one on St Kilda, Outer Hebrides, on 20 September 1995; there are no Irish records.