On Sunday 21st July I was doing my usual circuit around my local patch at Pennington Marshes, Hampshire, when at about 8am I noticed a medium-sized greyish wader on the far side of the Butts Lagoon. Something about the jizz made me suspicious so I decided to walk around to the vegetated bank adjacent to the bird for a better look. I managed to approach to within 50 m, and an initial look through the scope revealed an elegant looking wader with a long decurved black bill, long greenish legs and (best of all) loads of lovely dark barring extending all the way from the breast to the undertail coverts.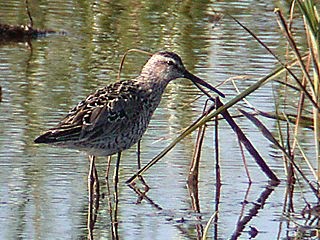 Stilt Sandpiper (Photo: Russell Wynn)
Although it was a potential lifer, I knew straight away that I was dealing with a Stilt Sandpiper, but I just couldn't believe it so I scrabbled around in my bag for the Collins guide and checked through all the key features. There was no doubt about it – it really was a Stilt Sand! I then proceeded to spend two hours writing a detailed description and getting a series of photos. The plumage was obviously that of an adult bird, and the presence of both new and old feathers on the scapulars and wing coverts indicated that it was moulting into winter plumage. One of the most distinctive ID features, mentioned in the Collins guide, was that it showed a curiously angular or lumpy body shape when viewed from side on (see photos). It was faithful to a small area in the corner of the lagoon, where it fed in shallow water amongst emergent vegetation much like a Ruff or a Wood Sandpiper. At 10am I saw another birder walking along the seawall with a mobile phone on his belt so I rushed over and asked him if I could make a call. I then contacted the reserve warden and a few local birders who arrived within minutes in various states of disrepair. Once we were all happy that the ID was correct and that the site was ready for a big twitch we put the news out at 11am. Several hundred people proceeded to visit the site during the day, and happily everyone saw the bird and there were no problems at all, although in the latter part of the day the bird did fall asleep for long periods. It was reported as flying off around dusk but when I returned to the site the following morning it was still present. This record is the first for Hampshire and will be the 30th for Britain and Ireland, and is certainly my best find to date.
As Russell mentions this will be the 30th record for Britain and Ireland. It follows the September juvenile in Northern Ireland last year at Lough Beg. However, it is the first record of an adult since one at Minsmere from 7th to 13th September 1997 (and the last before that was one in Kent and Suffolk in 1990), ensuring that Russell's find was a popular attraction for birders from far and wide. - Eds