The year planner for 2020 was packed full of fantastic ocean adventures and tubenose research programmes that I was very much looking forward to. Then came COVID-19 and, since February, what I call my 'extended shore leave'. So, here I am, 'stuck' in the Isles of Scilly, my home and my other great birding love in life. Work aside, I have enjoyed getting into the field and some quality Scilly spring birding. Apart from the rare and scarce birds, it has been a treat to catch up with a good showing of species not commonly seen in Scilly, such as Lesser Whitethroat, Garden and Wood Warblers, male Common Redstart and male Whinchat.
On 18 May, at about 10.15 am, I was completing my morning walk, returning to my car via Porthellick Pool. I had already checked the pool carefully early in the morning and had seen nothing of note. In need of a mid-morning cup of tea accompanied by digestive biscuits, I skipped all my regular pool checkpoints, except the last one with a view over the north end of the pool. The Porthellick hides are locked in line with government COVID-19 guidelines so viewing involved peering over screens, shrubs and reeds.
In the farthest north-east corner of the pool, partly obscured by reeds, was a smallish sandpiper. I had only binoculars with me and struggled to see its features. I felt quite irritated as I really wanted that cup of tea, but since it's Scilly I didn't dare go home without confirming the bird's identity.
The sandpiper continued to feed while I continued to look for key features. There was something about it that didn't add up to the expected springtime Common, Green or Wood Sandpiper. If it was Common, why wasn't it bobbing most of the time? If it was Green, why was it brown toned? If it was Wood, why didn't it show a prominent white supercilium?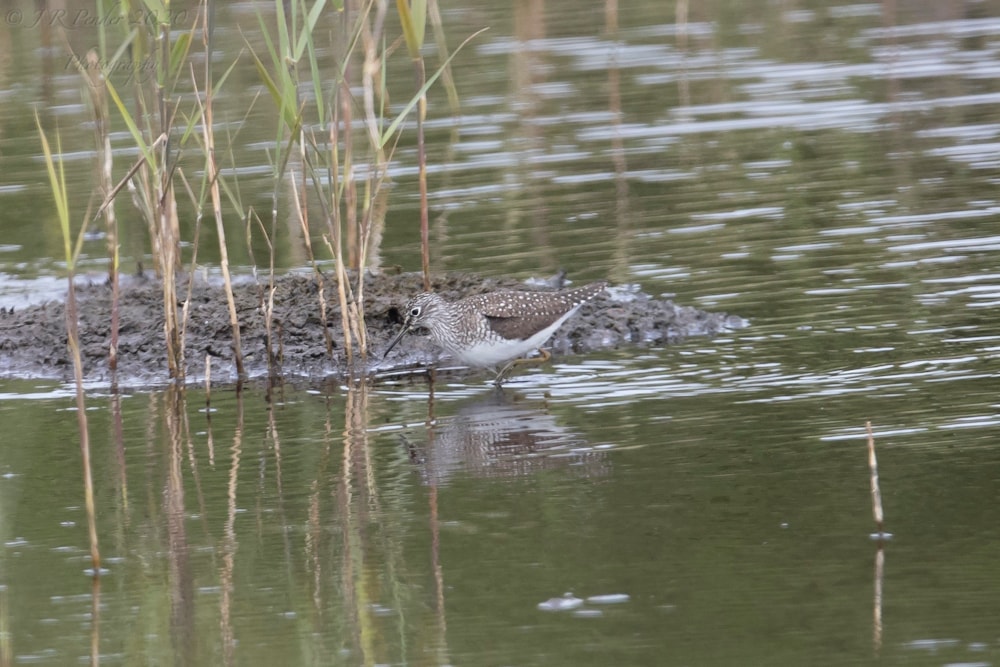 Brown toned but lacking the supercilium of a Wood Sandpiper ... Bob's Tringa had to be a Solitary Sandpiper (Joe Pender).
While the views were distant, I was using my trusted 12x Canon image-stabilised binoculars. With this aid, I got the impression of bold spectacles and a rather attenuated rear-end, and the plumage was greyish-brown. A strong sense of déjà vu came over me. On 23 July 2003, I found a strikingly similar wader in exactly the same spot and it turned out to be a Solitary Sandpiper.
Despite today's evidence also pointing to Solitary, a voice of dissent in my mind said "don't be stupid Bob, it's mid-May, it's the wrong time of year". But the more I studied the sandpiper the more I disagreed with that voice. May or not, this sandpiper looked like a Solitary. It then flew directly towards me with fairly strong wingbeats; it didn't call or reveal any additional structural or plumage features. However, the remote possibility of a Common – which has weak-looking quivering-winged flight – was now completely eliminated.
Content continues after advertisements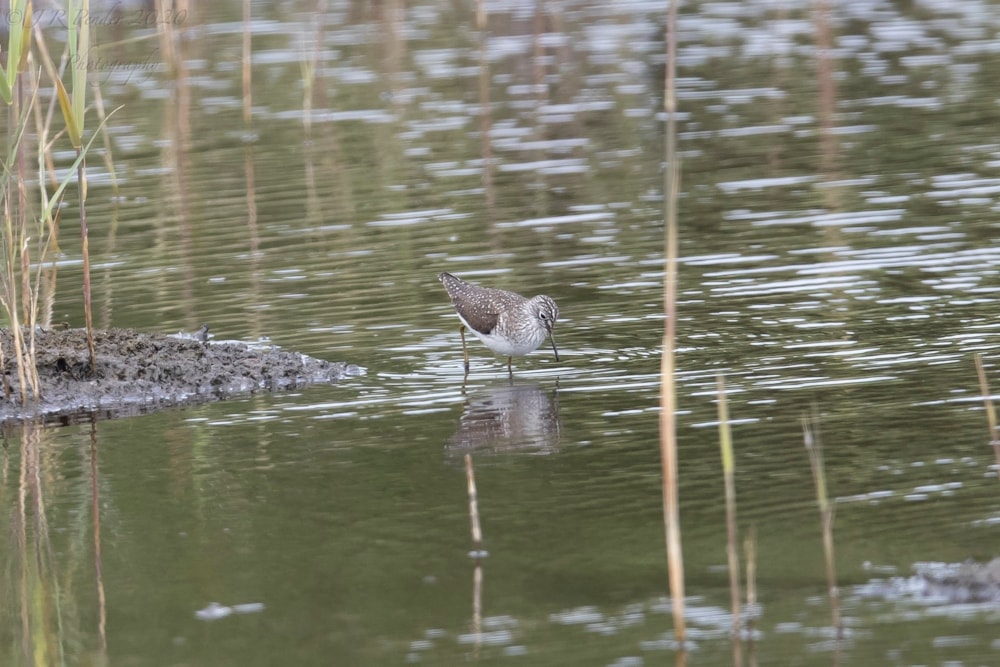 The attenuated appearance is well illustrated in this pose (Joe Pender).
The bird landed in front of the nearby Sussex Hide and was hidden from view. I snuck up to the hide, peered through the slithers of viewing, and saw no more than a flash of a sandpiper as it shot off toward the south end of the pool. The experience was becoming rather trying. Nevertheless, I scooted to the south end and crept along a track that I've created to the poolside and peeked around the corner to get my first unobscured view, albeit with the naked eye, and for just a split second before the bird walked out of sight. It sported thick white 'John Lennon' spectacle frames and a truly attenuated and pointy rear-end.
I muttered to myself: "If this isn't a Solitary Sandpiper then I'll give up land birding as a bad job." I rang best buddy Ashley Fisher with the news that I reckoned I had a Solitary Sandpiper. Rather conveniently Ash was on the other side of the pool and was with me in a few minutes, just in time to see the Solitary take to the wing and fly around for perhaps 30 seconds. We saw the dark rump and central tail feathers, and multiple bars across the white tail sides. No need to hang up my bins after all!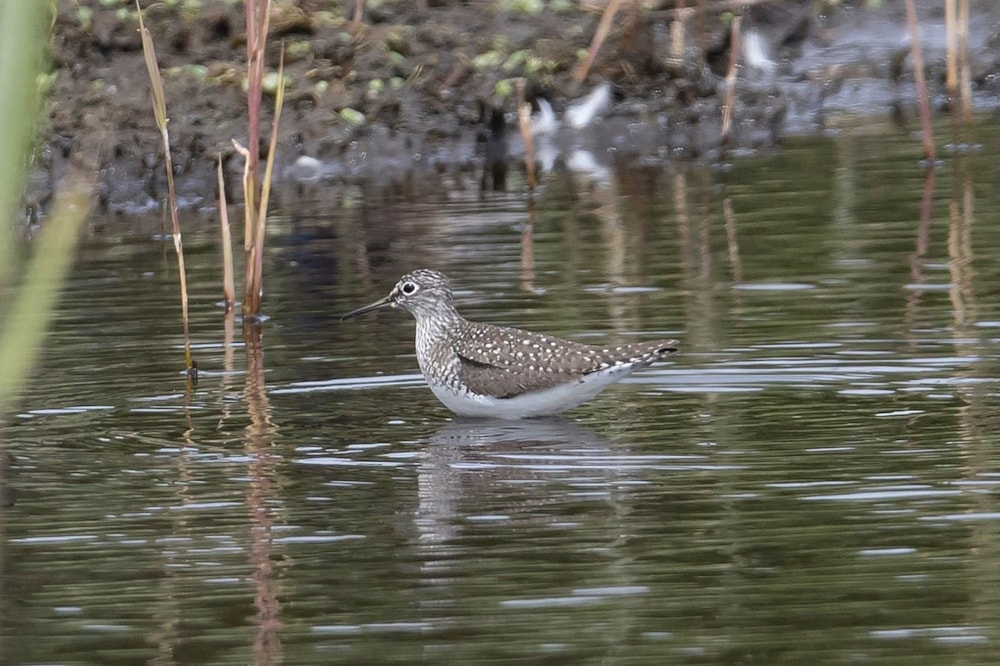 Eventually, the bird flew around Porthellick Pool and showed the classic dark rump and central tail feathers of Solitary Sandpiper (Joe Pender).
With Scilly in lockdown, the resulting 'twitch' involved only local birders. Maybe eight of us observed the Solitary on and off for the rest of the day, with four the maximum at any one time. Social distancing wasn't a problem. Scope views were very nice indeed, and we worked our way through the finer plumage details. The sandpiper had departed by the following day, having made just a short stop-over, like a typical spring migrant rather than a fresh-in transatlantic vagrant. Perhaps it had crossed the Atlantic from North America in a previous year?
Finding a Solitary Sandpiper was ultimately a good experience. While recounting the story, though, I am mindful that the event happened in the middle of the COVID-19 crisis and all that comes with it, in particular the tragedies and braveries of people, and am grateful to the many workers who are looking after our well-being and future.