Saturday started out in the usual manner and routine. I knew it would not be the same as most birding Saturdays, as there was of course the 6 Nations Rugby matches to watch, with Ireland and Wales playing at 2.30pm. Full Irish breakfast was consumed as normal and then I dropped Mary off to work for 1.00pm. I would normally head straight for Nimmo's Pier and Claddagh Beach for about two hours, but not today: a quick scan at Waterside was about all I could manage with the time available. Waterside is located on the east side of the River Corrib, just at the Salmon Weir in Galway City. It's a beautifully scenic spot, with the imposing limestone and copper domed Galway Cathedral as a backdrop and the roar of the water cascading over the weir.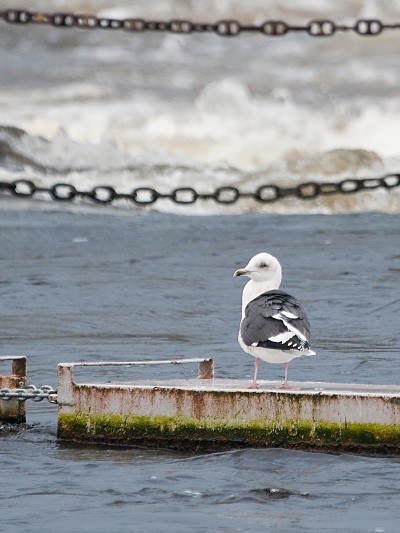 Slaty-backed Gull, Waterside, Galway (Photo: Tom Cuffe).
Waterside always has a good selection of gulls, with notable sightings including Iceland, Ring-billed and, in May 2006, an adult Laughing Gull. The usual gulls and birds were present on my arrival, all roosting on the pontoons which prevent pleasure boats drifting down on to the weir. Black-headed, Common, Herring and a single Great Black-backed Gull were all present. A single Cormorant, in full breeding plumage, was preening and a couple of Moorhens loitered. Next in view was a Lesser Black-backed Gull —  it is very unusual to see one in Galway this time of year, although we have had a couple of first-winters at Nimmo's lately. Then, a 'white-winger' appeared further along the pontoon.
Time to get the scope and cameras out to take a few shots. The pontoons are usually just a bit too far for DSLR photography, but digiscoping usually produces a few shots — although it was very dull on Saturday. Scanning the birds, there seemed something not quite right with the Lesser Black-backed: it had pink legs, the mantle was very dark, and it was only slightly smaller than the Herring Gull. So I took a few shots, then a few shots of the second-winter Iceland Gull further along the pontoon. Back to the 'black-backed', and I rang Dermot Breen to give him a description: "it's a small Lesser Black-backed with pink legs and a very dark mantle". Dermot reiterated the need for flight shots and, on obtaining some, I headed back to watch the match.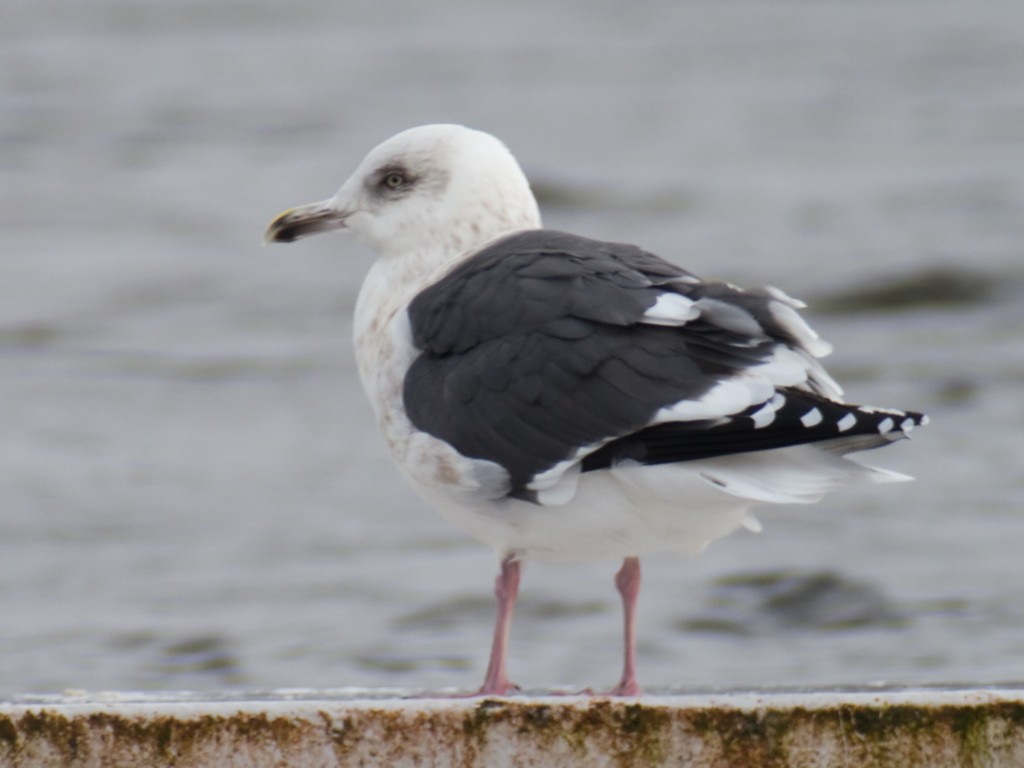 Slaty-backed Gull, Galway. For all intents an purposes, an adult-looking bird from the head down, but the bill retains extensive dark markings — obvious signs of immaturity (Photo: Tom Cuffe)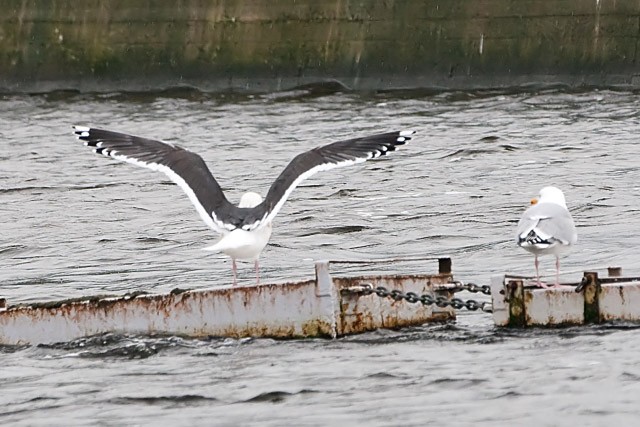 Slaty-backed Gull, Galway. Note the primary pattern (including 'string of pearls') and the broad white trailing edge to the wing (Photo: Tom Cuffe).
On arriving home, I picked out Olsen and Larsson's gull 'bible'. The only bird I could match it to was Slaty-backed Gull, but it seemed so small and I talked myself out of it. I processed a few shots to send to Dermot, who agreed it was strange looking for a LBBG. But it was now 2.30pm, match time — and it turned out to be a nice little victory (roll on the Triple Crown in two weeks' time!)
Content continues after advertisements
I thought no more about the gull that day, but returned to Waterside on Sunday. There was no sign of the bird. Later on Sunday evening, I began processing the shots. Posting the perched shots on Facebook, both Dan Brown and Ronan McLaughlin asked for flight shots within minutes! So I put them up: Dan's reaction was "Jesus!", and Ronan confirmed the 'string of pearls'. And that was that, the confirmation of a fourth-winter Slaty-backed Gull and the news of a first for Ireland was able to hit the airwaves!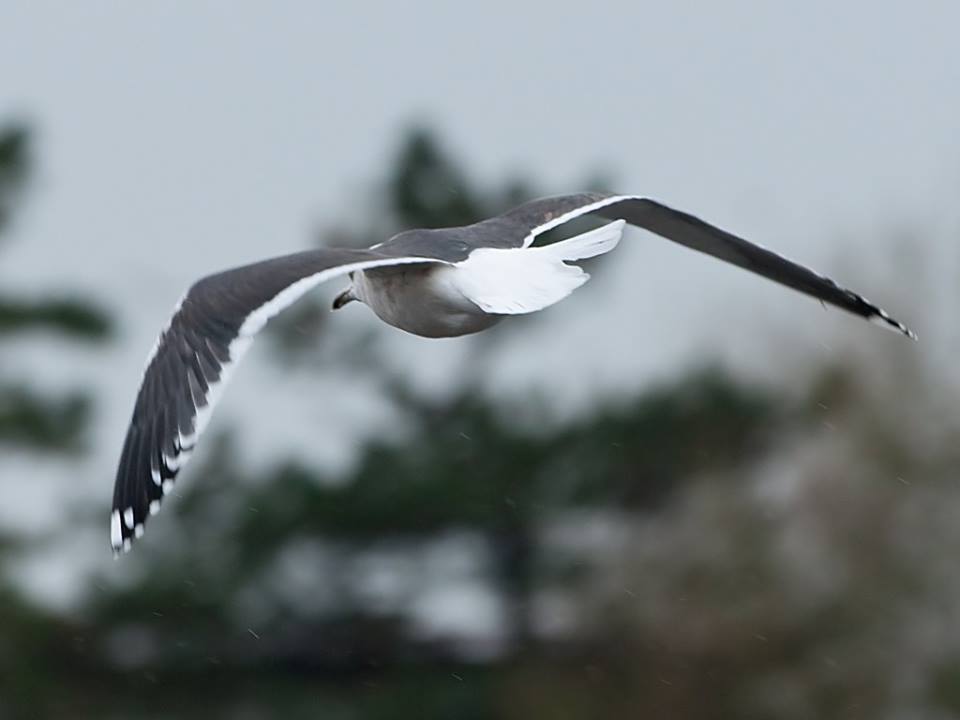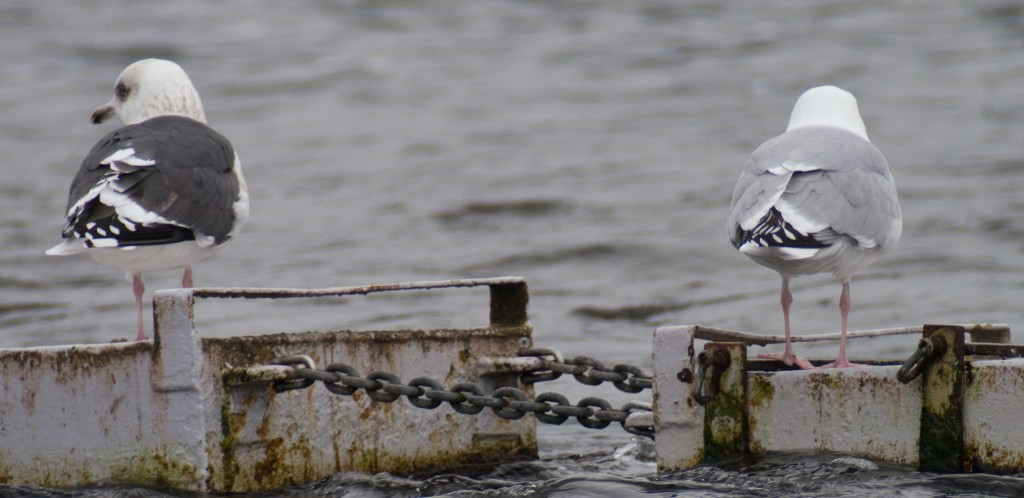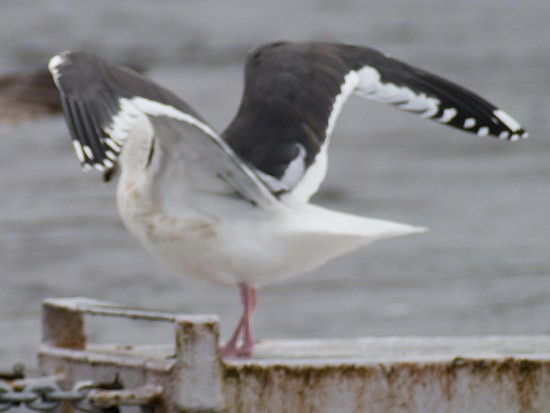 Further studies of the Waterside Slaty-backed Gull (Photos: Tom Cuffe).
Previous records
As Tom says, this latest individual represents the first for Ireland. It is the sixth record for the Western Palearctic, following birds seen in Latvia/Lithuania, Finland, Belarus, Iceland and Britain. The British bird (pictured below), which was seen in London and Essex on several dates in January and February 2011, is detailed in this Birdwatch article.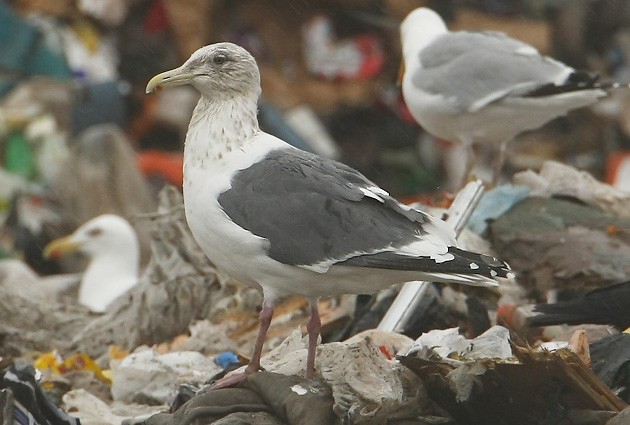 Slaty-backed Gull, Essex (Photo: Steve Arlow)