Was it faith or fluke that I opened page 394 of Sibley's The North American Field Guide two days before I travelled to Cape Clear Island? We will never know, but I am awfully glad I did because little did I know then that in two days' time the images on that particular page would come flooding back to me...
The weather on Cape during the morning of 27th October 2013 was dull and there was a south-westerly gale sweeping the island. I had a quick look in some of the gardens, but the wind was making seeing anything very difficult, with little showing other than a few Chiffchaffs, Goldcrests and a couple of long-staying Yellow-browed Warblers, so I headed to the nearest sea-watching place. Conditions at sea were horrendous, as was the light, and very little was passing, with only small numbers of Kittiwakes, Fulmars, Gannets and three Sooty Shearwaters seen in 30 minutes. The light was too bad to continue sea-watching, with the sun's glare making it impossible to identify anything, so I left with the intentions of checking the bogs. However, the gale was blowing through them too, so I knocked that idea on the head. I decided to head back towards the gardens as they were somewhat sheltered in comparison to the bogs — a decision I will always be thankful that I made.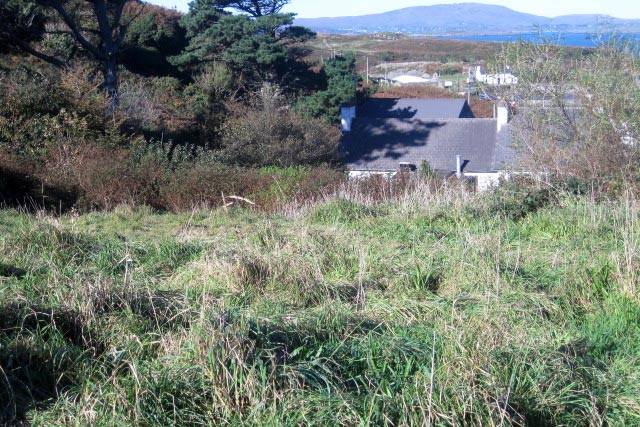 The famous Cotter's garden on Cape Clear (Photo: Eamonn O'Donnell).
I went straight back to the famous Cotter's garden and, on entering, went up to the back of the garden where it was less windy — here, I hoped, I might actually be able to see some birds! Again, the usual Goldcrests and a handful of Chiffchaffs were on show and it looked like it was turning into another dull, uninspiring day's birding. Out of the gloom, a bird appeared in full view in the bracken about 20 feet away, so I went through the motions of lifting my bins expecting yet another Goldcrest but...WALLOP! This bird had no crown stripe, and its head, crown, nape and mantle were uniformly plain olive-grey. It had a prominent white eye-ring and lots of white on the wing.
"Oh God," I thought. "That is an Empidonax flycatcher!"
I faltered. "Oh no it isn't! It has the wings of a Goldcrest," I mooted. "Wait a minute! What about the bird on page 394 in Sibley that I was looking at just a few days ago?!"
Then the bird vanished over the hill, and I thought that was going to be that — it was going to be a bird that would haunt me until my dying day. But then...what was that?! The same bird had magically reappeared, and was closer still. I would not let myself believe what I was looking at. It was the bird on Sibley page 394 — a Ruby-crowned Kinglet! I needed help.
The October bank holiday weekend usually brings between 20 and 30 birders to Cape, but a combination of a couple of poor years for rarities and forecasted storms kept everybody away. As a result, I was the only visiting birder, but there were three resident birders on the island. I could not contact Steve Wing, former warden, on his mobile phone and I did not have his home number so I contacted his neighbour, Geoff Oliver — also a birder — asking him about Goldcrests not showing a crown stripe. He told me that on some birds it can be mostly hidden and on juvenile birds not present at all. I told him about my bird and that I really needed others to see it, so he phoned Steve to tell him that I was getting excited about a Goldcrest with no crown stripe in Cotter's garden, and needed others to see it. It is a two-minute walk from Steve's house to Cotter's and so, after five minutes, I was getting anxious that nobody had arrived. I called Geoff back and it was then that he realised I genuinely might actually be onto something good! He gave me Steve's house number and Mary Gade, his partner and also a birder, told me he was on the way. All this time the bird was feeding in sycamores and in the ferns, showing very well, within 10 feet of me. Steve then arrived with my friend Kerri Gorentz, not a birder.
He saw the bird immediately and got very excited very quickly as he knew that Goldcrests do not look like this at the end of October. However, we remained cautious as we had no experience of Ruby-crowned Kinglet. Geoff arrived soon after. He was particularly interested in the way the eye-ring was split top and bottom, and that the bird appeared to hold its bill slightly upwards. None of us had a camera good enough to get shots in the field and we felt that if we were to confirm the bird's identity we needed to trap it. Steve, being a licensed ringer, went to get a net and came back shortly afterwards with Mary and a pile of books. Within the pages of The Crossley ID Guide we found a perfect match to our bird. We then knew we had a Ruby-crowned Kinglet and that if it was ever to be accepted (or believed!), we needed a photo. Steve put one small net up and, unbelievably, within five minutes, we had the bird in the hand. By pure chance, we also trapped a Goldcrest! We took the birds back to Steve's house to take photos indoors in case the unthinkable happened.

The Ruby-crowned Kinglet in the hand (Photo: Eamonn O'Donnell).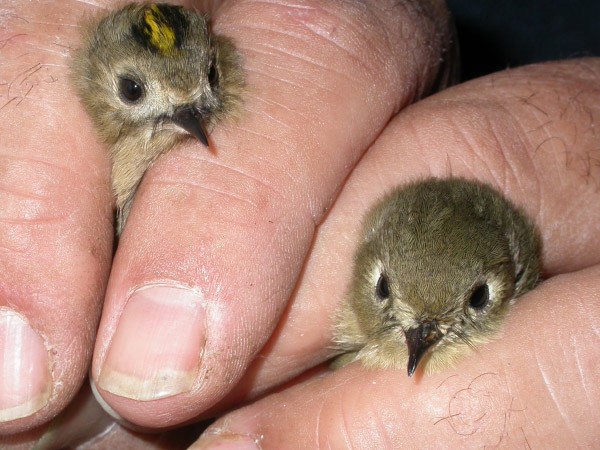 Comparison of Goldcrest (above left) and Ruby-crowned Kinglet, Cape Clear, 27th October 2013 (Photo: Eamonn O'Donnell).
Now we needed an expert to confirm what we all believed. Who better than our old friend Killian Mullarney who, thankfully, was sitting in front of his computer when we called him. I had left to go to Geoff's house to try to load my photos onto his computer as I hadn't brought my lead — never thinking I would ever actually need it — but this didn't work. Killian was now looking at the photos and was back on the phone to Steve, who handed the handset to me when I walked back in. "Hello Killian," I said. "Eamonn, you have a Kinglet, 100% sure, congratulations," was the reply. I jumped so high I almost hit the roof! Finally, after 34 years' birding, I had found something good. Very good in fact — a true mega! I was in was in a state of shock, but it was time to get the news out.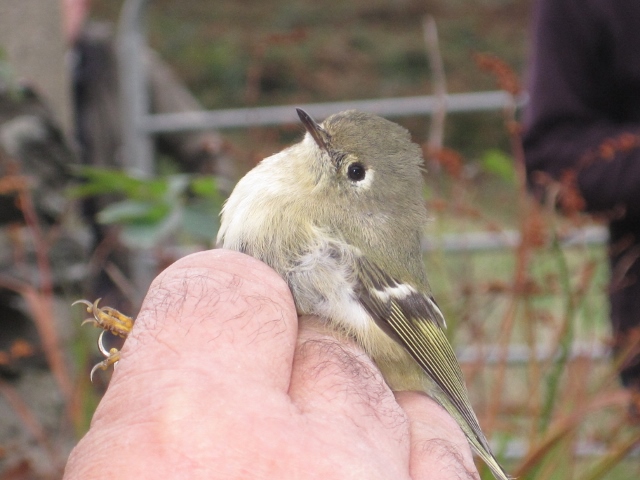 The Ruby-crowned Kinglet prior to release (Photo: Kerri Lorenz)
The bird was released very soon after. Then we all went for a pint.
Description
The bird was a juvenile/female. The overall impression was that it was bigger and bulkier than the nearby Goldcrests, with a bigger head and stout neck. Wing and tail length appeared similar to Goldcrest. Its crown, face, nape and mantle were all uniform olive-grey. Throat, breast and underparts were uniform off-white with buff-yellowish flanks. A prominent white eyering was distinctly split on the top and bottom of the eye. All primaries, secondaries and greater coverts were black with yellow-green edges which were quite prominent in the field. One prominent white wing-bar was contrasted by an adjacent black bar, similar to Goldcrest, with an almost totally hidden second white bar present also. The tertials were also black with a prominent white edge — these edges were of a consistent width the full length of the feather, which is a diagnostic feature of Ruby-crowned Kinglet.
All tail feathers were black, edged yellowish-green matching the wing colour. All tail feathers were sharply pointed and the tail was slightly notched. The bird had a black eye, blackish legs and yellow feet. The bill was mostly black with slightly paler base and was quite thin with a longish appearance. There were a few pale feathers at the base of the upper bill. The bird did not call in the field.
Western Palearctic records
This is the fourth record for the Western Palearctic following two records in Iceland (in 1987 and 1998) and a male seen briefly on Flores (Azores) on 21st October 2013, the latter subject to acceptance.